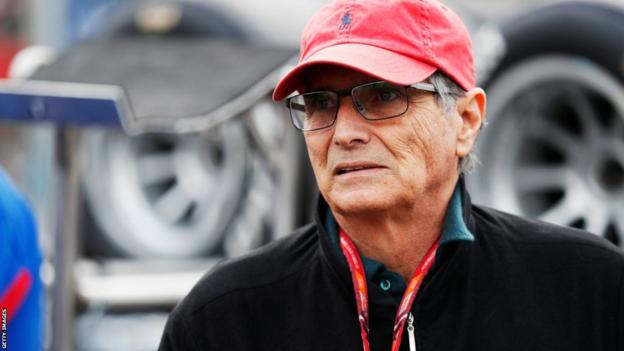 Three-time Formula 1 world champion Nelson Piquet has been ordered to pay five million Brazilian Reals (£780,000) for making racist and homophobic comments about Lewis Hamilton.
The 70-year-old Brazilian used a racially offensive term in referring to Hamilton in an interview in 2021.
Hamilton called for "archaic mindsets" to change after the footage surfaced.
Piquet later apologised for his "ill-thought-out" racially abusive remark about the British Mercedes driver.
Formula 1, Hamilton's Mercedes team and world motorsport governing body the FIA condemned Piquet's comments where he discussed the accident between Hamilton and Red Bull driver Max Verstappen, who is the partner of Piquet's daughter, on the first lap of the 2021 British Grand Prix.
Piquet said he "made no defence" of the remarks, but added the term he used "is one that has widely and historically been used colloquially in Brazilian Portuguese as a synonym for 'guy' or 'person' and was never intended to offend".
In another interview that surfaced later, Piquet used racist and homophobic language when describing how Hamilton missed out on the 2016 championship to Nico Rosberg.
Seven-time world champion Hamilton is the sport's only black driver.
The charges against Piquet were brought by four human rights groups, including Brazil's National LGBT+ Alliance, which wanted Piquet to pay 10 million Brazilian Reals for alleged moral damages.
A Brazilian court ruled on Friday he must pay five million Brazilian Reals ($953,000), with Judge Pedro Matos de Arrudo saying the amount of compensation was given "so that, as a society, we can someday be free from the pernicious acts that are racism and homophobia".