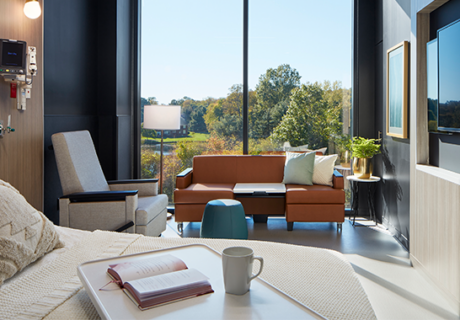 With a vision to create a national and global destination for orthopedic and musculoskeletal care, Crystal Clinic Orthopaedic Center in Akron, Ohio, pulled design inspiration from hospitality environments to create a concierge-like patient experience.
The effort earned the 167,500-square-foot project Best of Competition in the 2022 IIDA Healthcare Design Awards program. "We wanted to design a facility that feels less like a hospital, with design elements that truly differentiate Crystal Clinic from other hospital systems," says Daniel J. Ferry, president and CEO at Crystal Clinic.
Opened in November 2021, Crystal Clinic partnered with HGA (Milwaukee) to bring this vision to life by embracing the contemporary design of an upscale hotel for the three-story facility. It houses 12 operating rooms; 60 private patient rooms; and a QuickCare facility to provide immediate, specialized walk-in urgent care for sports and orthopedic injuries.
Interior spaces are designed to be calming with sophisticated finishes, such as patterned privacy screens and a variety of seating options, to support the healing process. Large floor-to-ceiling windows provide plenty of natural light while showcasing the surrounding scenic landscape. On the third floor, patient rooms arranged on the perimeter of the building overlook the tree-lined grounds, while interior rooms look out on a central courtyard featuring a roof garden.
Designers framed those views to exterior natural elements with contrasting black soffits and window mullions throughout the building to make those scenes pop. "Black is an unconventional color for healthcare, but we thought it was appropriate here to create a dramatic backdrop," says Amanda Pirlot, associate vice president of interior design at HGA.
To meet hospital performance requirements without making the aesthetic feel sterile, the project team chose a palette of wood, faux leather furniture, mirrored glass, and brass lighting fixtures that support the hospitality vibe while satisfying rigorous cleaning regimens.
Furthermore, Jes Skaug, associate vice president and senior project designer at HGA, says the materials palette brings "a textural uniqueness that you don't normally see in a hospital."
Adding to the upscale environment, Crystal Clinic also exhibits work from local artists to create a deeper connection to the community. One of the physicians even donated dozens of his nature photography prints, which are showcased throughout patient rooms and staff corridors, balanced by abstract displays from other local artists.
These unique details throughout the facility received rave reviews from IIDA judges. "While this year's submissions were highly impressive, the Crystal Clinic Orthopaedic Center stood out as an exceptional example of thoughtful, patient-forward space planning," Kelley Dorsett, senior vice president and interior design director at AECOM, said in a release on behalf of the jury.
The annual Iida Healthcare Design Awards, which recognize originality and excellence in design and furnishings in healthcare spaces, are judged in specific categories, including ambulatory, hospitals, and extended care and assisted living facilities.
2022 Category Winners
Ambulatory — Cancer Center
Project: Dana-Farber Cancer Institute, Chestnut Hill, Newton, Mass.
Design firm: Payette, Boston
Ambulatory — Pediatric
Project: Seattle Children's Odessa Brown Children's Clinic, Seattle
Design firm: NBBJ, Seattle
Ambulatory — Specialty Clinic
Project: Bill Richards Center for Healing, Rockville, Md.
Design firm: Gensler, Washington, D.C.
Project: Institute for Specialized Medicine
& Intervention, Kirkland, Canada
Design firm: HOK, Toronto
Extended Care & Assisted Living Facilities — Hospice/Palliative Care
Project: Taikang Community Shen Garden Shenyang, Shenyang City, China
Design firm: Interscape Design Associates, Shanghai City, China
Hospitals — Community
Project: Crystal Clinic Orthopaedic Center, Akron, Ohio
Design firm: HGA, Milwaukee
Hospitals — Pediatric
Project: Seattle Children's, Building Care: Diagnostic and Treatment Facility, Seattle
Design firm: ZGF Architects, Seattle
Project: Bill Richards Center for Healing, Rockville, Md.
Design firm: Gensler, Washington, D.C.
Brooke Bilyj is a freelance writer.
For more on the 2022 IIDA Healthcare Design Awards program and winners, visit iida.org.
The post Winning Touch first appeared on HCD Magazine.