Will Qatari bid materialise before Man Utd deadline?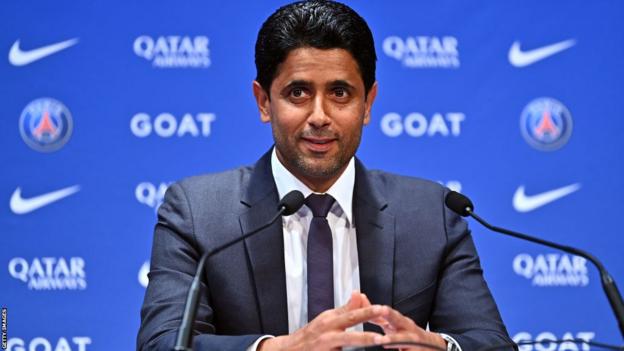 Manchester United fans and the rest of the footballing world are waiting to see who throws their hat into the ring to buy the club as Friday's 'soft' deadline for submitting proposals approaches.
There has only been one public declaration so far, from businessman Sir Jim Ratcliffe, one of Britain's richest men.
After days of rumours, it is expected there will be a bid from Qatar. There is also expected to be at least two offers from the United States and there have been suggestions of interest from Saudi Arabia.
That means there could be up to five parties trying to negotiate a full sale, with others looking to make a smaller investment in return for a partial take in the Old Trafford outfit.
Who has bid so far?
Despite suggestions that United have not attracted the interest expected by their owners, insiders have told BBC Sport the process has proceeded positively.
As they stated in their announcement on a potential sale in November, the Glazer family are still considering "all strategic alternatives" for the club, which could include new investment or other transactions involving the company.
Lifelong United fan Ratcliffe, one of Britain's richest men, is said to be determined in his interest and is understood to have employed the services of banking giants JP Morgan and Goldman Sachs to help him.
As with Chelsea, US interest is set to be backed by private equity. Bids from Qatar and Saudi Arabia are complicated due to ownership of Paris St-Germain and Newcastle respectively.
What would a Qatari bid look like?
A final round of bidding was initially planned for March by the US-based Raine Group, which has been put in charge of finding new owners or investors.
Paris St-Germain president Nasser al-Khelaifi is set to be a key figure in any Qatari ownership bid, even if he could have no direct involvement in the club.
Qatar Sports Investment (QSI), headed by Al-Khelaifi, had been looking at the potential for taking a smaller stake in a Premier League club, which would be allowed under Uefa rules that prevent multi-club ownership. QSI already has a minority stake in Portuguese side Braga.
However, given QSI's ownership of PSG, which it has no interest in selling, any Qatari move to buy United in its entirety would have to come through private individuals or a different organisation.
This could potentially be the Qatar Investment Authority – a global investment platform that includes London department store Harrods and the UK's largest building the Shard in its portfolio.
Even that may require European governing body Uefa to change its rules on dual ownership, given it is felt by many that all Qatari funds are distributed from a central source.
Al-Khelaifi could therefore be key in helping any bid proceed.
Why is Al-Khelaifi key?
Al-Khelafi, 49, took a more prominent position in football's political circles when he refused to hitch PSG to the European Super League bandwagon.
That decision is viewed as one of the major reasons why Uefa was able to resist the plan.
Since then, Al-Khelaifi has taken over as chairman of the European Clubs' Association and has developed a close relationship with Uefa president Aleksander Ceferin.
It is regarded as impossible that any Qatari bid for United could be being put together without his knowledge.
United and PSG are not in the same competition this season, so any amendments to Uefa regulations to allow Qatari ownership at Old Trafford would not need to be activated until the end of July. It would then have to be approved by Uefa's executive committee.
Concerns over Qatari involvement
The prospect of Qatari investment in a Premier League club – and two major European teams being owned by the Gulf country – has raised concerns for some.
Human rights group Fair Square has written to Ceferin, copying in Premier League chief Richard Masters, "to highlight several issues of serious concern" after reports that "entities linked to the Qatari government are proposing a bid that would enable them to take a controlling stake in Manchester United".
The letter continues: "In line with Uefa's rules aimed at protecting the integrity of its competitions, we would urge Uefa to outline a clear public position prohibiting any takeover of this nature.
"No consortium of Qatari investors capable of such an acquisition would be able to convincingly demonstrate their independence from the Qatari state."
A precedent for the Premier League would be the Saudi Arabian-backed £305m takeover of Newcastle United in 2021, which was only completed once the league received "legally binding assurances" that the Saudi state would not control the club.
Uefa has declined to comment but recently expressed concern about the potential "material threat" of multi-club ownership to the integrity of club competitions.
However, in 2017 Uefa did allow RB Salzburg and RB Leipzig to play in the Champions League, despite both clubs being closely associated with drinks giant Red Bull.
What happens now?
Neither the Raine Group nor Manchester United are likely to make a formal statement once the deadline is passed.
It will be for the Glazer family to decide whether to proceed with a full sale. Co-chairmen Joel and Avi Glazer have always been viewed as the members of the family most interested in retaining some interest.
The initial aim had been to conclude a deal by the end of March, but confidence has been strong from the outset that it would certainly be done by the end of the season.
No United official has spoken about the process publicly but precedence dictates chief executive Richard Arnold will take questions from investors when the club announces its second quarter results at some point next month.