US debt ceiling deal – what's in it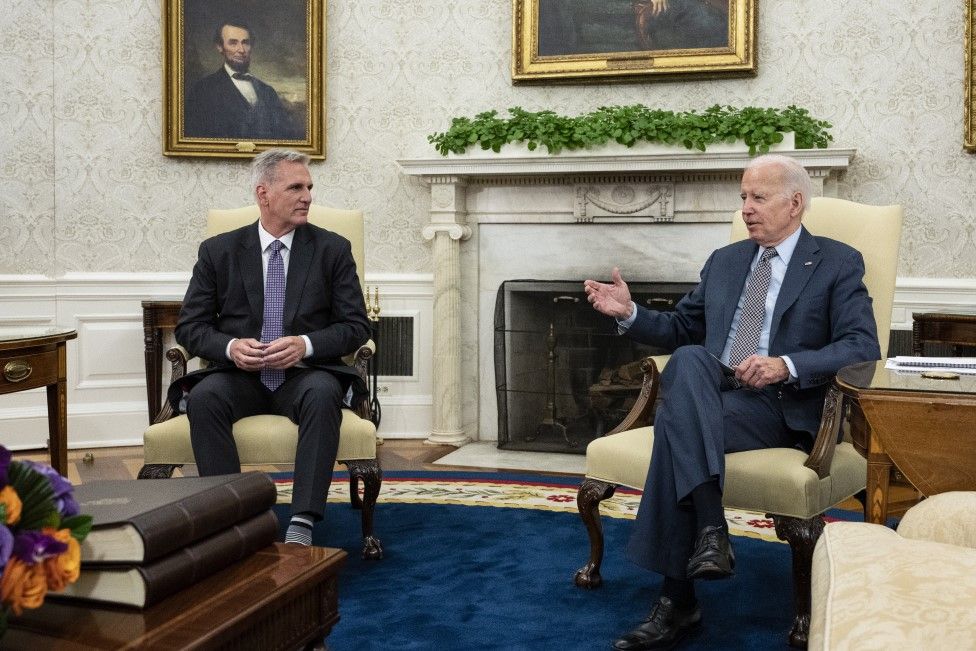 President Joe Biden has urged Congress to pass a deal to raise the government's borrowing limit and prevent a potentially catastrophic default on US debt repayments. So what is in the deal?
Negotiators from Democratic and Republican parties finalised an agreement on Sunday night.
If approved, it would allow the federal government to borrow money until well after the next presidential election due in November 2024.
Here are the highlights from the package of measures.
Debt ceiling suspended until 2025
Every so often, US Congress must vote to raise or suspend the ceiling, so it can borrow more to pay its bills. Currently it is $31.4tn (£25tn).
This includes paying for federal employees, the military, Social Security and Medicare, as well as interest on the national debt and tax refunds.
But in recent years, this has become increasingly difficult, because the two sides cannot agree on the terms.
In the deal reached on Sunday, they have not raised the limit to a certain level, but suspended it entirely until 2025.
This allows them to pay their bills until that date and know that the fight over raising the ceiling will not interfere with the presidential election.
Caps on spending, but not defence
Republicans wanted a freeze on overall spending for 10 years, with a rise in defence spending and cuts to other budgets.
The agreement keeps non-defence spending flat next year, with a 1% rise in 2025.
Defence spending would increase by about 3%, to $886bn.
There are no budget caps after 2025.
Unspent Covid funds returned
With the public health emergency officially ended in May, Republicans had argued for the relief funds that were not spent to be returned.
The Congressional Budget Office has estimated this will amount to about $30bn.
Welfare tinkered with, but no overhaul
A central demand of Republicans was to toughen up the distribution of welfare benefits by attaching strings that would mean able-bodied recipients having to work to get food and healthcare help.
Democrats were adamant this should not be on the table.
The welfare being looked at by Republicans included Medicaid (health coverage for poor Americans), the Supplemental Nutrition Assistance Program (SNAP) and Temporary Assistance for Needy Families (TANF).
Medicaid remains untouched in the deal, but the age at which work requirements are included for those on SNAP was raised from 50 to 54.
Funds to enforce tax rules on wealthy Americans
A win for Democrats was securing $80bn for a decade to help the Internal Revenue Service to enforce the tax code in last year's Inflation Reduction Act on the richest.
Easier to get energy project permits
New rules will make it easier for both fossil fuel and renewable energy projects to get licences.
This has long been advocated by Democratic Senator Joe Manchin of West Virginia.
It will basically streamline the environmental review process and potentially get projects off the ground in a faster time.
Student loan relief untouched
Republicans had wanted this to be rescinded, but this bill keeps it in place.