The waves crash fast on the yellow sand, stirring up flecks of gold in the green-hued Pacific. I've known this ocean all my life and yet never felt it so warm and inviting. It's like the sol, and the soul too, have spent a little more time here.
This is San Pancho, Mexico, Nayarit. About an hour's drive from Puerto Vallarta, but a world away in many respects. It's quiet, beautiful, and delicious. There's a reason we've been back twice! Here's everything to know about planning your visit to San Pancho:
San Pancho or San Francisco?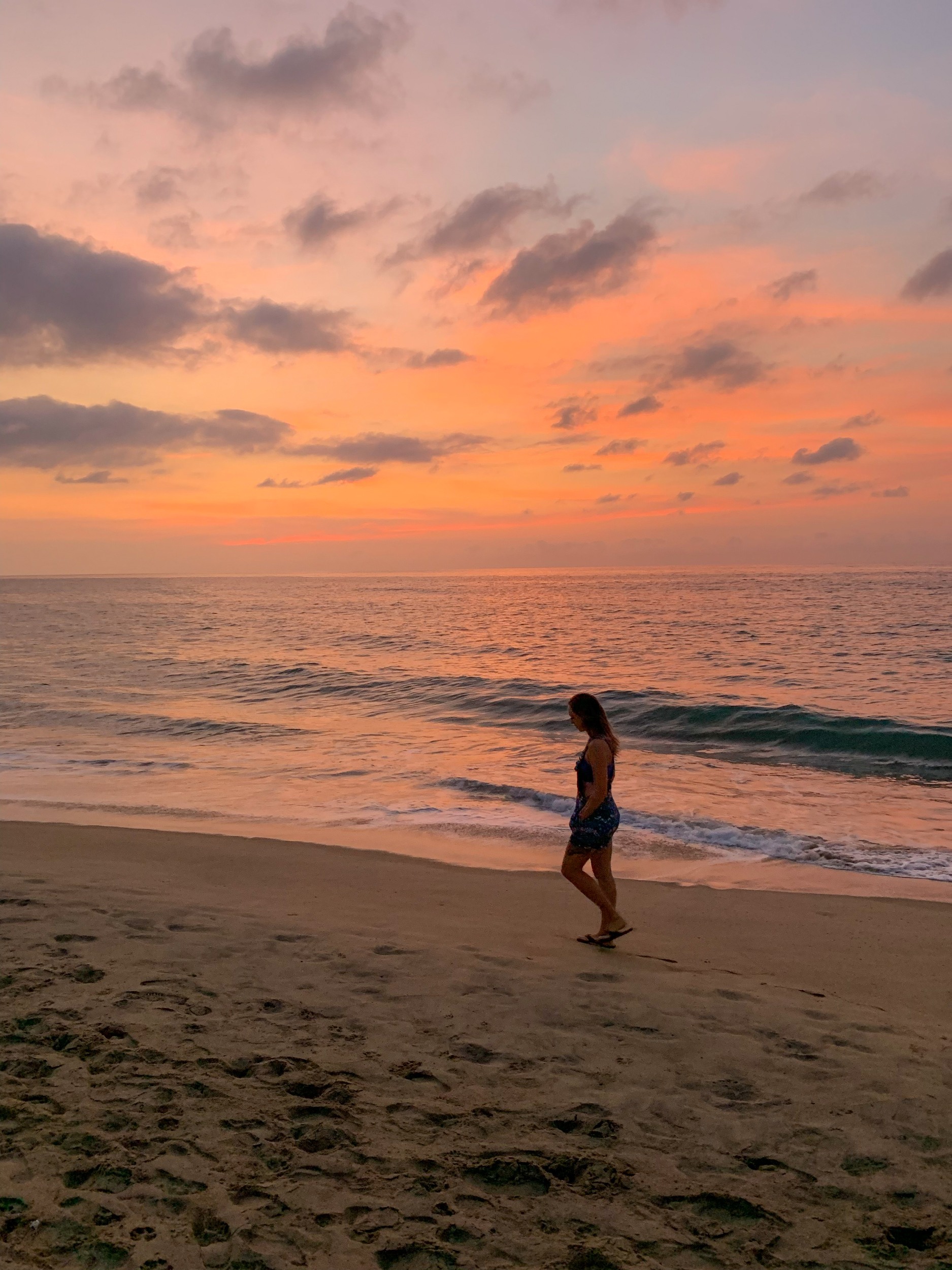 It's all in the name, darling. If you've been wondering how in the world to get to San Poncho when all of the buses go to San Francisco, it's worth knowing that name "poncho" is actually a nickname for Francisco. So you'll be wanting to head to this part of the Nayarit coast. (More on ways to get there in a bit).
What to Do in San Pancho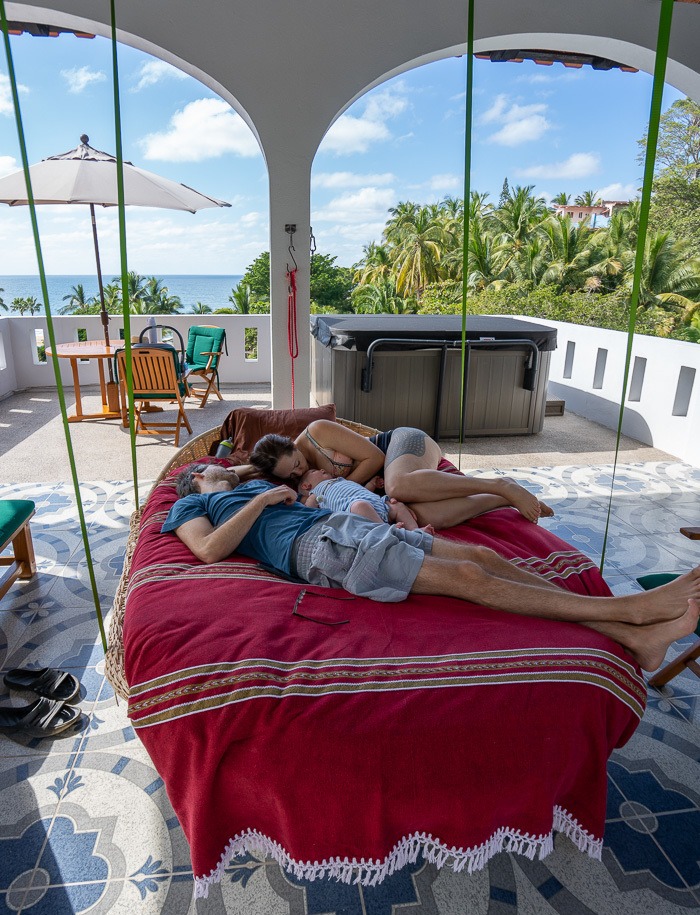 Generally I spend my days in San Pancho lying under the palm trees, willing the perfectly yellow coconuts to fall down with my mind. This is a chill place that, instead of offering tons of packages and tours, is more of a place to come and relax, but that doesn't mean there isn't plenty to do!
Sea Turtles
The first time we visited and November 2019, while walking down the beach we had the best surprise – baby sea turtles making their journey to the water! I'd been part of organized releases in the past in bigger areas like Cancun, but to see it happening naturally without any intervention was pretty special! There is a major turtle conservation organization – Project Tortuga – in the area as well, which accommodates volunteers.
Surfing
This is a big surf area, with the more gentle waves closer to San Pancho town. Although you won't be the only one trying to catch waves, it won't be nearly as crowded as Sayulita.
Check out San Pancho Surf Shop, Nativa Surf Shop, and Santamadre adventures in town for surf rentals and lessons. You can check out the surf report here.
Visit Sayulita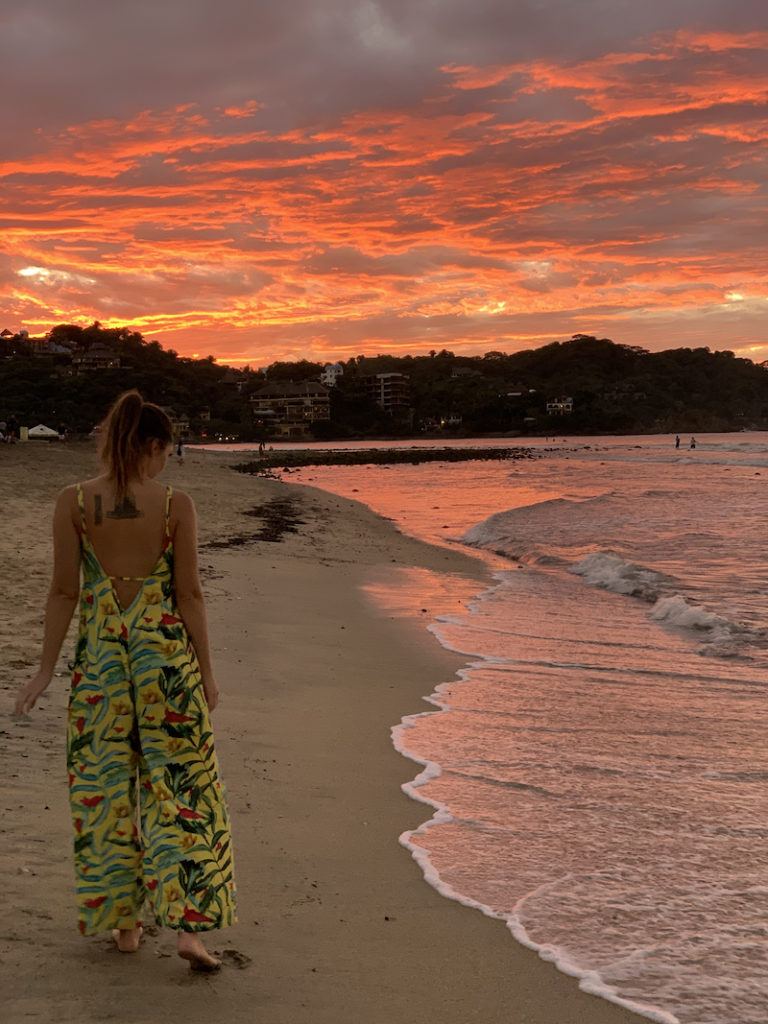 Although I much prefer San Pancho to Sayulita, there's a lot more happening in Sayulita in terms of places to eat, things to do, and a party scene if that's what you're after.
There are more tours that depart from Sayulita as well, from zip-lining, to ATV tours and a very highly-rated horseback riding tour. Check out your options here.
Boutique Shopping
If you're digging the outfit I'm wearing in the photo above, you can find something similar at one of the many boutiques on the main road in San Pancho.
As you walk around town, you'll find plenty of little clothing boutiques with handmade options of the BoHo chic variety. Sadly, however, this outfit ended up going to a much shorter friend of mine after going through the wash. Be forewarned that what you buy might not be pre-shrunk!
Whale Watching
From November to March, if you stare at the horizon long enough, you're bound to see humpback whales on their migratory route. While on the beach, we saw them breaching and playing in the water, bringing me back to my whale swim days in French Polynesia.
If you want to get a closer look, you can head to Punta Mita, which is the midway point between San Poncho and Puerto Vallarta, and book with one of these tour companies. They tend to offer snorkeling on the same trips as well.
Beach Days
When we visit Sam poncho, we usually choose to stay in a beach house rental with a pool, this time a hot tub, and some easy beach access. I'll talk more about where we've stayed in the next section, but it's fair to say we spend most of our time on the sand on the uncrowded beach, enjoying the day as it turns into sunset.
We usually stay in the north end of the beach which results in a long walk to town, which we don't mind at all, but be forewarned the surf is bigger at that end, and you may have more luck swimming closer to town.
Yoga and Aerial arts
San Pancho is a haven for community, yoga, and body movement. While you're there, check out Pilates San Pancho and El Estar yoga.
Where to Stay in San Pancho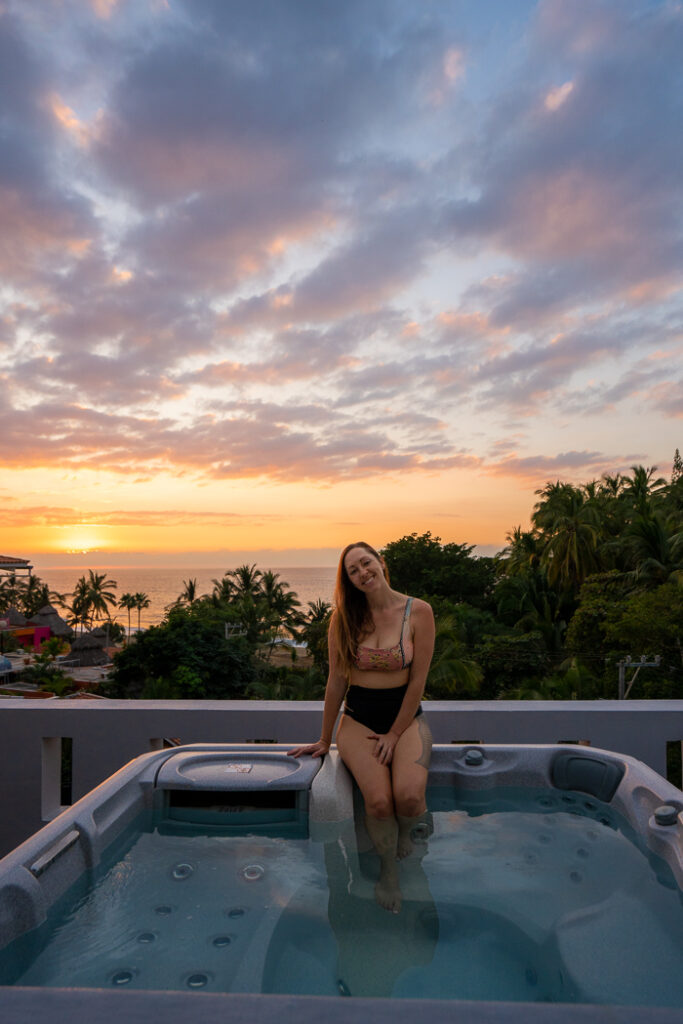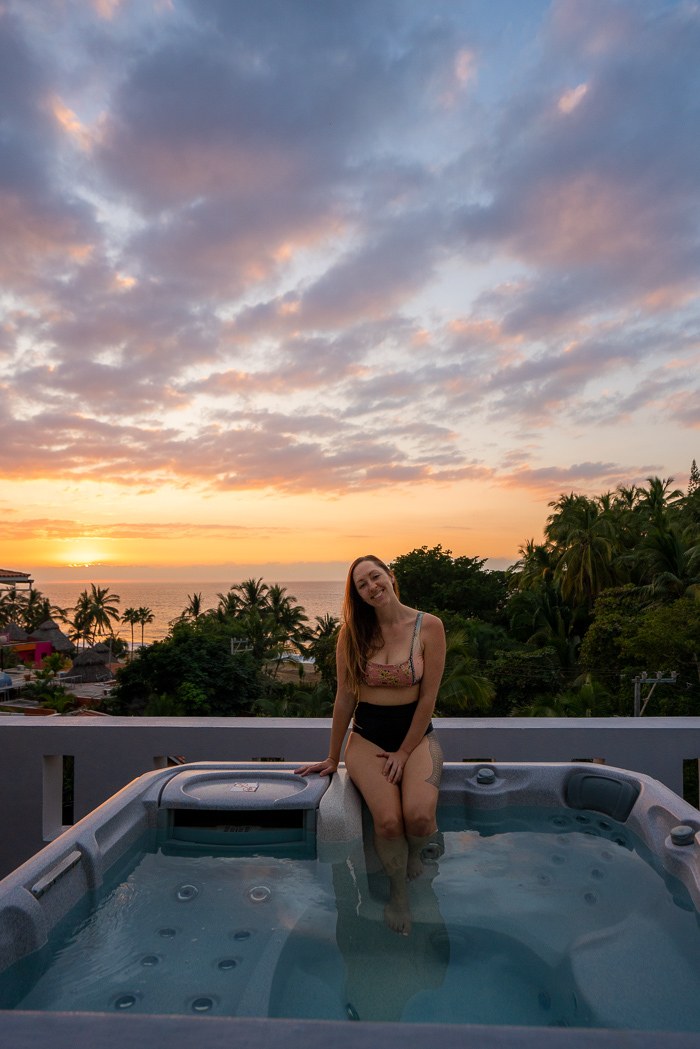 Since the last time we visited in 2019, there's been a fair amount of construction along the beach. It's bittersweet, because it does mean that the town is growing, but it also means that there are more beautiful places to stay.
It was by chance that I ended up here the first time. I had originally been looking at Sayulita, but upon finding nothing on the sand, cast a wider net and found a bungalow on Playa San Pancho. It's like fate stepped in because we came to love this area.
Can you think of a more perfect place to do nothing?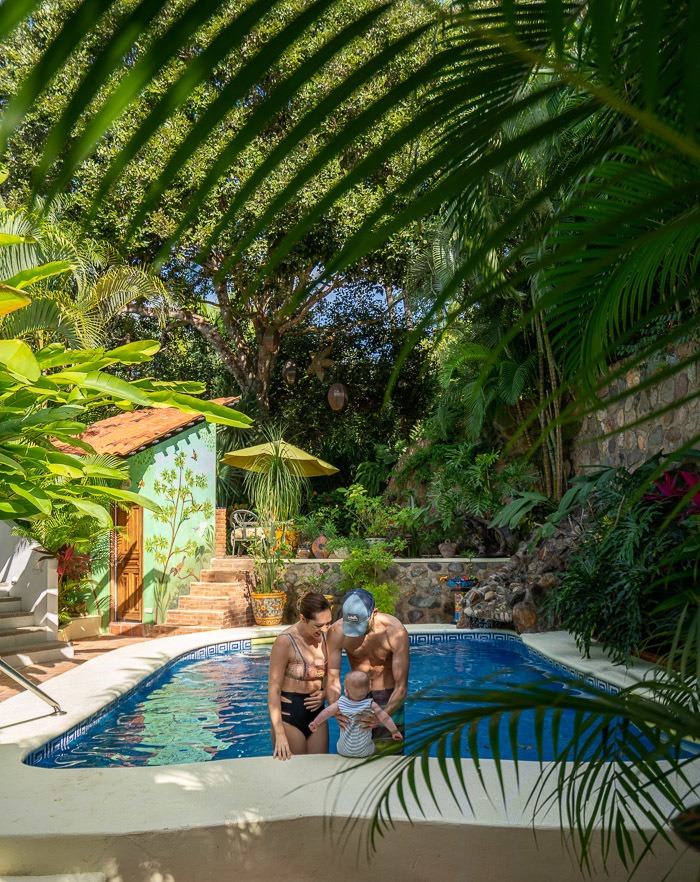 The original place we booked isn't offering rooms anymore, but we loved the house we rented this most recent trip on Airbnb, which you can book here.
It had a rooftop terrace with a hot tub, a pool, a gorgeous garden, and our living area, which had two bedrooms, a kitchen, and a lovely sitting area.
The only downside was the constant sound of construction, since the area is growing. We were also about a 20-minute walk on the sand to town. That was just fine with us, but if you'd prefer to be in the town itself, there are many boutique hotels to choose from. I recommend Hotel Casa San Pancho, Marii Hotel Boutique, and PAL.MAR Hotel Tropical.
Some of the boutique hotels in Sayulita are even more impressive. Consider staying there and taking a day trip to San Pancho if you want a bit more luxury and action.
The Best Places to Eat in San Pancho
There's a veritable cornucopia of options in San Pancho, from fancy restaurants to smaller taco stands with plastic chairs on the street, healthy salads, and coffee/dessert bars. Here's what we tried and loved:
Taquería Los Arbolitos: Cheap tacos that were unfortunately less delicious the second time we visited.
La Ola Rica: higher end Mexican food.
Restaurante El Rinconchito: Decent cheap tacos.
Chido Greens: Salads and acai bowls.
Maria's Restaurant Bar: Great brekkie and brunch.
Yasmina's Itzalanyasayan: Cute, hidden restaurant with delicious kombucha and Mexican/Asian fusion.
Ikan Cocina Marina: Fresh Seafood.
Dolce Jardin: Pasta with big portions.
Victor's Tacos: Another decent, cheap taco joint.
Café Paraíso: coffee and cake.
El Indio for groceries.
Getting to San Pancho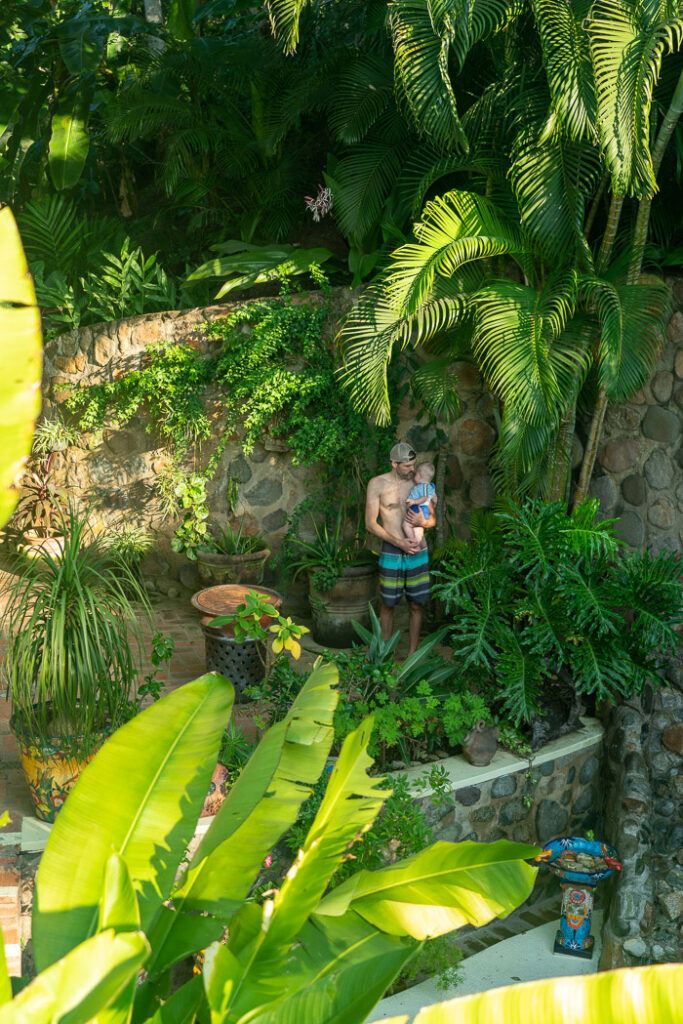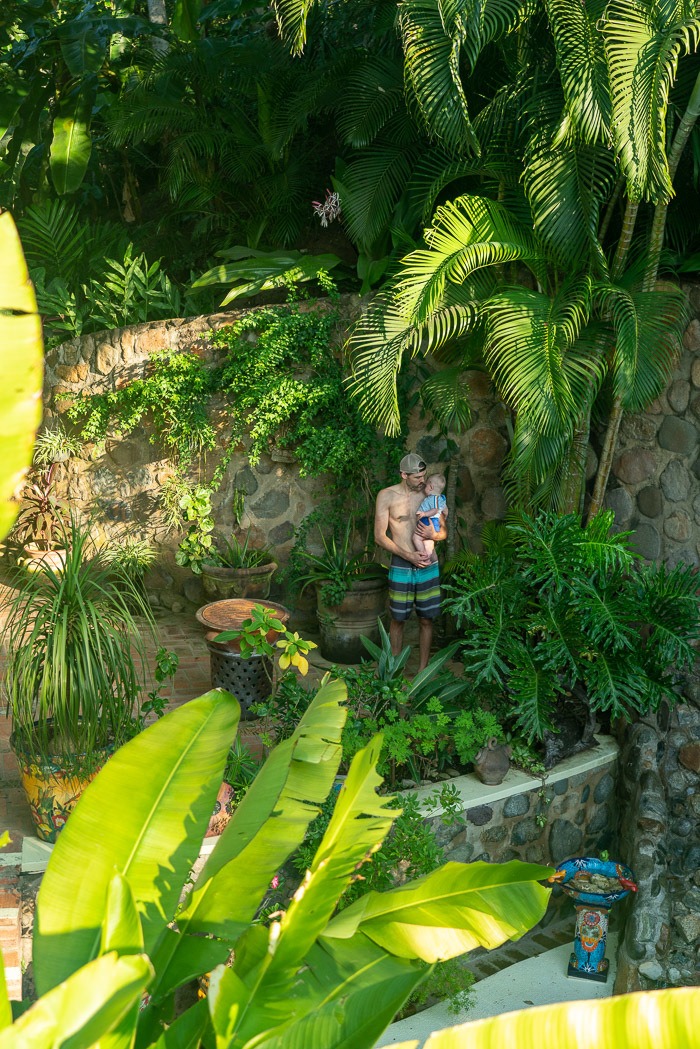 Chances are good you'll be coming from the Puerto Vallarta airport. You have the option of taking an official airport car/taxi for around $50, the local bus for just a few dollars, though you'll have a long walk from the bus depot if you stay up the beach like we did, or you can cross the orange bridge outside of the airport and catch an Uber for about $40.
We used Uber the first time, which worked great, though you'll need to make sure you have connectivity and are not relying on airport wifi as you'll have to walk out of the airport and cross the street to get the ride due to local Uber regulations.
For our second trip, we hired a private driver. I wish I could recommend him, but he was almost an hour late picking us up to go back to the airport. In the future I would ask at the Airbnb for help booking transport there and back. Don't rely on Uber for your return ride to the airport out of San Pancho, as there are far fewer cars available going that direction.
How often do we, even when on vacation, actually just slow down, sleep, and have no agenda? For me, it's a constant state of doing, and in San Pancho I do a lot more just being, and it was exactly what I need.
If it's exactly what you need too, I hope you come check it out. But don't let the word get out too much, okay? Let's just keep this little secret between you and me.
Enjoy this little gem!