Spanish FA to take legal action over Hermoso 'lies'
The Spanish football federation says it will take legal action over Jenni Hermoso's comments about its president Luis Rubiales.
Hermoso said on Friday she did not consent, but the federation has questioned her version of events.
"The evidence is conclusive," it said. "Mr President has not lied."
In a statement by players' union Futpro, which is representing 33-year-old Hermoso, she is quoted as saying "in no case did I seek to raise (lift) the president" while they embraced on the podium.
The Spanish Football Federation (RFEF) said: "The RFEF and Mr President will demonstrate each of the lies that are spread either by someone on behalf of the player or, if applicable, by the player herself.
"The RFEF and the President, given the seriousness of the content of the press release from the Futpro union, will initiate the corresponding legal actions."
The federation also said that, if selected, players have "an obligation" to play for the national team, after 81 female players said they will not represent Spain until Rubiales is removed from his post.
Real Betis striker Borja Iglesias has also said he will not play for the men's national team again while Rubiales is in charge.
In its statement, the RFEF provided four images of Hermoso's embrace with Rubiales, with an analysis of each, which it claims demonstrates that she applied the force to lift Rubiales' feet off the ground.
The federation says it has tried to contact Hermoso, who is Spain's leading women's goalscorer with 51 from 101 appearances, but have "been unsuccessful at all times".
How did the situation get to this point?
Rubiales' behaviour at the Women's World Cup final has drawn international criticism, with government ministers demanding his resignation.
The 46-year-old watched Spain's 1-0 win over England from the VIP area of Stadium Australia in Sydney.
As he celebrated at the final whistle he grabbed his crotch, with Queen Letizia of Spain and her 16-year-old daughter standing nearby.
Then came the kiss with Hermoso, who plays her club football in Mexico for Pachuca, during the presentation ceremony.
She initially said on Instagram she "didn't like" Rubiales' actions but a later statement released on her behalf defended him.
Rubiales apologised for the kiss on Monday, but Spain's Prime Minister Pedro Sanchez said that was "not enough" and second deputy prime minister Yolanda Diaz joined those calling for him to resign.
On Wednesday, Hermoso said Futpro would "defend my interests" and the union said the kiss should not go unpunished.
On Thursday, football's world governing body Fifa said it had opened disciplinary proceedings against Rubiales, and the RFEF called an extraordinary general assembly on Friday, where Rubiales was expected to resign – but insisted he would not.
Although he apologised for grabbing his crotch, he vowed to "fight until the end" and said the kiss was "mutual, euphoric and consensual".
The Spanish government later began legal proceedings seeking to suspend Rubiales, before statements by Hermoso and Futpro on social media led to the latest response by the RFEF.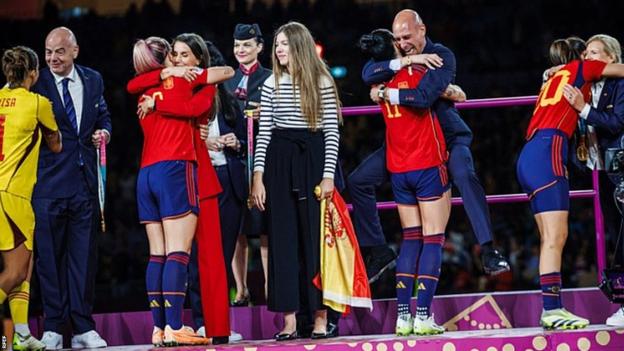 'His ego is greater than his dignity' – reaction
Rubiales' defiant stance has been met with widespread condemnation.
Beatriz Alvarez, president of Liga F, Spain's top women's league, said: "His ego is greater than his dignity and honour.
"I think more people are going to join in but given the lack of determination of Luis Rubiales, other people are beginning to speak out."
During Saturday's game between Orlando Pride and San Diego Wave in the National Women's Soccer League in the United States, all players wore wristbands featuring the message 'Contigo Jenni' [With you Jenni].
They included USA striker Alex Morgan, who said on Friday: "I'm disgusted by the public actions of Luis Rubiales. I stand by Jenni Hermoso and the Spanish players.
"Winning a World Cup should be one of the best moments in these players' lives but instead it's overshadowed by assault, misogyny and failures by the Spanish federation."