Spain coaching staff resign over Rubiales row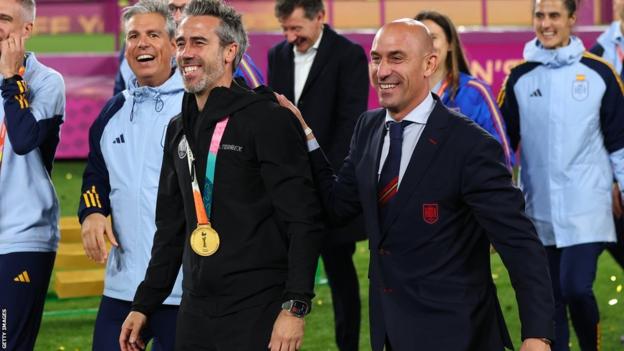 Spain's entire coaching staff from their World Cup win, except for manager Jorge Vilda, have resigned over the Luis Rubiales row.
Assistant managers Montse Tome, Javier Lerga and Eugenio Gonzalo Martin, along with physio Blanca Romero Moraleda and goalkeeping coach Carlos Sanchez, have all quit.
Six others involved with the national side at various age levels have also resigned.
Spanish FA president Rubiales was suspended on Saturday by Fifa after kissing forward Jenni Hermoso on the lips following the Women's World Cup final victory over England in Sydney.
In a statement, the coaching staff said: "Those named below express their firm and resounding condemnation of the conduct shown by the RFEF president.
"He offered a story that does not reflect in any way what was felt by Jenni Hermoso, who has expressly stated that she felt she was the 'victim of aggression'.
"Given the unacceptable attitudes and statements made by the president, they have made the decision to relieve themselves of their duties."
The head coach of Spain's men's team, Luis de la Fuente, who on Friday clapped Rubiales when he gave a speech saying he would not resign, issued a statement on Saturday criticising him.
"The behaviour of Luis Rubiales did not respect the minimum protocol that must be followed in these celebratory acts," De la Fuente said.
"They are not edifying or appropriate for a person who was representing all of Spanish football. He himself has publicly acknowledged the inappropriateness of his behaviour."
Rubiales has refused to resign over .the incident and the RFEF has said it will take legal action over Hermoso's "lies".
She has said the kiss was non-consensual, but the 33-year-old's version of events is disputed by Rubiales.
On Friday Hermoso released a long statement on social media, saying: "I want to make clear that at no time did the conversation to which Mr Luis Rubiales refers to in his address take place and, above all, was his kiss ever consensual."The forward, who plays for Mexican club Pachuca, added his claims were "categorically false and part of the manipulative culture that he has generated"."I feel the need to report this incident because I believe no person, in any work, sports or social setting should be a victim of these types of non-consensual behaviours. I felt vulnerable and a victim of impulsive-driven, sexist, out-of-place act, without any consent on my part," she continued."Quite simply, I was not respected."
Manager Vilda is an ally of Rubiales, and on Friday the latter said that he wanted to award him a new four-year contract, paying 500,000 euros (£429,000) per year.
Vilda survived a revolt last year when 15 players submitted identical emails saying they would not play for Vilda unless "significant" concerns over their "emotional state" and "health" were addressed.
Earlier on Saturday, Fifa announced its decision to "provisionally suspend Mr Luis Rubiales from all football-related activities at national and international level".
In response, the RFEF said Rubiales would "legally defend himself".
Fifa opened disciplinary proceedings against the 46-year-old president on Thursday.
Football's world governing body has also ordered Rubiales or any representative of the federation (RFEF) to refrain from attempting to contact Hermoso.
A torrid week for Spanish football
20 August – During the ceremony following the World Cup final, Spanish forward Hermoso is first embraced and then kissed on the lips by Rubiales.
Hermoso later reacts to the kiss during a live stream and says she "did not enjoy" it.
21 August – Rubiales issues an apology saying he is "sorry for those who were offended" after being fiercely criticised by other footballers, the media and even by the Spanish prime minister, some of whom called on him to step down.
24 August – Fifa opens disciplinary proceedings to examine Rubiales' actions.
25 August – A defiant Rubiales insists at a RFEF emergency meeting that he will not resign, and calls the kiss "consensual".
25 August – The Spanish government says it is beginning legal proceedings seeking to suspend Rubiales, with the Spanish secretary of sport saying he "wants this to be Spanish football's MeToo moment".
25 August – Later that day, Hermoso releases a statement on Instagram rebuffing Rubiales' claims, saying that "at no time… was his kiss ever consensual".
25 August – 81 Spanish players – including all 23 players who went to the Women's World Cup – announce they will not play for the Spain's women's team until Rubiales is removed from his position.
26 August – The Spanish football federation says it will take legal action against Hermoso over her "lies" about the kiss.
26 August – Fifa announces it is provisionally suspending Rubiales pending the outcome of its disciplinary proceedings.
26 August – Mass resignation of coaches is announced in protest at Rubiales' conduct.