Is Faye Travel Insurance worth using? With so many companies out there, how do you pick the right one? This is my first hand experience buying, filing a claim, and getting reimbursed with Faye on my most recent trip to Japan.
By the way, Faye asked me to test and review their product, and any links in this post that you purchase through support me at no extra cost to you. However getting sick on my trip, fully utilizing the insurance, and filing a claim weren't planned (how could it be?) and the following is my first-hand account of how it all went down:
Buying Faye Travel Insurance
Buying travel insurance usually starts with inputting dates, reading as much fine print as possible, and hoping it all works out if you need to make a claim. Having used four different companies over the past decade, it's been a similar experience every time.
Faye had quite a different interface, though. It felt much more human to me.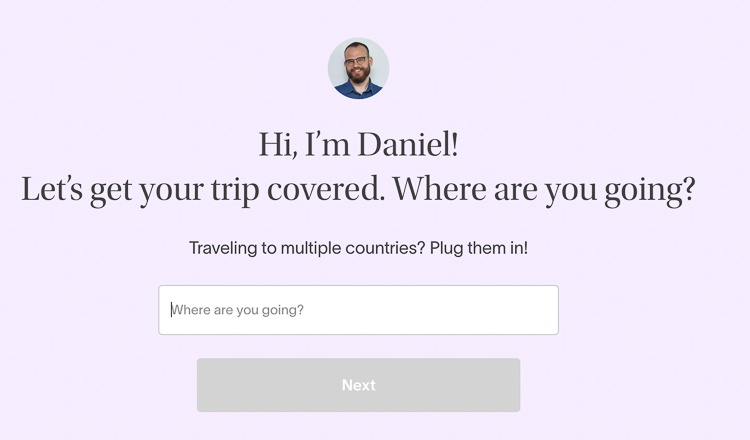 You'll begin by putting in your location, dates, and amount of travelers with you. The policy quote will have the main points, with a link at the bottom to read the full policy. Keep in mind that preexisting conditions can be covered as long as you purchase your plan within 14 days of your initial trip deposit, and are medically able to travel when you purchase your plan.
Price-wise, it worked out to under $100 per person for our two-week trip. My policy included up to $5000 in trip interruption coverage, including inconveniences like delays, rental lock-outs, delays at security, and late arrival.
It also included COVID-19 coverage, medical evacuation, and an option to add rental car care, adventure and extreme sports protection, and vacation rental damage protection. Depending on what you select (and where you're based), you can pick the options that best suit your needs.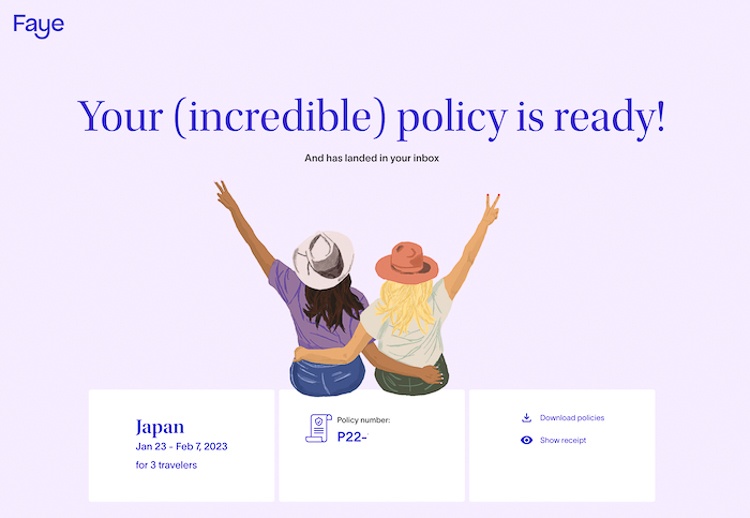 Once I purchased, I was emailed the policy summary as well as the full coverage pamphlet.
The whole process took about 5 minutes.
Using the App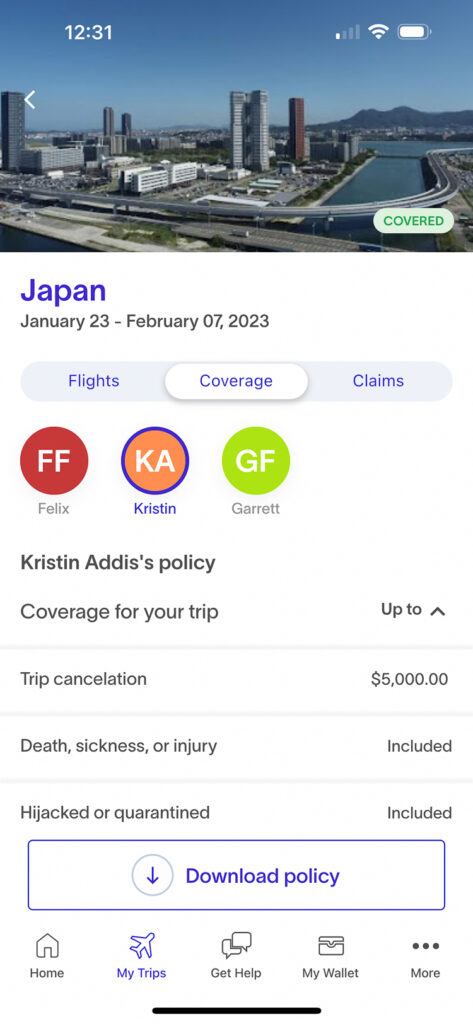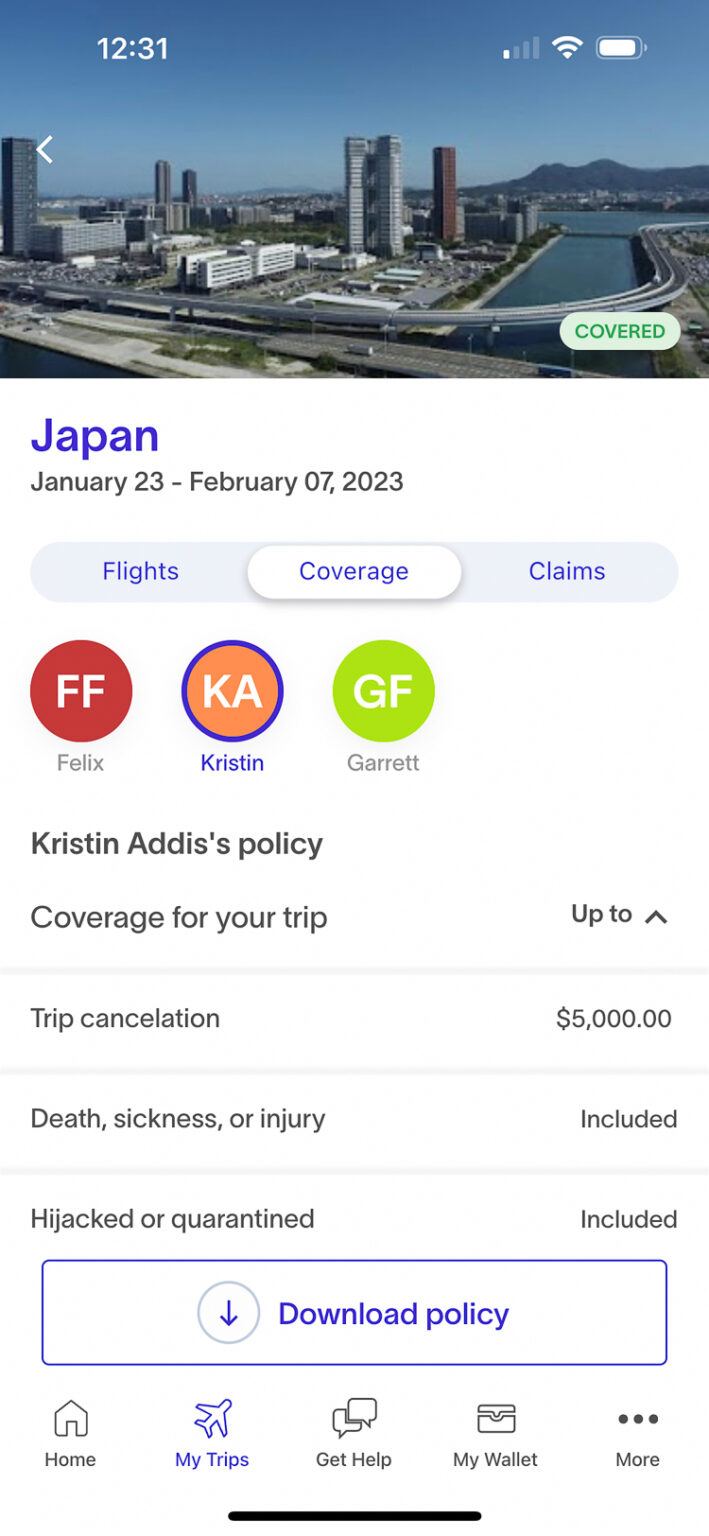 Faye is the first travel insurance that encouraged me to download an app for my trip. I input my flight details and had the insurance coverage info noted in the app as well.
For the most part, insurance is something you buy and forget about, until you really need it.
Since I did get sick, the app came in handy when I needed to make a claim.
Getting Medical Care Abroad
Unfortunately, I developed a cough that re-awakened my childhood asthma during my first few days in Japan. It was tough to sleep due to the wheezing.
I looked around for some doctors on Google maps before picking one who had stellar reviews and took walk ins. Before seeking medical care in Kyoto, I checked the app and read my policy again to make sure I didn't have to use a pre-approved doctor or get any paperwork specific to my insurance for the doctor to fill out – two areas where claims sometimes get denied by travel insurance providers.
Not seeing any requirements like that, I made my appointment, got there, and paid in cash. The appointment and medications came out to just under USD $90. I received a receipt detailing the diagnosis along with the medications prescribed and what I paid. It was two pages in total.
Making a Claim with Faye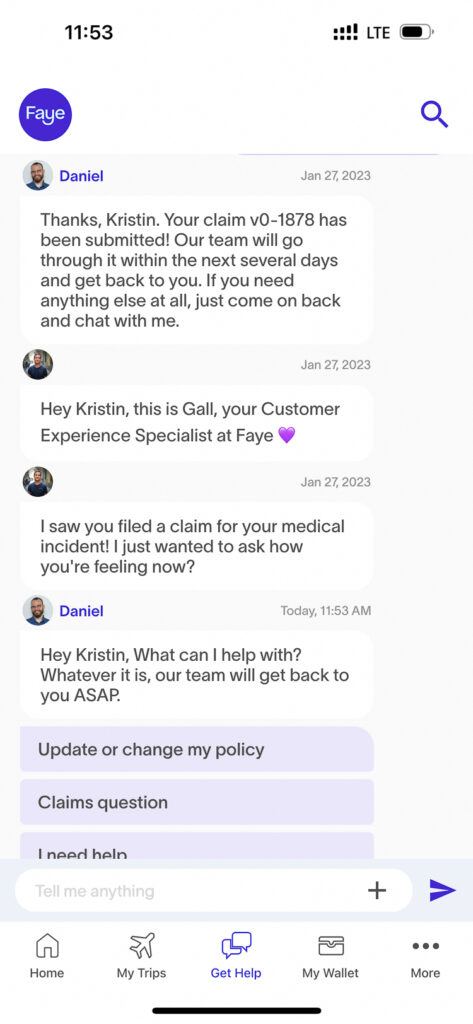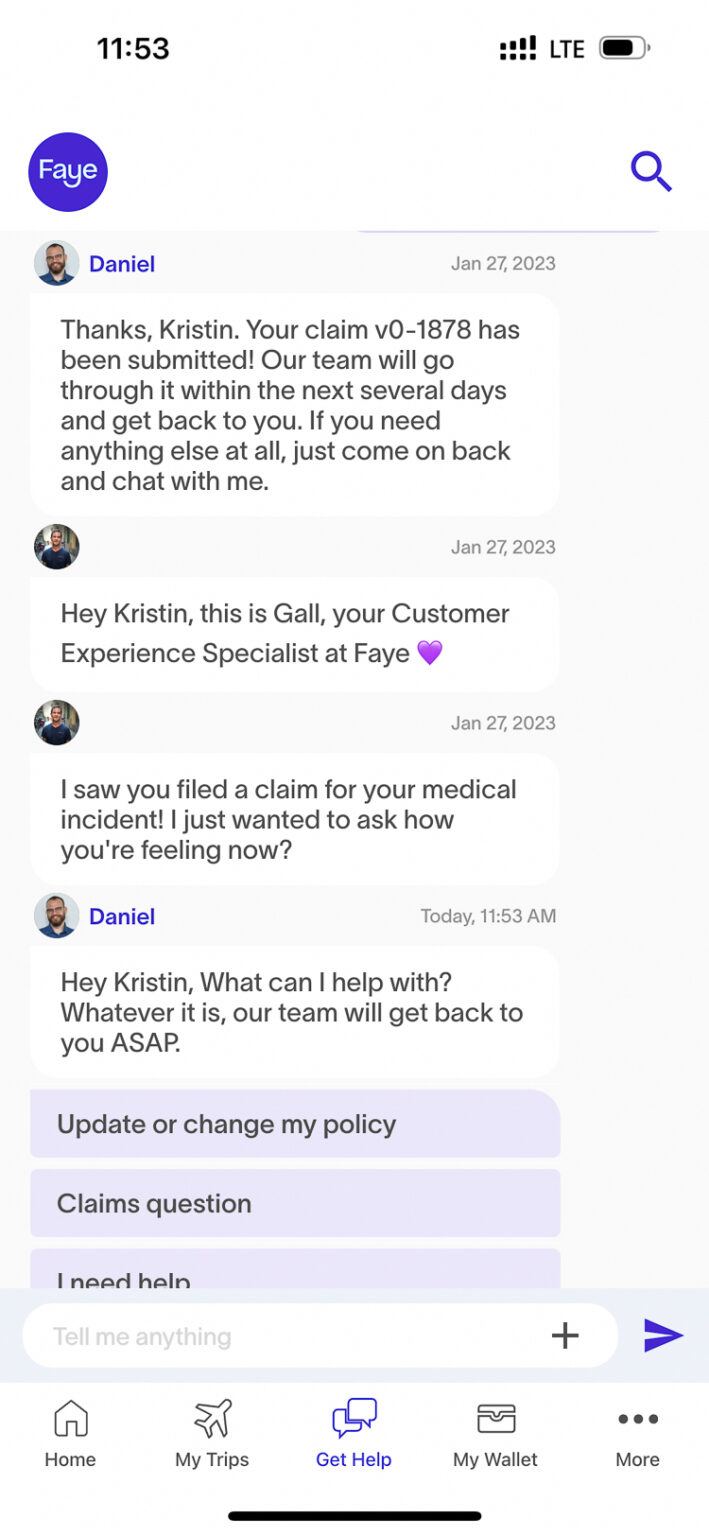 Immediately after coming back from my appointment, I opened the app and started chatting with Faye. I wanted to see if it was really that easy to file a claim, get it approved, or if I would run into a bunch of red tape.
I took photos of the receipts and uploaded them to the chat. I didn't let them know that I was writing this review. I wanted to be treated like a normal customer and have the same experience that anyone would have.
I received a follow up check in message asking how I was feeling a few days later which, to be honest, I ignored since we were in the full swing of the trip.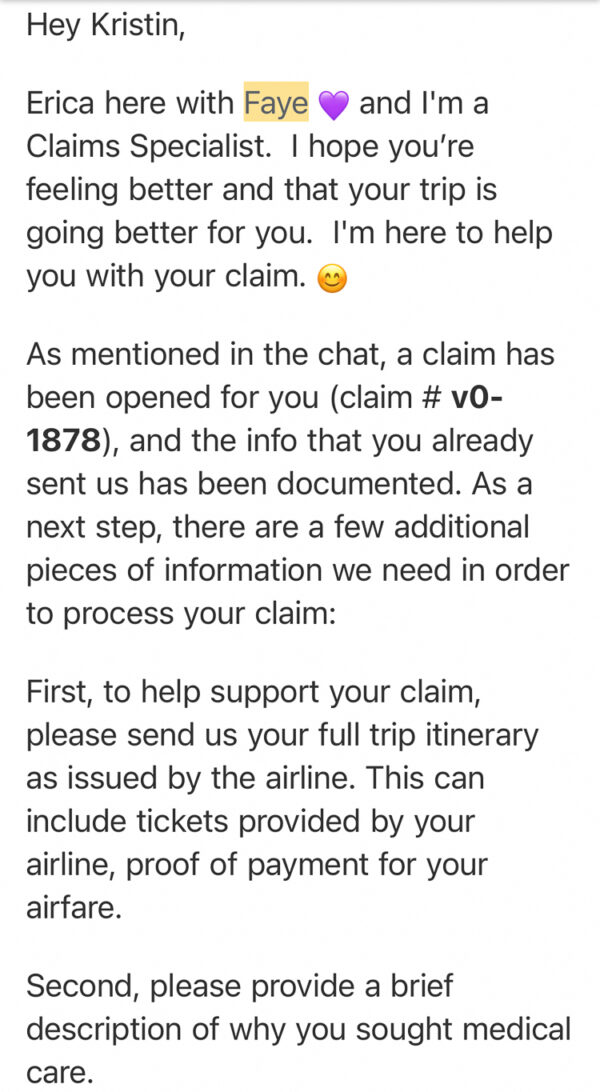 I received my first email on February 10, about two weeks after initiating the chat. It was from a real person, and she was my point of contact from then onward. I provided proof of the trip (flight receipts) and sent a brief description of why I sought care per her email instructions. It took me maybe 3 minutes to collect the info and briefly describe my symptoms and why I sought care.
On February 22, 12 days later, I received a claims summary and on February 25, was informed my claim had been approved in full.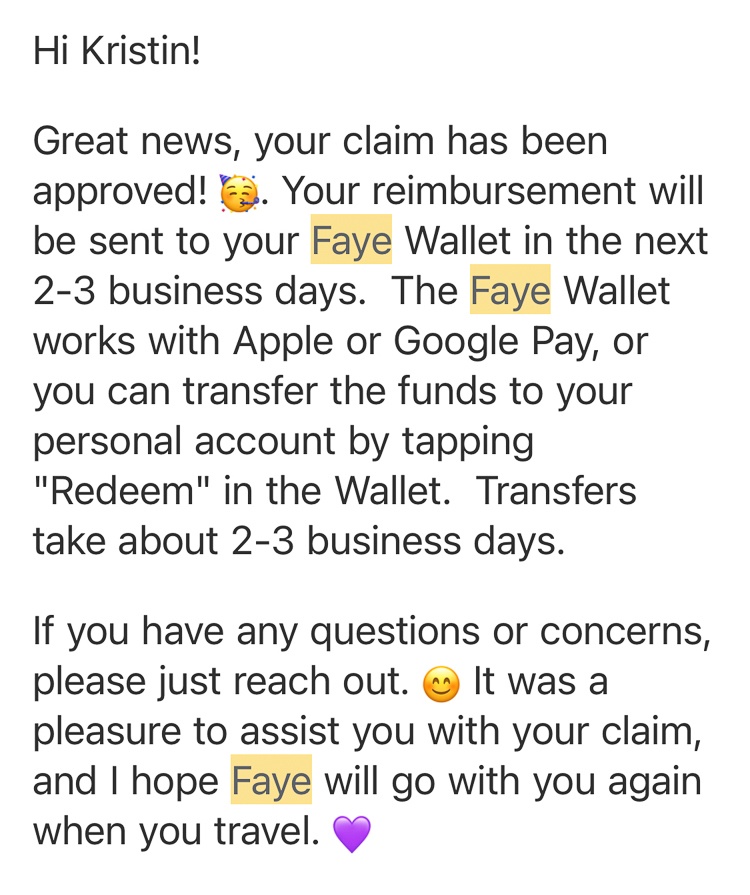 I was honestly shocked I hadn't needed to call, follow up, or argue my case any further. It's how it should be, but it's just not what I've come to expect from insurance.
From there, the balance was reflected in the app under the wallet tab, available to withdraw to my bank account or you can add your Faye digital debit card to your phone's wallet (Apple Wallet or Google Wallet) and tap to pay, and use towards anything you please. The whole process took less than a month.
My Take on Faye
I was honestly impressed by how easy the whole process was from purchasing insurance, to understanding what I needed to do to get reimbursed, to actually getting reimbursed. As mentioned earlier, the whole thing felt straightforward, personalized, and human, which isn't usually how insurance feels to me.
Of all the insurance I've used, this is one that I will use again.
Keep in Mind
This was my personal experience using this insurance, but it can always vary based on the fine print, the policy that you choose, and what you need to be reimbursed for.
Most travel insurance is not a complete one size fits all product. If you're traveling with super expensive camera gear, for example, read the fine print and decide if you need an additional policy to cover your gear (you probably do). Make sure the trip interruption and cancellation suit your desires and expectations, and get clear on coverage for certain activities you're participating in. Additionally, buy insurance as soon as you put down your trip deposits, as you lose pre-existing medical coverage if you wait more than 14 days from that initial purchase.
Although travel insurance is an additional trip expense, it's one of those things that's important to have when you really need it. Thankfully my medical expenses were low, but you never know! Depending on the severity of the situation, I could have been tens of thousands in the hole without coverage.
Based on my experience I would absolutely recommend Faye travel insurance. It was quick, easy, and I liked having access to a person I could chat with when I really needed it. No hours on the phone, no headaches, and no feeling like I was ignored.
You can explore your options here! 
*This post was brought to you in partnership with Faye Travel Insurance. All opinions on the travel insurance are my own, as always.Your trust comes first!