Fury beats Paul on split decision in Saudi Arabia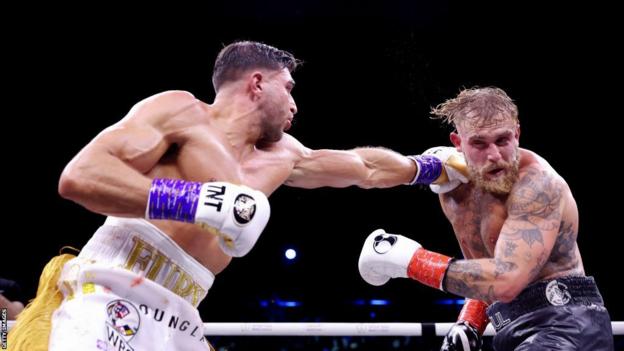 Tommy Fury beat Jake Paul by split decision in arguably the most anticipated contest between two novices in boxing history.
Fury, 23, was the busier fighter, landing more accurate punches and demonstrating his boxing fundamentals.
The former Love Island star, brother of WBC heavyweight champion Tyson Fury, was knocked down by YouTuber-turned-boxer Paul in the eighth round.
One judge scored it 75-74 to Paul, with the other two scoring it 76-73 to Fury.
"For the past two years this is all that has consumed my life," an emotional Fury, who has now won all nine of his professional bouts, said on BT Sport.
"Everybody thought I was running scared but tonight I made my own legacy."
After dedicating the fight to his new-born baby daughter Bambi, Fury added: "This is my first main event, I am going to get bigger and better and if he wants a rematch, bring it on."
Paul – who lost for the first time in his seventh professional fight – said: "All respect to Tommy, he won. Don't judge me by my wins, judge me by my losses.
"I don't know if I agree with the judges, it is what it is but that is the boxing world."
Build-up and atmosphere in Saudi Arabia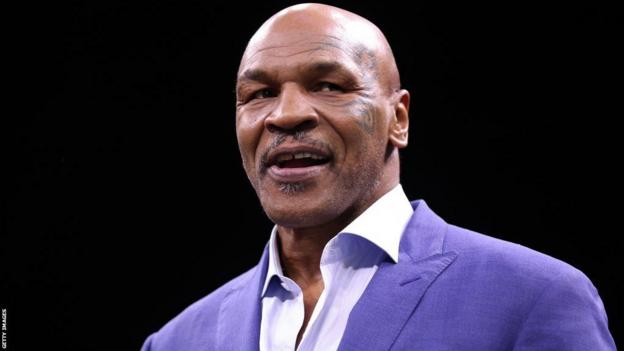 Several stars from the world of sport and entertainment were in attendance and many more were following the eight-round bout from home.
Boxing legend Mike Tyson and footballer Cristiano Ronaldo were among those present in the open-top Diriyah Arena in Riyadh.
Popstar Drake shared a screenshot of his $400,000 (£335,000) bet on a Paul KO win, while Home Alone actor Macaulay Culkin tweeted: "There's no better way to celebrate your half birthday than to watch Jake Paul get punched in the head repeatedly."
The main event was given the full big-fight treatment, with legendary Master of Ceremonies Michael Buffer introducing both fighters.
Fury, dressed in white with the name of his new-born daughter etched across his robe, walked first to the ring along with trainer and dad John Fury and brother Tyson.
But with Fury waiting patiently, 'The Problem Child' Paul was still pacing up and down in his dressing room as the mind games continued. When Paul did make his entrance, a chorus of boos echoed around the venue.
Unusually, the fight took place on a Sunday night and while both Paul and Fury boast a huge social media following among younger fans, the first bell did not ring until 22:30 GMT (01:30 local time) – almost an hour later than scheduled.
The fight was the latest lucrative sporting event to take place in Saudi Arabia.
The Kingdom has spent billions to bring elite sport to its country but critics, such as human rights organisation Amnesty International, have accused Saudi Arabia of trying to 'sportswash' away the country's "abysmal" human rights record.
How did the fight play out?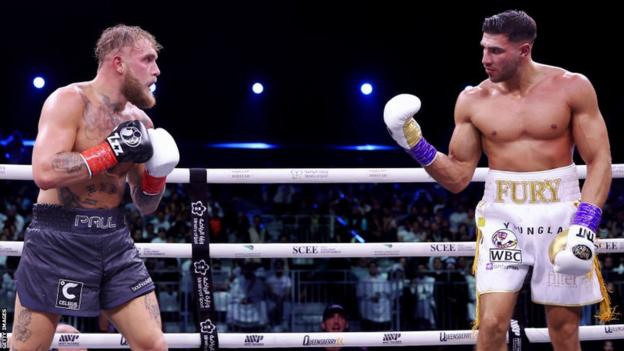 After all the hype and expectation, it was a scrappy opening minute of the fight. Fury landed a couple of solid jabs and ended the round with the first meaningful punch, a left hook.
Fury settled well into the second, rocking Paul's head back with a sharp jab – and even showboated by twirling his hand then landing a flush punch.
With Paul eyeing up the single power shots, he glanced Fury's forehead with an overhand right but missed wildly on other occasions.
Paul started to use his jab and found success in the third. Then, somewhat bizarrely, Paul's brother Logan was interviewed ringside and with everyone in the arena able to hear, he insulted Fury and his family.
The fight had already divided opinion in the boxing world and this between-round episode will likely have further cemented the thoughts of traditionalists who feel it is making a mockery of the sport.
The comments seemed to spur Fury on as he connected with a short right hand and followed it with a flurry of punches from range in the fourth, although Paul ended the round well, landing cleaner blows.
Paul had the best of the fifth round but was deducted a point for a punch to the back of the head. Fury landed terrific uppercuts in the sixth, but then he was also deducted a point for holding. Neither fighter was warned by the referee beforehand.
The fighters were visibly tired in the seventh, the first time in Fury's career he had gone that deep into a fight. But it was the Briton who edged the round through his work-rate.
In a frantic final round, with both boxers looking to land the telling blow, Fury hit the deck from a Paul jab. He looked more startled than hurt and insisted to the referee it was a slip.
'It was my destiny'
The WBC had said the winner will now get a top-40 ranking with the sanctioning body which, in theory, could pave the way for a future world-title shot.
It was a move that irked many hardcore boxing fans, who feel there are more deserving fighters who should be given a ranking.
In his short career so far, Paul has boldly – and to the annoyance of those fans – called out the best boxing has to offer.
He has mentioned the likes of Saul 'Canelo' Alvarez, one of the top pound-for-pound stars, and, more recently, former British world champion Carl Froch.
But he has suffered a loss in his first fight against an opponent with a boxing background. He had previously faced YouTuber AnEson Gib, ex-NBA basketball player Nate Robinson and MMA fighters Ben Askren, Tyron Woodley and Anderson Silva.
"I have won in every single way already in life," he said. "I have made it further than I ever thought. I'll take it on the chin but we can run it back."
Prior to the fight, Fury was told by his dad and brother he would be disowned if he lost.
"All the way through, I had a dream and a vision that I would win this fight but now everyone can stand up and take note," the winner said.
"I had pressure on my shoulders and I came through. This to me is a world-title fight – it was my destiny."
'They're bringing eyeballs to the sport'
Boxing pundit Steve Bunce on BBC Breakfast
It was entertaining, the hype lived up to itself, and it was actually sport.
It wasn't a masterpiece, but there was a lot of heart and guts. What we ask for in boxing is that the two men or women in the ring give us everything they've got and these two did. It wasn't a great boxing match, but it was a great event.
They're bringing eyeballs to the sport.
If Jake Paul can reach 200m people with one tweet and get it retweeted 10m times in about five minutes no matter what time he sends the tweet, then if millions and millions of new eyeballs are watching the sport, they're not all going to disappear when the boxing finishes.
So how is 250,000 potentially new fans going to hurt any sport, whether it's tiddly winks or boxing? It has to be positive.