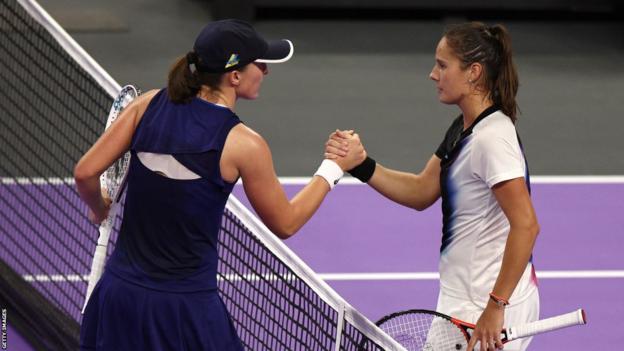 A ban on Russian and Belarusian players by tennis authorities would have sent a strong message, says world number one Iga Swiatek.
Players from the two countries were banned from Wimbledon in 2022 after Russia's invasion of Ukraine, but were allowed to compete elsewhere on the ATP and WTA Tours under a neutral flag.
Wimbledon has now reversed its decision for the 2023 Grand Slam tournament.
But Poland's Swiatek says tennis could have done better "from the beginning".
"I heard that after World War Two, German players were not allowed as well as Japanese and Italian, and I feel like this kind of thing would show the Russian government that maybe it's not worth it," the 21-year-old Swiatek told the BBC."I know it's a small thing because we are just athletes, a little piece in the world but I feel like sport is pretty important and sport has always been used in propaganda.
"This is something that was considered at the beginning, tennis didn't really go that way, but now it would be pretty unfair for Russian and Belarusian players to do that because this decision was supposed to be made a year ago."
As the top-ranked player in the women's game, Swiatek said she has players "approaching" her for help and advice on the issue.
She added there was a "lack of leadership" from the WTA and ATP after the war started and, as a result, tennis was in a "chaotic place".
"I feel like tennis, from the beginning, could do a bit better in showing everybody that tennis players are against the war," added Swiatek.
"I feel they could do more to make that point and tell their views, and help us cope a bit better in the locker room because the atmosphere there is pretty tense."
Of the Russian and Belarusian players on the tour, Swiatek said: "It's not their fault they have a passport like that but, on the other hand, we all have some kind of impact and I feel like anything that would help stop the Russian aggression, we should go that way in terms of the decisions the federations are making."It's easy to say that but when you're facing people face-to-face it's a little bit different. I did shake hands, for example, with Daria Kasatkina – she openly said that she's against the war at the beginning and it would be her dream for the war to finish.
"I really respect that because I feel it's brave for Russian athletes to say that because their situation is pretty complicated and sometimes it's hard for them to speak out loud about it."