York is a city in the north of England famed for its cathedral, quaint cobbled streets and for its many excellent museums. Discover the best things to do in York from exploring the city's links with the chocolate industry (and of course have a taste) to its Roman and Viking past.
There are so many wonderful places to see in York including the ancient city walls, the River Ouse that runs through the center, Clifford's Tower and much more besides. I've been visiting York since childhood and still have family in the city and love exploring its historic center.
The city should also be firmly on the map for foodies with lots of great restaurants, bistros and pubs along the river and in the town center. York is also excellently placed for exploring the nearby North Yorkshire Moors and Lake District National Park. The city is definitely one of the best places to visit in England and a firm favorite of mine.
Best Things To Do in York
Below you'll find a wide selection of things to do around York including historic buildings, cultural museums, fun experiences national parks and more. I love sightseeing in York and I'm sure you will too.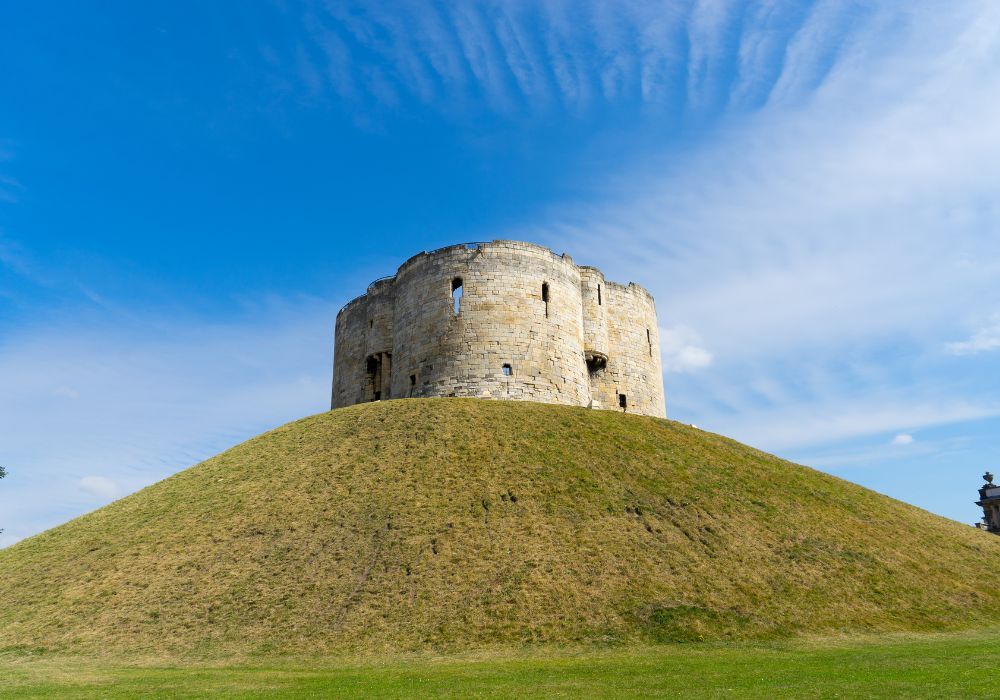 If you want to visit lots of the York attractions, then be sure to get a York City Pass for massive savings on 20 of the top sights.
1. See the Gothic York Minster Cathedral
The beautiful York Minster cathedral (officially titled the Cathedral and Metropolitan Church of St Peter in York) is the centerpiece of the city and dates back to 1472. It is the seat of the Archbishop of York, the third highest office in the Church of England.
The imposing gothic spires of the cathedral can be seen from almost every part of the city and it's set within a large square in the center of the old town. Visiting York Minster is one of the top things to do in York for first-time visitors and the cathedral square is one of my favorite places to sit and relax in summer.
The cathedral is open to the public from 9:00am to 4:00pm Monday to Saturday and 12:45pm to 3:15pm on Sundays. There is also an onsite shop and museum, and it's also possible to attend a service. You can take a tour of the cathedral and towers for £22 for adults and £6 for children (attending a service is free).
2. Take a Walking Tour of the Old City
York is a real pleasure to walk around and it's one of the first things I do on each visit to the city. The historic center is packed with interesting architecture from Roman to medieval gothic and modern. The city is famed for its excellent boutique shops and restaurants around Bishopthorpe Road (Bishy to locals).
One of the best ways to orient yourself and get to know this gorgeous city is to take a walking tour. This small-group walking tour takes in the city's top attractions including York Minster, the Roman fortress, the cobbled lanes of the Shambles and a Victorian botanical gardens.
The tour lasts 90 minutes, but if you're looking for less exertion then grab a ticket for the York Sightseeing "hop on, hop off" bus which also takes in the main tourist attractions in York.
3. Take a Cruise on the River Ouse
The River Ouse (rhymes with cruise) runs through the center of the city and is one of the top attractions in York. There are many excellent pubs and restaurants along the river such as the Kings Arms where I like to drop in for a pint, and the Star Inn the City (see below restaurants section).
However, the best way to see the river and have incredible views of the city is to take a River Ouse cruise. This 45-minute city cruise is the perfect way to experience the city and see the sights from a unique perspective. You'll also be treated to a live commentary detailing the historic sights you pass.
This is one of the best things to do in York for couples as you take a romantic cruise through the charming city and sip on something bubbly from the onboard bar.
4. Visit the Jorvik Viking Centre
As a kid visiting the Jorvik Viking Centre was one of my favorite things to do in York (along with the York Dungeon – see below). Here you can take a trip back in time as you travel through Viking villages with all the smells and sounds of England over 1,000 years ago.
This is one of the best things to do in York for families and includes lots of interesting exhibits, interactive displays and more. The museum and experience opened in 1984 and it probably wasn't long after that that I first visited. Much has been added since then and each time I go back there is something new to explore.
The Jorvik Centre is open daily from 10:00am to 5:00pm (9:00am to 6:00pm during school holidays) and your visit should last around an hour. Tickets must be pre-booked online and cost £13.50 for adults and £9.50 for children. You can also purchase a special ticket for £21.75 that includes access to archaeological sites and the city walls.
5. Get Spooked at the York Dungeon
The York Dungeon charts the city's grisly history from the Viking invasion over 1,000 years ago, through to medieval torture, Guy Fawkes and a notorious highwayman. This is definitely one of the most fun things to do in York for all the family (though not suitable for children under five).
I loved visiting the dungeons as a kid and there is lots to see and do inside from dioramas and immersive 360-degree sets to some amazing special effects. There are 10 live shows inside with a few surprises in store making this one of the best things to do in York, England.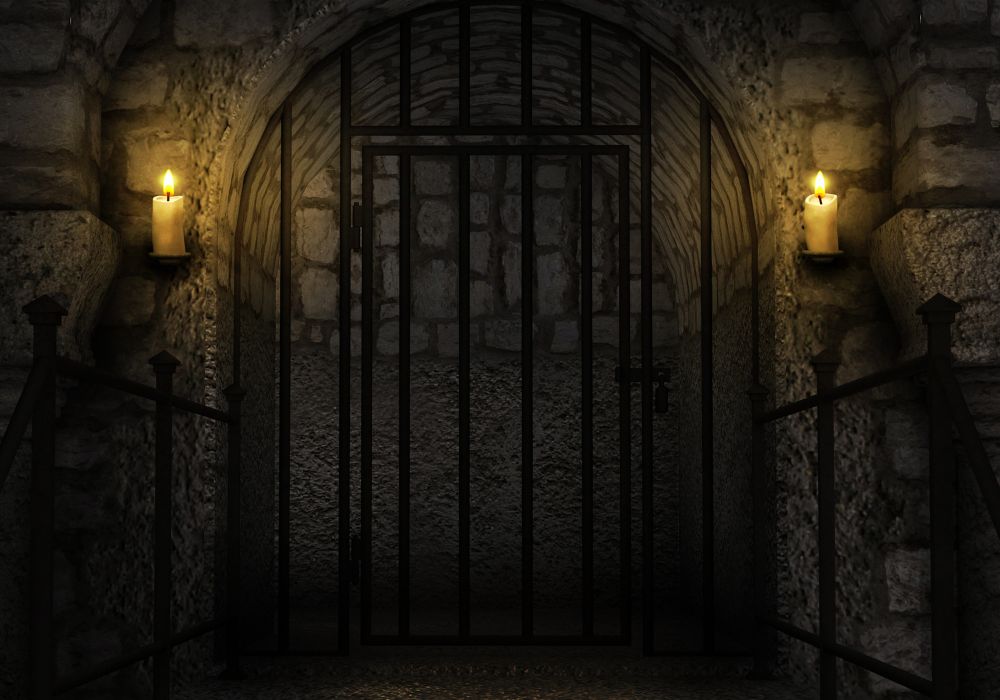 You can book tickets online and the dungeons are open daily from 11:00am to 4:00pm.
6. Experience York's Chocolate Story
This 75-minute guided tour will take you on a chocolatey journey around York where you'll get to learn about the city's long association with confectionary and be able to sample some of the delightful treats. You'll get to see how the chocolate is made by experienced chocolatiers and see some fascinating demonstrations.
If like me you can't resist a bit of chocolate, this is a real treat. The experience takes place at the Chocolate Story in the center of the city. You can explore the three floors of exhibits and interactive displays and at the end you'll even be able to make your own chocolate creation to take away (or scoff on the spot).
7. Take a Selfie in the Shambles
The Shambles is certainly one of the best places to visit in York to get that perfect Insta photo. This is also one of the best free things to do in York as you explore the charming, cobbled streets, boutique shops and picture-postcard lanes that look like they are straight out of a Dickens novel.
This medieval street is one of the best preserved in Europe and was used as inspiration for Diagon Alley in the Harry Potter films (you can also take a tour of the Warner Bros Studios from London and see the version used in the films). See the gorgeous old buildings overhanging the lanes with wooden fixtures that haven't changed in centuries.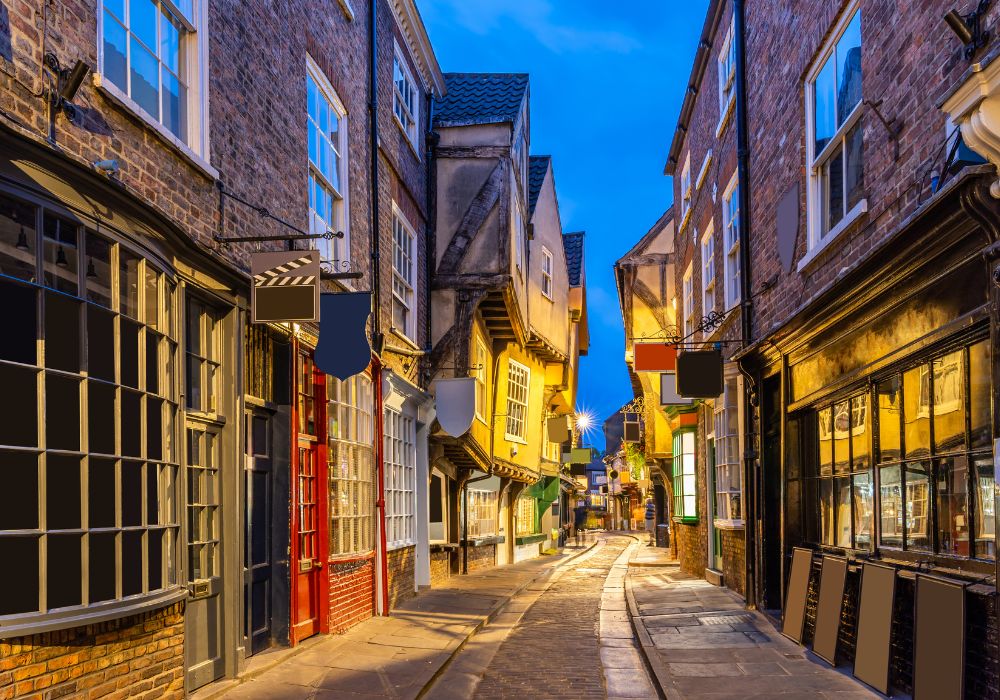 If you want to know what to see in York, then the Shambles is certainly one of the top attractions and shouldn't be missed. It's one of my favorite parts of the city and I love exploring the interesting shops and cafes.
8. Visit Clifford's Tower
Clifford's Tower is one of York's most iconic landmarks. It was built in the 11th Century by William the Conqueror to protect the city against invading Danes and Vikings. The tower was the site of a masacre in 1190 and has been used throughout the ages as a Royal Mint and civil war garrison.
The tower is open daily from 1000:am to 4:00pm and entr ycosts £8.10 for adults and £5.40 for children. The price includes entry to the tower museum and rooftop.
Insider's tip: The views from Clifford's Tower across the rooftops to York Minster are the best in the city and should be on the list of every budding photographer. This is definitely onee of my favorite places to visit in York for the history and panoramic views.
9. Walk the Roman City Walls
Just like my hometown of Colchester, York is surrounded by ancient Roman walls dating back over 2,000 years. The city walls are one of the best things to see in York for history lovers like myself. Unlike Colchester though, York has more miles of excellently preserved walls than any other town or city in England.
The defensive walls were contructed in 71 AD and have been extended throughout history with towers being added in 310 to 320 AD. The walls were later restored by the invading Danes, and reinforced again during the medieval period, making them one of the most impressive and varied historic sites in the city.
It's possible to walk around the entire 2.1 miles (3.4km) of walls and doing so takes about two hours. Walking on the elevated walkway around the city is one of the best free things to do in York as there is no cover charge for entry. The walls are open daily from 8:00am to 11:00pm.
10. See the Paintings at York Art Gallery
If you're looking for what to do in York on a rainy day then head along to the city art gallery which is home to an impressive collection of watercolors, drawings and ceramics dating from the 14th Century to the present day. There are different exhibitions throughout the year so check the website to see what's on.
The gallery is open from 10:00am to 4:00pm Wednesday to Sunday. The main gallery is free to enter, but an admission fee is charged for pop-up exhibitions (usually around £8.00 per ticket). There is an onsite cafe that hosts sketching classes, a shop selling painting supplies and prints, and an outside garden with seating.
11. Visit the Railway Museum
I have to confess that as a kid I found the National Railway Museum a little boring, but little did I know back then that I would go on to travel much of the world by train and develop a deep love for this simple mode of transport. As such I'm itching to get back and make amends for my childhood self.
The museum is home to one of the UK's most famous trains; the Flying Scotsman. 2023 marks the 100-year anniversary of when this stylish locomotive first entered service and there are lots of events centering around this beautiful train. The museum also houses an interesting collection of trains throughout history and from around the world.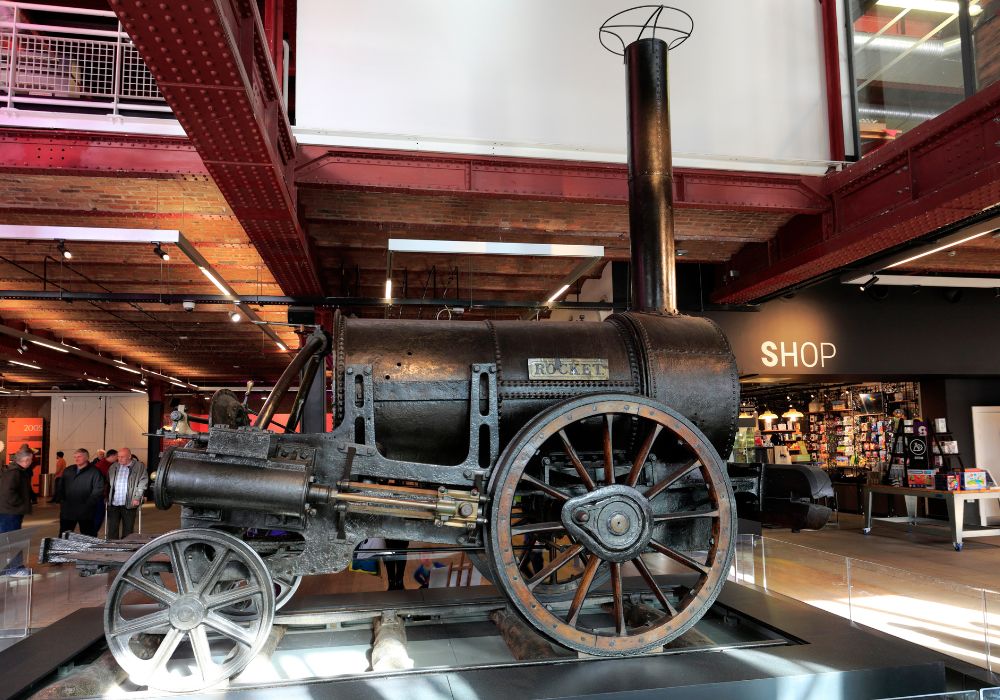 There is a Japanese Shinkansen Bullet train (which I've traveled on in Japan), Stephenson's Rocket which was the first locomotive and the world's fastest locomotive; the Mallard. What's even better, is that all this is free to visit. Open from 10:00am to 5:00pm Wednesday to Sunday.
12. Ghost Bus Tour and Comedy Horror Show
If you're looking for fun stuff to do in York in the evening then taking a ghost bus tour is a great option. This 75-minute sightseeing and theatrical tour will fill you in on York's grisly history with the help of the creepy conductor and a host of ghoulish actors.
You'll also learn all about the city's most famous landmarks like Clifford's Tower, York Minster and the Grave of highwayman Dick Turpin. Taking a trip on the "necrobus" is definitely one of the best things to do in York at night. The tour starts at 7:30pm daily and you can book online.
13. Go on a Cycling Tour
Another great way to experience York (and work off all those chocolates) is to see the city on two wheels. This two-and-a-half-hour guided cycling tour is a fantastic experience and as a keen cyclist is something I'll do on my next visit.
You'll get to explore some real hidden gems with a knowledgeable guide who will show you the city's history from the Romans to the Vikings, William the Conqueror and Highwayman Dick Turpin up to the present day.
You'll need to be fit though, as the average speed is "900 years an hour".
14. Have a Day Trip to Whitby
The charming seaside and fishing town of Whitby is one of the best places to visit near York for its stunning Abby, picturesque harbor and fascinating history. It's also the location for the annual Whitby Gothic Weekend thanks to the town's connections with Bram Stoker's famous novel Dracula (Whitby is where Dracula first came ashore aboard the Demeter).
This full-day trip from York lasts around eight hours and will take you on a scenic journey through the North Yorkshire Moors to Whitby where you'll have three hours of free time to explore this charming northern town. Walk along the beach, see the Captain Cook statue, visit the imposing gothic Abbey or mooch about the boutique shops and cafes.
This experience also includes trips to the market town of Helmsley, the picturesque village of Hutton-le-Hole and the famous Kilburn White Horse.
15. See the Beautiful Yorkshire Dales
One of the best things to do near York is to explore the beautiful Yorkshire Dales National Park. This area of outstanding natural beauty encompasses thousands of square miles of rolling hills, farmland, forests rivers and waterfalls. Walking the dales is one of my favorite things to do near York and I have many fond memories of country walks here.
This full-day trip to the Dales from York will take you on a magical journey through one of England's most picturesque and tranquil areas.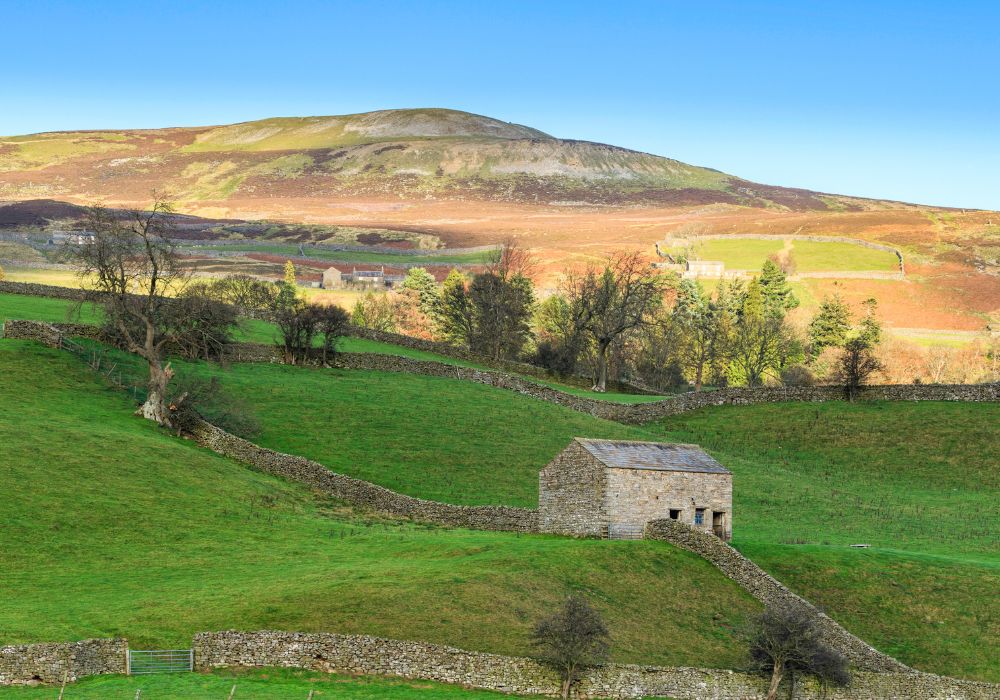 You'll get to explore the hills and valleys, quaint market towns like Masham and Middleham, medieval castles and more.
Quick Travel Itineraries For York
Whether you have just one day to explore, or much longer, these York itineraries include all the top sights and will help you get the best out of your trip.
1 Day in York Itinerary
With just one day in York take a walking tour and/or river cruise to get a feel for the place and take in some of the top sights like York Minster, the Shambles and Clifford's Tower. Spend an hour or two exploring the city's Viking history at the Jorvik Centre before making your way back to the river for an evening meal at Star Inn the City.
2-3 Days in York Itinerary
Follow the above itinerary for your first day and on day two walk around the city walls (roughly two hours). Have lunch at The Lowther on the river and then take a culinary journey at the Chocolate Story where you can sample and make your own confectionery.
For a third day, get spooky at the York Dungeon followed by an even spookier night bus tour aboard the "necrobus" to learn all about the city's dark history through theater and comedy.
1 Week in York Itinerary
Follow the above itineraries for three days and for the additional days add day trips to Whitby to explore the beautiful harbor town, the North Yorkshire Moors and the Yorkshire Dales National Park. Return to York and explore the National Railway Museum and Art Gallery as well as spending more time exploring the old city.
Where to Stay in York
These are a few of the best neighborhoods in York for tourists.
City Centre – Best for First Time Visitors
The best place to stay in York for first-time visitors is definitely the city center and charming old town area. With everything on its doorstep from museums and shops to bars and restaurants, this is the place to be if you want to be in the heart of the action.
This three-bedroom holiday home in the center of the city is just a few yards from York Minster Cathedral. The property benefits from two bathrooms, free WiFi and a fully fitted kitchen with a dishwasher. Click here to check prices.
Middlethorpe – Best for Families
This quiet residential area just south of the city center is a great option for families. It's close enough to town for convenience, but far enough out to ensure a peaceful stay.
This four-bedroom townhouse is perfect for large families and groups of friends as it sleeps up to eight people. The property is just over two miles from York railway station and the city center, with good bus links. Click here to book.
Fulford – Best for Couples
Fulford is a quiet suburb along the River Ouse and a 30-minute walk from the old city. There are lots of stunning nature walks nearby and this green and leafy neighborhood is an excellent choice for couples.
The York Pavilion Hotel is a gorgeous country house hotel that includes romantic rooms with four-poster beds, has an onsite bistro and restaurant, a bar and two stunning courtyard gardens. Click here to find out more.
Best Restaurants in York
York is a fantastic destination for foodies and is home to some top restaurants, bistros, cafes and pubs. You can experience everything from Michelin-starred fine dining to simple pub grub and everything in between when visiting the city.
The Bow Room Restaurant at the Grays Court Hotel
If you're looking for a fine dining experience or a romantic evening then you can't go wrong with the stylish Bow Room Restaurant at Grays Court.
Housed in an 11th Century mansion a stone's throw from York Minster, this three-starred Michelin restaurant aims to please with its taster menu including lamb and wild garlic, duck brioche, sea trout and cucumber and some sumptuous desserts.
Robinsons Cafe
If you're looking for the perfect spot for brunch then look no further than Robinson's Cafe on trendy "Bishy" (Bishopthorpe) Road. This is one of the most popular cafes in York and queues can often be seen stretching outside, so choose your time wisely as there is no advance booking.
From eggs benedict to pies, sandwiches and hot mains, this is a York institution and one of my favorite places for lunch. Expect to pay £10 to £15 per main.
Melton's
Another of York's fine dining establishments, Melton's is the place to go for that special evening meal. The restaurant has been serving happy customers for over 20 years and has been featured in major food guides across the UK.
The ingredients are locally sourced from East coast cod caught at Whitby to local venison and more. 2 courses costs £52 and 3 courses costs £65. The price includes canapes, nibbles and homemade bread and filtered water.
Star Inn the City
The Star Inn the City is managed by award-winning chef Andrew Pern and sits right on the banks of the River Ouse. This is one of the top restaurants in York with an excellent waterside location perfect for summer evenings.
The menu is classic and contemporary British and they serve breakfast, lunch and dinner. The Sunday lunch is well worth visiting for, and don't forget to try the Yorkshire puddings. Expect to pay between £20 to £30 per main.
The Lowther
This gorgeous traditional pub right on the river is an excellent spot for lunch or dinner and one of my favorite hangouts in York, especially in the summer. There is lots of outside seating along the riverbank perfect for al-fresco dining and drinking.
The menu includes pub classics at reasonable prices from burgers to pizza, pasta and salads. The chicken and chorizo risotto is one of my favorite dishes. Mains from £12.
Getting To York
The nearest airport to York is Leeds and Bradford International 30 miles to the west. A taxi will cost between £60 and £90, however a cheaper option is to take the shuttle bus into Leeds and then take either the bus or the train to York.
York is well connected to the rest of the UK by road and rail. Direct trains from London Kings Cross take under two hours to reach the city and tickets cost from £40. Coaches from London Victoria take around 6 hours to reach York and prices start from £30. Megabus, National Express and Flixbus are three of the best service providers.
Getting around the city center is easy on foot and there are lots of great day trips from the city to nearby places of interest and national parks. With this in mind, it's not necessary to have your own transport, though hiring a car will give you more freedom if you want to explore further afield.
Things To Do in York: FAQs
Here are some answers to commonly asked questions about visiting York.
What is York known for?
York is known for its impressive cathedral; York Minster, the Jorvik Viking Centre and as one of England's largest chocolate producers. It's also known as the final resting place for highwayman Dick Turpin.
When is the best time to visit York?
York is a great city to visit year-round as there is lots to see and do inside and out. If you want to explore the nearby Yorkshire Dales and Lake District then spring through to fall is the best time to visit York.
Is York worth visiting?
York is definitely worth visiting for its historic center, impressive architecture and nearby national parks. It is one of my favorite cities in England for its laid-back charm, quaint cobbled streets, and excellent dining options.
How many days should I spend in York?
York is a great destination for a weekend city break, but to really get the most out of the city one week would be better. This will enable you to make some day trips to nearby attractions and national parks.
Is York safe?
York is a very safe city for visitors and residents alike. In 2022 it was voted the second safest city in England to live with low levels of crime and no major natural disasters likely to occur. I've never felt unsafe walking around the streets of York Day or night.
What is the most popular thing to do in York?
Visiting York Minster cathedral, exploring the cobbled lanes such as The Shambles and tasing York's chocolates are some of the most popular things to do in York.
What foods should I try in York?
York is famous for its chocolate so this sweet treat is a must-try when visiting. Yorkshire puddings (savory pudding made with batter) are also a must-try in York, and the best way to do this is with a good Sunday roast.
In Closing
York really is a gem of a city and is often overlooked for more popular places like London, Liverpool and Manchester. There are so many wonderful things to do in York that missing out on its ancient city center and buildings, excellent museums and fantastic dining options that you won't want to miss out.
York is one of my favorite cities in England and it's well-placed for excursions into some of the country's most scenic spots from the Lake District to the moors and dales, the rugged east coast and more. With so many great places to visit in York, the only question should be, where to start first?