There are so many fantastic things to do in Gjirokaster, it's one of the most underrated places in Albania. It's a small town, and while it's pretty and quaint, there's plenty going on.
Located in the south of Albania, Gjirokaster is ideally based close to the best coastal towns and some of the main attractions of the country. If you're planning a trip to Albania, Gjirokaster should definitely be on your list of places to visit.
If you're wondering what to do in Gjirokaster, then read on for my list of top things to see in this beautiful town.
Best Things To Do in Gjirokaster
If you need some inspiration for things to see in Gjirokaster, you've come to the right place. Below, is my list of the most fun things I did during my time there. Whether you love history, nature, food, drink, or soaking up a new culture, you're sure to find something on this list for you.
1. Explore Gjirokaster on a Walking Tour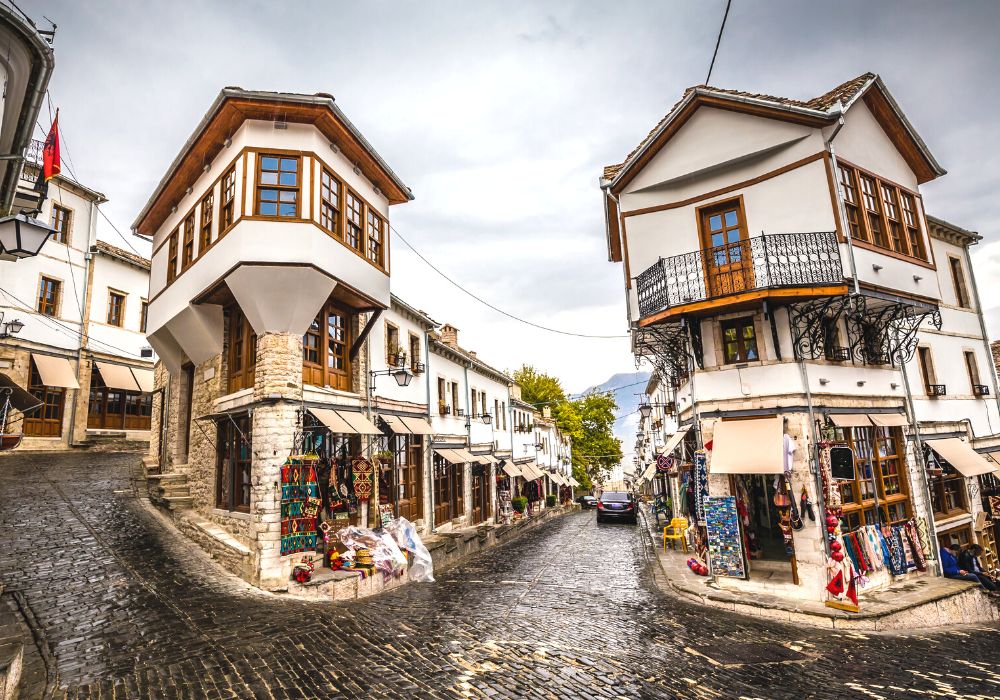 A walking tour is an amazing way to get to know a new destination, and this 3-hour walking tour is one of the best things to do in Gjirokaster.
The tour offers a fantastic mixture of some of the attractions of Gjirokaster, as well as the opportunity to head off the beaten track. You'll explore the Old Bazaar which lies beneath the walls of Gjirokaster castle and find gorgeous cobbled streets and some of the oldest houses in Gjirokaster.
The tour continues through some of the oldest neighborhoods in the town before heading to the famous Ali Pasha bridge. This 200-year-old viaduct brought water all the way up the mountain to the castle. It's one of the best things to see in Gjirokaster – it's an impressive piece of engineering.
Join this excellent day tour when you first arrive in Gjirokaster to get to know your way around and learn a little about the history of this magical place.
2. Horseback Riding in Vjosa National Park
Vjosa National Park is one of the most beautiful places to visit in Gjirokaster. It's centered around the Vjosa River, which is the last wild river in Europe.
Vjosa National Park is full of beautiful hills, old bridges crossing mountain rivers, various ruins, and the impressive Lengarica Canyon. My favorite way to explore this countryside is on horseback, and this fabulous horseback riding tour from nearby Permet is one of the best.
You'll be in a small group of other riders, and the tour guides will adjust the tour depending on your ability. So, whether you've never been on a horse before, or you've ridden your whole life, the scene is set for you to have an incredible day in nature.
You'll discover why Vjosa National Park is one of the best places to visit near Gjirokaster. It's a magical trip and one of my favorite things to do in Gjirokaster. If you have older children, it's one of the best things to do in Gjirokaster for families.
3. Check out Gjirokaster Museum
If you want to learn more about the history of this cobbled town, head to one of the most popular tourist attractions in Gjirokaster. At Gjirokaster Museum, you'll gain an insight into traditional, Albanian life through the ages.
Some famous historical characters have interesting links to Gjirokaster. These include Enver Hoxha, (more on his link below), and even Lord Bryon.
The Museum is hidden within the Castle, which is another of my favorite things to do in Gjirokaster (more on that one later). It's not included in the entrance fee for the castle, which can be confusing. It's a separate 200lek ($1.88) to enter the Museum, and well worth it at that price.
4. Take a Local Cooking Class
Another of my favorite ways to really get to know a new culture is by trying to make some traditional food of the country.
Gjirokaster is famous for its traditional, culinary scene and so cooking classes are very popular here. This particular cooking course is my favorite as it's led by a local and focuses on small groups and traditional dishes.
Teta Marjeta will be your guide as she welcomes you into her home and teaches you how to make a 3-course Albanian dinner. At the same time, you'll sample local raki made by her husband – too much of which makes the cooking a little more difficult…
After you've completed your dishes, you'll sit down to enjoy the fruits of your labor with a glass of wine. It's one of the top things to do in Gjirokaster and is a great way to meet new people, learn more about the culture of Albania, and have a fun afternoon.
5. Head up to Gjirokaster Castle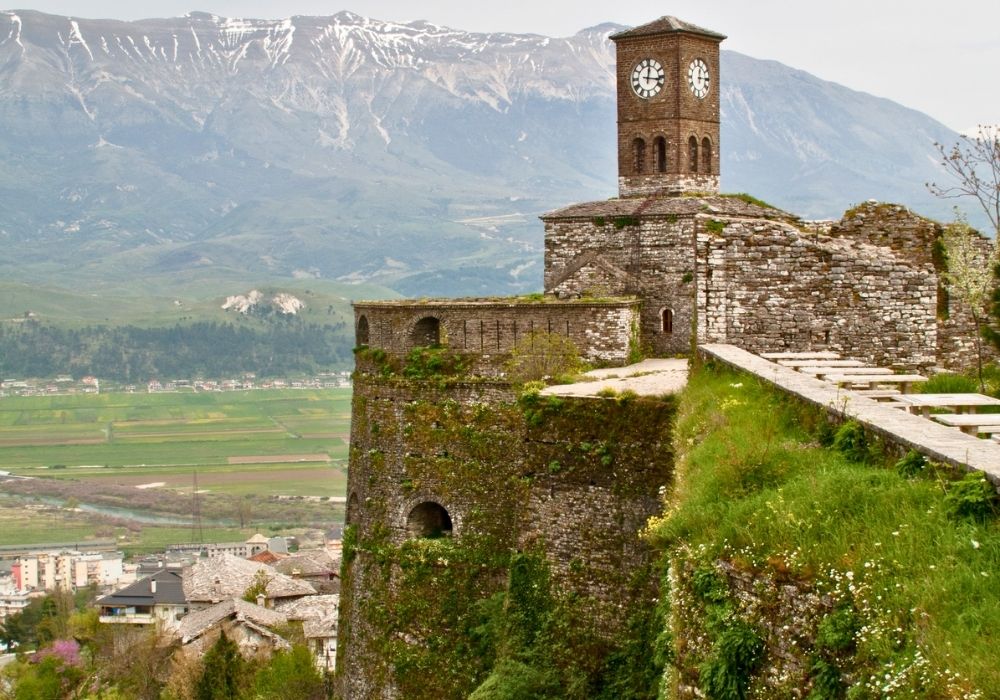 Sat on the top of the hill and looking over the town, the castle is one of the top places to visit in Gjirokaster.
Not only does it boast incredible views over Gjirokaster itself and the countryside beyond, but it's also a fascinating look into the history of the city. Originally of Ottoman construction, it was later used as a prison for political prisoners during the Communist Era.
It's 400lek ($3.76) to enter, and once inside you can stroll through the various rooms and tunnels at your leisure. There are plenty of information boards around to help you learn more about the castle.
As a result, the castle is an interesting mix of Ottoman design and modern functions, thanks to its use being adapted over the years. You can even head to the top of the castle for some amazing views. Don't skip Gjirokaster Museum, which is mentioned above and found inside the castle.
It's the focal point of the whole town, and it's easy to see why it's one of the most popular Gjirokaster attractions.
6. Go Rafting in the Vjosa River
As Vjosa National Park is one of the most beautiful places to see in Gjirokaster, it's only right that it gets a second mention on this list.
This time, it's one for the adrenaline junkies. This brilliant white water rafting day trip will see you crashing over rapids on the last free-flowing river in Europe. The experience is categorized as class II rafting with some class III rapids in there. All I know is that it's a lot of fun!
The river itself runs for some 270 kilometers through stunning canyons, islands, and oxbows. After some initial training and preparation, you'll explore part of this majestic river over 3 hours of rafting. You'll experience 4-foot waves and squeeze through narrow passages as you fly along on the rapids.
For me, it's one of the best things to do around Gjirokaster and a really memorable day out.
7. Private Cold War City Tour
If you're interested in the Cold War and in the impact it had on Albania, then this private day tour is a superb choice.
On this tour, you'll get to explore private Cold War tunnels under the city that are rarely seen by tourists. You'll hear first-hand stories from people who lived and worked in Albania during this difficult time.
The tour includes a tour of the castle, as well as a tour of the tunnels, with a hugely knowledgeable guide who shares the fascinating history of Albania during the Cold War.
The tour ends in the Old Bazaar to see the birthplace of Enver Hoxha, the infamous dictator of Communist Albania. It's a brilliant, insightful tour and one of the best things to do in Gjirokaster.
8. Butrint National Park and the Blue Eye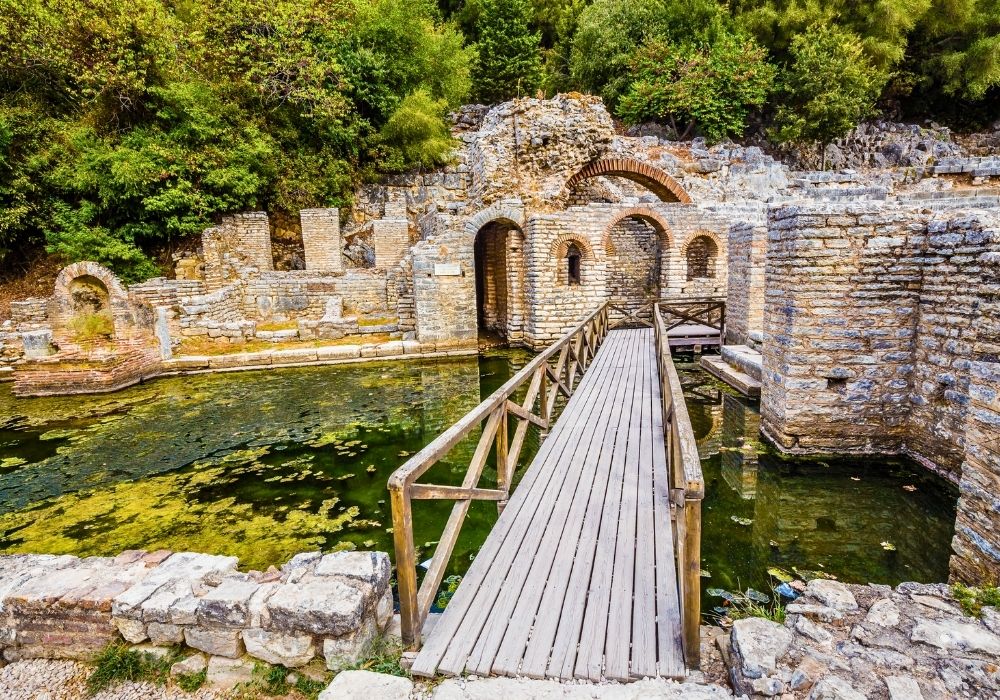 The south of Albania is blessed with some fascinating history and stunning scenery, so there are some amazing things to do near Gjirokaster.
Two of my favorite places near Gjirokaster are Butrint National Park and the Blue Eye. And what better way to combine them both than on this adventurous day tour from Gjirokaster? You'll head off over unmade roads in 4x4s where the adventure gets started straight away.
First up is Butrint National Park. Butrint is a UNESCO World Heritage Site that's been home to the Romans and Venetians amongst others during its long history. Today, it's an uncovered historical city complete with an amphitheater, the Great Basilica, the Venetian Castle, and much more.
Next, you'll head to one of the most beautiful places in Gjirokaster; the Blue Eye. This stunning natural spring boasts some of the bluest water you'll ever see. Take a dip or dive from the viewing platform for the perfect way to cool off after the walk.
This action-packed tour is one of the most fun things to do in Gjirokaster and an excellent way to explore the surrounding area.
9. Have Dinner at the Barrels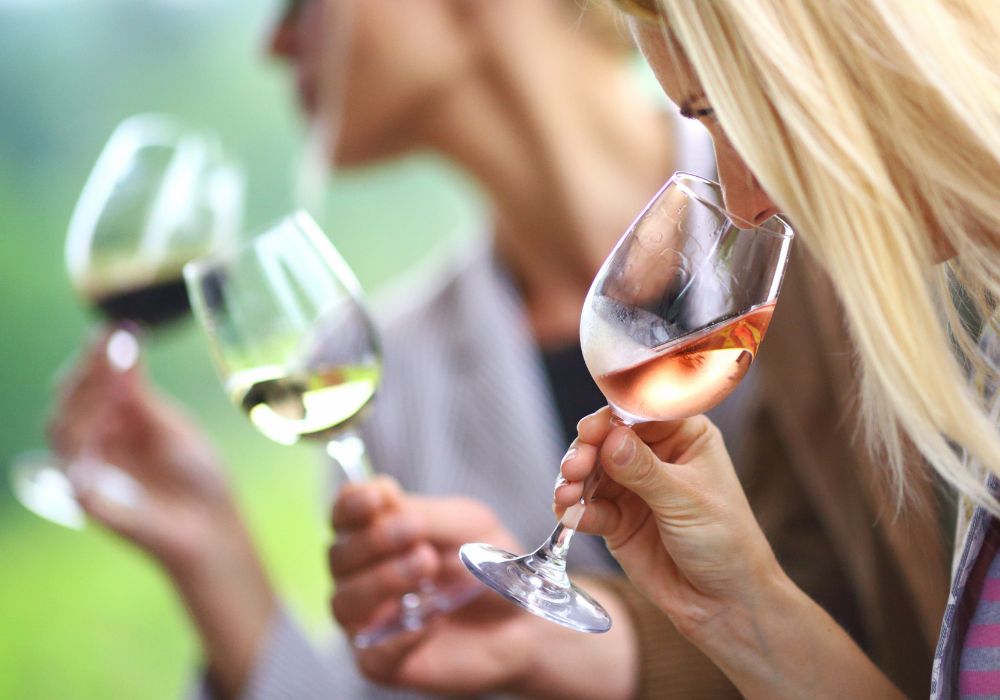 Discovering this little gem was absolutely one of the highlights of my time in Albania – I cannot recommend it enough.
The Barrels is a small, family-run winery just outside Gjirokaster. It's very unassuming from the outside, but you'll soon be met by the family, (and likely at least one of the pets), before being taken around the back to the garden and vineyards beyond.
Here, you'll find a number of tables set up under super cute arches that look out onto the vineyards. The menu changes from day to day depending on what fruit and vegetables are in season and nearly everything is sourced from the vineyard. There's an excellent choice of veggie options too.
Paired with the Barrels' excellent wine and homemade raki, the magical setting makes this one of the best things to do in Gjirokaster for couples.
And while the food and wine is superb, it's the family that makes this experience so special. They're friendly, and welcoming, and are a pleasure to be around.
10. Wander the UNESCO Old Town
After getting your bearings on a walking tour, one of the best free things to do in Gjirokaster is to simply stroll around the Old Town.
The cobbled streets and tall, traditional buildings will make it obvious why this city is recognized as one of the most beautiful places in Albania. The Ottoman-style houses have been transformed into cool cafes, bars, restaurants, and boutique shops.
Grab a coffee on the pedestrianized streets at Kashahu Kafe or head into the Old Town after dark for a drink and some food and enjoy the magical feeling of the lights on the cobbled streets and historic facades. It's one of the best things to do in Gjirokaster at night.
11. Jump on a Safari Day Tour
Another of the amazing national parks and places to visit in Gjirokaster is Fir of Hotova National Park. It's known as the natural lungs of Southern Albania and covers an impressive 34,000 hectares.
The best way to explore this incredible area is on a jeep safari from nearby Permet. It's run by the same guys that organize the white water rafting above, and as such, it comes highly recommended (and not just from me).
On this day safari, you'll bump through the park in a 4×4, visiting the beautiful Saint Maria Church of Leuse before going wildlife spotting in the park itself. At an altitude of around 900 meters, the temperature is cooler here, and you'll be surrounded by lush forest and flora and fauna.
Finally, you'll head to Benja Thermal Baths to relax after a day of adventure before returning home. I love Hotova; it's a magical place and is one of the most beautiful places to visit in Gjirokaster.
12. Try a Wood Crafting Experience
Gjirokaster is famous for its artisanal products, so a great way to embrace the local culture is to turn your hand to a traditional craft.
This 3-hour wood crafting experience is hosted in a local woodwork workshop where you'll be taught by an experienced local, who will help you craft whatever you wish from the materials provided. You'll start off by creating your design on paper before carving it under the watchful eye of your teacher.
Celebrate your creation with a glass of wine or raki and take something home with you that will forever remind you of your trip.
13. Explore Argjiro Castle on a Walking Tour
Gjirokaster's cobbled streets and pedestrianized zones are perfect for exploring on foot, and so walking tours are super popular here.
This is the second walking tour bazaar on this list and takes in some of the most popular sights in Gjirokaster. You'll head to the Old Bazaar, which feels like traveling back in time. From here, you'll explore the castle and a medieval fortress as you learn about Gjirokaster's military past.
A walking tour is a great way to learn what to do in Gjirokaster from a local guide, and an excellent way to find your way around. This option is no exception and is one of the best things to do in Gjirokaster.
14. Have some Cocktails at Hangover Bar
Gjirokaster is home to some excellent bars and restaurants and has a fun social scene after dark.
One of my favorite places is Hangover Bar, which serves some delicious cocktails. Don't let the name put you off, although one too many of their amazing raki-based cocktails could well justify that name!
It has a lovely terrace to sit and have a drink and watch the sun go down. The perfect spot after a day of exploring the myriad things to see in Gjirokaster.
15. Wander around the Ethnographic Museum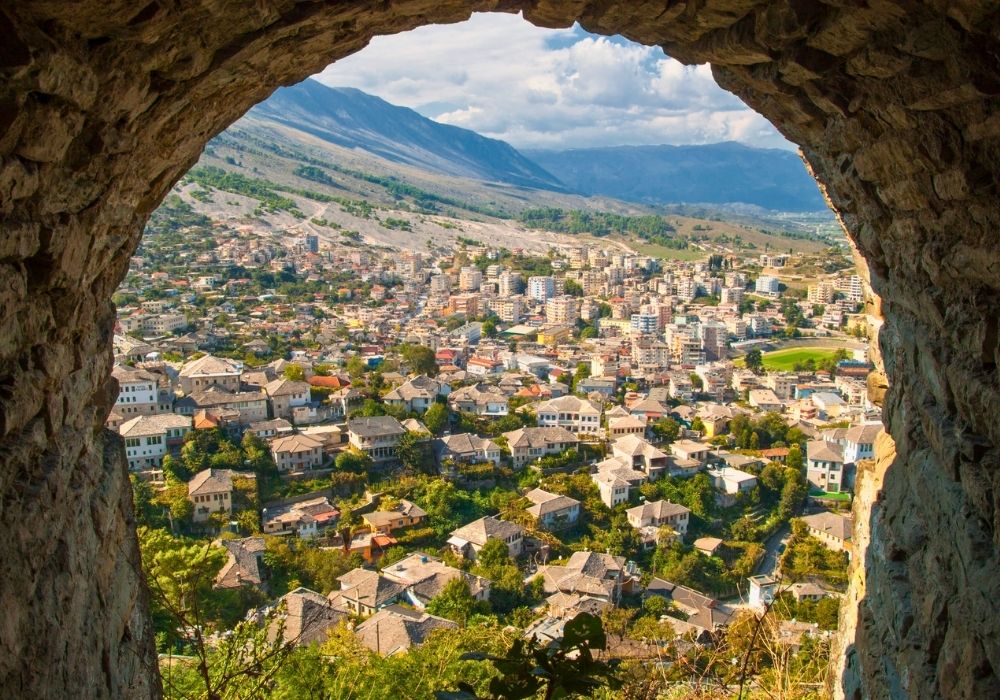 A little-known fact about Gjirokaster is that it's the birthplace of the Albanian Communist Dictator, Enver Hoxha. Today, his home has been turned into an interesting museum, showcasing an array of local clothes and wares from daily life in historic Gjirokaster.
The Ethnographic Museum is a beautiful and traditional Ottoman house that gives an interesting view into what life looked like in this part of the Balkans through the ages.
It's an impressive collection and a great stop-off during a stroll through the Old Town. It's one of my favorite places to visit in Gjirokaster.
Quick Travel Itineraries For Gjirokaster
If you want to make the most of your time in Gjirokaster, take a look at my suggested itineraries below.
1 Day in Gjirokaster Itinerary
If you're planning a flying visit, then I definitely recommend taking a walking tour to cover as many of the popular things to do in Gjirokaster as possible. The Argjiro walking tour above includes a trip to the castle meaning you can tick off another of the most popular things to do in Gjirokaster.
In the afternoon, explore the Old Town and stop in Hangover Bar for a cooling drink. Have dinner out at the Barrels to complete an amazing day.
2-3 Days in Gjirokaster Itinerary
If you have a little longer in town, then combine the 1-day itinerary above with some of the highlights just outside Gjirokaster. I suggest exploring Vjosa National Park, either on horseback or on a rafting tour.
On the third day, take a trip out to Butrint National Park and the Blue Eye for even more ancient history and nature. For more recent events, take the Private Cold War tour.
Where to Stay in Gjirokaster
These are a few of the best neighborhoods in Gjirokaster for tourists:
The Old Town – Best for First-time Visitors and Nightlife
Located at the top of the hill, the Old Town is the best place to stay in Gjirokaster. Here, you'll find cobbled streets, lots of bars and restaurants, and the majority of the Gjirokaster attractions. The aptly named Castle Hotel is a lovely 3-star hotel with a terrace and bar boasting amazing views over the city.
New Town – Best for Families
The alternative to the Old Town is the newer part of town at the bottom of the hill. This is a fantastic spot for families or those that have driven to Gjirokaster as parking is easier, and it's a good base for visiting the nearby attractions. Dream's Hotel offers great views of the city. Alternatively, Novi's Apartment offers stunning luxury and modern design.
Best Restaurants in Gjirokaster
The food scene in Gjirokaster is really popular and here are some of the highlights:
The Barrels
I cannot rate the Barrels highly enough. From the beautifully homemade food, delicious wine, and amazing views, this place is truly special. The seasonal menu, with vegetarian highlights, is really well-thought-out. The family and service make this my favorite restaurant in Gjirokaster by far.
Taverna Tradicionale Kardhashi
For a traditional Albanian restaurant in Gjirokaster itself, head to Taverna Kardhashi. It serves delicious, local food at fantastic prices. The stuffed peppers are delicious, and the staff is super friendly. A really welcoming, local restaurant.
Kujtimi
Another traditional, Albanian restaurant with a cute terrace for some alfresco dining. At Kujtimi, the food is tasty, the wine is good, and the prices are excellent.
Submarine 105
Submarine 105 is located in the Old Bazaar and combines its traditional setting with a modern twist. The Albanian dishes are delicious and are served in large portions, all combined with an excellent, and extensive, drinks list.
Pizza Me Gusta
If you fancy pizza then head to Pizza Me Gusta. The super friendly staff will help you choose, and the pizzas are very well-priced. Thin and crispy bases with lots of toppings. A great pizza spot in Gjirokaster.
Getting to Gjirokaster
Gjirokaster is located around 3 hours south of Tirana and an hour from Sarande. To get there from outside of Albania, you'll likely land in Tirana or cross on the Corfu to Sarande ferry.
You can catch a direct bus from Tirana to Gjirokaster which will cost you around 1,000lek or $9. The journey takes around 3-4 hours depending on traffic and departs from the Regional Bus Terminal various times a day.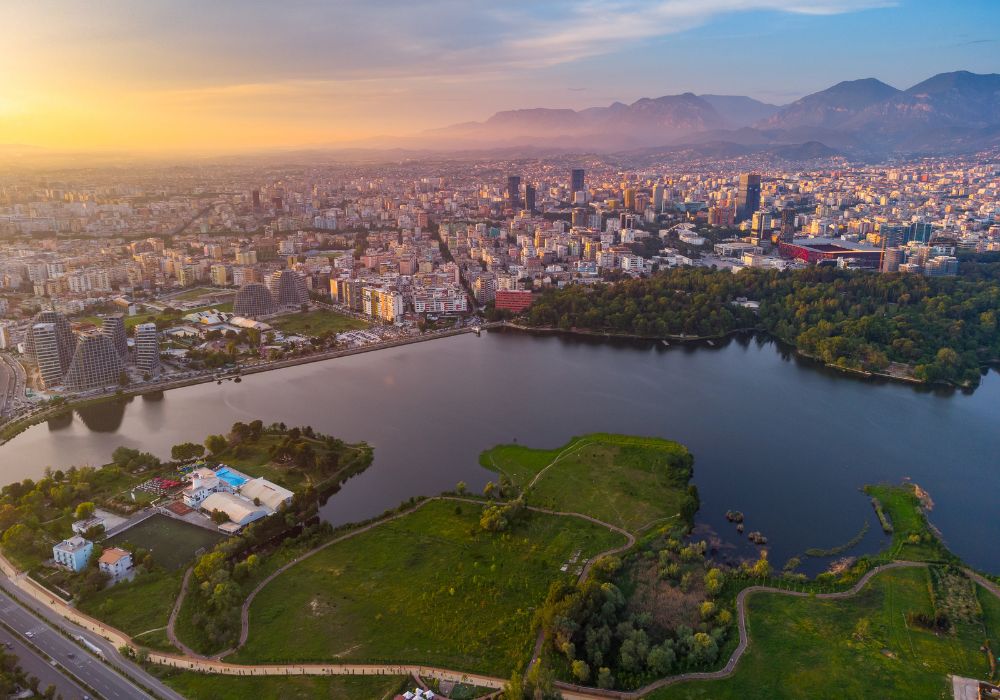 From Sarande, there are regular daily buses which cost around 400lek or $3.50. They depart from Friendship Park.
Alternatively, you can take taxis from either city to Gjirokaster. Once you arrive, you'll be able to walk around the city itself. You can take taxis or jump on a tour to head to some of the sights outside of the city.
Things To Do in Gjirokaster: FAQs
Here are some answers to commonly asked questions about visiting Gjirokaster:
What is Gjirokaster known for?
Gjirokaster is known for its beautiful cobbled streets and Ottoman architecture. It's a trendy and popular destination with a range of good cafes, bars, restaurants, and boutique shops.
When is the best time to visit Gjirokaster?
The best time to visit Gjirokaster is during the shoulder seasons between April and June or September to October when the temperatures aren't at their peak but are warm enough to sit outside and enjoy a cold drink in the sun.
Is Gjirokaster worth visiting?
Absolutely. Gjirokaster is one of the most beautiful cities in Albania. At the same time, it has some incredible national parks and nature on its doorstep. It's an amazing place to visit.
How many days should I spend in Gjirokaster?
I recommend at least 2-3 days to explore Gjirokaster itself. If you stay for longer, you can explore some of the famous sights and national parks just outside the city too.
Is Gjirokaster safe?
Gjirokaster is super safe. It feels really cozy and friendly in the Old Town, with its cobbled streets and plentiful bars and shops. I've never heard of any issues with safety in Gjirokaster.
What is the most popular thing to do in Gjirokaster?
Visiting the castle is the most popular thing to do in Gjirokaster as it dominates the skyline and boasts some incredible views. After that, doing nothing is very highly rated. Take a seat at a cafe on the streets and watch the world go by.
What foods should I try in Gjirokaster?
Gjirokaster has a proud history of delicious food. Try stuffed peppers to start, and trilece (three milk) cake for dessert – both are divine.
In Closing
Gjorikaster is not only a beautiful city, full of stunning architecture and pretty cobbled streets, but it's also a place of natural beauty and a destination where you can really have an adventure! There are so many fantastic things to do in Gjirokaster, you're spoiled for choice.
I hope this post helps you plan the best trip to Gjirokaster!
Like This Article? Pin it!