Will there be another Commonwealth Games?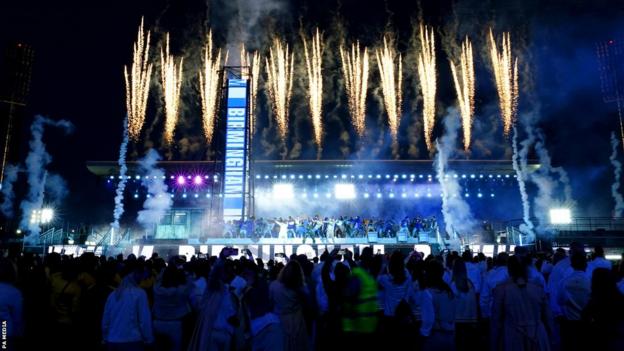 The Commonwealth Games is in crisis – without a host for its next edition in 2026 and struggling to find one for the following event four years later.
Here we explore what has gone wrong – and what might happen next.
What has happened?
Last month, the Australian state of Victoria abruptly withdrew as hosts for the 2026 event citing rising costs.
Now the government of Alberta, the only confirmed potential bidder left for 2030, has halted its attempt to bring the event to Canadian cities Calgary and Edmonton.
How bad is this latest news?
The Commonwealth Games, staged across multiple sports, take place every four years. First held in 1930, they have only previously been cancelled during World War Two.
To be eligible to participate in the Games, competitors must be from one of the Commonwealth's 56 member nations. Most of the countries in the Commonwealth were once part of the British Empire.
There are questions now over the staging of the next two Games. The Commonwealth Games Federation (CGF) is scrambling to find a replacement for Victoria in three years' time. Alberta, meanwhile, had not been awarded the 2030 event, but was mulling over whether to submit an offer.
The decision of Alberta to pull out comes a few months after Hamilton, Ontario – which hosted the inaugural Games in 1930 – suspended its effort for a centenary event because of a lack of government support.
It leaves the Games' overall viability and relevance in the modern world under increasing scrutiny.
However, UK Prime Minister Rishi Sunak's spokesman rejected a suggestion that Victoria's withdrawal indicated a decline of the Commonwealth, saying the King's coronation showed "the strength of the Commonwealth and commitment of countries to it".
2022: Birmingham,

England

2010: Delhi,

India

2018: Gold Coast,

Australia

2006: Melbourne,

Australia

2014: Glasgow,

Scotland

2002: Manchester,

England
Why are countries reluctant to host?
Organisers had originally estimated the Victoria event – hosted across cities including Geelong, Bendigo and Ballarat – would cost A$2.6bn (£1.4bn) but that figure more than doubled.
Alberta's Tourism and Sport Minister Joseph Schow baulked at an estimated cost of up to £1.57bn, a bill he says would have landed largely with taxpayers.
Aside from India in 2010, the five events staged so far this century have either been in the UK or Australia.
"Other countries like Canada haven't really wanted to get in on the act before," Dr Tom Bason, sports event legacy expert from Coventry University's Centre for Business in Society, told BBC Radio 5 Live.
"The reason Canada wanted 2030 was because it's going to be the 100-year anniversary of the Games and they held the very first one, so they wanted to look at it as a centenary Games. Apart from that, they've had no real appetite in hosting.
"These Games are getting more and more expensive to host – they've cited costs of well over £1bn for an event that's not going to bring with it that many benefits. It's not going to bring a lot of global kudos, it's not going to bring a great sports legacy because these events never do,"
Birmingham, which staged the 2022 Games after Durban's withdrawal, might care to argue.
Its event was the best attended on record, with more than 1.5 million tickets sold. It was broadcast live to 134 countries as 4,600 athletes from 72 nations competed.
Some £778m of public money was invested in the Games, but an independent report earlier this year said it generated £870m for the UK economy.
What could happen in the future?
Gold Coast is ready to step in to stage the 2026 Commonwealth Games after the state of Victoria pulled out, said mayor Tom Tate.
The coastal city – host of the 2018 Games – is in the Australian state of Queensland, which is preparing to host the 2032 Olympics in Brisbane.
Mayor of London Sadiq Khan has said he would support a bid for the capital to host the Games, while Birmingham also has the infrastructure, although any decision on bidding would be taken by the government.
In June, the CGF set out a strategy which included assessing the feasibility of hosting in new regions and considering multi-country Games.
The federation wants to showcase innovations – Birmingham 2022 broke new ground with the introduction of 3×3 basketball, while T20 women's cricket made its debut at a multi-sport event.
"Growing the fanbase and growing the people that are constantly providing us with stories, is a primary goal," said chief executive Katie Sadleir.
Sadleir said last month all options will be considered for 2026 hosts, including the UK if there was interest in a bid.
South Africa's ability to one day accommodate the Games, and the will of leaders on the continent to see that happen, remain strong, according to one of the key figures involved in a potential new hosting bid – as long as "baby steps" are taken first.
"Quietly, at the back of our minds, we know we can deliver a world-class Commonwealth Games – so we will be looking into that," Barry Hendricks, the president of South Africa's Sports and Olympic Committee (Sascoc), told BBC Sport Africa.
"There are other countries on the continent that have the ability to do it, especially in North Africa. The Commonwealth Games Federation (CGF) still has hopes that Africa can host a Commonwealth Games."
Do the Games appeal to elite athletes?
For many sports, such as netball, it is seen as a major competition, and its profile was boosted by England's dramatic gold medal win over Australia in 2018.
"Our Commonwealth Games and our World Cup are our pinnacle events," current England head coach Jess Thirlby told BBC Radio 5 Live.
"We want to hold on and secure the Commonwealth Games – it's held so closely to everyone's hearts and has brought so many fantastic memories, not least the 2018 gold medal."
World Athletics present Lord Coe, a former middle-distance world record holder, said the event remained a vital stepping stone for the Olympics.
"The Commonwealth Games track and field is a strong event: to win a sprint you have to beat Jamaicans; in endurance you have to beat the Kenyans and there are very strong powerful nations there," he said.
"Just under a quarter of those nations in world athletics are Commonwealth nations. It is important for track and field that the Commonwealth Games is seen as successful."
But it is not seen as the pinnacle for everyone, and track stars Andre de Grasse, Shelly-Ann Fraser-Pryce and Shericka Jackson opted to miss last year's Games.
"We are seeing different sports building up their own world championships," Bason said.
"We have got the cycling world championships at the moment in Glasgow that's the biggest ever they've hosted and these world championships and the Olympics are going to end up being the targets for athletes."
Could Birmingham turn out to be the last Commonwealth Games?
"This could spell the end of the Commonwealth Games," said Steve Georgakis, a sports studies lecturer at the University of Sydney after Victoria's withdrawal.
Lord Coe insisted the event has a future, although it may need to change.
"The Commonwealth Games will survive this, it's a strong product, it is about innovating and the Commonwealth Games has opportunity to do that," he told the Australian newspaper.
"It has less branding [restrictions] than the Olympics and sometimes the World Championships, so it has potential."
Bason believes it will be "really really difficult" to find new hosts for 2026.
"It might need a rethink of what the Commonwealth Games is trying to become, something a little more different, perhaps a festival type event rather than just being a mini-Olympics," he said.