If you're wondering where to stay in Cyprus, you'll be glad to hear there are many brilliant options to choose from. Whether you're after a beach holiday or a more adventure-packed trip, there's an area just right for you.
I lived in Cyprus for around 4 months as a digital nomad, and one of my favorite things about the island is the fact that there are so many different towns and cities that offer a completely different experience.
So, let me take you through some of my favorite places to stay in Cyprus, and tell you more about what each will offer you.
Best Areas to Stay in Cyprus
Quick Look: Best Areas to Stay in Cyprus.
Limassol: Best Place To Stay in Cyprus for Your First Time
When considering where to stay in Cyprus for your first visit, I definitely recommend Limassol. It's one of my favorite places to stay in Cyprus, and it's an excellent base to explore the entire island.
Limassol is a cosmopolitan city located on the south coast of Cyprus. It offers an amazing blend of beaches, nightlife, and restaurants, and has a conveniently central location.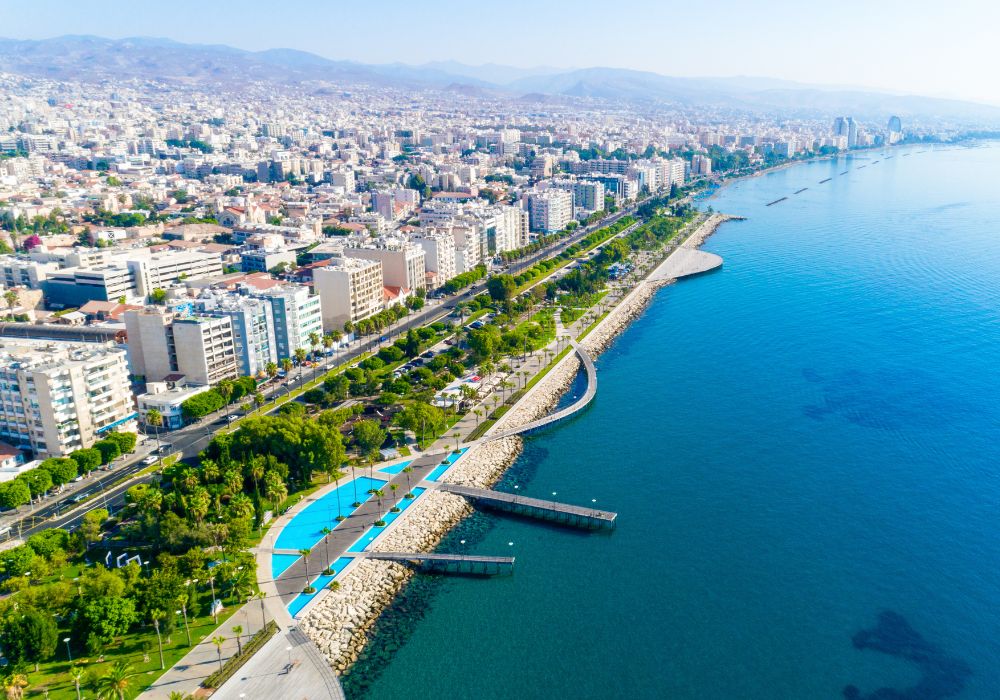 It's located roughly halfway between Paphos in the west and Larnaca, Ayia Napa, and Protaras in the east. It's also not too far south of the capital city, Nicosia. Despite being on the coast, it's only an hour away from the amazing Troodos Mountains.
Whether you want to lounge on the beach or hike in the mountains, Limassol is a great spot to base yourself.
Best Places to Stay in Limassol
Limassol has some of the best places to stay in Cyprus. Here are some of my favorites:
1. Four Seasons Hotel: At the top end of the accommodation list in Limassol, Four Seasons Hotel boasts 2 free-form pools, tennis courts, a spa, and a private beach. It's a 5-star hotel set in stunning, tropical gardens that offers world-class service from the minute you arrive.
2. White Hostel: A more budget-friendly option is the excellent White Hostel. It's perfectly located on the beach road, in the center of Limassol. It has air-conditioned rooms with a shared kitchen. There's free WiFi and guests can use bikes free of charge, which are perfect for cruising up and down the cycle path along the beachfront.
3. Silver Loft Apartment: I highly recommend Silver Loft Apartments when you're considering where to stay in Cyprus. The apartment is equipped with everything you need, including a fully fitted kitchen and a luxury bathroom. There's also a roof terrace with loungers to catch the afternoon sun.
5 Top Things To Do in Limassol
Given its location, Limassol is an excellent place to begin your adventures across the island from.
1. Troodos Mountains Food and Wine Tour: Limassol is the perfect base to explore the incredible Troodos Mountains. One of the best ways to see the highlights of the mountains is by taking this incredible full-day food and wine tour. You'll try local, artisanal food, visit an award-winning vineyard, and enjoy a traditional meze lunch.
2. Limassol Water Park: Cyprus has some great water parks and Fasouri water park in Limassol is one of the best. It's home to 30 different rides, from adrenaline-filled kamikaze slides to lazy rivers. It's an excellent day out for the family, just outside of Limassol.
3. Take a Walking Tour: One of the best ways to explore any new city is on a walking tour, and the Limassol walking tour is excellent. There are so many hidden gems in Limassol, as it's a city where old really does meet new. This 4-hour tour will take you through the Old Town to understand the historical importance of Limassol.
4. Explore by Land and Sea: One of the best places to visit in Cyprus, is the incredible Akamas National Park on the west of the island. Take this full-day surf and turf tour which guides you through this beautiful national park and includes a visit to Lara Beach and the unbelievably beautiful Blue Lagoon.
5. Visit Lady's Mile Beach: Named after the former governor's horse who loved to gallop along the 5 km of sand to the west of Limassol, Lady's Mile Beach is the perfect place to soak up the sun and has become one of the fancier areas of Cyprus after it's recent and ongoing renovation.
Where to Eat and Drink in Limassol
As a modern, cosmopolitan city, there are many excellent choices to eat and drink in Limassol.
1. Colombia Beach Bar: Located along the beach road and backing onto Colombia beach, this beach bar is one of the coolest places in the city. Enjoy a delicious brunch in the morning, cocktails and food on the loungers in the afternoon, or some dancing on the beach in the evening.
2. Meze Taverna: For a true taste of Cyprus, you need to try meze. This authentic spot of Meze Taverna is exceptional and is located in a picturesque part of the Old Town. I absolutely loved the fish meze, which arrived with more courses than I could count! Come with an empty stomach and leave in love with this cuisine.
3. Gerrard's Kitchen & Bar: Located in the tourist area of Agios Tychon, Gerrard's Kitchen & Bar is an excellent bar. They serve great beers and drinks and if you love sports, you're in luck as they show everything. It has a retractable roof so you can enjoy the sun during the day, and at night they often have great live music.
Ayia Napa: Best Area in Cyprus for Nightlife
Ayia Napa is often one of the first places you think of when considering where to stay in Cyprus for nightlife, and for good reason. It has a great bar and club scene, with parties going on through to the early morning.
With such a heavy focus on the nightlife, the rest of Ayia Napa is sometimes overlooked, but it's got so much more going for it. It's home to some of the best beaches in Cyprus and plenty of fun things to do. From boat trips and water parks to hikes in nature, there's something for every kind of traveler in Ayia Napa.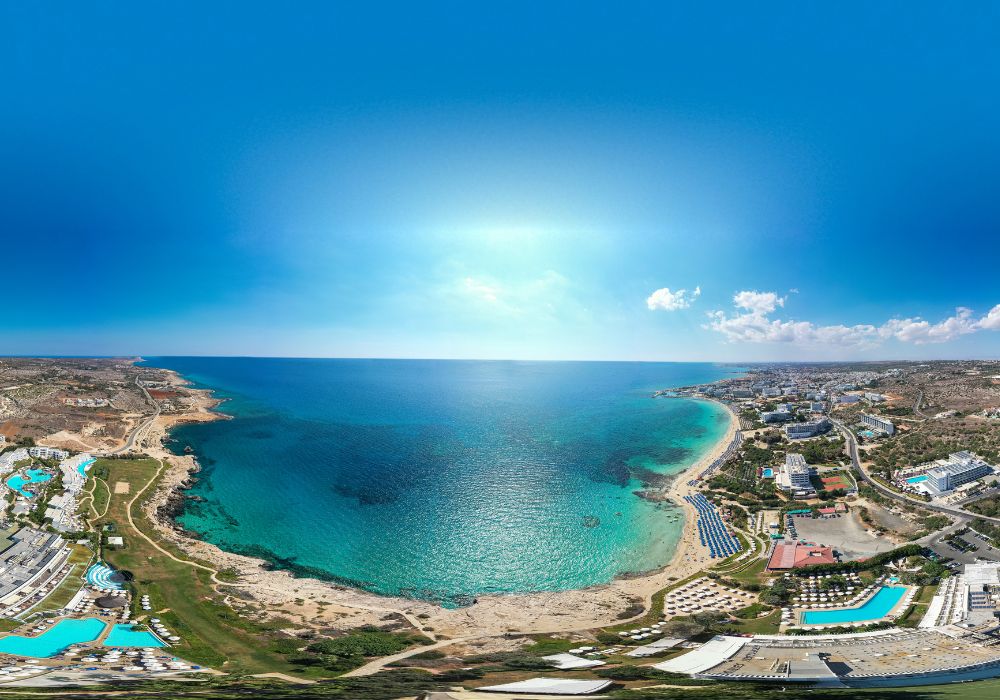 While Ayia Napa definitely takes the title for the best place to stay in Cyprus for nightlife, there's plenty more to discover in this popular town on the east coast.
Best Places to Stay in Ayia Napa
There are plenty of Cyprus hotels near nightlife in Ayia Napa, as well as some beautiful coastal villas.
1. Nissi Beach Resort: A stunning beach resort located just 500 meters from the incredible Nissi Beach. The beautiful Nissi Beach Resort has 3 pools, over 100,000 square meters of tropical gardens, and a spa center. 3 restaurants and 5 beach kiosks complete the experience at this luxury destination.
2. Caramela Luxury Apartments: Caramela apartments are situated right in the center of Ayia Napa, so you're never far away from the action. It has an indoor pool and a fitness room, and the apartments are bright and modern and come with a balcony overlooking the town. A great location to explore Ayia Napa.
3. Napa Sunlight Villa: For those looking for places to stay in Cyprus for groups, Napa Sunlight Villa is a great choice. This 3-bedroom luxury villa is located within walking distance of 2 beaches and the center of Ayia Napa and comes with a private pool featuring a pretty cool floating dining table.
5 Top Things To Do in Ayia Napa
There are plenty of great things to do in Ayia Napa, making this one of the best places to holiday in Cyprus. Here are some of my favorite things to do in Ayia Napa:
1. Enjoy the Beaches: Ayia Napa is home to two of my favorite beaches in Cyprus. Nissi Beach is super popular and features picture-perfect white sand and crystal-clear water. Beach bars, loungers, and water sports keep you entertained. Makronissos Beach is slightly quieter but equally as beautiful.
2. Explore under the Sea: If you love exploring the sea, then check out this hugely popular snorkeling tour from Ayia Napa. You'll explore some magical sea caves, visit the rock formation known as Lovers' Bridge, and seek out green turtles at Konnos Beach.
3. Boat Cruise: If you prefer to be on the water rather than underneath, then consider taking this luxury boat cruise from Ayia Napa. This half-day boat trip takes you around the coast of Ayia Napa and includes 2 swimming stops, and the opportunity to borrow a snorkel if you want to give it a try.
4. Ayia Napa Water Park: I love a water park, so it's no surprise that Ayia Napa's park makes my list of must-do activities. It's a great day out for groups of friends trying to shake off the excesses of last night, or for families looking for a fun-filled day. It's a great day out and one of my favorite things to do in Cyprus.
5. Halloumi Making Troodos Tour: If you want to combine your time by the coast with a glimpse into traditional Cypriot life, then this Halloumi tour is an incredible option. Leave the party animals and beach-goers behind and head into the Troodos Mountains where you'll turn your hand to making Cyprus' most famous cheese.
Where to Eat and Drink in Ayia Napa
As you'd expect for a town famous for its nightlife, there are plenty of food and drink options in Ayia Napa.
1. Kaliva on the Beach: For a superb seafood meal, with incredible sea views, head down to Kaliva. During the day, they offer beach club vibes and some great sushi dishes. Alternatively, I can highly recommend the seafood while you enjoy the perfect setting on the beach.
2. Kota Greek Souvlaki: For some delicious, local food in the heart of Ayia Napa, check out Kota. You'll get some excellent Greek souvlaki, perfect for something quick before hitting the famous bars.
3. Ambassaden Bar: Ambassaden is a great place to get your night in Ayia Napa started. Located in the main square, it's a perfect spot for people-watching, and it gets really lively at night. Cheap drinks, good music, and a great atmosphere make this an excellent starting point.
Nicosia: Best Place to Stay in Cyprus for History
Nicosia is the fascinating capital city of Cyprus and the only divided capital city in the world. Even since the Turkish invasion in 1974, Cyprus has been divided from North to South, and that division is most starkly seen in Nicosia.
Nicosia itself is divided by the infamous Green Line, which separates Turkish Cyprus to the north and Greek Cyprus to the south. You can visit both sides and see the hugely contrasting cultures in each part of the city.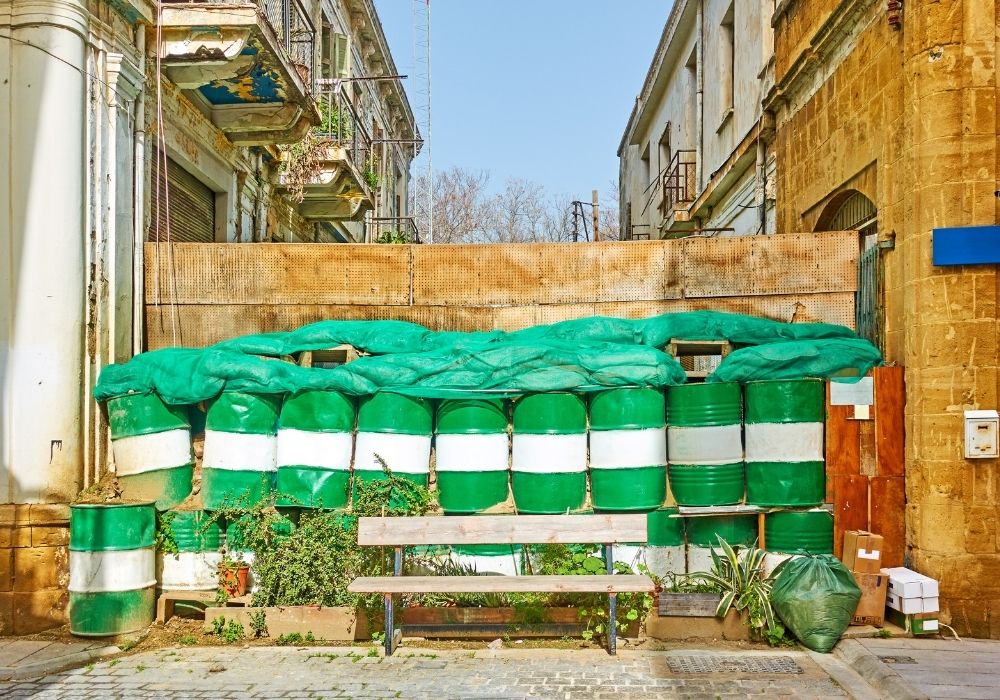 For history fans deciding on where to stay in Cyprus, there are lots of ancient historical sites around the country, but for modern history, it has to be Nicosia.
As well as its interesting past, there's so much more to this beautiful and fascinating city. From winding, cobbled streets of the old town to hip bars, some of the best restaurants in Cyprus, and a vibrant art scene, Nicosia is brimming with culture.
Best Places to Stay in Nicosia
There are some incredible places to stay in Nicosia. Here, I've picked out some of my favorites:
1. Madama Residence: If you're wondering where to stay in Cyprus for couples, then this stunning, boutique hotel of Madama Residence in the heart of old town Nicosia is something special. This 5* star hotel set in a traditional building retains incredible original features and luxury upgrades.
2. 360 Nicosia: If you're looking for a larger, centrally-located apartment, then 360 Nicosia is the one. Panoramic views over the city are accompanied by 3 bedrooms and 2 bathrooms in this modern and bright apartment.
3. Chris House: For a more traditional stay, Chris House is a beautiful holiday home built in 1913. It's located in the old town and is set on a street of terraced, traditional houses. It's been upgraded with air-con and modern furniture but retains lots of its historic features.
5 Top Things To Do in Nicosia
Nicosia is one of the best areas to stay in Cyprus for culture and history lovers. It's also pretty central so staying here means it's easy to explore all over the island.
1. Explore the Buffer Zone: The obvious place to start is the Green Line and the buffer zone, separating Turkish Cyprus from Greek Cyprus. Bring your passport and join this incredible walking tour which will take you to both sides of the line.
2. Indulge yourself with a Massage at Hamam Omerye: After all that walking and exploring, there's no better way to relax than with a massage at a traditional hamam (typically meaning bath). Hamam Omerye was originally built by the Ottomans in 1570 and today, it's one of the most elegant hamams in Cyprus.
3. Troodos Wine Tour: Nicosia is the perfect place to begin your trip into the Troodos Mountain. For wine lovers, check out this highly rated, full-day wine-tasting tour. It'll take you deep into the wine-growing region of the Troodos Mountains where you'll try award-winning wines and explore quaint mountain villages.
4. Explore St Hilarion Castle and Bellapais: If you want to see more of northern Cyprus, then this excellent half-day tour is the perfect option. Head from Nicosia towards the beautiful St Hilarion Castle in northern Cyprus. This magical castle is rumored to be the inspiration for Sleeping Beauty.
5. Soak in the Cafe Culture: One of the best things to do in Nicosia, is to do very little and embrace its unique atmosphere. I love the cobbled streets of the old town and they're packed with little coffee shops and chairs on the pavement which are perfect to people watch from. One of my favorites is To Apomero for coffee and cake.
Where to Eat and Drink in Nicosia
Nicosia is one of the best places to stay in Cyprus for foodies. It has everything from great cheap eats to really high-end restaurants. The craft beer scene is big here too.
1. Elysian: For vegetarians, vegans, or anyone looking to try something new, stop by the exceptional Elysian in the heart of Nicosia. Everything on the menu is vegetarian and gluten-free. The food is incredible and packed full of flavor. The veggie burger is a personal favorite.
2. Piatsa Gourounaki: For an authentic taste of Cyprus, Piatsa Gourounaki is the perfect stop-off. It's a traditional Cypriot taverna with simple but delicious food. The souvlaki is deliciously tender. It's super affordable and so is perfect for those traveling on a budget.
3. Pivo Microbrewery: For fans of craft ale, head to Pivo to experience this family-run microbrewery. It produces some seriously delicious craft beers without filtration or pasteurization to preserve the flavors. The 4 brothers who co-founded the brewery are often there to talk to and are more than happy to tell you about their creations.
Protaras: Best for Families
If you're traveling with children and are wondering where to stay in Cyprus for families, Protaras is one of the best towns to think about. Although many towns in Cyprus are family-friendly, Protaras is particularly so with lots of hotels with entertainment, sandy beaches, and shallow water for playing.
Some of the best beaches in the country are in Protaras and there are lots of fantastic family-friendly things to do here. You can go to the Water Park in Ayia Napa, try some water sports or go on a boat trip.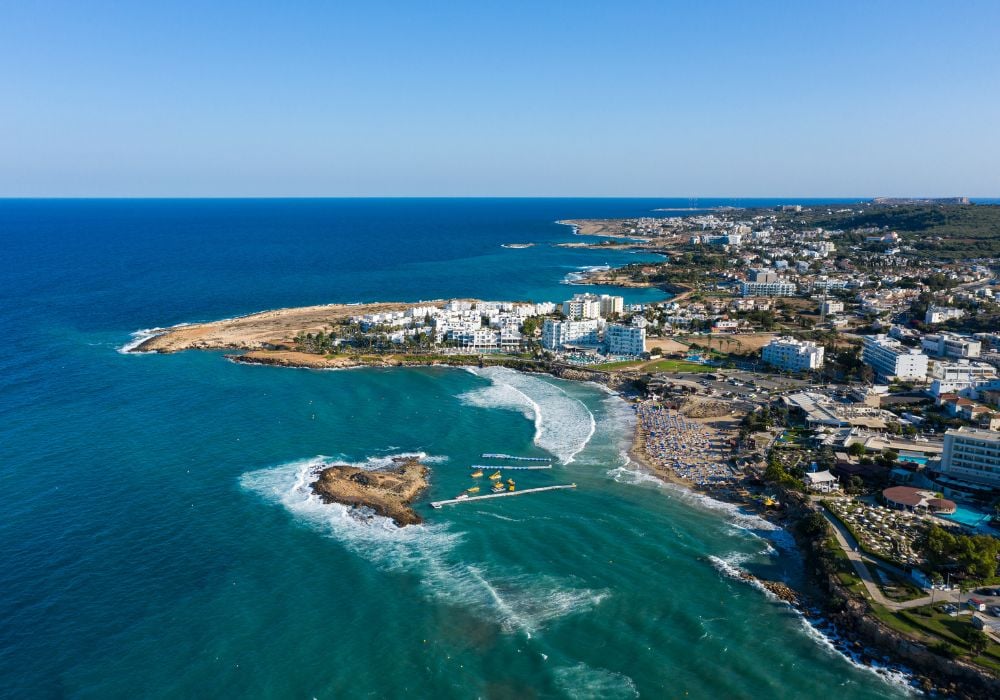 It's a fantastic place for a family holiday or trip.
Best Places to Stay in Protaras
Here are some places to stay in Protaras:
1. Malama Beach Holiday Village: The Malama Beach Holiday Village hotel is great for families traveling with young children as there's a kids club, a playground, and a children's pool. For the adults, there's a lovely poolside bar and an epic hot tub inside a cave. It's also right on the beach, so it offers a fantastic location.
2. Flisvos Beach Apartments: Flisvos Apartments are lovely, comfortable, and clean apartments located just 50 meters from Protaras beach. With Protaras town center on your doorstep, you've got everything you need just minutes away.
3. Villa Sirena: If you want to stay in your very own villa, Villa Sirena is absolutely gorgeous. It has its own private pool and is just a 10-minute walk to the beach. It's located down the road in Paralimni, which is easily accessible to Protaras by walking along the beautiful coastal path.
5 Top Things To Do in Protaras
There are many fun things to do in Protaras, but here are my top 5:
1. Learn to Scuba Dive: The clear and calm sea in Cyprus makes it a brilliant place to learn to dive. I really recommend booking with Dive with Poseidon, as their instructors are super knowledgeable and I felt very safe and comfortable with them. Suitable for adults and kids aged 10 and over, it's an incredible experience.
2. Walk the Coastal Boardwalk: Stroll along the coastal path which connects Protaras with the neighboring towns of Pernera and Paralimni. The walk is lovely and is right by the water with designated spots (you'll see steps) to get in and out of the water for a refreshing dip.
3. Go on a Boat Trip: With such incredibly clear blue water in Protaras, the best way to explore is by boat. There are many tours that leave from Protaras Pier and you can visit the ticket office to book these. If you want a more exclusive and romantic voyage, I recommend taking this adults-only Catamaran tour.
4. Beach Hop: There are so many fantastic beaches in Protaras and the neighboring towns of Ayia Napa, Pernera, and Paralimni, all of which are easily accessible from Protaras. Enjoy relaxing on white sand beaches and swimming in crystal clear water. They're the beaches you see in magazines!
5. Go Sea Kayaking: Just down the road from Protaras is Cavo Greko National Park, which is a series of sea caves. The best way to see the cliffs and caves is undoubtedly from the water. This fun kayaking experience is the perfect day out for those who love to explore and be out on the water.
Where to Eat and Drink in Protaras
Protaras isn't short of places to eat and drink, that's for sure. Here are a few of my recommendations:
1. Promises Restaurant: For some of the best local food in Protaras, give Promises restaurant a try. The service is super friendly and the food is cooked to perfection. The Beef Stifado I had from here is one of the best I've ever eaten.
2. Folio: Folio is one of those restaurants that serve a lot of different foods, but it does them well. Not only does it serve a fantastic steak, but the sushi is wonderful too. It has a lovely ambiance and is a great choice for couples.
3. Hippocampus: Probably my favorite place in Protaras and a fantastic all-rounder is Hippocampus. The cocktails are delicious, the food is tasty and very affordable with decent portions, and the service is fast and friendly. There's no doubt that you'll find yourself here multiple times during your trip.
Paphos: Best Place in Cyprus on a Budget
If you're wondering where to stay in Cyprus for adventuring, Paphos is a great location. It's close to the Akamas National Park, where you can go hiking or quad biking. It's also close to Lara Beach, one of the Island's wildest beaches and home to turtles.
Paphos is also close to the Troodos Mountains where you can go to experience the more traditional side of Cyprus.
For cheap places to stay in Cyprus, Paphos is the best, with plenty of choices when it comes to accommodation. It's also home to some great value bars and restaurants which won't break the bank.
Best Places to Stay in Paphos
Here are my recommendations for where to stay in Paphos:
1. Leonardo Plaza Cypria Maris Beach Hotel & Spa: An incredible pool, 4 restaurants, a spa, and tennis courts are all present at the Leonardo Hotel. An elegant and luxurious choice, you may not want to leave the hotel.
2. Bee Hostel Paphos: Luckily the only hostel in town is a good one. If you're traveling on a budget, the Bee Hostel is a great choice, with a fantastic social area for meeting other travelers.
3. Lovely Apartment in the Center of Kato Paphos: This fully equipped apartment is around 700 meters from the Municipal Baths and is close to the seafront and coastal boardwalk. It's lovely inside and has an excellent location in Kato Paphos.
5 Top Things To Do in Paphos
There are so many fantastic things to do in Paphos; here are a few to add to your list:
1. Akamas National Park: Quad biking around the Akamas National Park is the best thing I did in Cyprus. Home to 'The Blue Lagoon' The water is the clearest you'll see in the country. The views over the northern tip of Cyprus are stunning. You can either explore the park by boat, or by quad bike.
2. Lara Beach: Lara Beach is close to the Peyia region of Paphos. It's a little hard to get to, but it's worth it. The sand is golden and rugged and although there aren't any amenities here, if you're visiting in Summer you may see turtles hatching on the beach.
3. Morning Swim at the Baths: One of my favorite things to do in Paphos is to wake early and go for a morning dip in the sea at the municipal baths. If you get there between 7 – 8 am, you'll see all the locals having their morning swim. Jumping into the bright blue water is the best way to wake up.
4. Tomb of Kings: If you're staying in Paphos, go and check out the UNESCO site of The Tomb of the Kings. It's an ancient city that's been excavated to reveal lots of underground tombs carved into the rock. They're pretty spectacular and are definitely worth a visit.
5. Aphrodite Water Park: No trip to Cyprus is complete without a trip to a water park. Whether you're a family with kids, or just love the thrill of the park, you'll have a great time here. Tickets are around €25, but you can save money by booking online here.
Where to Eat and Drink in Paphos
Here are a few of my favorite places to eat and drink in Paphos.
1. Namaste: If you love curry, you cannot miss going to Namaste Restaurant. Located in Kato Paphos, this lovely restaurant serves a really great curry, which is often difficult to find. The fish curry is spectacular, as were the starters.
2. Antasia Beach: For a gorgeous sunset and setting, and lovely food, Antasia Beach Bar is a fantastic option. Both the cocktails and food are delicious, particularly the sushi, which is very fresh.
3. Agora Tavern: For local food, I recommend Agora Tavern. It's a gorgeous restaurant and they serve seriously good food here. From succulent souvlaki to fresh citrus salad, this is home-cooked Cypriot food at its best.
FAQs About the Best Areas to Stay in Cyprus
Here are answers to some commonly asked questions about where to stay in Cyprus:
What area of Cyprus is best for tourists?
The best area of Cyprus for tourists is probably Paphos or Protaras. Paphos because there are lots of things to do and places to see, and Protaras because it's home to the best beaches on the island.
Where should I avoid staying? (Where NOT to stay in Cyprus)
When considering where to stay in Cyprus, whether you're going to hire a car will be a key factor. If you're not planning to hire a car, I would avoid staying in the villages because they're not well-connected by public transport, and it could be challenging to get around.
What is the safest place to stay in Cyprus?
Everywhere in Cyprus is safe, and I don't recommend against traveling anywhere in the country. All the towns on the list are safe places in Cyprus.
Where to stay in Cyprus for shopping?
For shopping, I recommend Paphos. They have a large shopping mall where you'll find lots of recognizable European brands as well as small boutiques.
What is the most beautiful part of Cyprus?
Akamas is the most beautiful part of Cyprus. If you're staying in Limassol or Paphos, you should definitely make a visit here.
Where should I stay in Cyprus without a car?
Paphos is a very accessible place if you're traveling without a car. There are lots of buses that take you from Kato Paphos (to the South) to Coral Bay (North) and also to the Mall.
What's the best area to stay in Cyprus for couples?
Limassol is a fun place to stay for couples, with lots of lovely restaurants, bars, and cafes along with some brilliant nightlife.
When is the best time to visit Cyprus?
The best time to visit Cyprus is during the shoulder seasons (April-June) and (September-October) as there are fewer tourists, but the weather is still very warm and sunny. July and August get the best weather, but be prepared to see Cyprus at its busiest.
Where should I stay in Cyprus for beaches?
Without a doubt, Ayia Napa and Protaras to the east of the island have the best beaches.
In Conclusion
I hope this article helps you decide where to stay in Cyprus. There are a lot of choices, but my overall advice is if you love the beach, head east. If you love to explore and prefer the pool, head to Paphos. For history and culture, visit Nicosia, and for fun, beach, and cafe culture head to Limassol.
Enjoy your time on my favorite island.
Like This Article? Pin it!