Taking another step toward strengthening user privacy, Apple has released a new security feature called Lockdown Mode on iOS 16 and iPadOS 16. It protects users from being tapped by targeted spyware like Pegasus and sophisticated cyber-attacks. Here's what is Lockdown Mode on iPhone and iPad, the supported models, and how to enable it.
What is Lockdown Mode on iPhone or iPad?
The Lockdown Mode offers an extreme level of security on your iPhone and iPad. It is intended for specific users who (because of who they are or what they do) feel at risk of being specifically targeted by hackers.
This includes sophisticated digital threats like those from NSO Group and other private companies making state-sponsored mercenary spyware. Turning on Lockdown Mode on your iPhone or iPad puts your device on guard and restricts a lot of functionalities. This helps limit the areas which can be exploited for implanting any potential mercenary spyware.
In layman's terms, it temporarily switches off some of the most abused or exploited device features. Doing so makes it difficult for spyware to attack and steal private data from your phone.
What Happens When You Enable Lockdown Mode?
When you turn on the Lockdown mode, it triggers the following changes on your iPhone or iPad: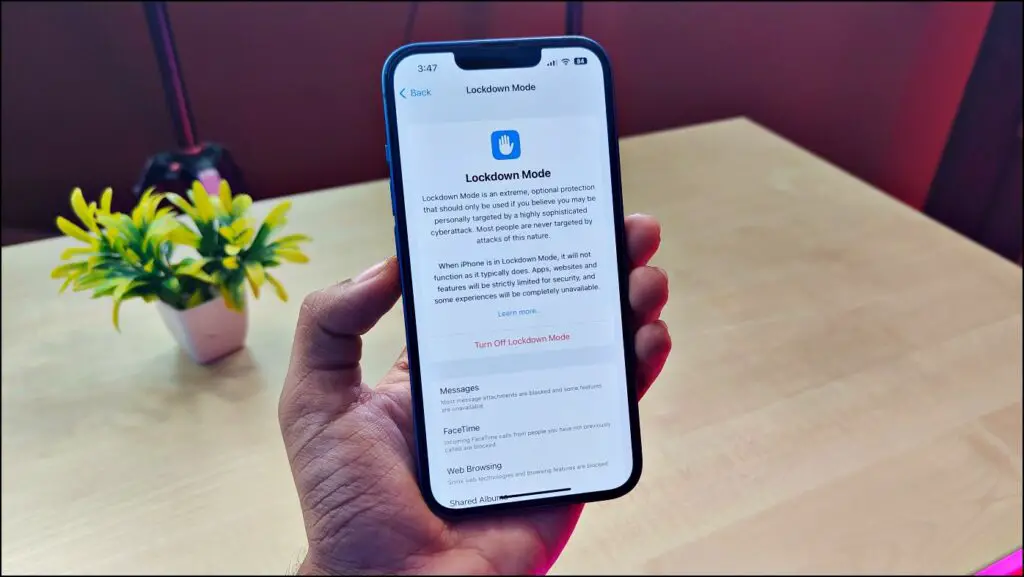 Messages: Lockdown mode blocks most message attachment types except for images. It also disables features like link previews.
Web Browsing: Lockdown mode disables just-in-time (JIT) JavaScript compilation and other complex web technologies. This reduces the attack surface and prevents the exploitation of JIT compilers with attack-aiding techniques such as JIT spraying.
Apple Services: Incoming invitations and requests are blocked if coming from a new user (someone you have never interacted with before). This includes FaceTime audio and video calls.
Shared Albums: Shared albums are removed from the Photos app. New Shared Albums invitations will be blocked.
Cable Connectivity: Lockdown mode will block any wired connections to any other device or accessory when the iPhone is locked.
Configuration Profiles: You cannot install configuration profiles (such as school or work) in Lockdown mode. It will also block your device from enrolling into mobile device management (MDM) while Lockdown Mode is enabled.
iPhone and iPad Models That Support Lockdown Mode
All iPhone and iPad models running iOS 16 and iPadOS 16 support Lockdown mode. Check the full list below:
iPhone 8, 8 Plus
iPhone X
iPhone XR
iPhone XS, XS Max
iPhone 11, 11 Pro, 11 Pro Max
iPhone 12, 12 Mini, 12 Pro, 12 Pro Max
iPhone 13, 13 Mini, 13 Pro, 13 Pro Max
iPhone SE (2nd Gen and later)
iPad (5th gen and later)
iPad Air (3rd gen and later)
iPad Pro (all models)
iPad mini (5th gen and later)
How to Enable Lockdown Mode on iPhone or iPad
Follow the steps below to turn on the Lockdown security on your iPhone or iPad running the latest software:
1. Open Settings on your iPhone or iPad.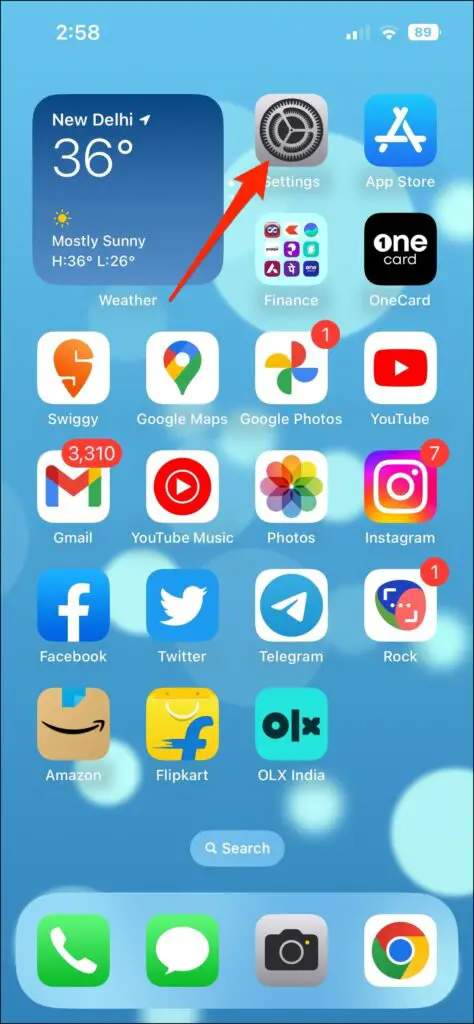 2. Scroll down and click on Privacy & Security.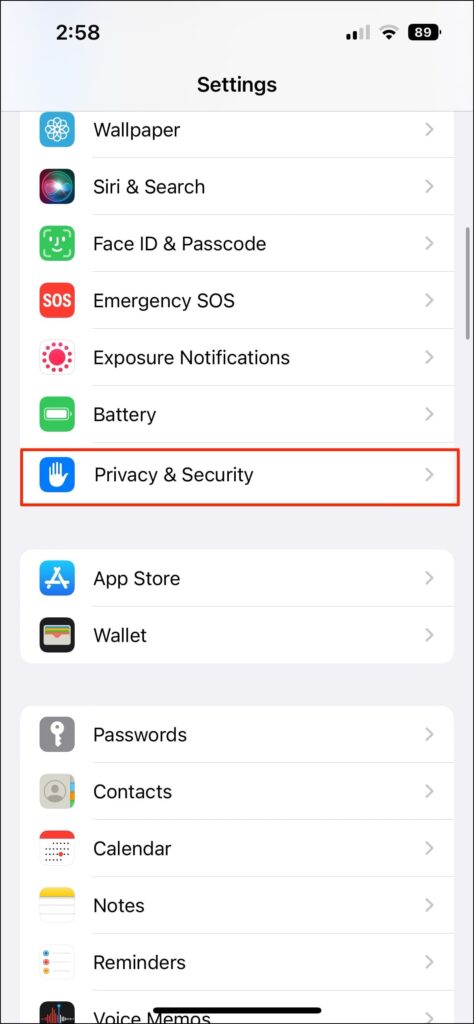 3. Here, scroll all the way down to the bottom. Tap Lockdown Mode.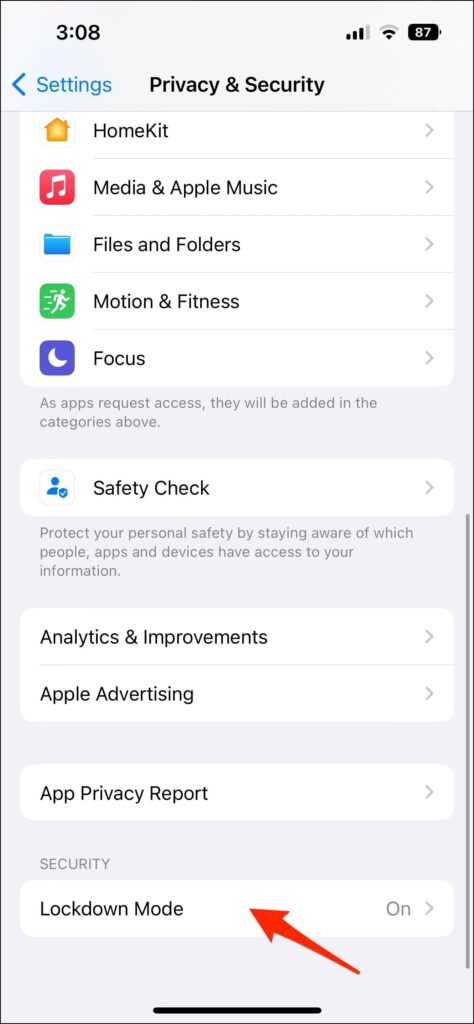 4. Click Turn On Lockdown Mode.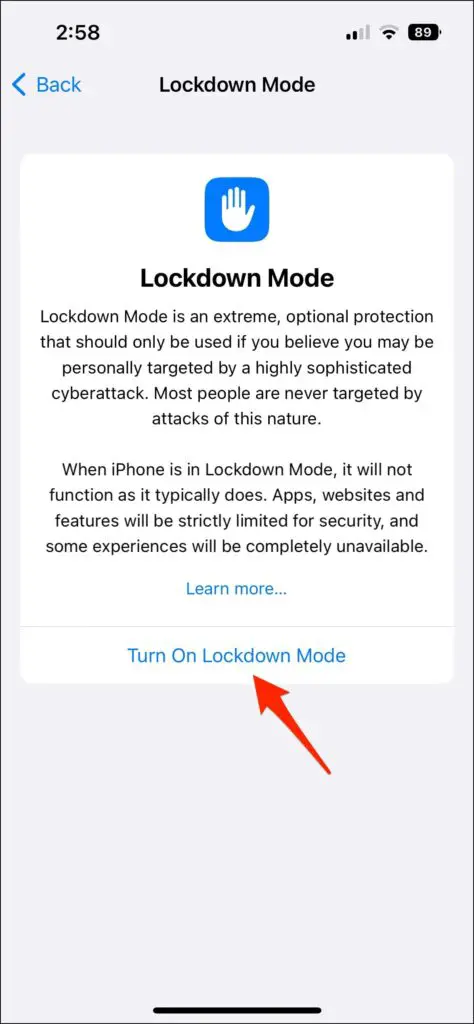 5. Read the information shown about the feature. Scroll down and tap Turn On Lockdown Mode.


6. Next, click Turn On & Restart to proceed. You can also tap Cancel to go back if you wish to.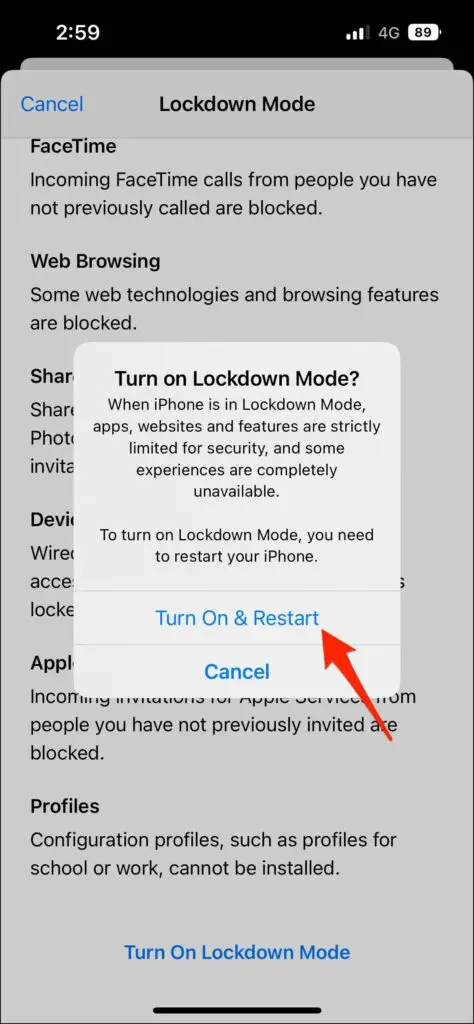 7. Enter the lock screen passcode when prompted.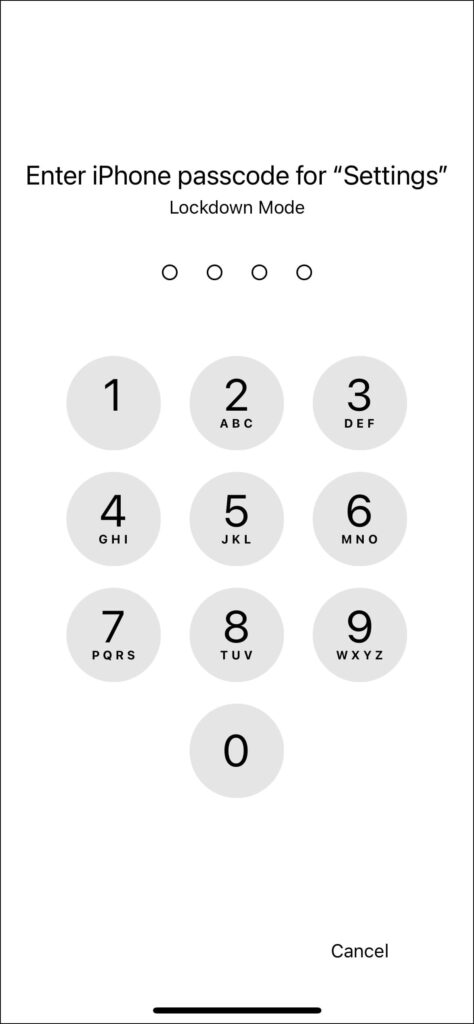 Your iPhone or iPad will now restart into Lockdown mode.
How to Disable Lockdown Mode on iPhone or iPad
If you want to disable Lockdown and revert to regular system settings, follow the steps below:
1. Open Settings on your iPhone or iPad.
2. Select Privacy & Security.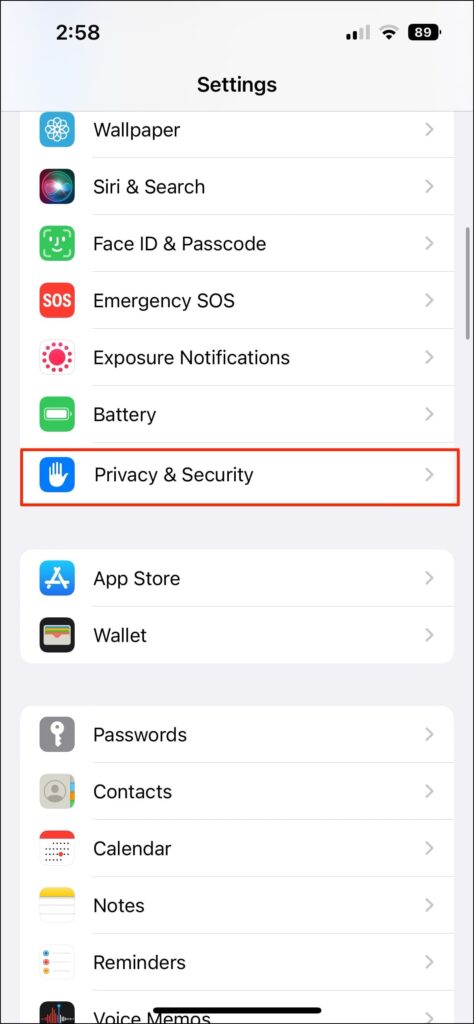 3. Scroll down and tap Lockdown Mode.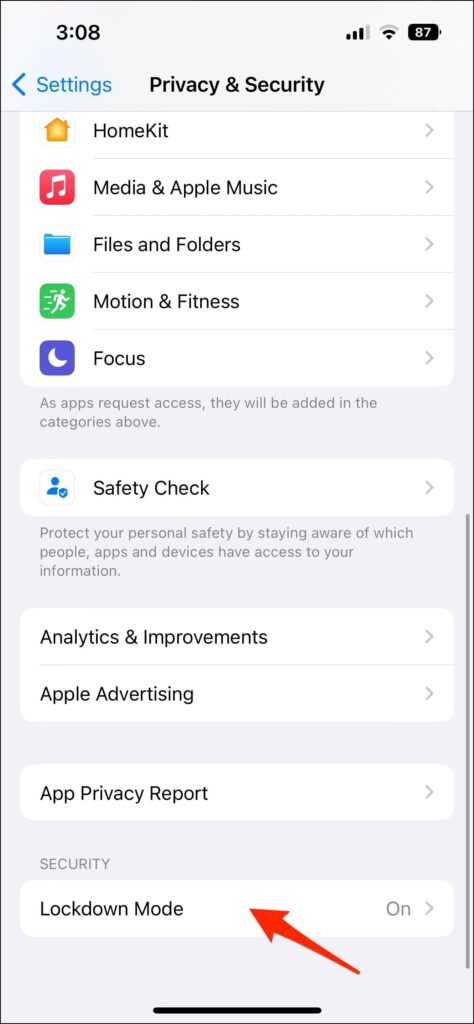 4. Click Turn Off Lockdown Mode.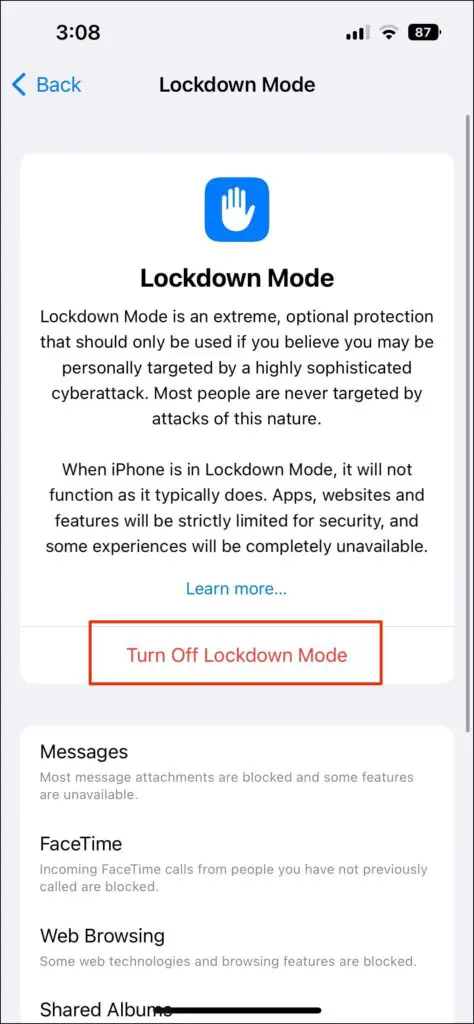 5. Turn Off & Restart.
6. Enter the passcode to turn off Lockdown Mode.
Pros & Cons of Lockdown Mode
Advantages
Protects you from specifically targeted attacks
Safeguards your iPhone and iPad from spyware
Disadvantages
Blocks most attachments in messages
Disables certain web technologies which can break sites
Blocks FaceTime calls from unknown users
Stops wired connection when iPhone is locked
Susceptible to fingerprinting
Tips to Safeguard Your iPhone or iPad Against Spyware
Update the iOS regularly. Software updates bring in security patches and fixes for existing flaws and vulnerabilities.
Update apps on the device. Hackers can use security vulnerabilities in old versions of apps to gain access to your phone.
Use a lock screen passcode on your iPhone and iPad.
Set up 2-factor authentication for all your important apps and accounts.
Turn off location tracking for apps and services.
Uninstall and remove any unknown apps or device profiles.
Use VPN when browsing the web on public networks.
Regularly change your passwords.
Factory reset your iPhone or iPad upon suspicion.
Frequently Asked Questions
What Does Lockdown Mode Do?
As mentioned, the Lockdown Mode on iPhones and iPad, restricts certain features and the inflow of data to reduce the attacking ground for attackers trying to steal your private data or snoop onto your device.
How Safe is Lockdown Mode?
The Lockdown Mode is supposed to prevent users from powerful spyware like Pegasus. However, as per a new report, it could be less safe for people to browse online on an iPhone. The report says that a website cannot load custom fonts when browsing in lockdown mode, which is "the easiest thing to detect and exploit."
A developer, who created a concept website that detects if Lockdown mode is enabled, has mentioned that users using the feature are easy to fingerprint and identify. These users will automatically stand out because Lockdown Mode is likely relatively uncommon.
However, if enough people use Lockdown Mode, it will create a mix, making it harder to identify one as an interesting target.
How To Know if Lockdown Mode is Enabled on My iPhone?


The easiest way to know if Lockdown Mode is enabled on your iPhone is to open Safari. You'll see the "Lockdown Ready" message over the address bar on the new tab page. When visiting any website, the message will change to "Lockdown Enabled."
Why Can't I Find Lockdown Mode on My iPhone?
As said, the feature is available only on iOS 16 and iPadOS 16 onwards. If you're running a previous version, check for updates in Settings > General > Software Update. The iOS final stable update is said to release with the iPhone 14 launch on September 7, 2022.
Wrapping Up
This was all about Apple's new Lockdown Mode and how to enable it on your iPhone and iPad. We've also answered commonly asked questions about the feature. It's always good to see Apple continually working to strengthen its on-device security and safeguard user data. We hope to see further improvements or changes to the Lockdown Mode as more and more people start using it. Till then, stay tuned.
You might be interested in:
You can also follow us for instant tech news at Google News or for tips and tricks, smartphones & gadgets reviews, join GadgetsToUse Telegram Group or for the latest review videos subscribe GadgetsToUse Youtube Channel.