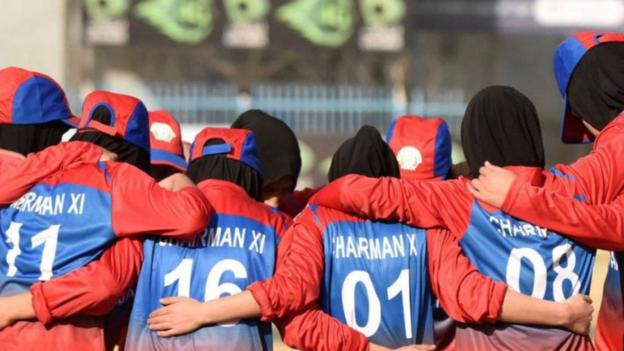 Nahida Sapan, an all-rounder in Afghanistan women's cricket team, was at university in Kabul when the Taliban retook control of the country on 15 August 2021.
"My teacher said you all have to go to your homes. We all got up and I saw the Taliban on the way home. I was really, really scared," she tells the BBC.
Once she got home, Sapan grabbed her cricket kit and hid it in the basement. She was also the scorer for the team, so she went into the backyard and burned all her scorebooks.
Sapan, whose brother worked for the previous government, says her family then started receiving calls and messages from the Taliban.
"They were direct threats. They were saying: 'we will find you and if we find you, we will not let you live. If we find one of you we will find all of you,'" she says.
"I had a panic attack, my hands were shaking. I was so scared, I was traumatised. Every time I heard a knock at the door, all I could think was 'they've found us, they're going to kill us.'"
The people sending her threats are now serving in government, she says.
Over the coming months, Sapan and her family moved from house to house to avoid detection. Eventually she managed to escape over the border to Pakistan, before meeting up with the rest of her team in Australia.
They are now beyond the clutches of the Taliban, but Sapan and her team-mates are still waiting, their careers resting on the whims of others.


Afghanistan's first national women's team was formed in 2010, nine years after the Taliban fell in the face of a US-led military coalition.
In the early years the Afghanistan Cricket Board (ACB) prevented the women's team from playing at several international tournaments, saying it received "Taliban threats".
But as the profile of the men's team grew, the ACB had to start taking the women's game more seriously. The International Cricket Council (ICC) requires its 12 full members – Afghanistan became one in 2017 – to have a national women's team. This led to 25 female cricketers being awarded contracts in November 2020.
The Taliban's return to power less than a year later destroyed the dreams of women across Afghanistan, including its cricketers. The Taliban has banned women from universities, parks and sports and raided the homes of female athletes.
Sapan, 20, is one of more than 20 members of the Afghan women's cricket team now living in Australia after fleeing Afghanistan.
Another who escaped was 17-year-old bowler Aysha Yousofzai.
She recalls her terrifying journey through Taliban checkpoints as she made her way to Pakistan.
"We had our faces covered because we weren't allowed to show our faces to men, so they didn't know who we were. We were scared but thankfully they didn't say we had to show our faces," she says.
Yousofzai managed to make it to Pakistan, and the Australian government arranged a flight for her and other members of the squad to come to Australia. But some of her friends and family weren't as lucky.
"Nobody is doing good now in Afghanistan, especially women. They don't have the right to study, work, or travel without a man," she says.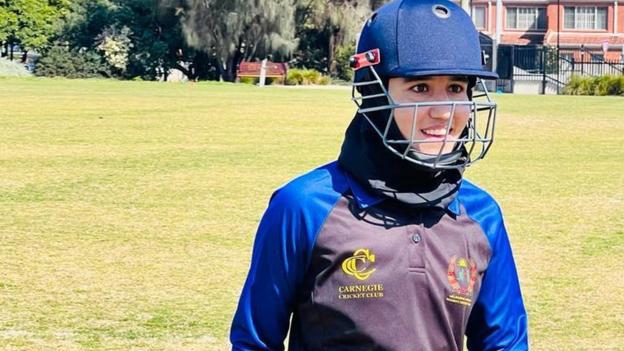 Yousofzai and Sapan have settled into life in Australia. They are both studying and are appreciative of the freedoms they have in comparison with women back in Afghanistan.
"Living in Australia actually feels like living. When we were in Afghanistan it was like we were just existing," Sapan says. "Now I feel hope for my future, I feel hope for tomorrow, I feel hope that I can make my dreams come true."
But while they are thankful to the Australian government, they have been left feeling let down by cricket's global governing body, the ICC.
Members of the Afghanistan women's team say they have still had no contact from the ICC, despite it setting up the Afghanistan Working Group in 2021 to "review the status of the Afghanistan Cricket Board (ACB) and cricket in Afghanistan". The women's team wrote to the ICC in December but the body said their status is an issue for the ACB.
"They didn't let any of our team know about the decisions they are making about our future," Sapan says. "They went to Dubai twice to talk about us but we didn't even know, we just heard through the internet. Nobody has contacted us to ask how we feel, or what we want."
As a full member of the ICC, Afghanistan should have a women's side in place.
The Afghan women's team has requested that the ICC recognises them as the official women's team in Australia, and for some of the funds allocated to the ACB be redirected to them.
But in March, the ICC "significantly" raised the ACB's budget without providing any update on the women's team.
The lack of support means the women cannot regularly train together and have been unable to arrange any official matches.
"I do not want the ICC to forget us or forget the girls in Afghanistan that still have hope of playing cricket. There are a lot of girls in Afghanistan who dream of becoming cricket players," Sapan says.
Minky Worden, director of global initiatives at campaign group Human Rights Watch, said the ICC needs to recognise the women's national team in Australia, but also press for women to be able to play in Afghanistan.
If the ACB fails to comply, Worden says Afghanistan should be suspended by the ICC, which would mean the men's team would also be unable to play.
"Rules are rules. That's what sport is about," Worden says.
"Let's say if New Zealand all of a sudden said we're only sending our male team to compete in international competitions, the ICC would and should have something to say about that.
"Why is there an ugly double standard on Afghanistan?"
The Taliban has openly supported men's cricket, knowing how widely loved the game is by Afghans. Worden believes that the threat of the men being suspended from the international game could act as a "pressure point" on the Taliban to lift restrictions on women playing sport.
"Right now it's cost free for the Taliban to ban Afghan women players from sport," she said.
Both Yousofzai and Sapan say they do not want to see the men's team affected.
A spokesman for the ICC said it "remains committed to supporting the Afghanistan Cricket Board and are not penalising the ACB, or their players for abiding by the laws set by the government of their country".
"The relationship with players in any of the ICC's Member countries is managed by the Board in that country, the ICC does not get involved. Similarly, the authority to field men's and women's national teams lies solely with the Member Board in any country, not with the ICC.
"The ICC will continue to constructively use its influence to assist the ACB in developing cricket and playing opportunities for both men and women in Afghanistan."
The ACB did not respond to a request for comment.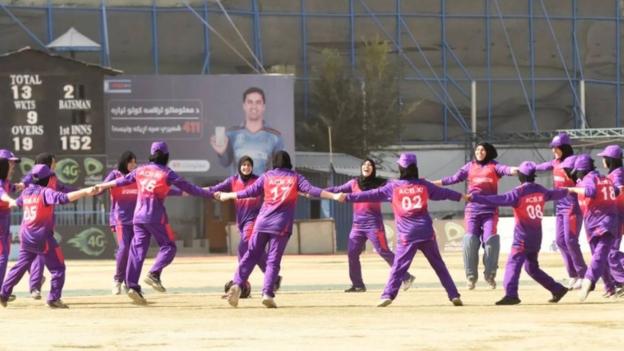 Sapan and Yousofzai both dream of one day returning to their homeland.
"I would love to be in Afghanistan and play for Afghanistan because that's where I was born, that's where I feel I belong," Yousofzai says. "If there is freedom of speech, gender equality, the opportunities I have in Australia … I'd love to be there. But if there is not, then no."
Both women want to one day become psychologists, and to be active in promoting gender equality in Afghanistan and Australia.
But right now they simply want to be able to play the game they love.
"I want my team back because I worked really hard. I faced many challenges to achieve my dream to be part of the national team … but now I can't play under the name of Afghanistan," Yousofzai says.
"I just want my rights and to be treated as a human. I just want them to treat me like they treat male players in Afghanistan."