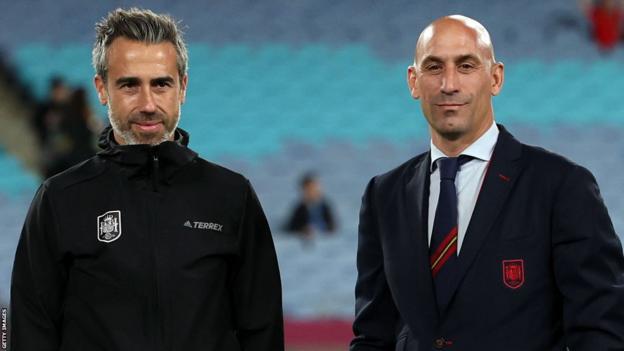 Jorge Vilda – the former head coach of Spain's World Cup-winning side – is being investigated as part of the criminal case against Luis Rubiales.
Vilda was sacked this month amid the fallout from the behaviour of Spanish Football Federation (RFEF) president Rubiales at the World Cup final on 20 August.
Rubiales kissed forward Jenni Hermoso, which she says was not consensual.
He denies charges of sexual assault and coercion.
Vilda will appear before Spain's National Court on 10 October.
Spanish media report that Vilda is being investigated for his part in the alleged coercion of Hermoso, who said pressure was put on her, her family and friends to defend Rubiales' actions. Vilda has denied this.
Albert Luque – the director of the men's national team – and RFEF director of marketing Ruben Rivera are also being investigated, having previously been called as witnesses.
Rubiales has been handed a restraining order preventing him from going within 200 metres of Hermoso.
On Tuesday, Spain beat Switzerland 5-0 in their first match on home soil since winning the World Cup.
Before kick-off in Cordoba, both sets of players stood behind a banner reading "It's over, our fight is the global fight" following the scandal which has engulfed Spanish football.