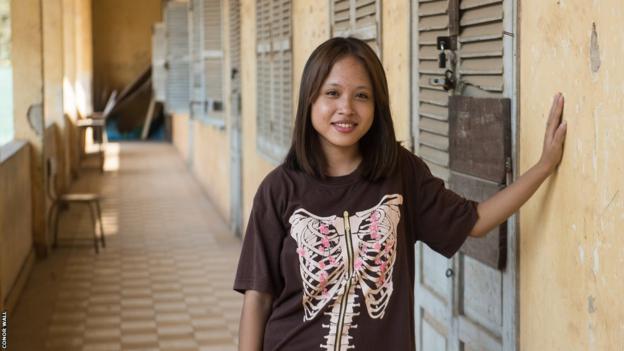 Sovann ThidaAva has never met her parents.
Born in the mid-2000s, she was found abandoned as a baby on the street in Cambodia's capital, Phnom Penh.
She was taken in by a local non-governmental organisation (NGO) for disadvantaged children, where she was raised.
"I have no idea where my mum went," says ThidaAva, who goes by the name Ava.
Life in care was crowded and chaotic, but over the years she built up a close bond with the other girls there.
"We were like sisters because we grew up together… we lived together in one group," she says.
During playtime, the boys played football and volleyball, but the girls were not encouraged to join in.
"The girls were encouraged to do dancing and art," Ava says.
Despite being around large groups her entire life, Ava knew little beyond the walls of the organisation.
That all changed in 2018, when somebody offered to take her to a training session for a sport she'd never heard of – Gaelic football – at a club that was barely a year old.


Cairde Khmer had been formed in 2017 by two Irishmen – Conor Wall and Paddy Campbell.
"It was meant to be a bit of craic – go to Bangkok one time to check out a Gaelic tournament," says Ronan Sheehan, the club's chairman.
The trip to Bangkok was a success and the decision was made to keep the club going.
To begin with, Cairde Khmer was made up almost completely of Westerners. But in 2018, the club started seeing a small influx of Cambodian players turning up to training.
Ava started playing around then, despite only being about 13. She initially found the rules confusing but soon became one of the team's best and most fearless players.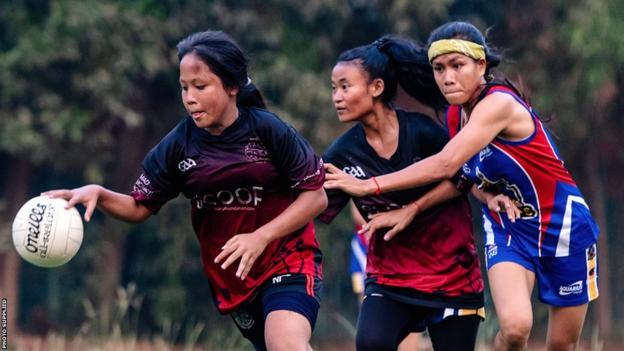 "She is absolutely vicious," Sheehan says. "Her tackling can be quite rough. I used to take great delight watching grown women in their 20s and 30s asking the referee to protect them from this rampaging 14-year-old.
"Referees are always coming up to us and telling us she has to calm down. But we can't calm that out of her because it's a big part of her game. She plays it right on the edge."
Soon a trickle of Cambodian players became a steady stream, as word started to spread.
Vat Sreypov joined the team in 2019. As a child, Sreypov had always longed to play sports like the boys in her village, but was never given the chance.
"I was not allowed to play football because my brother said it was not for women," Sreypov recalls. "Most women are not encouraged to play football in Cambodia. There are so many norms about women and how to behave – you are told not to walk fast and you should not be heard when you walk."
Cairde Khmer was a breath of fresh air to her.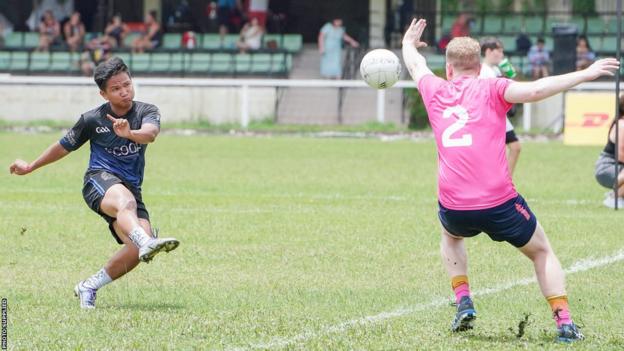 The men's team was also attracting new local talent, including Touch Phanouch.
Phanouch was born in 2000 near one of the world's most notorious rubbish dumps, Stung Meanchey, on the outskirts of the capital. His parents struggled to make ends meet and Phanouch was sent to a local NGO, where he got access to education and sport.
He developed a passion for sport and in his teenage years was introduced to Australian rules football. Through this he found Gaelic football – a common route for many of the squad – and fell in love.
"The beauty is that it gets me to wake up my brain when I play because it's a mix of rules," he says, drawing some parallels with Australian rules football and soccer.
Soon, about 90% of the Cairde Khmer ranks were Cambodian. This contrasts with most Gaelic football teams in Asia, which are predominantly or fully made up of Irish nationals.
"I go down to the training on a Monday night and you can have anything close to 45-50 Cambodian players down there," says Sheehan, who has worked as an English language teacher in Phnom Penh for eight years.
"I'm walking into that and knowing they're not language students or anything like that, they're there to kick a leather ball around a field – something my brothers and sisters and my father were doing growing up in Ireland.
"Seeing it unfold before your eyes here, it still really blows my mind."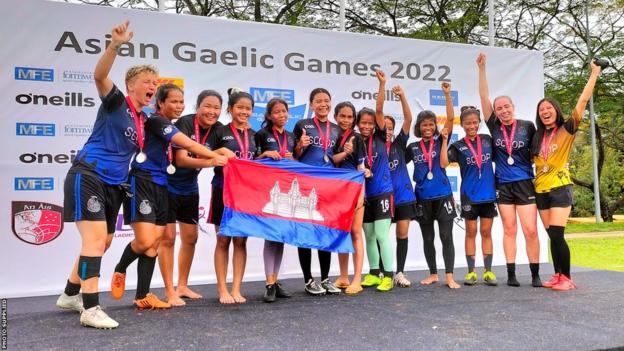 It didn't take long for Cairde Khmer to start making waves in the region.
In 2019, the men won both the Asian Gaelic Games and South Asian Gaelic Games in the junior category, while the women reached the final of the latter tournament.
Last year, both teams, with Cambodian players now easily outnumbering their Irish ex-pat team-mates, were runners-up at the 2022 Asian Gaelic Games in Kuala Lumpur, Malaysia.
The women caused an upset against a strong Thai side in the semi-final, scoring a goal in the dying seconds.
"The referee blew the whistle and I dropped to my knees and started bawling my eyes out crying," Sheehan says. "I've never felt anything like that on any field."
Off the back of those performances, Cairde Khmer were invited to the GAA World Games in Derry, Northern Ireland, in July. The club are raising funds for the trip.
"It's like going to play the World Cup in England," says Phanouch, who often watches Irish Gaelic football matches on YouTube.
"We will be meeting the real people in Gaelic sport, getting a real authentic experience – talking to legends and superstars in the sport, the Lionel Messi's of Gaelic football. I cannot wait to talk and learn more about the sport and its origins."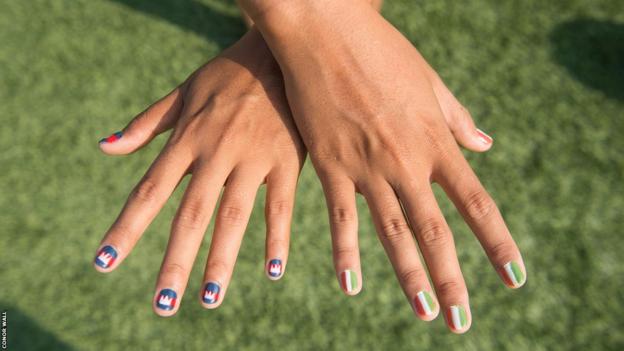 Phanouch says Gaelic football is giving many of the team the chance to travel the world in ways that would never have been possible before.
"It gives them a lifetime experience – some of them would not have been able to go abroad.
"They would not have a chance to visit Thailand, Malaysia or Vietnam," Phanouch says, let alone Ireland.
Phanouch recently graduated from university and is working in business development at a sports resort in Thailand. He credits Cairde Khmer with helping broaden his horizons.
"Even me, I would never have thought about going abroad or making money," he says. "But it taught us to go out and learn more about the world. This is what this sport has taught us."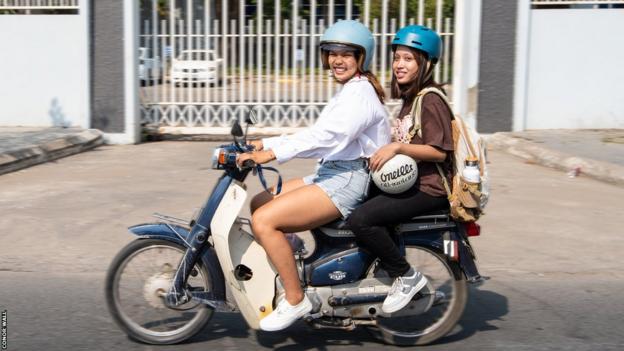 Despite being discouraged from playing football as a child, Sreypov says her family are now impressed by her achievements in the Gaelic form of the sport.
"With Cambodian parents, if the kid can get to travel to another country, they are already proud. They don't say anything about me playing football any more," she says, adding that she has introduced the game to her boyfriend.
Ava is regularly the top scorer at tournaments and is eagerly looking forward to the prospect of playing in the home of Gaelic football later this year.
But the sport has given her a lot more than accolades on the field.
"The positive part is meeting new people outside," she says. "It makes me feel more relaxed and light. It makes me feel less lonely."