This is a guest post by Alyssa.
There is something extra special about visiting Ecuador. Maybe it's because it is still somewhat off the beaten path, meaning there are far fewer crowds than more popular travel destinations; or perhaps it's because Ecuador is the country of four worlds: coast, jungle, highlands, and islands; or maybe it's the llamas (it's definitely the llamas). And that's not to mention the ancient ruins, magical hot springs, and rich culture.
Budget-friendly Ecuador features activities for all interests. History buffs will love its many ancient ruins. Adventure enthusiasts will be in paradise among the Andes Mountains. And who doesn't love taking a dip in a natural hot spring at the end of a long day?
Is it obvious I am absolutely enthralled by this country? While Ecuador is often not the first choice for women planning a solo trip, I cannot begin to describe what an underrated, beautiful country I think it is.
Ecuador Planning Details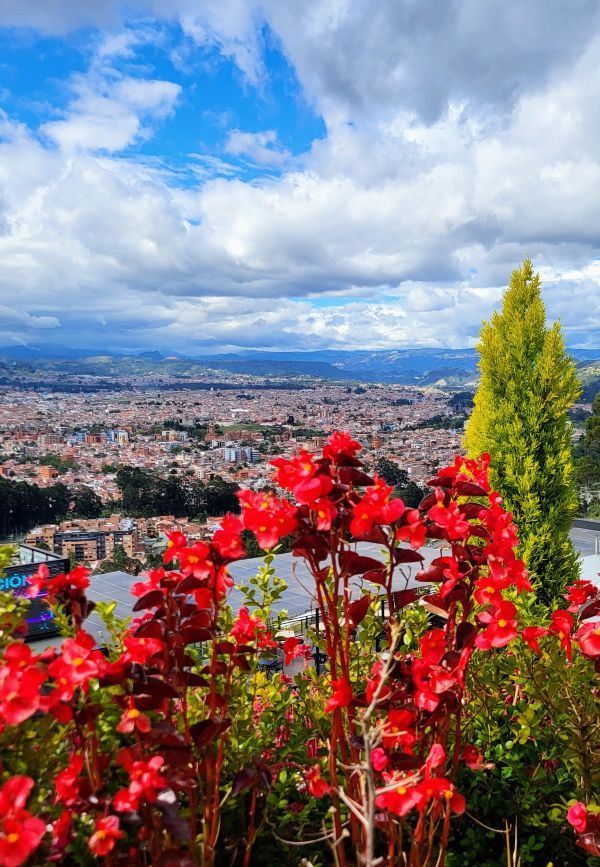 Location: Ecuador is located between Colombia and Peru in South America. Its international airport is in the capital city of Quito.
Altitude: Ecuador is in the middle of the Andes Mountains. This makes for absolutely incredible views, but also means you must take altitude into consideration. The higher-altitude places in Ecuador are Quito and Cuenca. This means experiencing altitude sickness is more likely there, so I recommend taking advance precautions, such as packing altitude sickness medication or other remedies that work for you. Altitude should not get in the way of enjoying your Ecuador trip.
Weather: Did you know that Ecuador is the Spanish word for "equator"? This is because the line crosses directly through Quito, Ecuador! Aside from a new fun fact, this is also the reason Ecuador is known for very mild temperatures year-round. Not many places have the advantage of being a temperate travel destination no matter the season! This makes creating an Ecuador packing list easy, and ensures you won't need to take many different outfits, no matter the region. 
Cuenca: 3 Days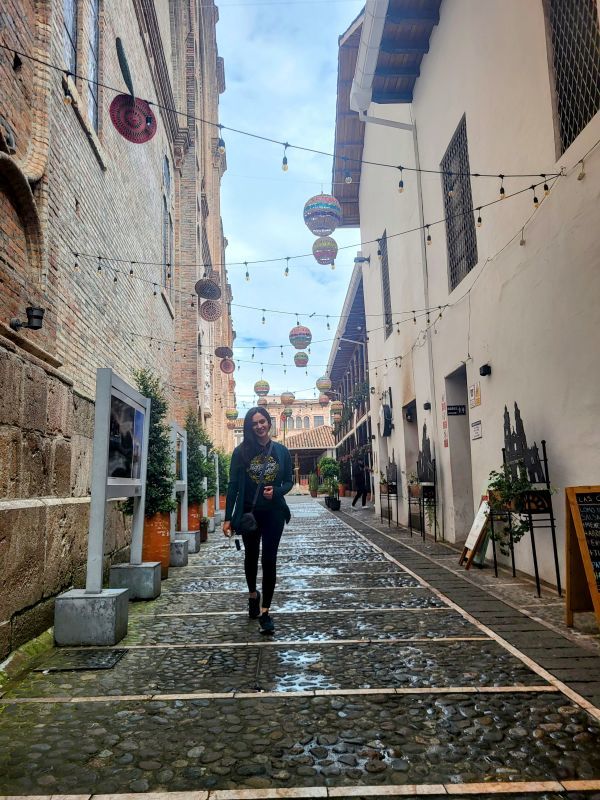 After arriving at Quito's international airport, catch one more flight down to Cuenca. There are no direct international flights into Cuenca, so plan accordingly. I recommend spending at least three full days in Cuenca to enjoy its charm and take a day trip.
Cuenca is known as one of the safest spots in Ecuador. Located in the southern highlands, its geographic features are unmatchable. Local day trips, like Cajas National Park, provide lush greenery amid alpine lakes, making for an otherworldly experience. Weather in the national park can be unpredictable, though, so it's important to plan for a variety of conditions and to pack layers, as it can get pretty chilly no matter the time of year. Isolated rainstorms are common.
Other popular day trips from Cuenca include Ingapirca ruins or the towns of Chordeleg and Sig Sig. 
I recommend traveling by local bus for day trips from Cuenca. It is a fraction of the cost of tours, and it feels very safe. However, public transportation also means many stops to pick up passengers in several places along your journey, so this might not be the choice for you if you are tight on time.
When exploring the Cuenca itself, you can't miss Pumapungo Museum (it's free and houses ancient ruins) and the San Francisco Plaza, which is surrounded by historic architecture and churches, and is home to the second biggest flower market in the world (runner-up to Amsterdam!).
The best viewpoints overlooking Cuenca are Mirador Turi and Mega Parque Ictocruz.
In the evening, relax at one of Cuenca's two thermal hot springs: Piedra de Agua or Novaqua. Piedra de Agua is bigger and offers more underground caves but comes with a starting price of $35 (not including the caves). Novaqua has more affordable package options, and is an adult-only spa. Purchase tickets for either hot spring at the front desk of the spa upon arrival.
Tip: If you are short on time, skip the Ingapirca ruins and visit the ones at Pumapungo Museum. It is open 8:00am-5:00pm Tuesday-Friday, and 10:00am-4:00pm Saturday and Sunday; it is closed on Mondays.
Stay: The Selina Hostel in Cuenca is more of a boutique hotel. Features include a rooftop restaurant and yoga studio.
Baños: 3 Days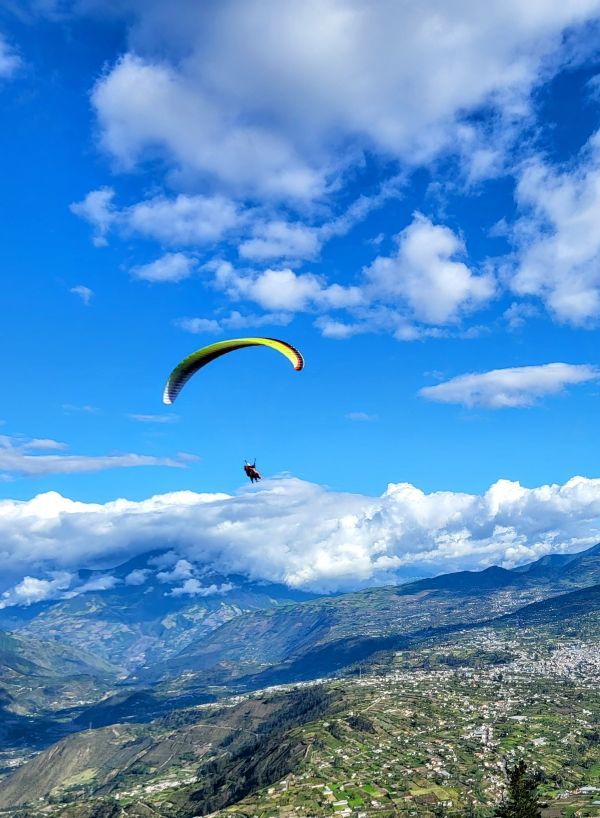 Catch a bus six hours north from Cuenca's Terminal Terrestre into Ecuador's adventure capital, Baños. I recommend purchasing tickets at the bus station upon arrival.
The town features world-class white-water rafting, canyoning, and paragliding. All of these activities are offered at extremely affordable prices, smack in the middle of the Andes Mountains. What's not to love about that?!
Activities can be booked through your hostel or at one of the various tour companies downtown. I recommend spending three days in Baños in order to experience your preferred adventure activities and make time for relaxation in between all of the adrenaline. Two full days can work if you are tight on time.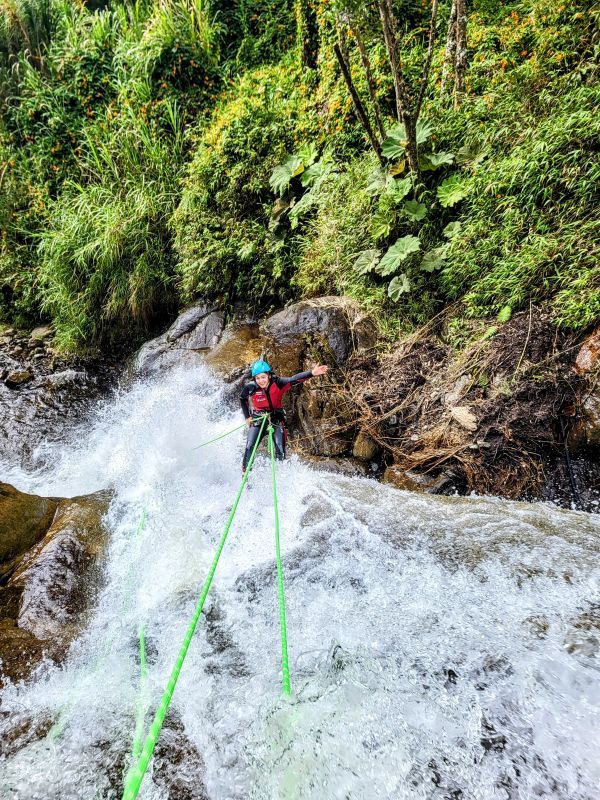 Baños is dynamic because it caters to a variety of interests. Yes, it is the adventure capital of the country for a reason. However, it also offers breathtaking accessible viewpoints (without a 12-mile hike), famous hot springs, and several spas. It is the ultimate balance between adrenaline and relaxation at an affordable price. 
The two budget bathhouses in Baños are Termas de La Virgen and El Salado. These hot springs are favorites among locals, so plan to have an authentic experience. Lunca Volcán is known as the luxury hot spring. It is located high in the mountains with beautiful views but comes at a starting cost of $72. This includes lunch or dinner, three hours of hot spring access, and one spa treatment. To purchase tickets, visit the website.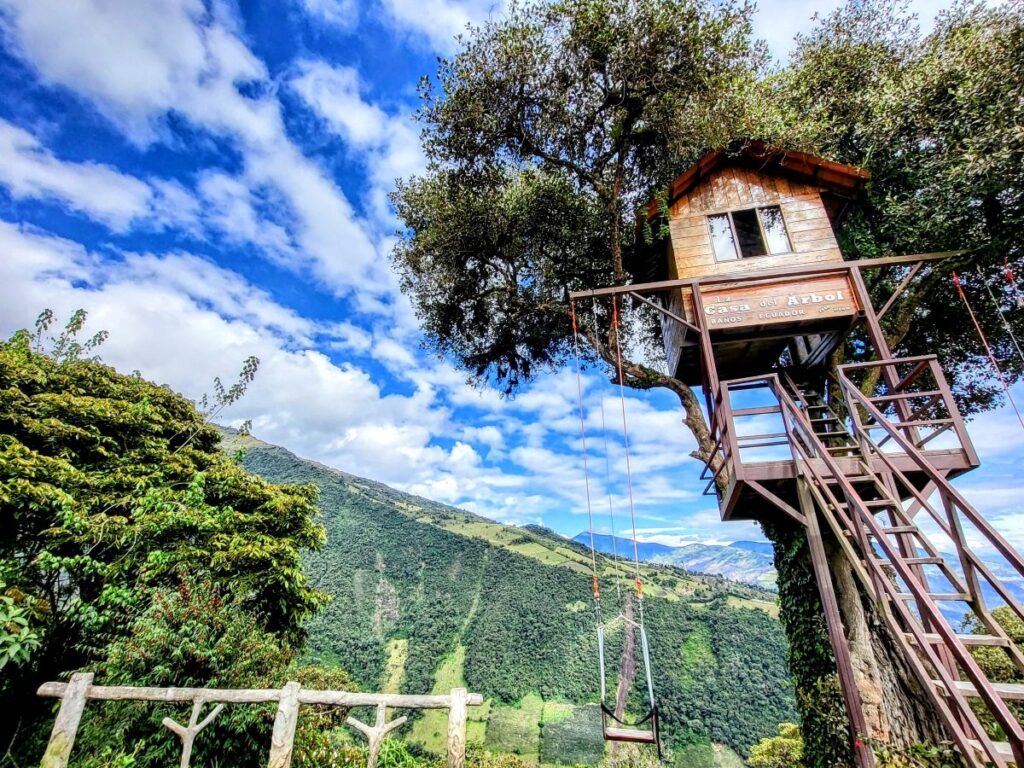 One of the most famous things to do in Baños is taking a ride on the Swing at the End of the World. Come on, the name is already epic! This is one of my favorite things I did my entire time in Ecuador. Some visitors claim photos make it look better than it is, but I think it's amazing. 
The easiest way to get here is taking a Chiva bus from Baños city center to Casa de Árbol. It costs $1 USD to get into the park, and the Chiva bus waits about one hour before returning to town. 
Tip: Arepas 2 Go was my favorite restaurant in the entire town. Its $5 Venezuelan arepas are super filling and flavorful. I loved the vegetarian and vegan options.
Stay: Princesa Maria is one of the top-rated budget options in town, and Luna Volcán is one of the top-rated luxury stays.
Amazon Rain Forest: 1 Day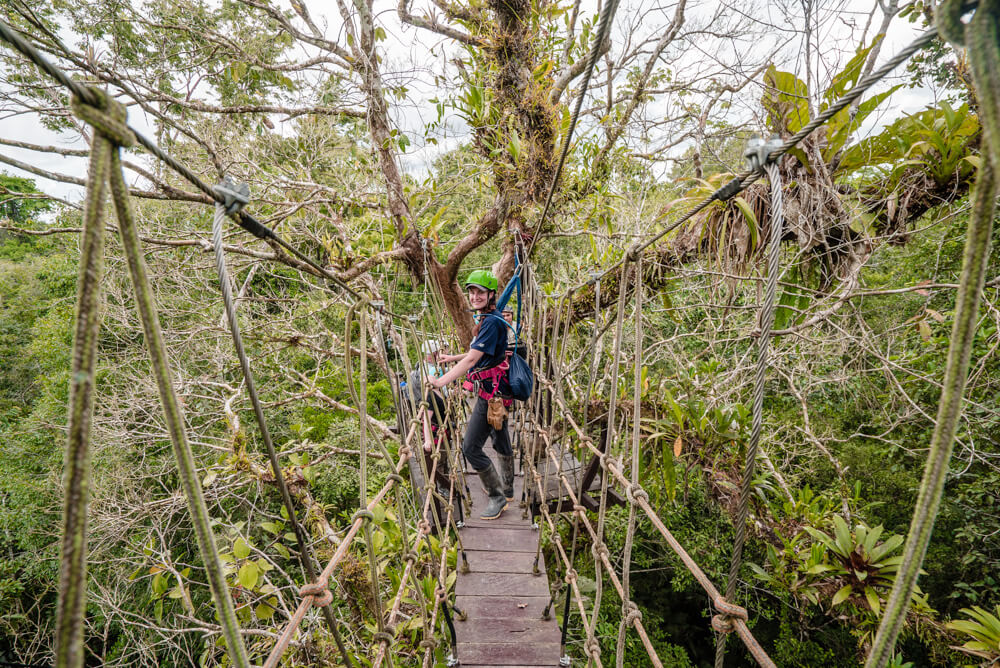 Take a 3 hour direct bus from Terminal Terrestre in Baños to Tena.  Purchase your tickets directly at the bus station in Baños.  The station is very small and easy to navigate.  Growing up, I learned about the Amazon Rainforest as a mystical, unknown gem of the world.  Something for dreamers.  It is amazing just how accessible a visit can be!  
I recommend making Tena your base because it is considered Ecuador's gateway into the Amazon.
The Amazon is a HUGE part of the country's ecosystem, covering nearly 50 percent of its land.  There are several affordable day tours from Quito or Baños to the Amazon Rainforest.  Most Amazon tours include water activities such as rafting or swimming in waterfalls!  The tours are typically action-packed covering a full 12 hour day.  
You can also visit the Amazon Rainforest in Peru, Colombia, Brazil, and more.  The Amazon is on my list for my return trip to South America!  
Tip: If you are tight on timing, you can also take a day trip into the Amazon Rainforest from Baños or Quito.  
Stay: Rema Kayak Lodge in Tena provides good value for the money. 
Quito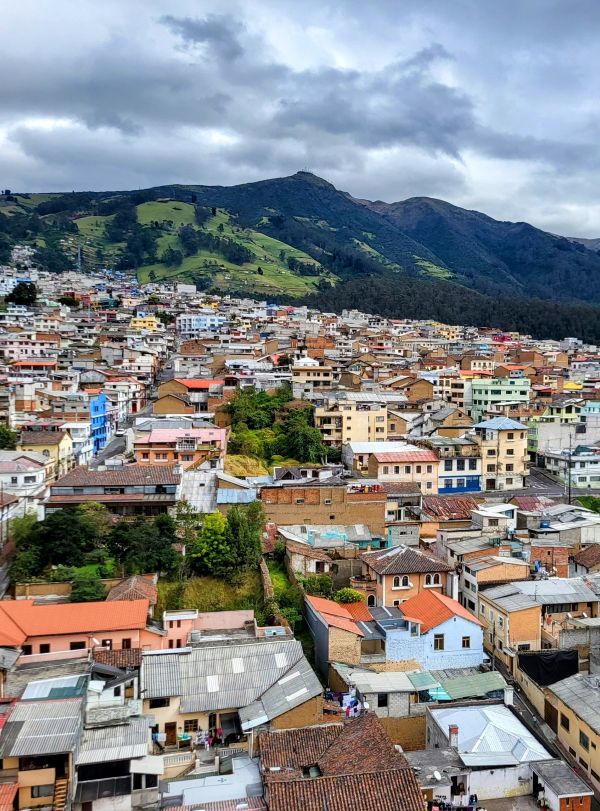 End your trip back in Quito, Ecuador's capital. Most travelers make it a quick layover en route to the Galápagos Islands or other famous destinations, like Machu Picchu in Peru or Patagonia in Argentina. But Quito is so much more than that. I recommend spending no less than two days in Quito.  If you have the extra time, I recommend allotting two additional days for day trips.
It was the city that surprised me most. I had received so many warnings from travelers and locals that I arrived a bit on edge. I very quickly got my bearings and fell in love with its authenticity.
READ NEXT: Is South America Safe for Solo Female Travelers?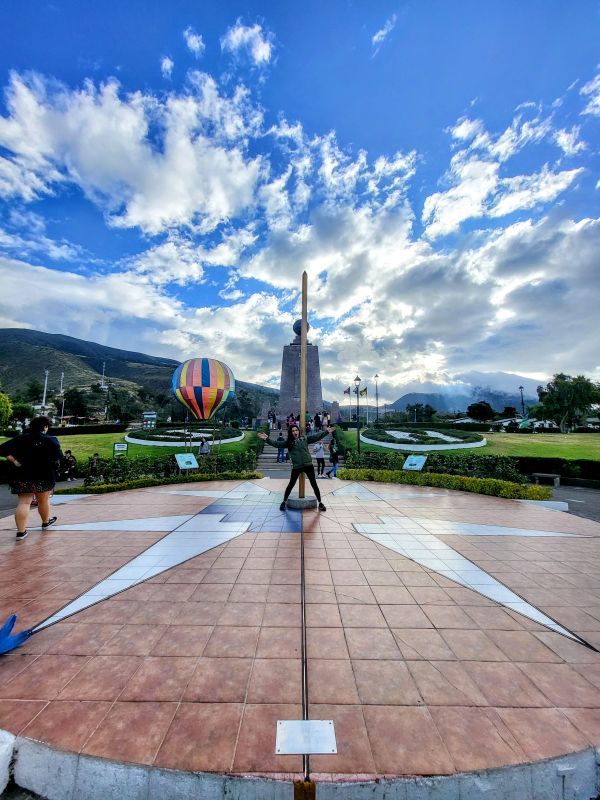 My favorite thing to do in Quito, while may be it cheesy, was taking a tour to the center of the world. Let's circle back to our Ecuador history lesson. Ecuador is the Spanish word for "equator," which runs directly through the country. Call me a science geek, but I loved completing science experiments on the equator line, like balancing an egg upright. 
I am also still enthralled about standing in two hemispheres at once. And jumping across hemispheres — yup, I highly recommend capturing that photo!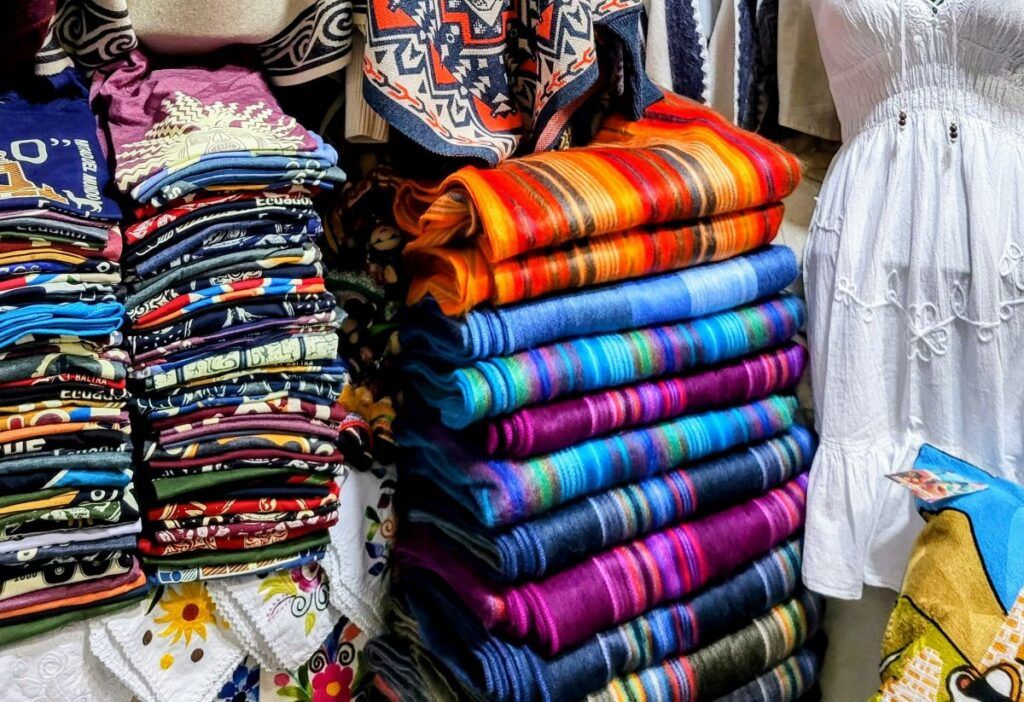 Ecuador's capital is also known for authentic handicraft markets featuring goods created by artisans in nearby indigenous villages. The most convenient one to visit is La Mariscal Artisan Market in the Mariscal neighborhood, a 10-minute drive from Quito's historic center. La Mariscal has got it all: we're talking brightly colored dresses, jackets, purses, dolls, jewelry, shoes — you name it, they got it. (Full disclosure: I shopped here every day. Oops!)
For a full day of shopping, venture on a day trip to Otavalo Market, the largest of its kind in South America.
The best views in Quito are from El Panecillo and El Telefónico (cable car). It is not safe to walk the city stairs to El Panecillo, so be sure to take a bus or Uber here.
Quito is also a great launching point for some of the best adventure day trips in the country, like Cotopaxi Volcano National Park, Quilotoa Volcano, and Mindo Cloud Forest.
Tip: My favorite Ecuadorian meal on my entire trip was at Miskay in La Mariscal, where they are able to make almost any menu item with plant-based protein (I'm looking at you, vegetarians!).
Stay: I suggest Casa San Marcos in Quito's historic center.
Ecuador Safety Tips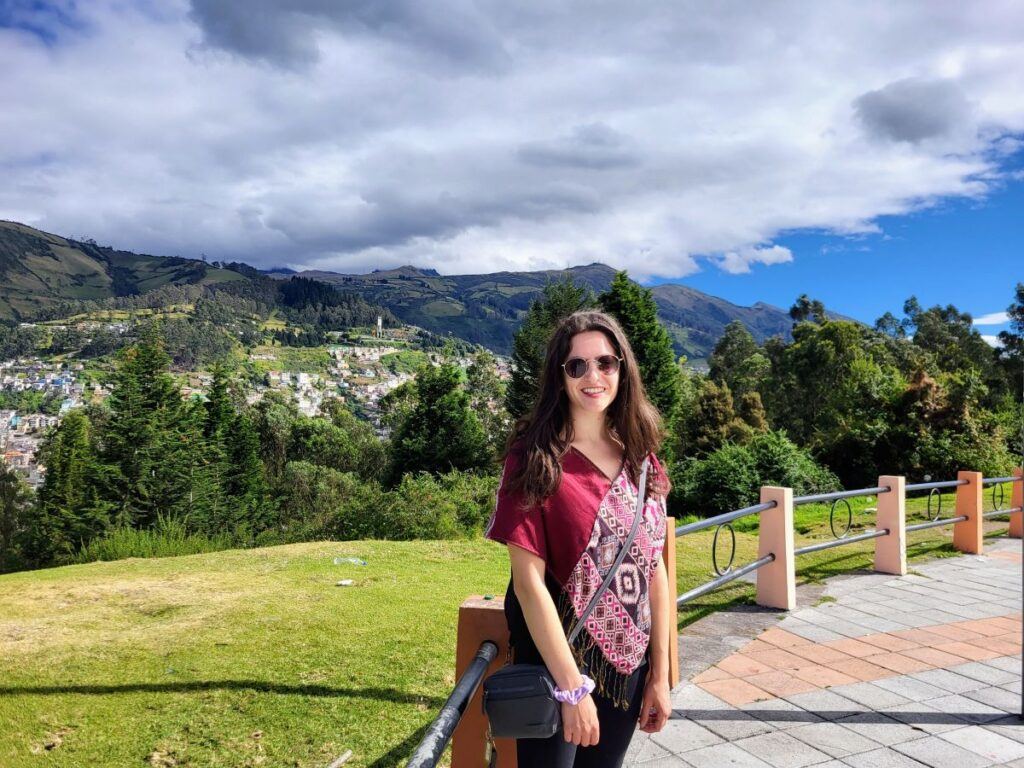 Ecuador isn't famous for having the world's safest reputation. If you follow news stories across media outlets, you have probably heard a lot about crime and violence. Safety should be taken very seriously on any trip, but this is simply not a reason to avoid traveling to Ecuador.
Quito is the only place in Ecuador where I was given several well-intentioned warnings by fellow travelers and locals. While it is not inherently dangerous, these warnings are not without reason. Quito has many impoverished neighborhoods. Lack of money historically relates to higher crime rates anywhere in the world, because people are trying to provide food for their families. 
In any case, it is important to research prior to any solo trip in order to be aware of necessary general precautions in order to protect yourself.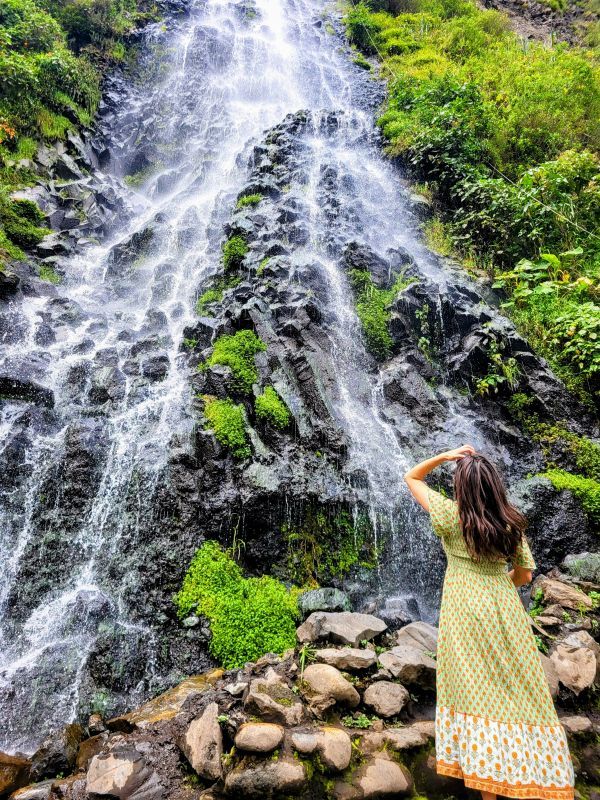 My top solo female safety tips for Ecuador are:
Share your itinerary: It gives you peace of mind to know that someone knows where you are in case of an unexpected emergency. In fact, I recommend this tip to all solo female travelers no matter the destination.
Stay indoors after dark in Quito: While it might be enticing to be out and about because the sun sets early, around 6:30pm, the top tip I received from locals and tourists was to stay indoors after dark, unless you are in a touristy area with several people.
Do not explore isolated streets: Reported crime is more likely to happen in uncrowded areas, and where there are no other people. Of course you should still be careful in more crowded areas, as pickpocketing is common. Follow this tip day or night.
Do not walk to El Panecillo: …or stay in a hostel near a set of city stairs. El Panecillo features one of the best viewpoints in Quito. However enticing climbing one of the many sets of stairs to the top may be, take a car or bus instead. There are several reported instances of violent crime and robbery against tourists and locals through the neighborhoods that line the stairs. (Once at the top, it is safe.)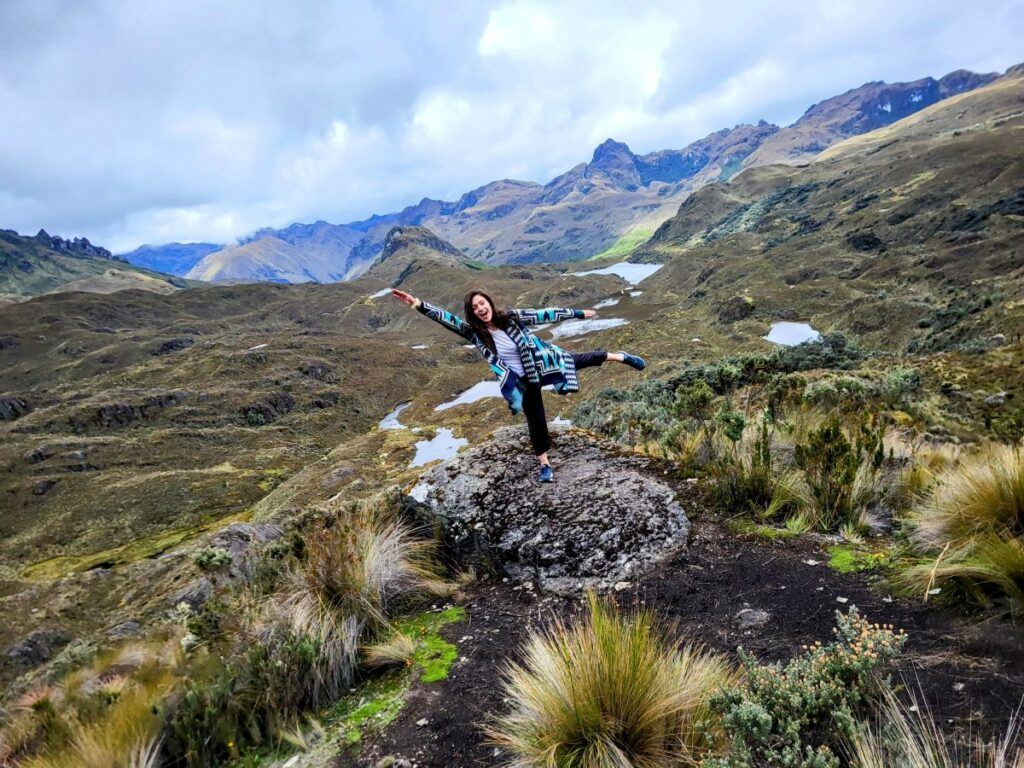 Ecuador is ultimately a safe destination for female travelers if you stick to the touristed route and follow general safety precautions. The most common crime is petty theft, like pickpocketing. Always follow your intuition and exit any situation that feels sketchy or unsafe.
I recommend visiting Ecuador alone after you feel comfortable with solo travel. Traveling solo as a woman for the first time can be scary. Much of this fear is instilled by well-intentioned loved ones and by alarming warnings from media sources.
***
Ecuador should be considered more than a layover destination in South America. From its bustling cultural capital of Quito to its adventure capital of Baños, to its charming southern highland town of Cuenca, your itinerary is sure to be unforgettable.
About the author: Alyssa is a full-time teacher who travels the world on a budget. She is on a mission to teach fellow educators how to balance travel on a school schedule through maximizing holiday breaks and long weekends. She has traveled to 30 countries and documents her journeys on her blog, An Apple a Plane.