Which island chain is better? The Nusa islands off of Bali or the Gili islands off of Lombok?
Each is a set of three islands located close together, but that's where the similarities end. There's a big difference in vibe and things to do. Which should you visit if you're low on time? Having been to all of them, some of them multiple times over the last 10 years, I'm here to help you choose:
Location of the Nusas vs. Gilis: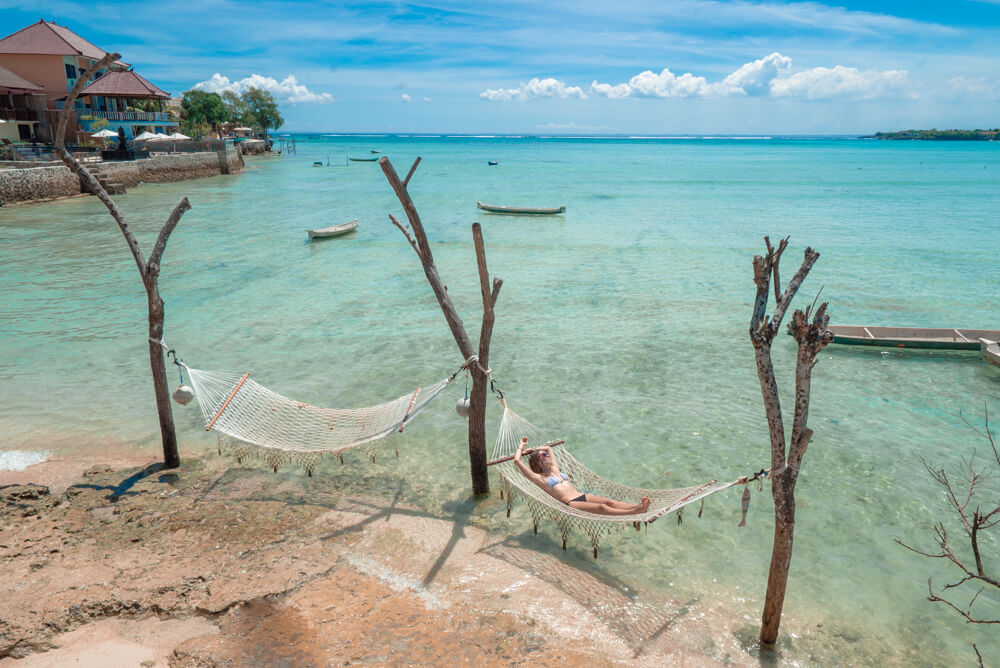 The Nusa islands are a half hour boat ride away from Bali's southeast coast. They're comprised of Nusa Lembongan, Nusa Ceningan, and Nusa Penida. You can drive across a bridge to access Nusa Ceningan from Lembongan. Both of these islands are small and easy to explore within the course of a day or two, though you'll want to rent a motorbike to get the job done.
Nusa Penida is a ferry ride away from Lembongan and is much larger than the other two Nusas and the Gilis. This one takes several days or even a week to do justice.
The Gilis – Gili Air, Trawangan, and Meno, by contrast, are a short, 20-minute boat ride away from Lombok either by public boat, tourist boat, or private speed boat. You can also take a speed ferry to get there from Bali, which takes around 3 hours. I've done them all, and prefer the public boat from Lombok since it's cheap and easy.
The Gilis are small, flat, and pretty similar to each other in size and topography. Each has its own vibe, though.
Getting around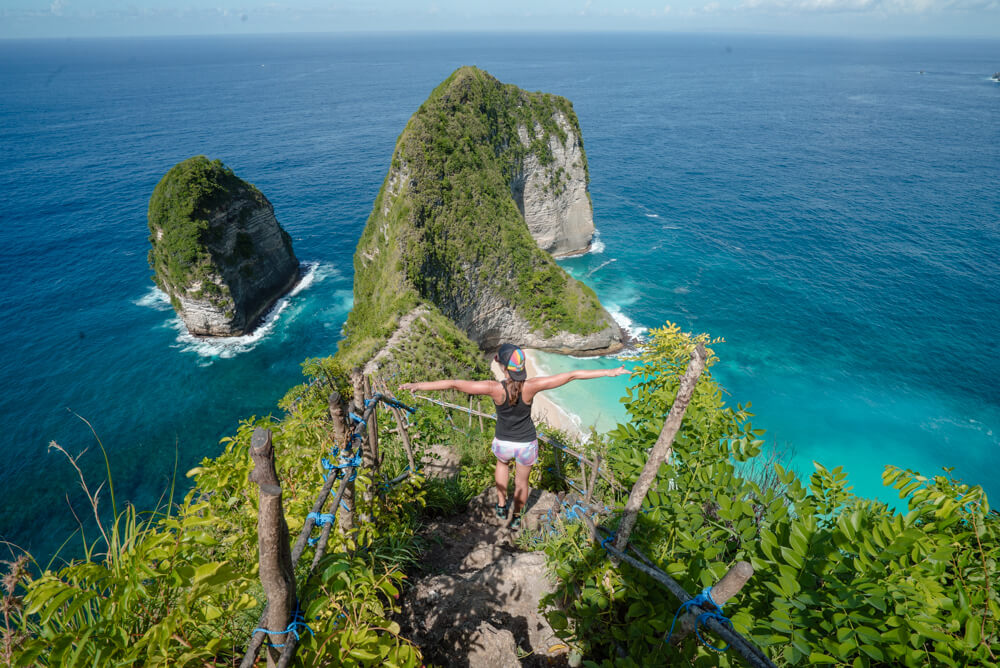 This might be the dealbreaker for you in terms of which set of islands to visit. The Gilis are easily accessible by foot or bicycle. the narrow streets are made of sand, and you won't see cars or motorbikes there. For our upcoming trip with my baby, that's exactly why we are picking them.
The Nusa islands, particularly Nusa Penida, require something motorized. They're mountainous, rocky, and rugged, and you'll want a motorbike to get around. It's best if you're confident on that motorbike when on Penida, because the roads can be terrible! I've driven motorbikes all over Southeast Asia, but the rocky, sandy, and steep nature of the roads on Nusa Penida made me nervous. You could take a tour from Bali to get around if you're uncomfortable with a motorbike. You can also hire a driver for around $65/day.
Things to do: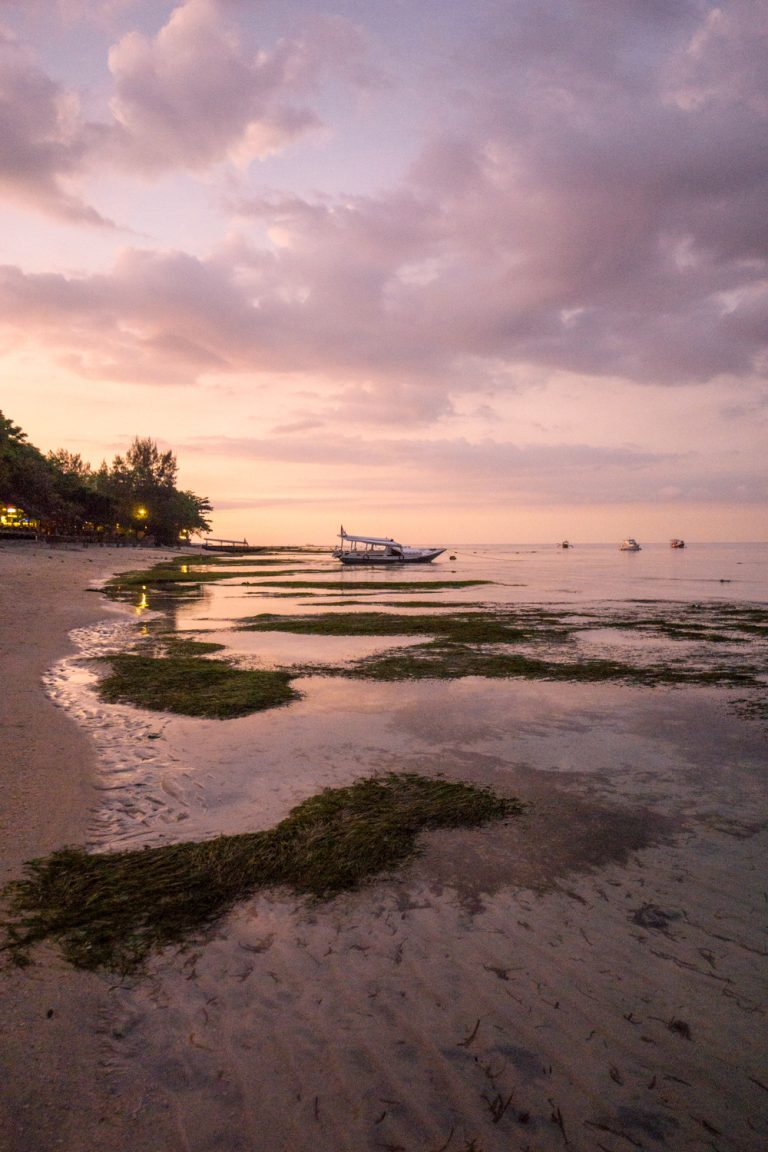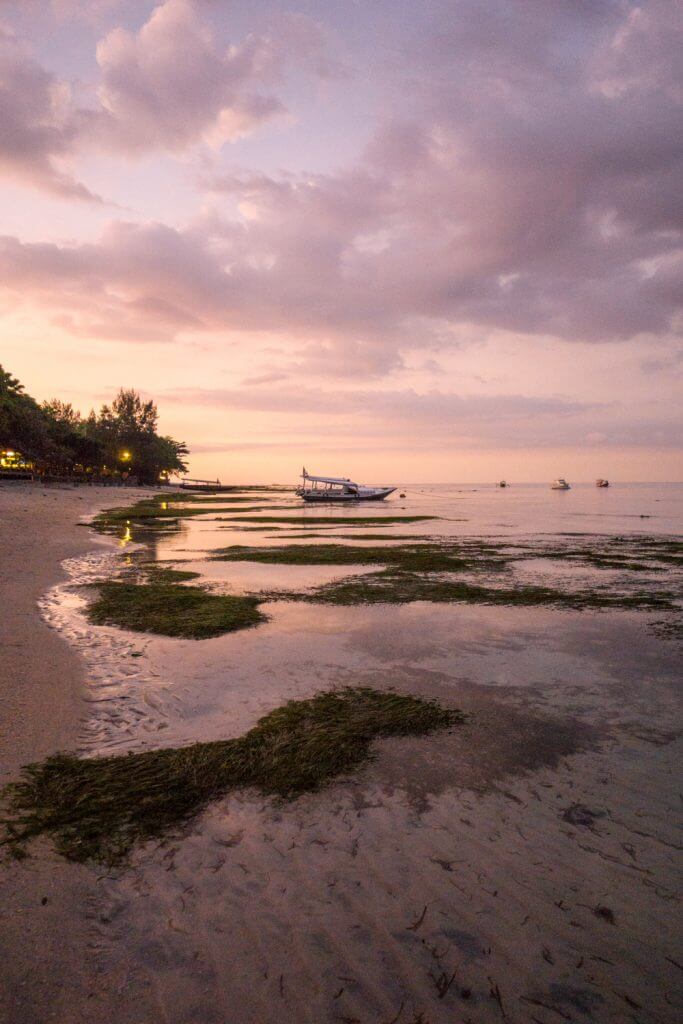 The easiest way to choose between the two is to ask yourself how much of an itinerary you want. Do you want to chill on the beach or get out and do things all day?
The Gilis are small, flat islands, and are not the place to try to pack your schedule and see and do a bunch of things.
Gili Air is a great place to get dive certified — I did my freediving training there — or hang out at a beach bar, walk a slack line, play in a pool, and eat at the restaurants and cafes. It's easy to hire a boat for the day to island hop, swim and snorkel, and drink beers with friends. The water is calm and, though grassy and sometimes full of coral, the beaches are nice too.
Gili Trawangan is similar in that you can do dive certifications and eat and drink well. It's more of a party island, and known as a place to participate in activities of the psychedelic variety. The beaches and bars are similar to Air.
Gili Meno is the quietest of the three, with fewer restaurants and accommodation options, but a great place to get away from the party vibe.
I prefer Air out of the three. You can read my comparison of Gili Air vs. Trawangan if you're choosing between those two.
For me, the Gilis have been just right for meeting up with friends I hadn't seen in a while, chilling for a week after climbing Mt. Rinjani, or going back to islands that I know are going to be easy and without motorized scooters to worry about.
The Nusa islands are less of a place to just post up and chill. While you could do that, you'd be missing out on all there is to do there.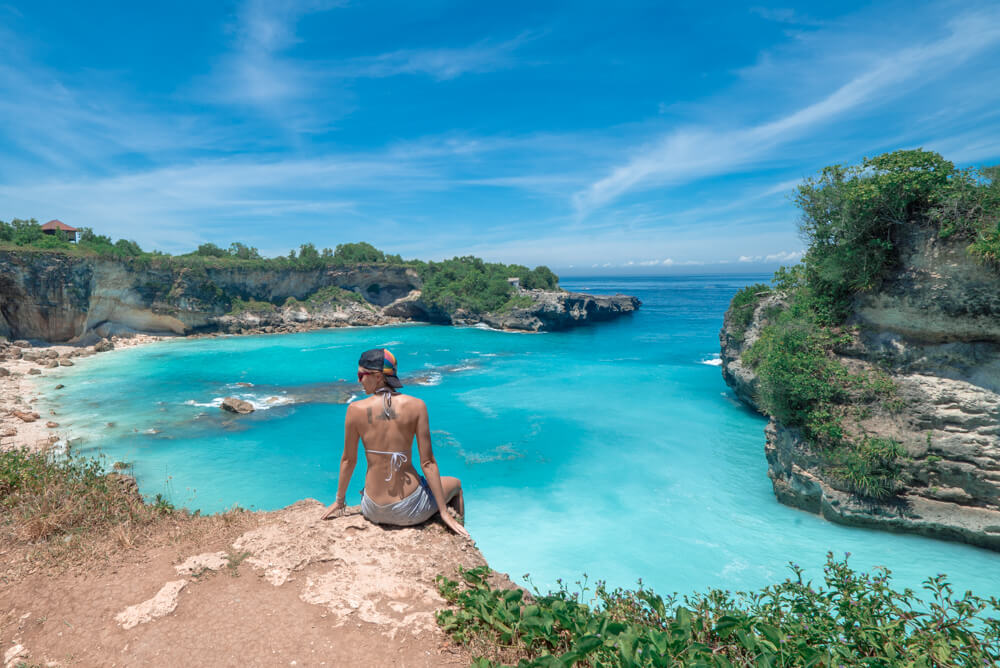 Nusa Ceningan has the blue lagoon, Mahana point cliff jump, a surf break, and more.
Nusa Lembongan has mangroves, dream beach, the Devil's tear, and and sunset tide pools. it's best to take a motorbike out for the day and explore.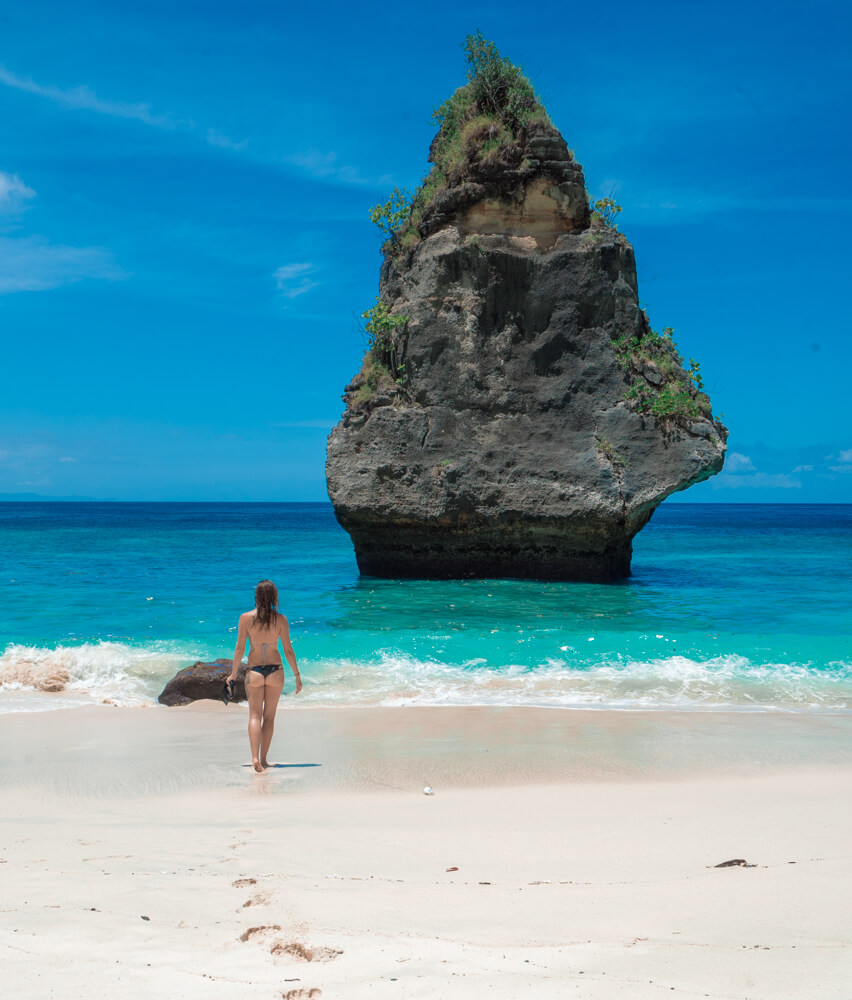 Nusa Penida has Kelingking Beach, Angel's billabong, an area to swim with Manta rays, and unique accommodation like the Rumah Pohon treehouse. It's rocky and mountainous, meaning you'll encounter a lot of stairs to get down to the beaches. Out of all of the Nusas, it was my favorite. You can see my trip highlights here:
Vibe of the Nusas vs. Gilis
The Nusa islands are Balinese, and you'll see similar architecture, temples, and culture to what you find on Bali. The locals are lovely, and Nusa Penida has a wildness to it that I loved.
The Gilis are more about the chill and the party, though you'll also hear the sounds of mosques and encounter a much smaller population. Though I'm sure some people are actually from these islands, I get the sense it's mostly transplants and the islands are mostly devoted to tourism while the Nusas are lived in, and have their own populations and culture.
It used to be that the Nusas had a bit less tourism than the Gilis, though recently there have been queues to take photos at the Kelingking beach overlook, crowds in the water with the Mantas, and more people taking day trips from Bali.
Accommodation on the Nusas vs. Gilis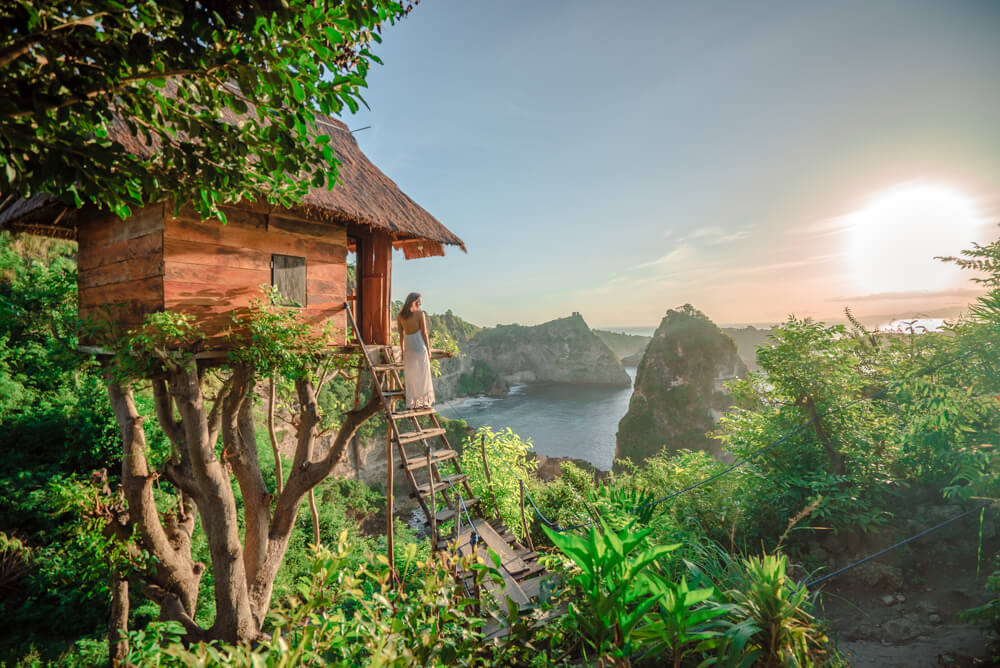 The Nusa islands have a nice range of accommodation options from simple bungalows to the treehouse pictured above (though I don't recommend staying there), to beautiful Airbnbs and beach resorts.
The Gilis are mostly bungalows, often centered around a pool. Dorms aren't in large supply in any of the islands, but you can find affordable private rooms in the $20 range that are quite nice. It also seems to be a thing to have outdoor bathrooms/showers on the Gilis, which I love. The only thing I don't love is the water coming out of the shower seems to be brackish, which isn't the best for my hair. A small price to pay to enjoy the chill of the islands.
Which set of islands you choose will come down to your preferences for what you want to do with your time, how much you want to explore, and the atmosphere you're looking for. If you want to party, chill by the beach, or get scuba certified, pick the Gilis. If you want something adventurous with lots of things to do and don't mind driving a motorbike or climbing stairs to go to beaches, pick the Nusas.
There's no doubt the latter are more beautiful, though they'll require a bit more adventurousness.