The postcard-worthy beaches of Costa Rica are easily some of its biggest attractions. My favorite thing about beach-hopping here was the stunning variety: from smooth, pebble-filled shores to dramatic cliff backdrops, and sand ranging from coal black to stark white. If you want to find the best beaches in Costa Rica, you'll have to be more specific about what you're looking for, as every one of them is great in its own right.
I've put together a list to help you choose which to visit, with some that are ideal if you want to go for a swim, others that are awesome surfing spots, plus family-friendly shores and off-the-beaten-path options too.
What are you waiting for? Let's find out what the best beaches in Costa Rica are…
Best for Swimming
13. Playa Espadilla Norte, Manuel Antonio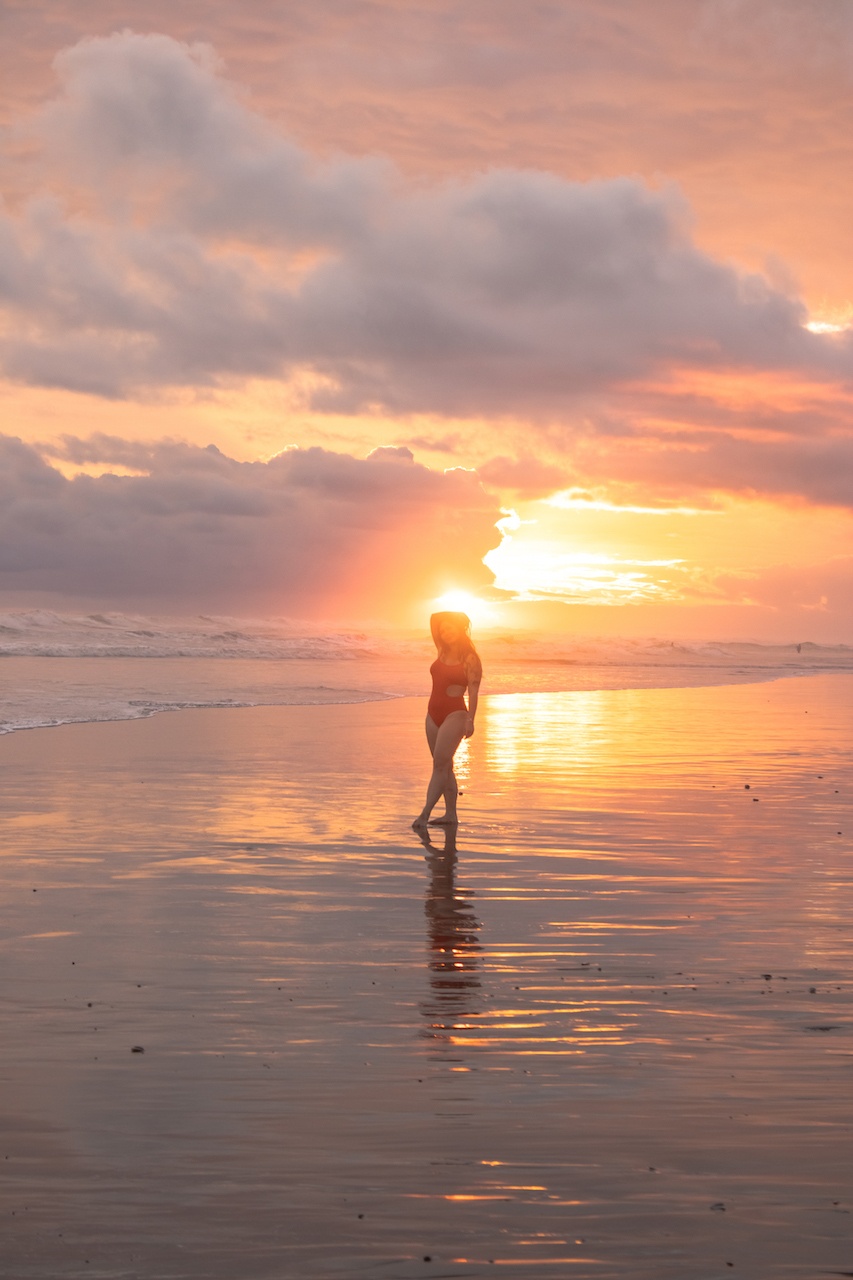 Manuel Antonio is one of the most popular places to visit in Costa Rica and an absolute must for a first-time itinerary. It has a handful of beaches that are ideal for swimming, but my choice would be Playa Espadilla Norte over and over again. The water there is clear, the sand is buttery soft, and the waves gently lap you as you wade further in. I love hanging out in my chair with a book and taking occasional dips to swim, so this beach was perfect for me.
It's impossible to miss, as the entrance is right before the national park. Get there early if you want to snag a spot, as chairs can fill up. Expect to pay $10-15 for a chair for the whole day. There are bathrooms and changing rooms nearby, with lots of food stands and restaurants close to the beach as well.
Where to stay near Playa Espadilla Norte:
12. Playa Uvita, Uvita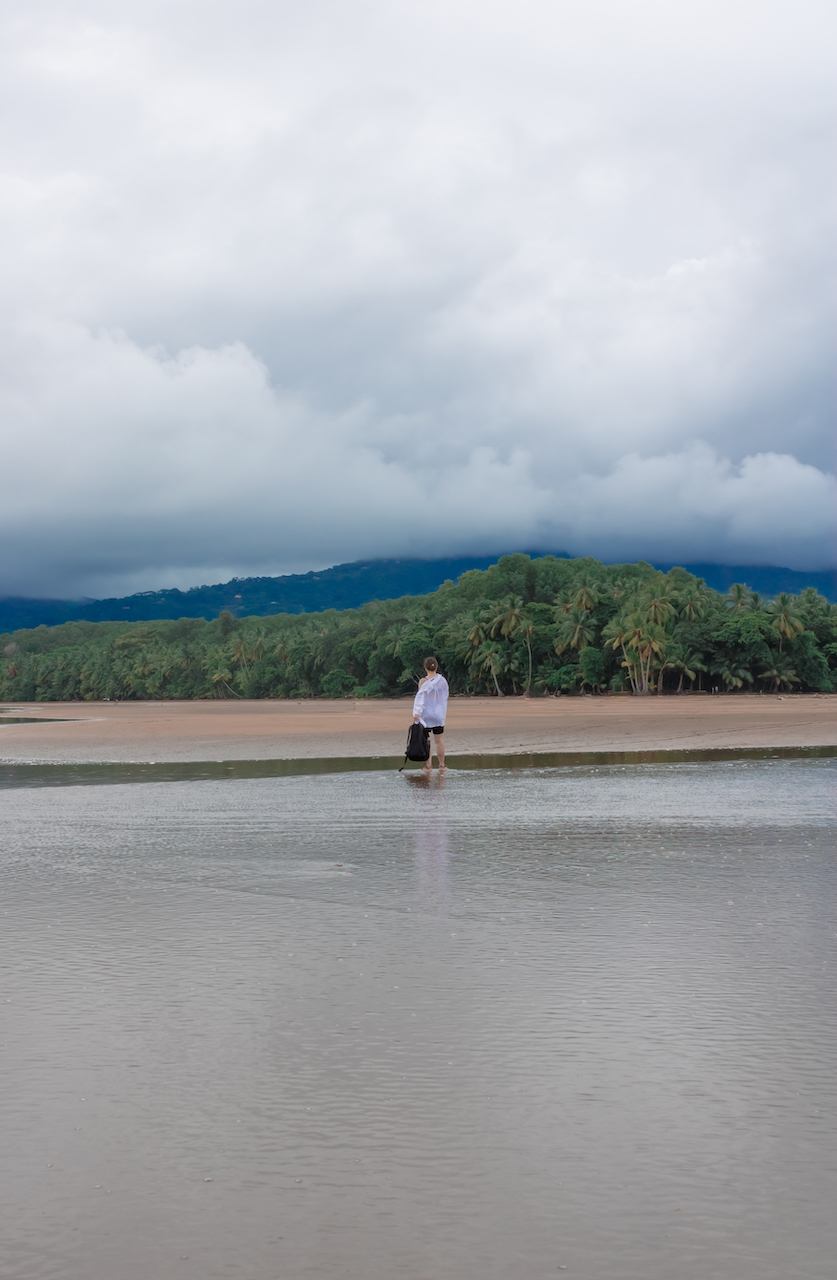 This beach is part of Marino Ballena National Park, meaning there are no hotels or restaurants on the shore. I prefer this beach to others near Uvita for swimming because of the ultra-soft sand and gentle waves. There aren't any beach chairs to chill out in, but I had a great time relaxing on my towel in the shade of the palm trees between swims. Even though the national park is hugely popular, the beach is vast, and there's plenty of space to find your own little slice of heaven.
To get to Playa Uvita, you have to pay the entrance fee at the main entrance to Marino Ballena National Park ($6 + tax) and walk for about five minutes. There are bathrooms and changing rooms near the entrance, but there are no food stands or restaurants near the beach. When I went, there was a sign that said no food was allowed in the park, but nobody checked my bag, as they did at Manuel Antonio. I suggest visiting Playa Uvita in the morning after a generous breakfast. If you want to spend the whole day there, you can pop out of the national park to grab a bite and then re-enter, as the entrance fee is good for the entire day.
Where to stay near Playa Uvita:
11. Punta Uva, Puerto Viejo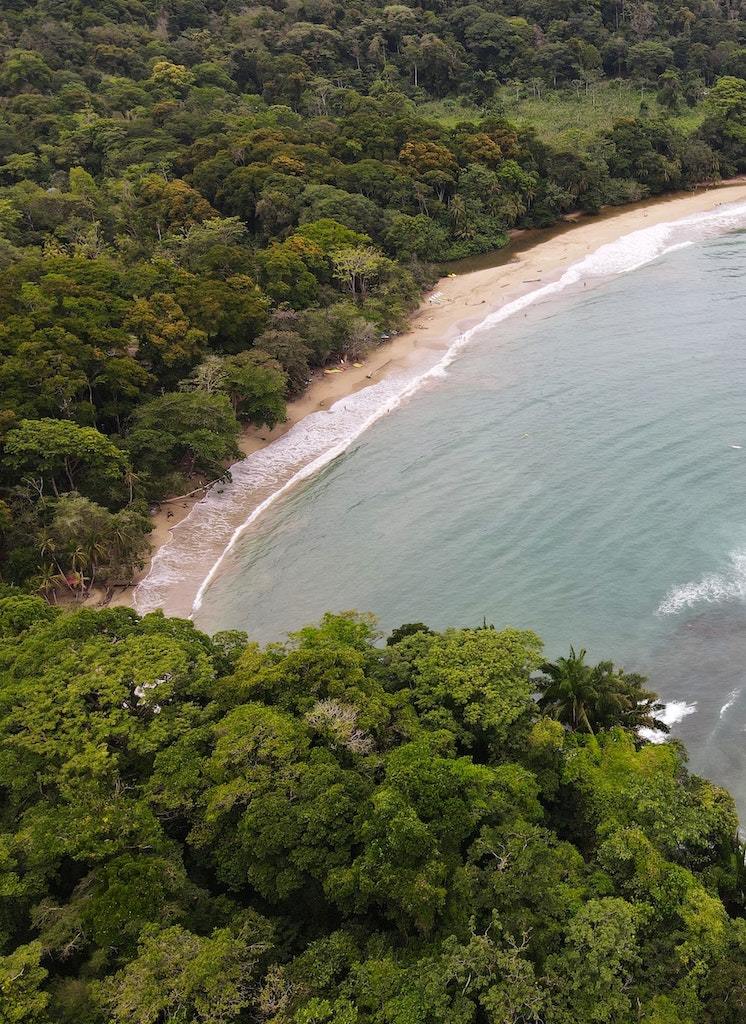 Punta Uva is a small beach near the uber-popular Puerto Viejo de Talamanca on the Caribbean side of Costa Rica. Here you'll find deliciously soft sand and clear water, but most of all, a coral reef just off shore. Sure, this beach is perfect for a swim, but it's also ideal for snorkeling, as you'll be able to see all kinds of fish and other marine life below the ocean's surface. The best time to swim and snorkel here is from January through August and October, when there isn't as much rain and wind.
To get to Punta Uva from Puerto Viejo de Talamanca, you'll have to follow mostly dirt roads for about eight kilometers. There are buses that run every 1-2 hours, or you can bike there, which many visitors enjoy because of the scenic views along the way. There aren't many amenities on the beach itself, but the town of Punta Uva has restaurants and small hotels, as well as places to rent snorkeling gear.
Where to stay Near Playa Punta Uva:
Best for Surfing
10. Playa Dominical, Dominical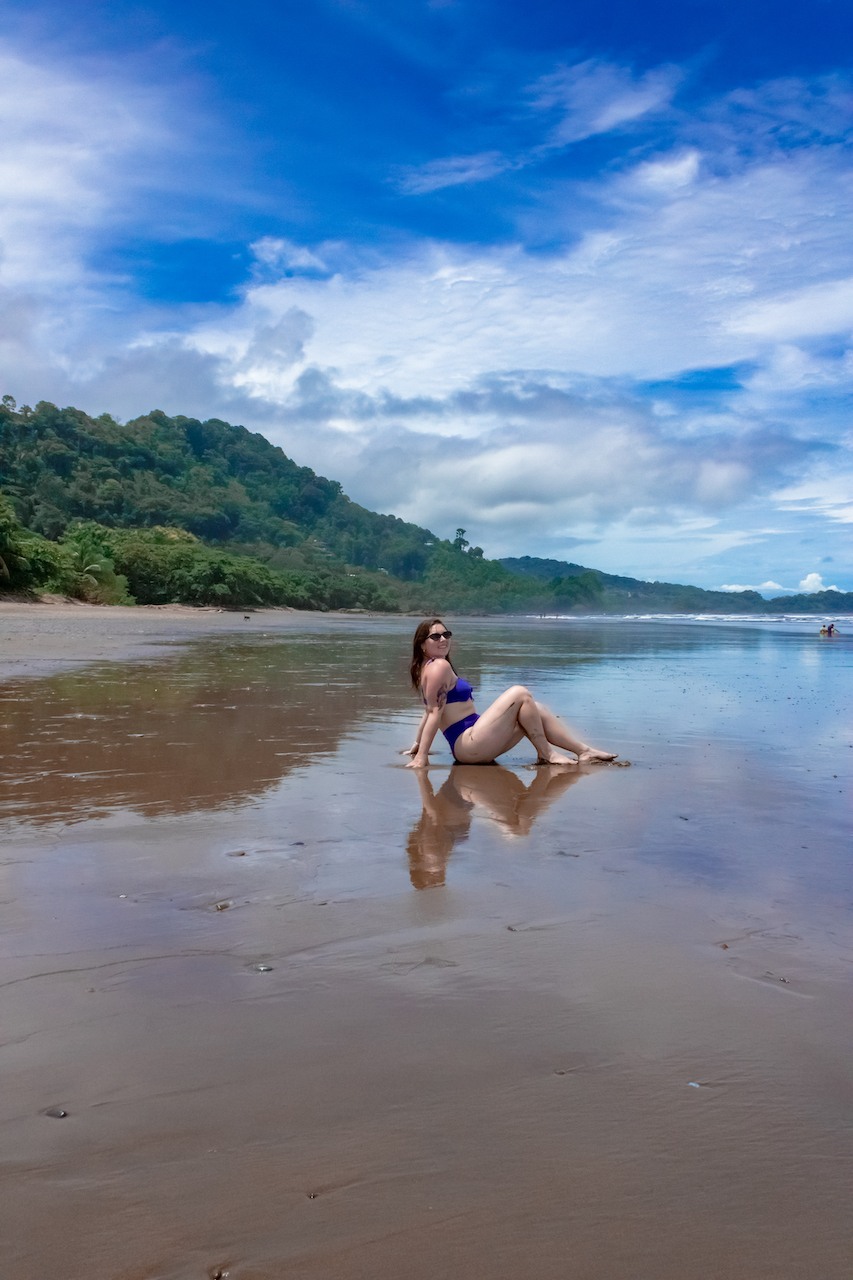 To be honest, the beaches in Dominical could fall under any of these categories. However, it's best known for its fantastic surfing. The waves here range from beginner-friendly swells to more advanced, with different sections for each. You'll find the biggest waves here during the peak of the rainy season, from June to September, with calmer seas between October and May.
It doesn't ever get extremely crowded in Dominical like it does in other more popular surf spots, like Jacó and Tamarindo, so it's a great place to learn. Some of the best schools here include Costa Rica Surf Camp, which has individual classes and camp packages available, and Costa Rica Dive & Surf, which also offers diving excursions.
Where to stay near Playa Dominical:
9. Playa Cocles, Puerto Viejo
This is one of the most lively beaches on the Caribbean coast and has some of the best surf in the country. Here you can expect the softest white sand imaginable, as well as that quintessential turquoise water the Caribbean is famous for. Although the Pacific coast is more of a surfing destination than this side of the country, Playa Cocles holds its own.
Here you can find several places to rent a surfboard or take a class. One of the best-rated is Totem Surf School & Tours, which has options for beginners as well as more advanced surfers. The biggest swells of the year happen between January and March here, which is different than surf season on the Pacific coast.
Where to stay near Playa Cocles:
8. Playa Pavones, Osa Peninsula
The Osa Peninsula on Costa Rica's southern Pacific Coast is a hotbed for wildlife, gorgeous beaches, and killer surfing. Playa Pavones, the most famous surf spot in this area, is much more secluded than the other surf towns on this list. That makes it perfect for enthusiasts who want to hit the waves in peace, without so many people around.
Because it's a bit more off the beaten path, Playa Pavones is harder to get to and is a bit more rugged in general, with fewer amenities and places to stay. However, surfers still come from all over the globe because Playa Pavones has one of the longest left breaks in the world. If you love quiet beach towns and unspoiled nature to sweeten your trip, this is the place to go.
Where to stay near Playa Pavones:
7. Playa Tamarindo, Tamarindo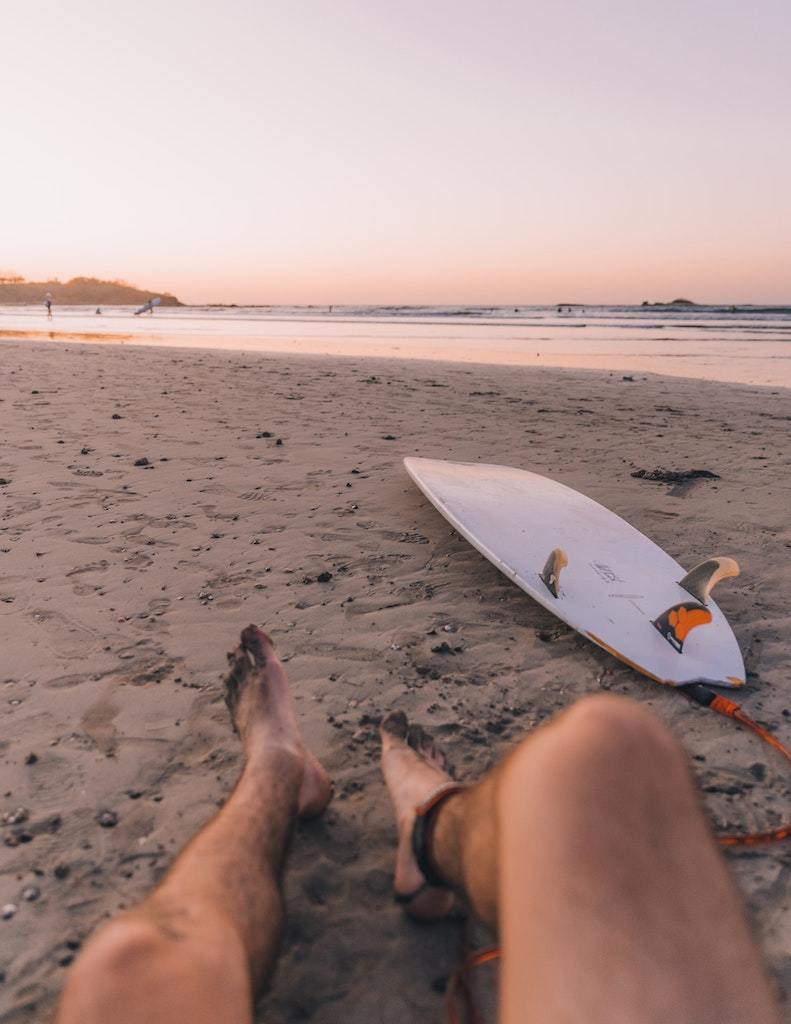 A list of the best beaches in Costa Rica would not be complete without mentioning the mega-popular Playa Tamarindo. As soon as you arrive here, you'll understand why pictures of it are flooding your Instagram feed: it's absolutely gorgeous. Not only that, but the surfing is prime: people flock from all over the world to enjoy its waves.
Here you can find waves for all levels, making it a great place to learn from the best surfers around. Two of the top schools are Witch's Rock Surf Camp and Tamarindo Surf Academy, both of which have professional instructors on staff. The downside of visiting Tamarindo is that it can get quite crowded, even during the wet season (May to October). Make sure to book your accommodations and surf lessons well in advance, as prices can be unpredictable for last-minute bookings.
Where to stay near Playa Tamarindo:
Best for Families
6. Hermosa Beach, Jacó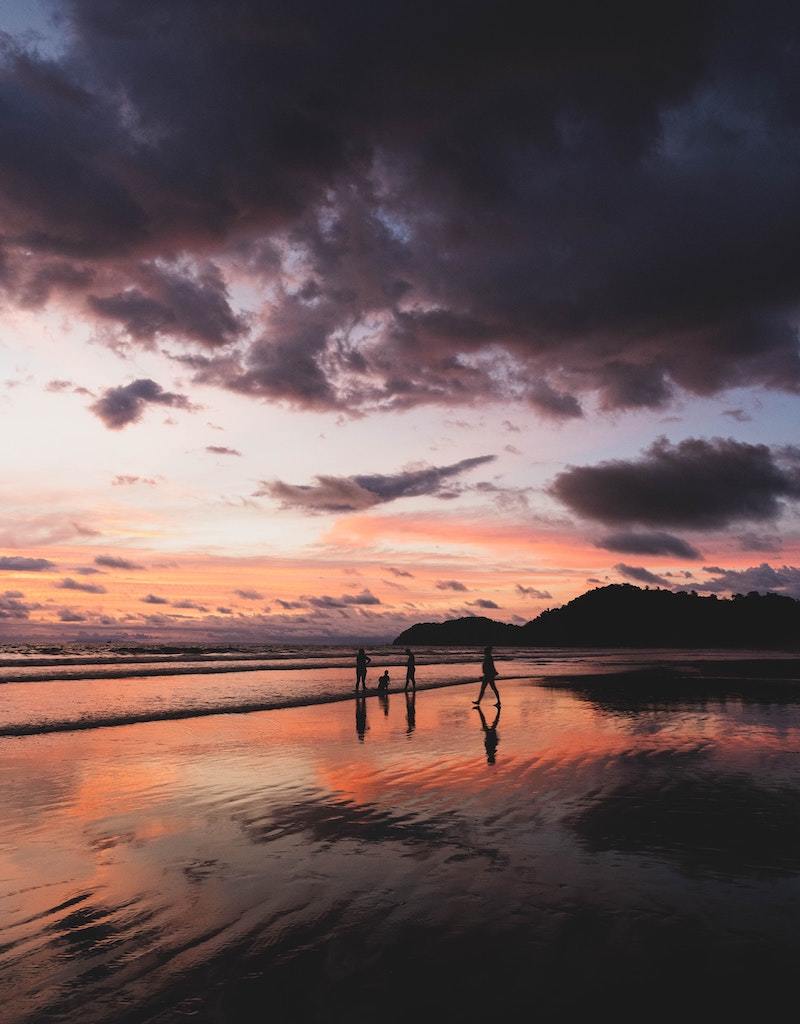 If you're traveling with your family and want to hit up Costa Rica's beaches without having to drive too far from the capital of San José, Jacó is a great choice. It's the closest beach town to San José, and you can get there in just over two hours. For this reason, Jacó is a popular beach among domestic tourists as well as foreigners.
Jacó also makes a great family beach destination because of its super soft sand, gentle waves, and shallow sea. There is also an abundance of kid-friendly activities here, like zip-lining and ATV adventures, visiting a chocolate plantation, and more.
Where to stay near Playa Hermosa:
5. Playa Biesanz, Manuel Antonio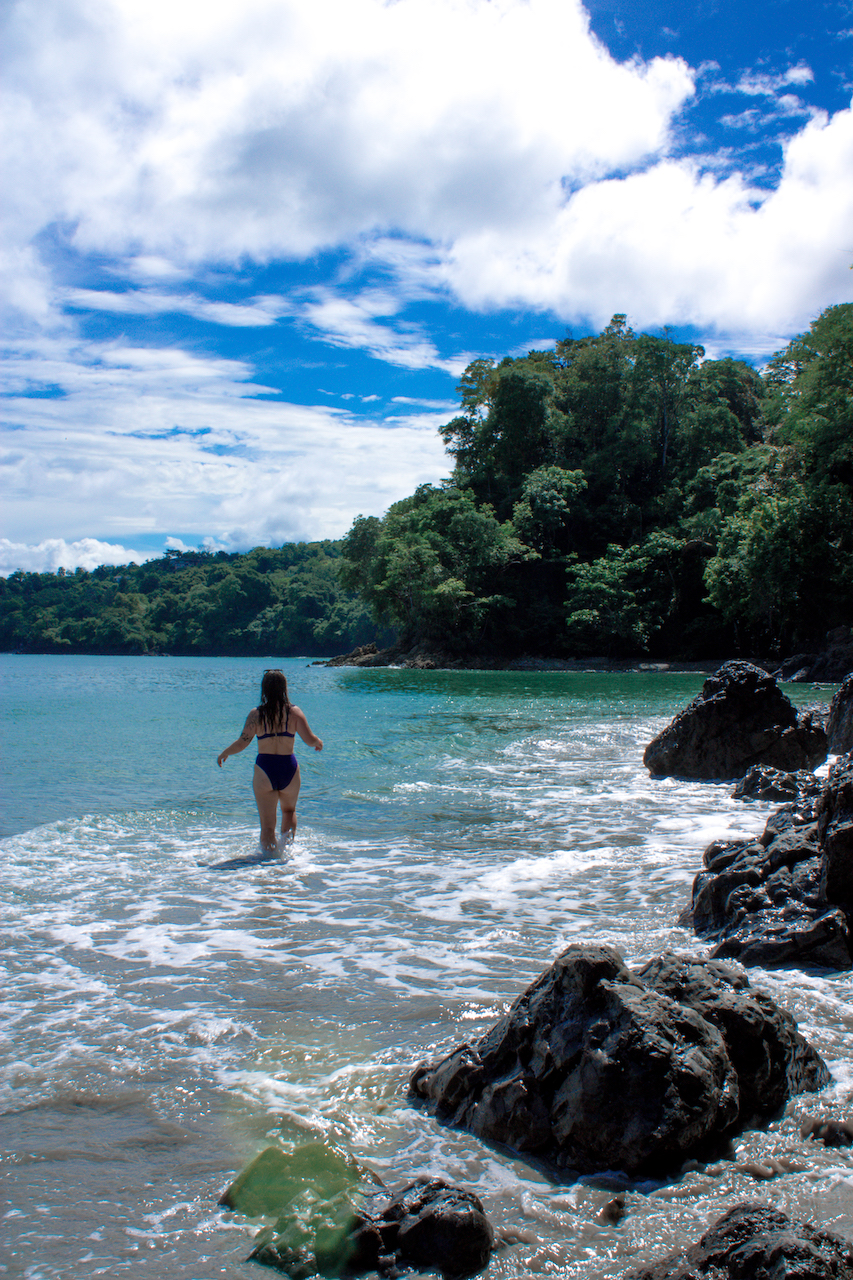 Manuel Antonio is a fantastic family destination in general, and I saw more families here than anywhere else in Costa Rica. Playa Biesanz is a more low-key beach than Playa Espadilla and feels more secluded, making it a great pick for families who want a relaxing getaway. It's in a small cove that you have to access through the Shana by the Beach Hotel, although you don't have to stay there to use the beach.
I adore this beach because of its idyllic blue waters; it also has little to no current, which made it perfect for a relaxing float. I saw a lot of families here, with little ones playing in the delicately soft sand and splashing in the water. Though I don't have any kiddos of my own, it seemed like the perfect place for them.
Where to stay near Playa Biesanz:
4. Playa Carrillo, Samara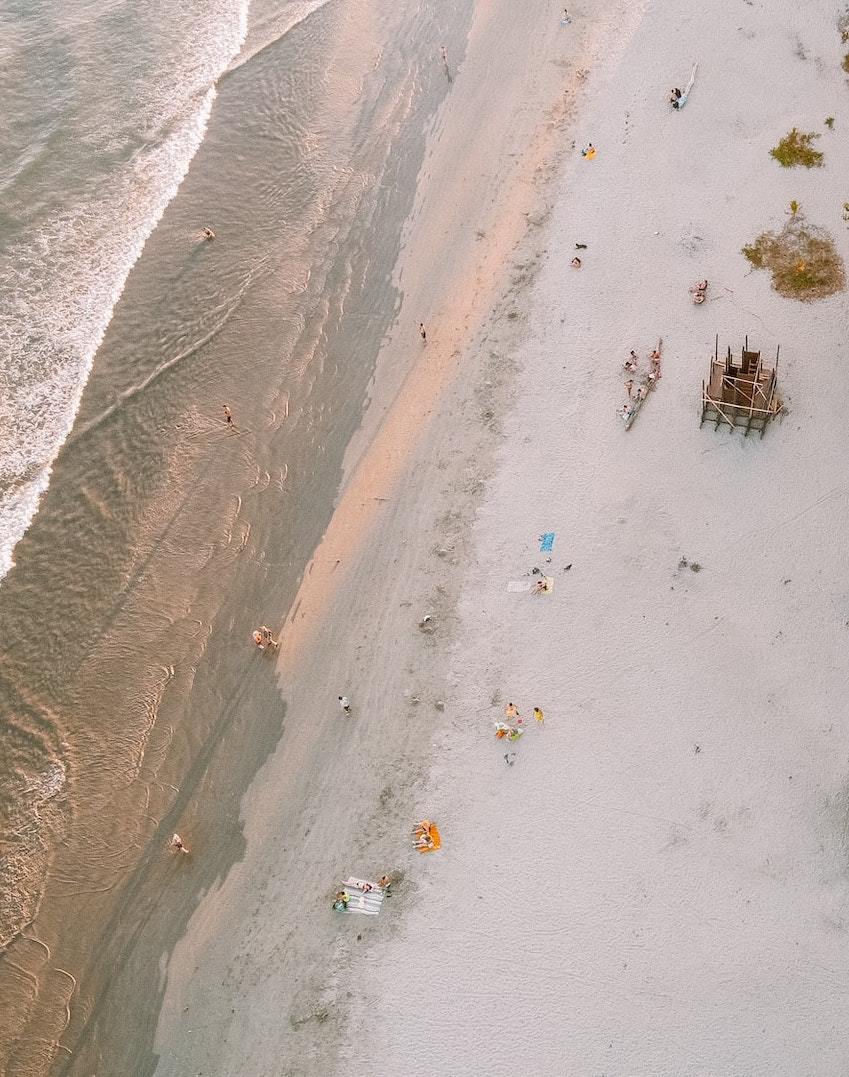 The town of Samara itself is a hit among traveling families for its miles of coastline and lush jungle landscapes. It's a fantastic place for adventure lovers, as well as those who just want to chill out on the beach.
Playa Carrillo is a lesser-known beach in Samara that has a more laid-back vibe than others in the area. This makes it just right for families who want to connect with unspoiled nature. The gentle waves are great for kids who want to take a dip.
The downside of Playa Carrillo is that there are no facilities on the beach itself, so you have to walk 5-10 minutes to find a bathroom. This can be a turnoff for families with small children, but it's the price you pay to avoid the big crowds and loud music that you might find at more popular beaches.
Where to stay near Playa Carrillo:
Best Off-the-Beaten-Path
3. Playa Ventanas, Costa Ballena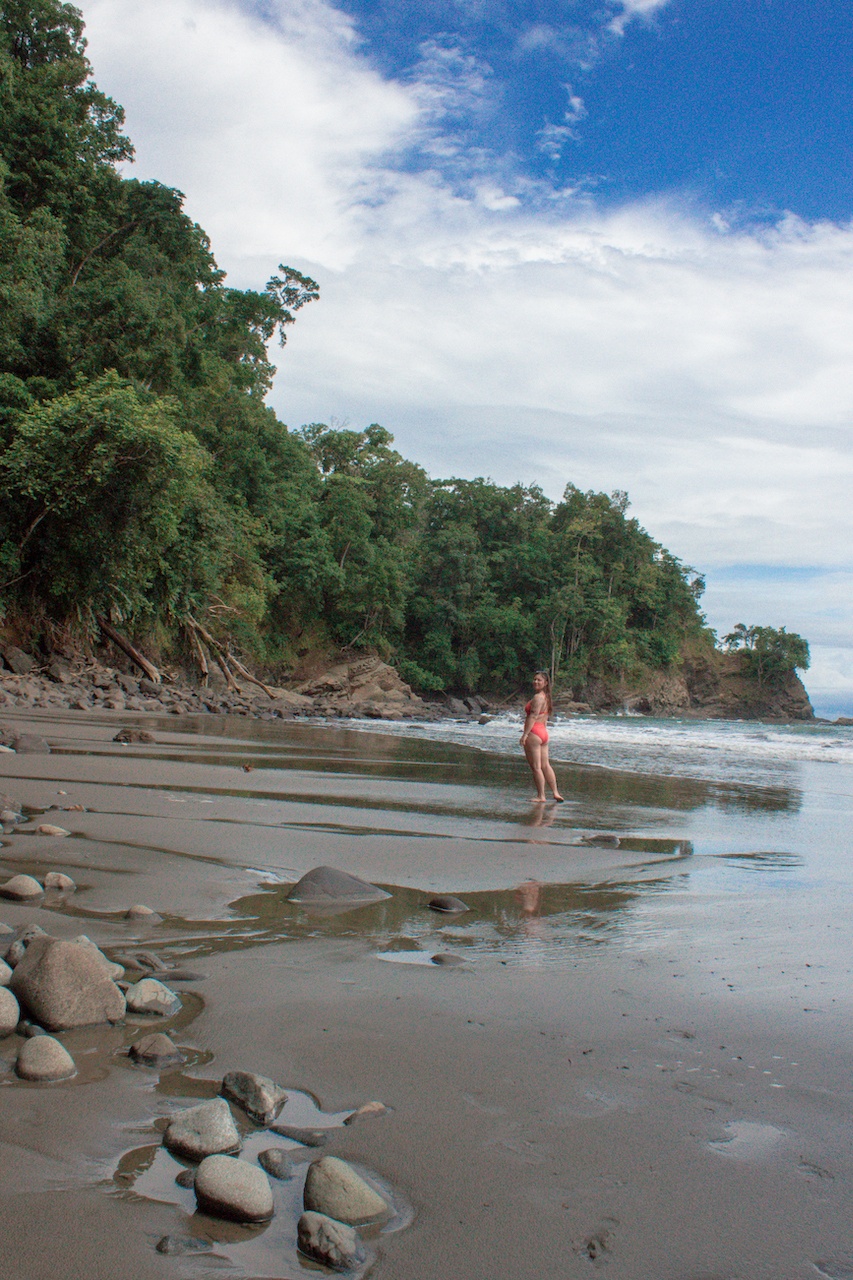 I loved visiting Playa Ventanas while I stayed in Uvita. Visiting felt like uncovering a secret that only locals knew about, as I saw very few foreigners here. The beach gets its name from window-like rock formations, and there are pockets that are totally secluded.
To get there, I took a bus heading south from Uvita toward Ojochal. The ride took about 20 minutes, though I recommend driving there instead, because it was difficult to get back.
There are rusting bathrooms and changing rooms, as well as small shacks where you can buy coconuts and other snacks. You can also rent a beach chair and an umbrella, although there was plenty of shade from the towering cliffs, so I didn't think it was necessary.
Where to stay near Playa Ventanas
2. Playa Arco, Uvita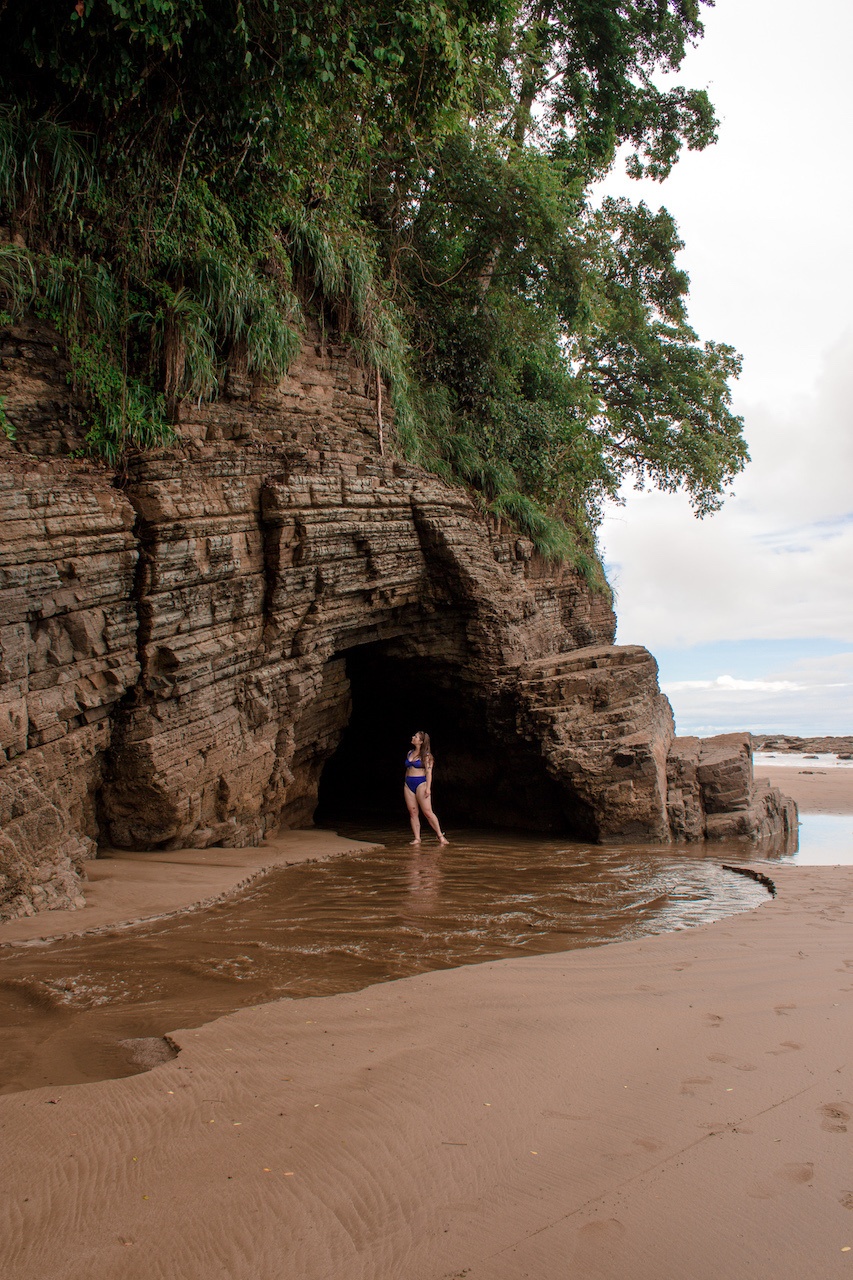 Of all the best beaches in Costa Rica, this one is my favorite. The golden sand, gigantic rock arches, and rugged cliffs make for a beautiful scene that felt surreal to experience, even more so because I was the only person there.
Playa Arco is part of Marino Ballena National Park, but is far away from the typical tourist track. To reach the beach, you have to enter the national park through the Marino Ballena Ranger Station, about a 10-minute drive from the main intersection in Uvita. From there, it's a 20-minute hike along the shore and through a section of jungle.
Playa Arco is one of the most remote beaches in Uvita: there are no facilities, restaurants, or hotels close to it. The nearest bathroom is at the ranger station, so make sure you are prepared with plenty of water, snacks, and sun protection. Also note that this beach is only accessible during low tide, so check the tide schedule before you go.
Where to stay near Playa Arco:
1. Playa Gemelas, Manuel Antonio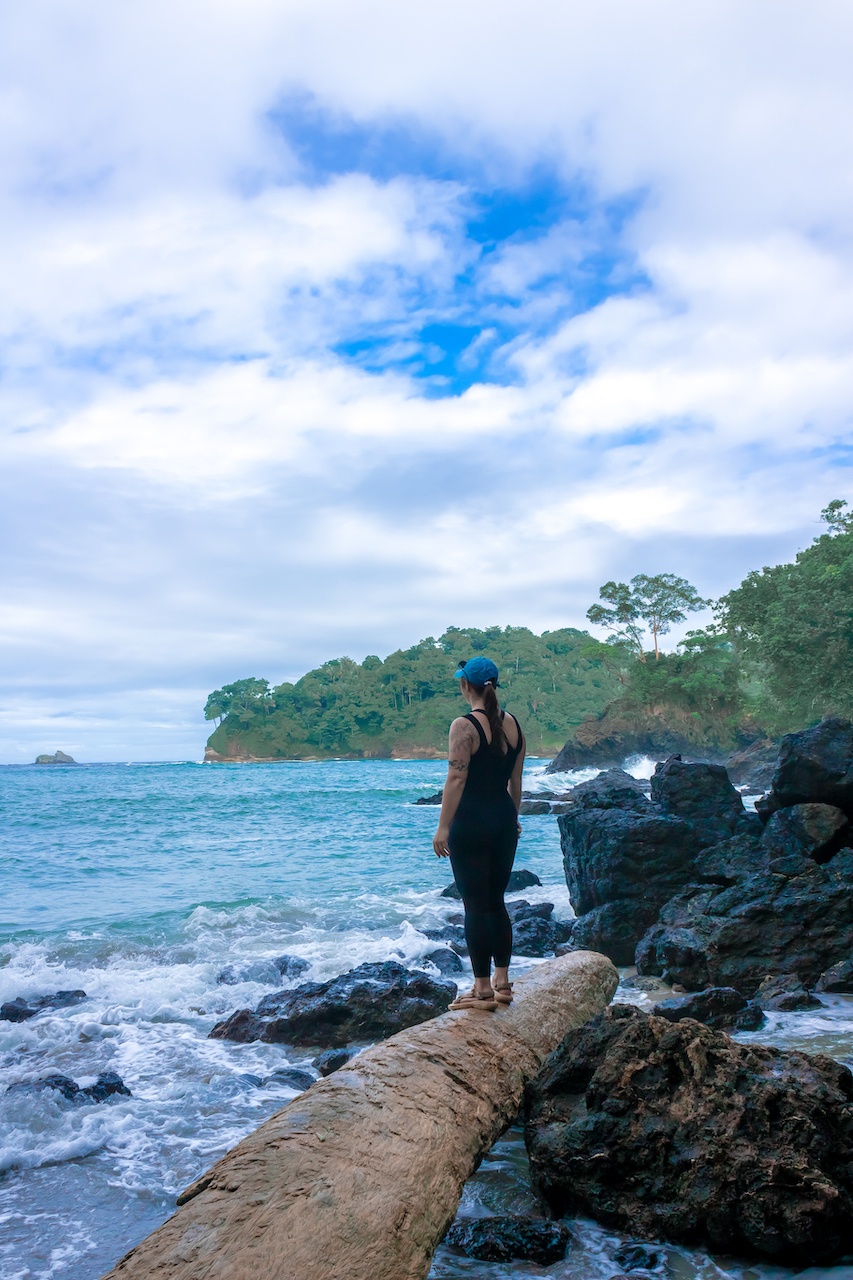 Last but not least is Playa Gemelas in Manuel Antonio National Park. I had to include this one because I came across it by sheer luck and was excited to find a beach in such a popular destination that wasn't completely full of people. In fact, I was the only person there when I visited! Sure, this park is far from being "off the beaten path," but finding a place like this felt like such a treat.
This beach is like a much smaller version of Playa Biesanz (see above), with soft white sand and bright blue waters. Similarly, it's also in a small cove, which gives it a quaint feel. To get there, follow the signs in Manuel Antonio National Park for Playa Gemelas.
I suggest getting to the park first thing in the morning (7am, when the park opens) to take advantage of this peaceful slice of heaven.
Where to stay near Playa Gemelas:
***
To find the best beaches in Costa Rica, you don't have to look very far, as every single one has something unique to offer. I hope this list helps you decide on the best one for you.
Which one is your favorite?