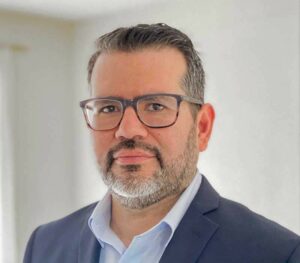 In this series, Healthcare Design asks leading healthcare design professionals, firms, and owners to tell us what's got their attention and share some ideas on the subject.
Mario Sanchez is an associate principal and global technology solutions leader at CRTKL (Los Angeles). Here, he shares his thoughts on technology trends and tools shaping healthcare design.
Using data to influence design
Using data analytics, analysts can take information on how patients interact with their healthcare facilities to renovate facility spaces to improve the patient experience and operations. For example, data on wait times and workflow can show if a waiting room is inefficient for a specific facility. Then, facilities or project teams can look at how architectural plans could be modified to address these issues to improve patient flow, such as placing more support areas closer to patient treatment rooms in an emergency department or other high-volume patient care area.
By using data analytics, computational design and other data aggregation tools alongside the traditional planning and design architectural methodologies, facilities owners and operators can be confident their new facility or renovation is making the best use of every square foot and have a quantifiable metric towards their desired outcomes whether these be better throughput, minimizing foot travel, or sustainability goals.
Greening technology
Many healthcare clients are invested in reducing their facilities' energy consumption and carbon emissions. On the technology side, owners can deploy lighting controls down to an individual fixture or lamp, allowing low-traffic areas to be dimmed or minimally lit for reduced energy consumption. With other measures, like daylight harvesting and LED/Power over Ethernet (PoE) lighting, a facility can significantly reduce its lighting energy loads. In order for all these systems to be valuable, a robust IT infrastructure must be in place, such as low-energy Bluetooth (BLE), Wi-Fi 6, and possibly cloud-based computing platforms to minimize the footprint of a facility's onsite data center, which is a costly construction and maintenance cost. Centralizing certain computing needs to the cloud also helps toward sustainability goals as large cloud data centers are far more energy efficient than most onsite ones.
Planning for technology upgrades
Fewer technologies evolve faster than diagnostic and treatment technology in healthcare. When designing and building a new facility, it's important to create spaces that are flexible and located with adjacencies, utilities, and structural support for expansions or future changes. It's not uncommon for large imaging systems, including MRIs or CT scans, to be updated within the timeline of a project's design and construction phase. Also, flexibility in procurement is a key tool in ensuring the latest technology possible. Creating a timeline of procurement activities to allow for the last responsible moment is a common method for maximizing technology advances during a facility's design and construction phase.
Connecting patients and doctors regardless of location
As hospitals across the country undergo renovations to upgrade their infrastructure and patient experience, one common theme is emerging: fewer patient beds. Health systems are incorporating more outpatient services and finding ways to bring care into the home through technology, which also helps reduce costs and improve the patient experience. Internet of Things (IoT), AI, virtual care, and command centers will enable health systems to bring healthcare to the home, allowing doctors to communicate easily with patients and provide real-time analysis of their conditions. These technologies can enable medical professionals to do more away from the facility while increasing a patient's interaction with their providers beyond the current episodic occurrence, including ultrasound devices that plug into a phone.
Design with AI in mind
Our team is seeing fast adoption of advanced technologies to help doctors analyze patients in new ways. For example, X-ray analytic software can identify a problem before the radiologist even looks at a screening. While the human eye is still important, diagnostic analysis will be enhanced and possibly even replaced by computational analyses and modeling. This new approach could result in new approaches to facility design where patients and doctors interact virtually during the diagnostic phase and rely on in-person interactions during the treatment stages. Treatment areas in facilities may need to increase capacity or extend hours of operations to avoid potential case logjams.
Want to share your Top 5? Contact Managing Editor Tracey Walker at [email protected] for submission instructions.