Spanish FA exploring options to sack Vilda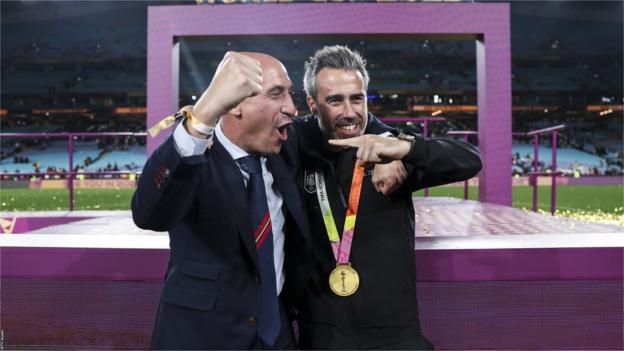 The Spanish Football Federation is exploring its options over whether it can sack Women's World Cup-winning head coach Jorge Vilda.
Vilda remains in post despite most of his coaching staff resigning in protest against federation president Luis Rubiales' refusal to quit for kissing squad member Jenni Hermoso after their World Cup win on 20 August.
Eighty-one Spain players, including all 23 World Cup winners, have also said they would not play for the team again while Rubiales remained in position.
Vilda was spotted applauding Rubiales at the Spanish federation's (RFEF) extraordinary general assembly on Friday, when Rubiales repeatedly insisted he would not resign, though Vilda has since criticised his behaviour.
The RFEF believes all those incidents combined may give them enough of a case to sack Vilda.
Federation regional leaders held an extraordinary general meeting with interim president Pedro Rocha on Monday where they called for a restructuring of the federation to start a new era.
However, a third of the local football association bosses do not want to push Rubiales out of a job so they only went as far as releasing a statement calling on him to resign, which he has so far refused to do.
Rubiales stood by Vilda in September 2022 when 15 national-team players pulled out of the squad, saying that Vilda's management was affecting their emotional state and health.
Of those 15, only three opted to return to the Spain squad which went on to beat England in the final in Sydney.
Rubiales, 46, has been widely criticised after the incident that followed that match. Hermoso, 33, said the kiss on her lips was not consensual.
Spanish prosecutors have opened a preliminary investigation into whether the incident amounts to a crime of sexual assault, while Rubiales was suspended on Saturday by world football's governing body Fifa.