Spain men's boss will not resign after applauding Rubiales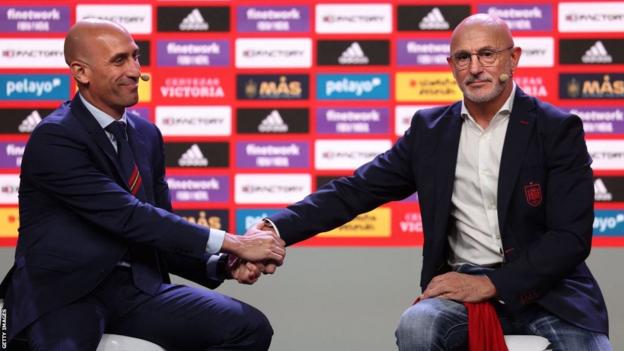 The head coach of Spain's men's team has asked for "forgiveness" after applauding the speech in which Luis Rubiales said he would not resign for kissing player Jenni Hermoso.
Luis de la Fuente said it was an "inexcusable human error" but added he would not step down from his job.
Rubiales, president of Spain's football federation, kissed Hermoso on the lips after their Women's World Cup win.
Hermoso said the kiss during the medal ceremony was not consensual.
In a speech last Friday, Rubiales – who has since been suspended by Fifa – refused to step down and said he was facing a "social assassination".
De La Fuente and women's head coach Jorge Vilda were among those pictured applauding the speech, although both later released statements condemning Rubiales' behaviour.
Speaking at a news conference on Friday, De La Fuente said: "Almost all of us RFEF (Spanish football federation) workers went in there thinking that we were going to see the dismissal of a president and we found something completely different. It was not easy to digest. It was a situation that overwhelmed me.
"I have not felt betrayed by Luis Rubiales, but I arrived thinking that it was going to be a resignation meeting and we were shocked when we saw that it was not this way.
"I don't have to resign, I have to ask for forgiveness. I made a mistake, an inexcusable human error. If I could go back I wouldn't commit that act again.
"I am on the side of equality and respect. We all have to improve in terms of equality and I am the first."
After Rubiales' suspension by Fifa, Spanish prosecutors opened a preliminary investigation into whether the incident amounts to a crime of sexual assault.
Spain's Sports Tribunal (TAD) met on Monday to discuss the Spanish government's request to suspend Rubiales. The announcement on a decision has been expected imminently for some time.
Fifpro, the global union for professional footballers, "demanded change" in a statement on friday.
"We, the players, are stronger, more united, and more determined than ever," it said.
"The systems are failing us. Governance is failing us. Accountability is failing. Discrimination runs deep and occurs at every level.
"Football must respond and rise to this critical moment, not only in Spain, but around the world."
Speaking prior to announcing his squad for the upcoming Euro 2024 qualifiers, De La Fuente said he did not fear losing the respect of his players.
Real Betis striker Borja Iglesias, who won the second of his two caps for Spain in March, made himself unavailable for selection "until things change".
"I'm not afraid of losing the trust of the dressing room because of everything that has happened over the past few days," said De La Fuente.
"They have known me since they were very young, they know what values I have. I have always behaved within the framework of maximum respect for equality."
On Iglesias, he said "the doors are open" for the 30-year-old to return to the squad when he is ready.