This is a guest post by Martha.
Paris is known for its iconic landmarks, grand architecture, priceless art, and indulgent cuisine. And it is popular: it's the most-visited city in the world, attracting 44 million visitors in 2022.
But what is solo female travel there like?
Personally, I love traveling to Paris as a solo female — and I've done it many times over the last few years. I find it easy to get around, generally safe (if you take the usual precautions), and a real delight to explore.
That said, there are some important things to know, which will help you have the best possible trip in the French capital.
7 Tips For Solo Female Travel in Paris
1. Don't rule out the "couple-y" or romantic things.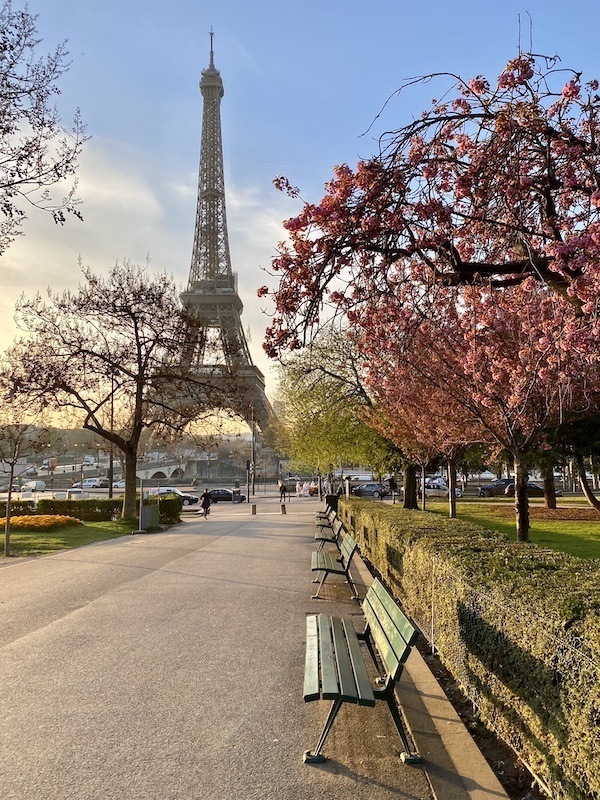 Some people call Paris the City of Love, and it has a strong cultural association with romance. It's easy to conjure up the idea of spending time there as a couple: taking romantic walks on quaint lanes or along the river and sharing kisses in quaint cafés as accordion music plays.
I've been to Paris with a partner and had some wonderfully romantic experiences. But, having explored the city extensively as a solo female traveler, I've also had so much joy doing things alone, including those that might traditionally be categorized as "for couples."
Despite its romantic reputation, there are so many great things to do in Paris solo!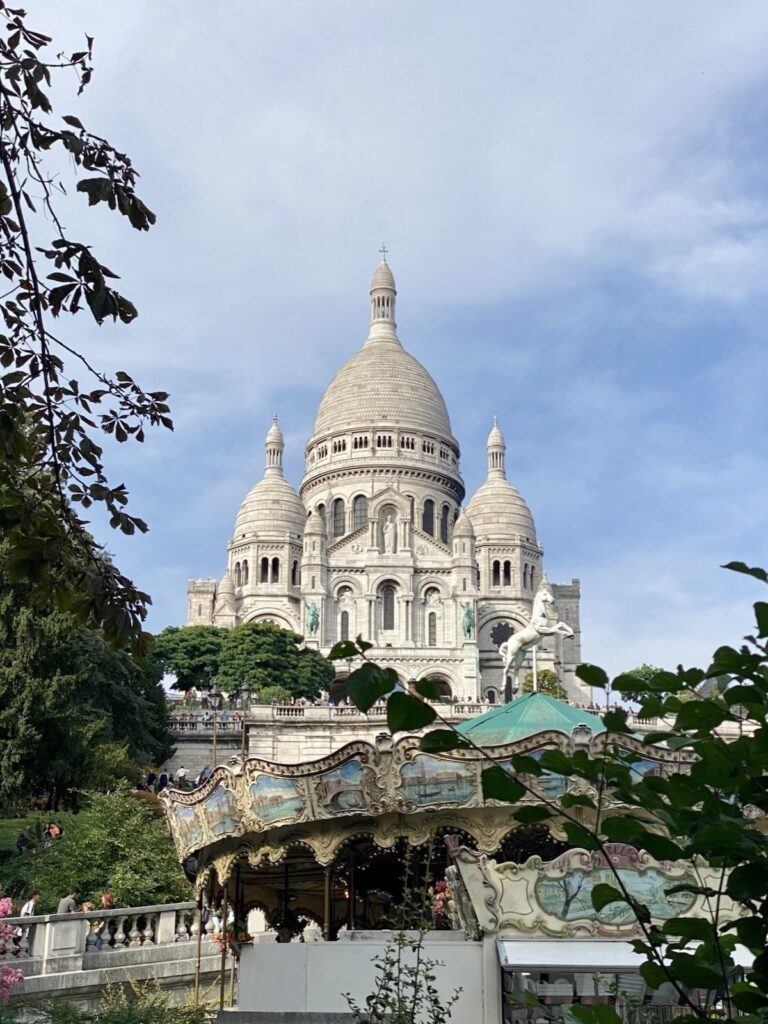 For example, go to the viewpoints alone: the top of the Eiffel Tower is amazing; the Basilique du Sacré-Cœur is wonderful. And the Arc de Triomphe rooftop terrace is the perfect place from which to witness the sunset and see the city lights come on, including the sparkly display the Eiffel Tower puts on each hour. I did this on my own on my first solo trip there, and it was a wonderful treat.
Also, take a walk around the pretty neighborhoods on your own. Le Marais is chic and arty, with some architectural gems, like the 17th-century Place des Vosges. Cozy Montmartre is popular for a reason, but you don't need anyone holding your hand to enjoy its charming, cobbled streets and bohemian cafés. I've strolled this neighborhood alone many times, and it never fails to delight me.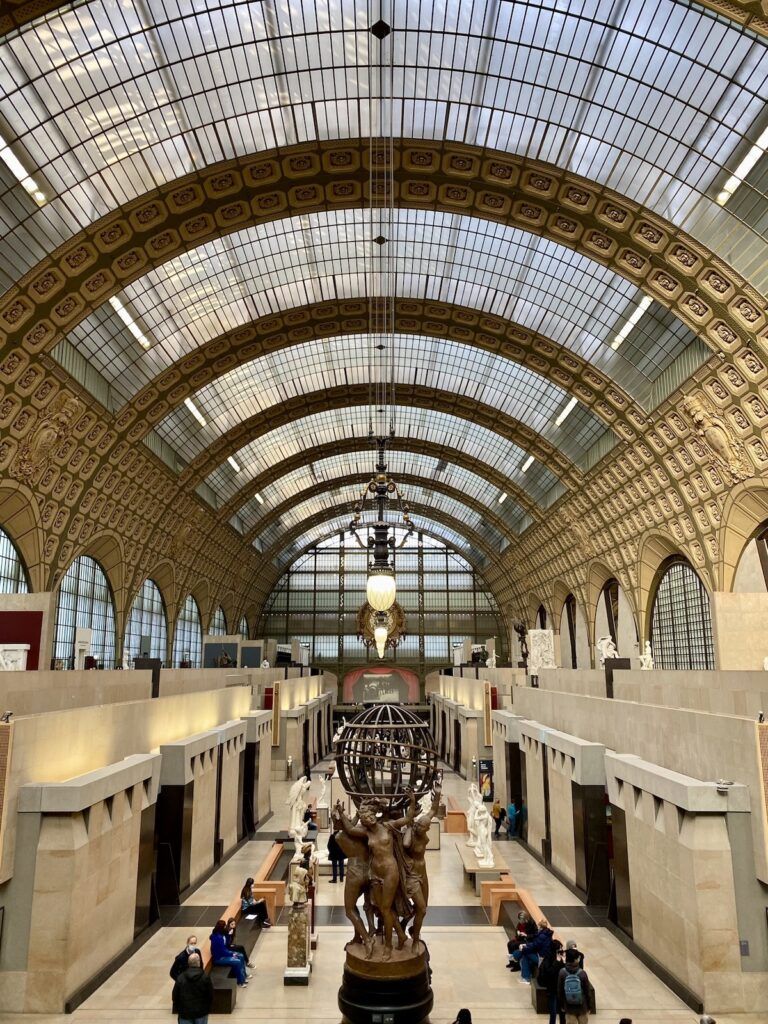 Enjoy world-class art by yourself. After all, our response to art is deeply personal anyway. My two favorite galleries in Paris, which I've visited as a solo female traveler, are Musée d'Orsay and Musée de l'Orangerie. 
Musée d'Orsay has an extensive collection of sculpture and paintings, including a large section I adore on impressionist paintings. But the architecture is just as impressive: the gallery is in what was designed to be a train station, so it has a grand central concourse and huge clock windows you can look through. It's open Tuesdays to Sundays 9:30am to 6pm, with late opening on Thursdays (9:45pm).
Musée de l'Orangerie is much smaller, with one main exhibition of eight of Monet's Water Lilies in two calm, light-filled spaces. I find it really immersive and contemplative. It's open Wednesdays to Sundays 9am to 6pm. 
And finally, if the weather is on your side, make a picnic for one and enjoy the beautiful parks. Tuileries Gardens and Champ De Mars are very popular, but some of the parks slightly further out are more peaceful.
For example, Luxembourg Gardens in the sixth arrondissement is varied and regal, with its former palace and series of statues of the queens of France. The Jardin des Plantes has extensive botanical gardens that might appeal to plant-lovers. And the Bois de Vincennes is a gorgeous large park with a pretty boating lake.
2. Wander off the beaten path — but be selective.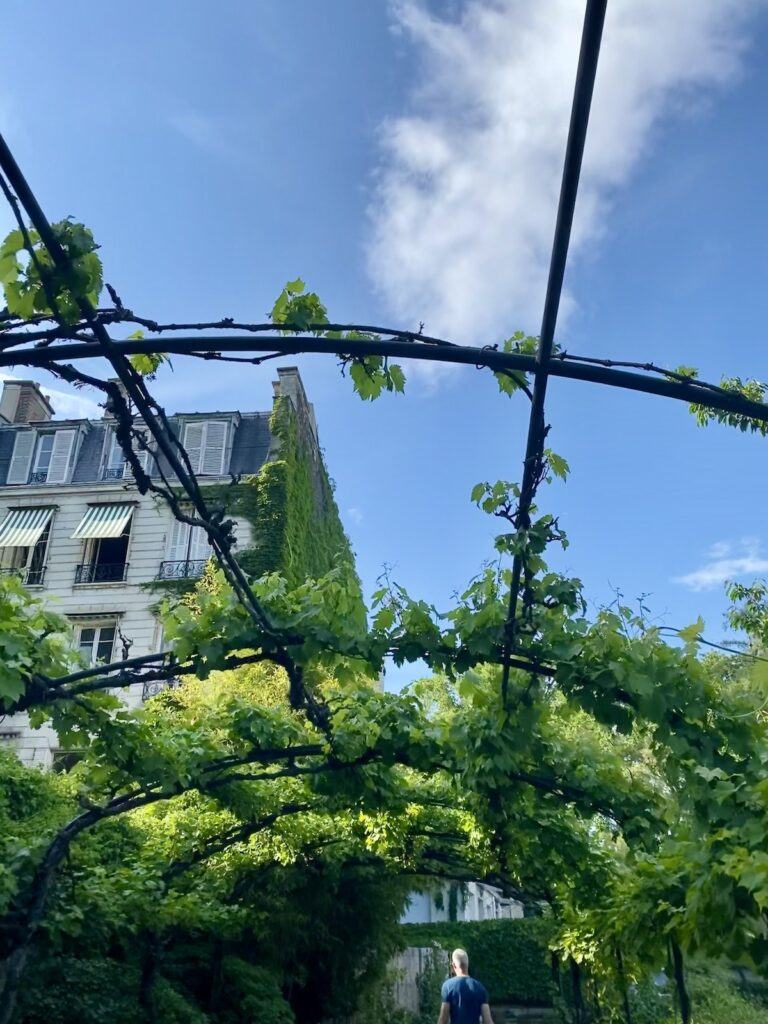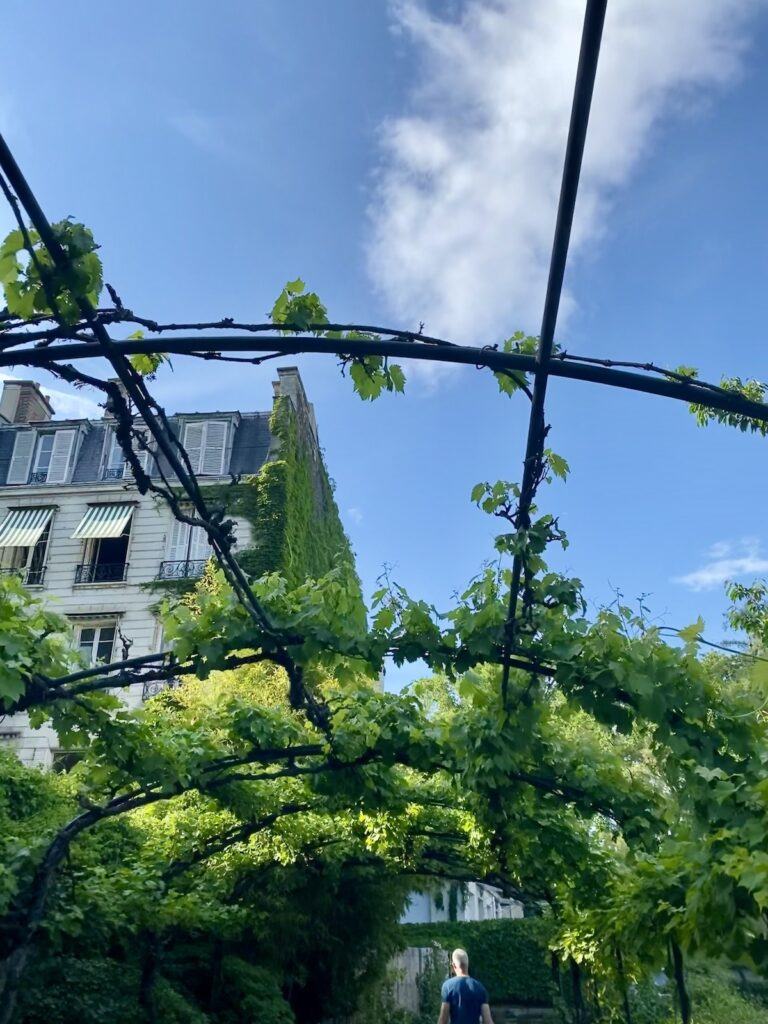 Paris is a big city, and there's a lot to discover beyond the famous landmarks and museums. It rewards those who wander.
And sometimes, you don't have to go very far from the busy sites to find quiet corners away from the throngs. These might be less spectacular but can be very charming.
For example, Montmartre is super-popular, but some of the streets outside the central area tend to have far fewer visitors and are lovely to explore. I've found several pretty passages and cobbled streets by wandering off the beaten path in the Bastille district.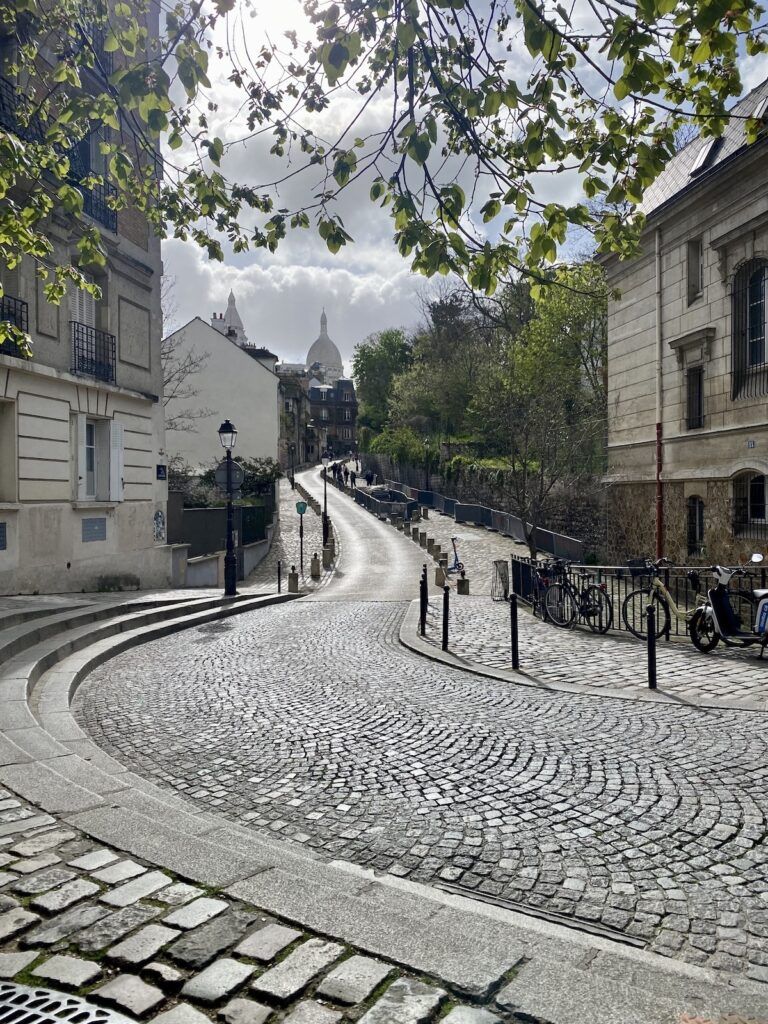 And strolling through the sixth and seventh arrondissements have rewarded me with discoveries of sweet little squares and gardens. 
For example, one warm May day, I stumbled upon a simple but pretty community garden with a shady vine-covered pathway called Jardin Catherine-Labouré. It's not a place I'd ever seen on any guides to Paris, but it's a lovely spot, and it turns out it was the kitchen garden for a nearby convent back in 1633! 
That said, there are some areas I would suggest avoiding if you're solo, or at least taking extra care when there.
The areas around Gare du Nord, Gare de l'Est, and Republique are a bit rundown, and I often see men hanging around street corners in groups — which might be benign but tends to make me a bit wary, especially at night.
Pigalle and Strasbourg-Saint-Denis are both areas that have historically been red-light districts and remain somewhat seedy, in my experience.
3. Manage your expectations.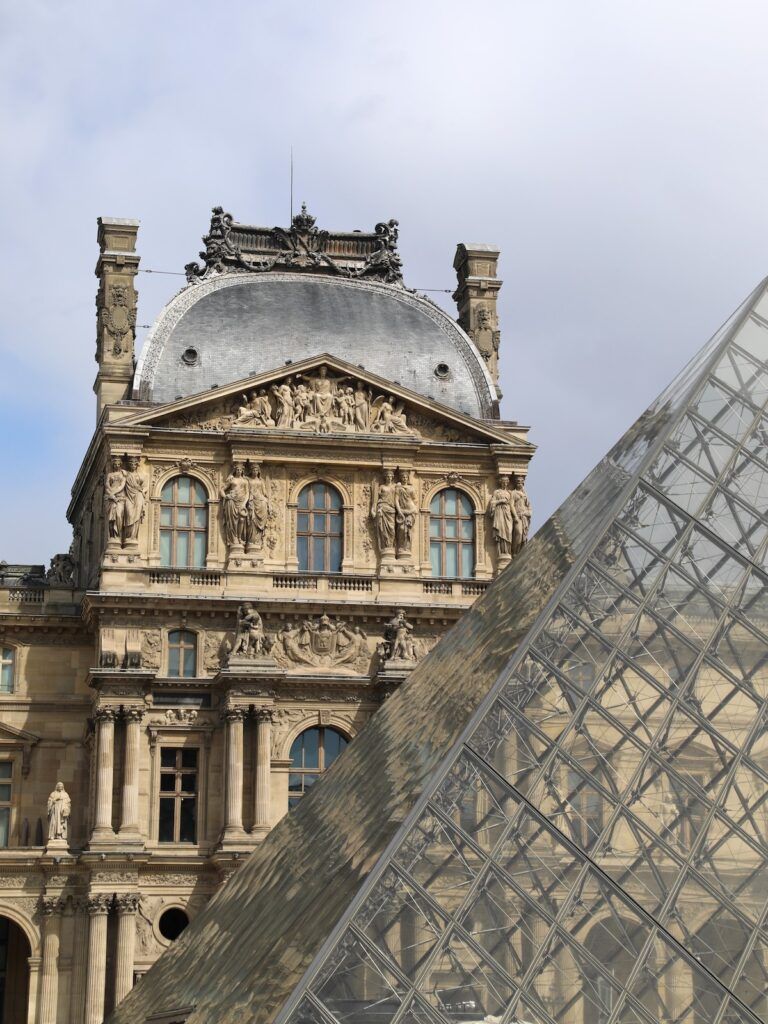 If you ever see discussions online about travel destinations that are "overrated," Paris always gets a mention!
Having discussed this with many fellow travelers, I think this is because it has so much that is gorgeous and glamorous — but it's also a big, working city, and there are some less than pleasant aspects.
Even I, someone who loves Paris, can see that sometimes the streets are not 100% clean. There has been work to increase the number of cycling routes and to reduce traffic congestion, but there are still some busy, noisy roads.
There is also inequality of wealth, so there are people who sleep rough around town, which is really sad.
And, unfortunately, a common complaint from solo female travelers is being catcalled by men in the street.
For these kinds of reasons, some visitors come away from Paris thinking it doesn't live up to the high expectations they had and is overrated.
I think it's best to know these issues exist in advance and to manage your expectations, in order to avoid that sense of disappointment that some experience. After all, Paris syndrome is real!
4. Know the common scams.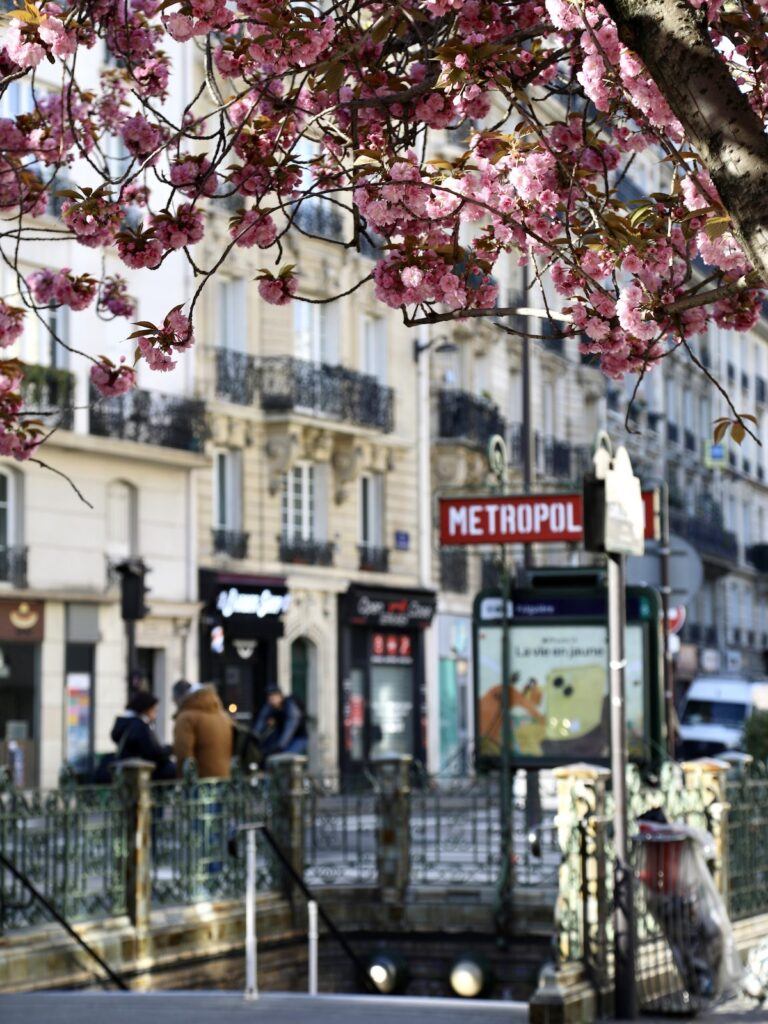 Obviously, all the usual solo female travel safety tips apply here, but there are some Paris-specific risks to be aware of:
Friendship bracelet scam: If someone grabs your hand and tries to tie a friendship bracelet on you or to give you some other sort of gift, this is not free! They will ask for payment. Politely but firmly refuse and move on. This is common around Sacré-Coeur.
Spilled change/clear cup scam: Some people who beg use a clear cup placed in the middle of the pavement (sidewalk), which you could kick over by accident. This can be a scam both to make you feel guilty into giving some of your own money and as a distraction. When you help collect the spilled change, someone might try to pick your pocket. So look out for clear cups of coins, and hold on to your belongings if you accidentally knock one over.
Petition scam: If you're at the Louvre and someone comes up to you asking for your signature on a petition about some social issue, decline and move on. Sometimes they act like it's urgent, but it's just an act. It's another distraction technique to allow someone to pickpocket you.
Fixed-price taxi scam: Taxi rides to and from the airports have a flat rate, but outside of that, legit taxis (look for G7 branding and use official taxi rates) should go by the meter. A taxi driver once told me there was a high fixed rate to travel around town, but I knew this was wrong and must be a scam, so I just refused, and he pulled over to let me out. The Metro is pretty easy to use anyway, so you won't need taxis often.
5. Pick the right restaurants for dining alone.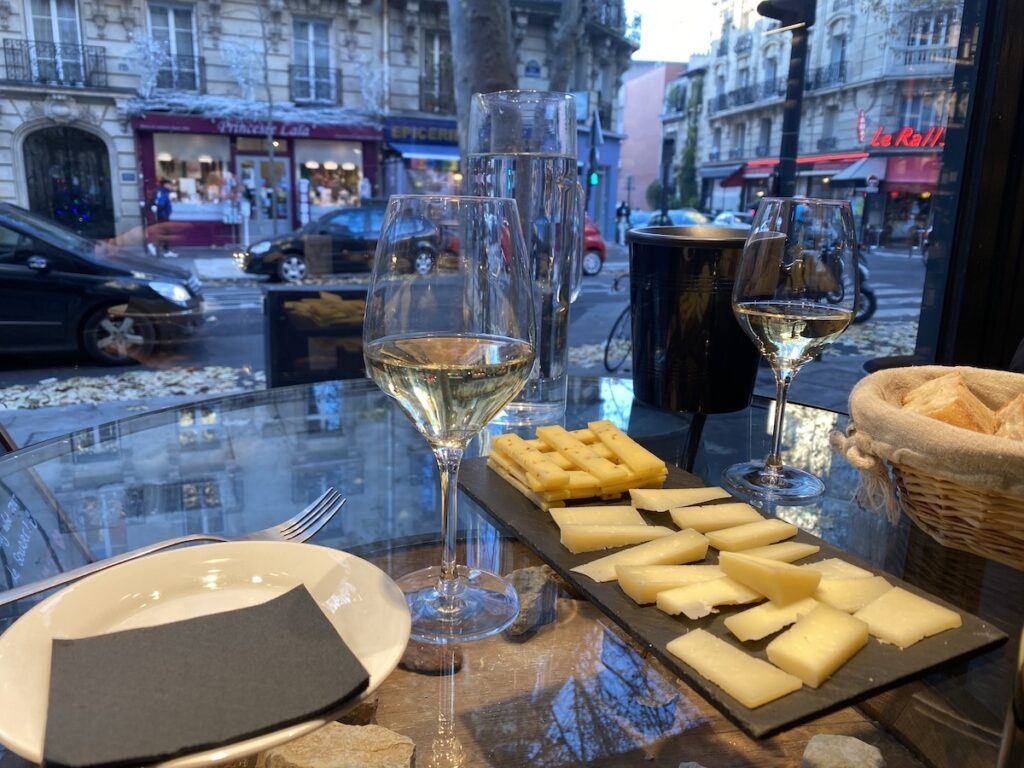 For the most part, eating out as a solo female traveler in Paris is great. The majority of the time, I'm given a seat at a small table for two, the service is good (honestly, the reputation of Parisian waiters for being rude is exaggerated!), and I enjoy my food.
Some of my favouite Paris restaurants (so far!) include Les Philosophes, a traditional French bistro in Le Marais; La Boîte aux Lettres, a Montmartre restaurant with an inventive seasonal menu; and Restaurant Georges, a rooftop spot on top of the Pompidou Centre, with views of the Gothic Tour Saint-Jacques. 
The solo dining issues I have experienced are niggles, really:
You might be given a bar seat.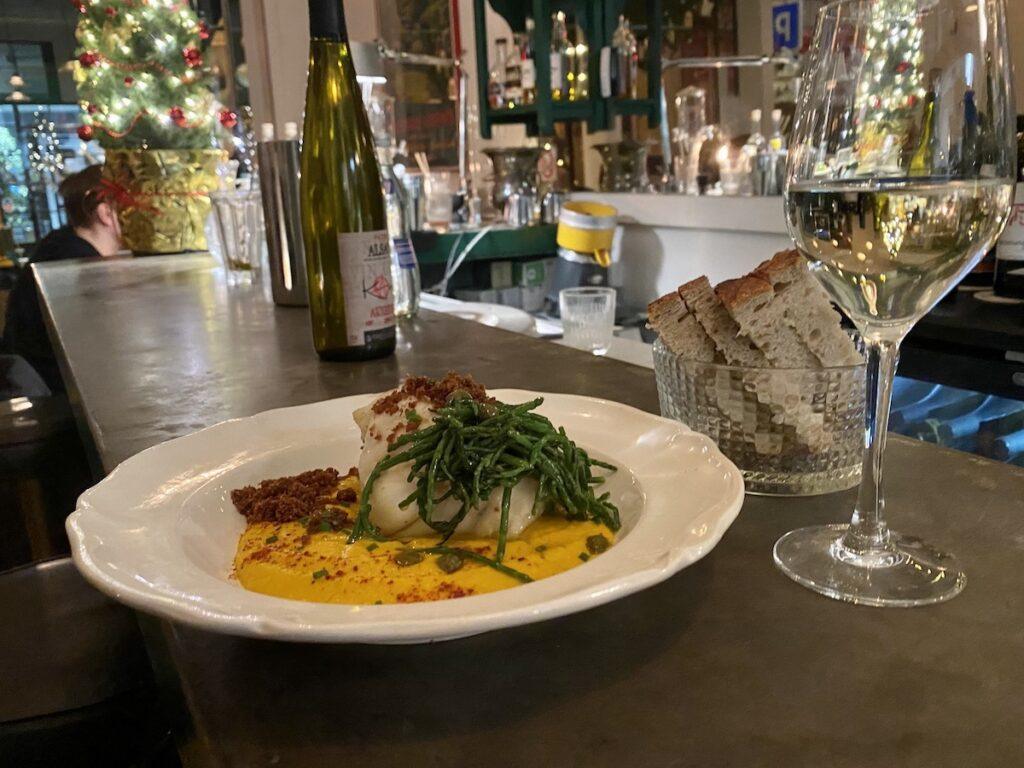 One issue with dining solo in Paris is that a minority of restaurants prefer to seat lone diners at the bar, rather than at a table for two. Sometimes, this works out OK: I've sat at tall bar seats, and it's been perfectly fine, like the time I had a delicious meal at Restaurant Willette Café Troquet's cozy bar. 
One time, though, I was offered a normal-height seat next to the bar, which was really weird! I am not sure how that would have worked on a practical level, so I declined and found somewhere else to eat.
Another time, I was seated at a regular-height table placed right next to the bar, which was just irritating, because I had the noise of the bar and the credit card machine right next to my head!
I've noticed that it's the smaller restaurants that tend to squeeze you into a bad seat — I guess because they have limited seating altogether. My advice is to try to check out the seat first and feel confident about saying no if you think it will make the meal uncomfortable.
Fine-dining service can be drawn out.
Paris is known for fine dining and famously has many restaurants with Michelin stars. You might want to sample one if you're doing some solo female travel there. And why not?
However, these high-end restaurants tend to steer customers toward tasting menus with many courses. I've tried a few of these and, while they provide a way to sample many dishes of absolutely exquisite food, the timing of service suits groups of people more than solo diners. That's because they allow for conversation in between courses.
Of course, as a solo diner, you wouldn't want to scarf down course after course with no breaks in between. But these are small dishes, and in my experience, taster menus can be a little too drawn out for a solo diner who is not conversing with anyone else. When I travel solo in Paris, I tend to stick to standard restaurants, bistros, or brasseries and have 1-3 courses.
6. Join tours if you want to meet like-minded others.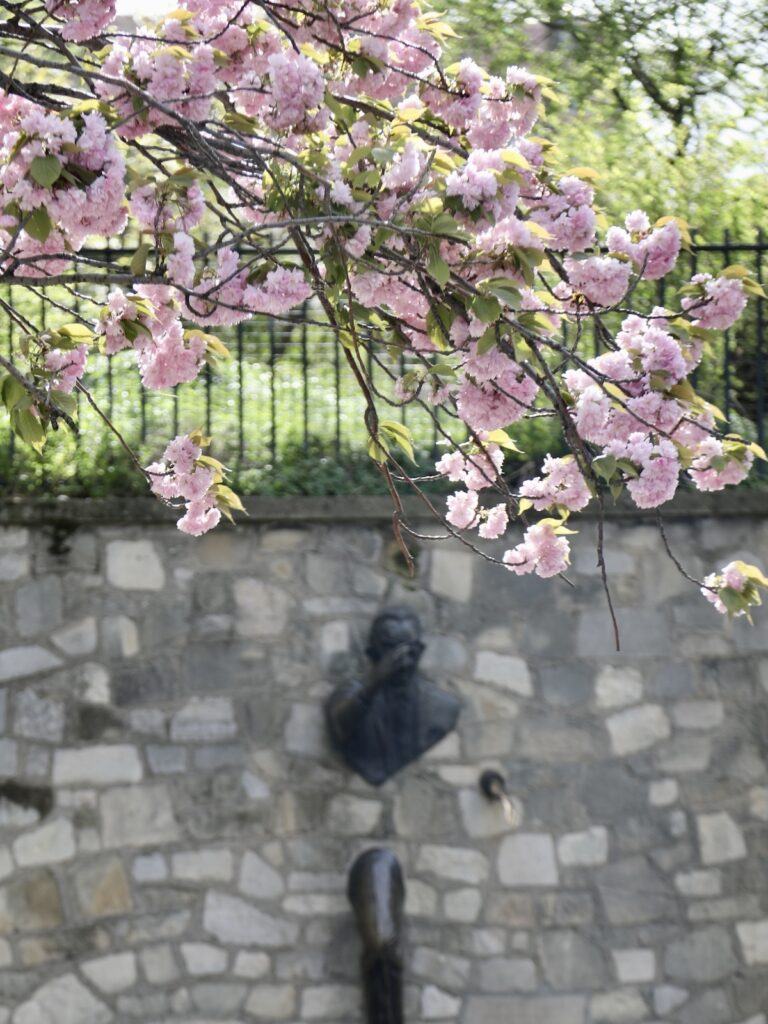 For me, I've generally been content solo traveling in Paris. I am profoundly introverted, am quite happy with my own company, and don't often feel the need to make new friends everywhere I go.
But even I have had some interesting conversations with people I've met along the way. It's harder to get talking on walking or museum tours, because mainly you're listening to the guide, but I've found conversation flows more during small-group experiences.
It might be coincidence, or it might be because it's France, but some of the best of these involve food and drink. For example, independent wine shops sometimes offer wine-tasting experiences, which can have space for only a small number. I once did a cheese-and-wine tasting experience with just one other person, so we inevitably started talking about what had brought us to Paris and what else we had done during our trips.
And another good Paris experience for meeting people is learning to cook something French — macarons is a popular choice. As you work through something practical as a group, conversation about the task is natural, and it could flow on to other topics.
7. Don't worry too much about your outfit.
First things first: you do you. Wear what you enjoy and are comfortable in.
But if you're worried that you'll stand out if your outfits are not fashionable enough for Paris, please be assured: that won't be the case.
There's an image of Paris as being all about haute couture and highly accessorized fashions. But this is really just in films and TV programs. Emily in Paris bears little resemblance to the reality.
The average Parisian dresses in a fairly modest way. There's often an understated chic style, but it tends not to be flashy. For example, if you see someone in stilettos, huge accessories, or a pink beret, they're almost certain to be a tourist, not a local.
When out and about, Parisian women tend to wear flat shoes or even sneakers — and rarely open-toe sandals. I feel like the one thing that would make me think "that's a Paris look" is a stylish haircut, a scarf, and/or a good pair of sunglasses.
So don't feel pressured into dressing up to fit in. That is more likely to make you stand out (which is fine too, if that's what you want).
***
Paris is definitely worth a visit. But I think it's easier to enjoy this fascinating, beautiful city as a solo female traveler if you know how to avoid the less great aspects. So, I hope this article helps empower and equip you to do some solo travel there. 
I've certainly enjoyed all of my solo trips there — and I have more planned, too!
About the author: Martha is a London-based blogger whose website, May Cause Wanderlust, focuses on both wild, dramatic landscapes and big, vibrant cities. Paris is one of her favorite, and she's been there more than a dozen times, most often as a solo female traveler.