Semenya wins appeal at European Court of Human Rights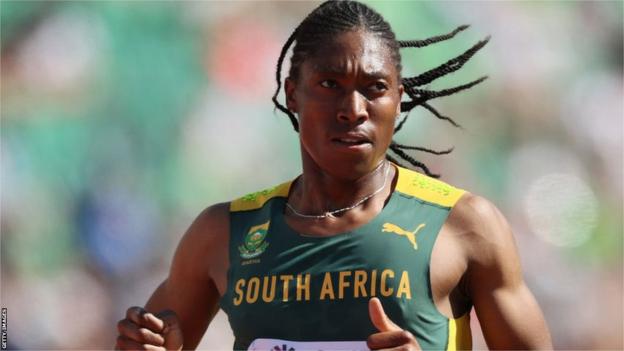 The European Court of Human Rights has ruled in favour of double 800m Olympic champion Caster Semenya in a case involving testosterone levels in female athletes.
The 32-year-old South African was born with differences of sexual development (DSD) and is not allowed to compete in events between 400m and a mile without taking testosterone-reducing drugs.
Semenya, a three-time 800m world champion and 800m and 1500m Commonwealth champion, has been in a long-running dispute with governing body World Athletics since regulations requiring her to take hormone treatment to decrease her natural testosterone levels were introduced in 2018.
She has twice failed in legal battles to overturn the decision.
The case at the ECHR was against the government of Switzerland for not protecting her rights and dates back to a Swiss Supreme Court ruling three years ago.
In the lengthy judgement published on Tuesday, the ECHR found the Swiss government did not protect Semenya from being discriminated against when its Supreme Court refused to overturn a decision by the Court of Arbitration for Sport (Cas) which upheld World Athletics rules governing the participation of athletes with DSD.
A ECHR statement read: "The Court found in particular that the applicant had not been afforded sufficient institutional and procedural safeguards in Switzerland to allow her to have her complaints examined effectively, especially since her complaints concerned substantiated and credible claims of discrimination as a result of her increased testosterone level caused by differences of sex development."
Semenya argued that taking testosterone-reducing medication could endanger her health and that the ruling denied her and other athletes with DSD the right to rely on their natural abilities.
Because of the ruling, she could not defend her 800m title at the delayed Tokyo Olympics, which took place a year later than planned in 2021.
Semenya, who has always been legally identified as female, says she should be able to compete in women's events even if her testosterone levels are higher than her competitors.
In 2019 she told BBC Sport she had been "crucified" but will "never stop fighting" against the regulations brought in by World Athletics, then known as the IAAF.
More to follow.