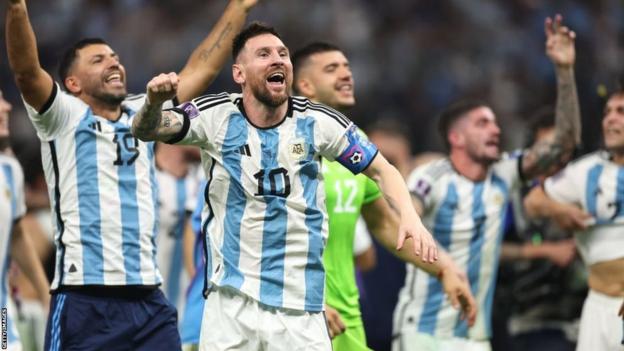 Saudi Arabia is set to host the men's 2034 World Cup after Australia decided against bidding to stage the tournament.
Football Australia confirmed its decision only hours before Fifa's deadline for declarations of interest on Tuesday.
Saudi Arabia is the only other nation to bid.
"We have reached the conclusion not to do so for the 2034 competition," read a statement from Football Australia.
Australia's governing body says it intends to focus its efforts on hosting the AFC Women's Asian Cup in 2026 and the Club World Cup in 2029.
The 2026 World Cup will take place in the US, Mexico and Canada.
Morocco, Portugal and Spain will host the 2030 tournament, with matches also in Argentina, Paraguay and Uruguay.
Fifa had said the 2034 World Cup would be held in Asia or Oceania, and an Australian bid was regarded as the only potential challenger to Saudi Arabia, which announced its intention to bid shortly after Fifa's decision.
Despite receiving support from the Asian Football Confederation, Saudi Arabia would likely be viewed as a controversial host.
It has been criticised for its human rights violations – 81 men were executed on one day last year – women's rights abuses, the criminalisation of homosexuality, the restriction of free speech and the war in Yemen.
Saudi Arabia's international standing was severely damaged by the 2018 killing of Jamal Khashoggi, a US-based Saudi journalist who was a prominent critic of the government.
Human rights campaigners say sport is being used by the Saudi government to detract from long-standing reputation issues, a process known as 'sportswashing'.
Last week Human Rights Watch said: "The possibility that Fifa could award Saudi Arabia the 2034 World Cup despite its appalling human rights record and closed door to any monitoring exposes Fifa's commitments to human rights as a sham."
On Tuesday Amnesty International called on Fifa to secure "clear and binding commitments" from Saudi Arabia.
It said: "Human rights commitments must be agreed with potential hosts before final decisions on holding the tournaments are made.
"The best chance for Fifa to obtain binding guarantees to protect workers' rights, ensure freedom of expression and prevent discrimination linked to the World Cup is during the host selection process – not after the hosts have been confirmed and tournament preparation has begun."
Qatar's hosting of the 2022 World Cup drew criticism because of its stance on same-sex relationships, its human rights record and its treatment of migrant workers.
Fifa dropped plans for Saudi Arabia to sponsor the 2023 Women's World Cup following a backlash from co-hosts Australia and New Zealand, players and sponsors, but Saudi Arabia is keen to host the 2035 tournament after forming a women's team last year.
Like the 2022 men's tournament, the 2034 edition would almost certainly be held in winter because of extreme heat in the summer, although modernising existing infrastructure rather than building new stadiums would likely make it more environmentally friendly than Qatar.
Saudi Arabia's Public Investment Fund (PIF) completed a takeover of Newcastle United in 2021, and manager Eddie Howe said: "Our trips out there to Riyadh and Jeddah were two very different experiences.
"Everywhere we went was well organised; we were well looked after. If that's a sign of what a World Cup might look like, structurally it will be really good."
Football Australia chief executive James Johnson said bidding for the World Cup was "not going to be favourable to Australia".
He said: "Saudi is a strong bid. They have a lot of resources, and not just [for] the 2034 World Cup.
"They are disrupting European football paying higher dollars. This is a disruption in the market and that is what positions Saudi in a strong way. From the government, top down they are prioritising investment in football. That is difficult to compete with."
Another sporting milestone for Saudi Arabia?
Saudi Arabia has hosted several major sporting events since 2018, including football, Formula 1, golf and boxing, and will stage the Club World Cup in December.
Hosting the World Cup would represent another significant sporting milestone.
Prince Abdulaziz bin Turki bin Faisal, Saudi Arabia's sports minister, said the bid "constitutes an important and natural step in our journey as a country passionate about football".
PIF has taken control of four of the nation's top clubs – Al-Ahli, Al-Hilal, Al-Ittihad and Al-Nassr – in the Saudi Pro League, and Cristiano Ronaldo, Karim Benzema and Neymar are among the high-profile players to have joined the league, which was formed in 1976.
The launch of the lucrative LIV Golf series in 2022 led to the PGA Tour and DP World Tour agreeing to merge with PIF in June after a year of disruption, with PIF governor Yasir Al-Rumayyan appointed chair of the unified men's game.
Formula 1 held its inaugural race in Saudi Arabia in 2021 as part of a long-term deal.
Britain's seven-time world champion Lewis Hamilton said he did not feel comfortable racing there and called on Saudi Arabia to improve its human rights record before the 2022 grand prix.
Boxing world title fights have also been held in Saudi Arabia. Britain's Anthony Joshua, who beat Andy Ruiz in Riyadh in 2019, said he was "here for boxing" before losing to Oleksandr Usyk in Jeddah last year.
WBC heavyweight champion Tyson Fury attracted criticism for praising Saudi officials and Bin Salman before his victory over former UFC fighter Francis Ngannou in Riyadh last weekend.
Tennis will hold a professional event in Saudi Arabia for the first time in November after a five-year deal was agreed for Jeddah to host the Next Gen ATP Finals.
Saudi Arabia has also held talks with the women's tour about hosting its end-of-season WTA Finals.
Last month Bin Salman said: "If sportswashing is going to increase my GDP by 1%, then we'll continue doing sportswashing."