Renault's first F1 winner Jabouille dies aged 80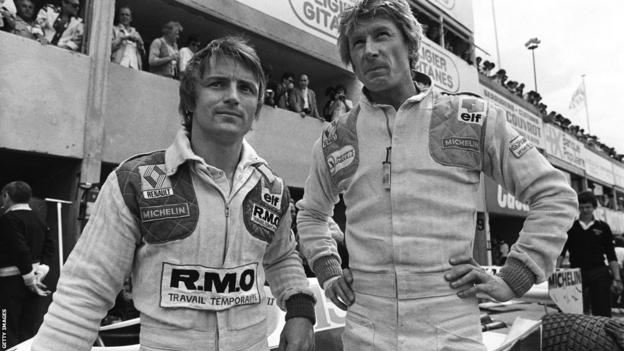 Former Grand Prix driver Jean-Pierre Jabouille, the man who took Renault's first Formula 1 win, has died aged 80.
The Frenchman was a key part of Renault's 1977 entry into Formula 1 – and they were the first manufacturer to use a turbocharged engine.
Jabouille took Renault's maiden win in the 1979 French Grand Prix.
His final victory came in Austria in 1980, but his career was ended later that year when he broke a leg in a crash in Canada.
He had been in any case due to leave the Renault team because his seat had been taken by rising star Alain Prost for 1981.
Jabouille tried to return with the Talbot Ligier team, but was clearly unfit and retired as a driver after failing to qualify for two of his four attempts.
The Alpine team, owned by Renault, said in a statement that it was "incredibly saddened" by Jabouille's death.
"A humble racing driver, brilliant engineer and a pioneer of our sport. Jean-Pierre was a true racer.
"He spearheaded Renault's journey into F1 in 1977 with his resilient and dare-to-do attitude. He was Renault's first Grand Prix winner in 1979, a landmark moment in Renault's journey in Formula 1.
"His determination and dedication to succeed inspired many, and these values remain central to the current team in its now blue colours of Alpine.
"We are where we are today because of Jean-Pierre and his legacy lives on."
Jabouille, an engineer by trade, joined the Renault F1 project from its start to help develop its new turbo engine.
At the time, F1 was dominated by naturally aspirated three-litre V8s but Renault was the first to see the potential of an equivalent formula that permitted the use of 1.5-litre turbos.
Initially, the car was a laughing stock, dubbed the "yellow teapot" by British rivals because of its poor reliability.
But the engine was immediately more powerful than the V8s used by other teams. Assiduous work improved the engine's reliability and, by 1979, the team also had a competitive chassis.
Their maiden victory could not have come in more ideal circumstances for a team representing France's national car company: it came on home soil at Dijon-Prenois, with a French driver in a French car with a French engine using French Michelin tyres.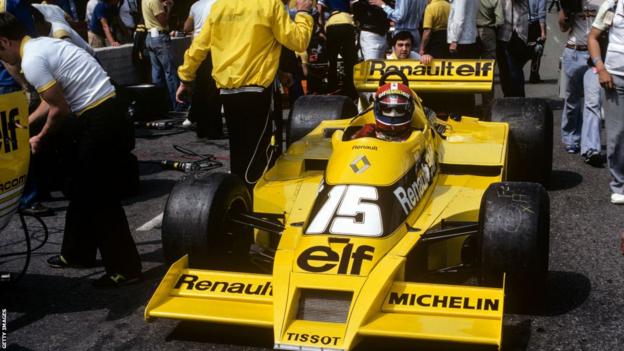 The sadness for both Jabouille and Renault is that the race was destined to be more famous for the gripping racing between his team-mate Rene Arnoux and Ferrari's Gilles Villeneuve for second place.
One of the greatest duels in F1 history was eventually settled in Villeneuve's favour after a final few laps marked by improbable overtaking moves, regular position swaps, off-track moments and wheel-banging incidents.
Jabouille had earlier in the season taken the team's first pole position, aided by the high altitude at the South African Grand Prix at Kyalami, and he took two further poles that year in Germany and Italy, although poor reliability prevented any further wins.
In 1980, Jabouille took two more poles along with his win in Austria, while Arnoux won twice in South Africa and Brazil.
After his retirement from F1, Jabouille was briefly a manager at the Ligier team, before stepping away.
He returned as head of the ill-fated Peugeot engine programme in the 1990s.
Peugeot, fresh from winning Le Mans in 1993, joined forces with McLaren for 1994, but the relationship was a tense one and it ended early – after just one season of poor performance and reliability. Peugeot switched to Jordan from 1995-97 and then to Prost's team from 1998 before withdrawing at the end of 2000.