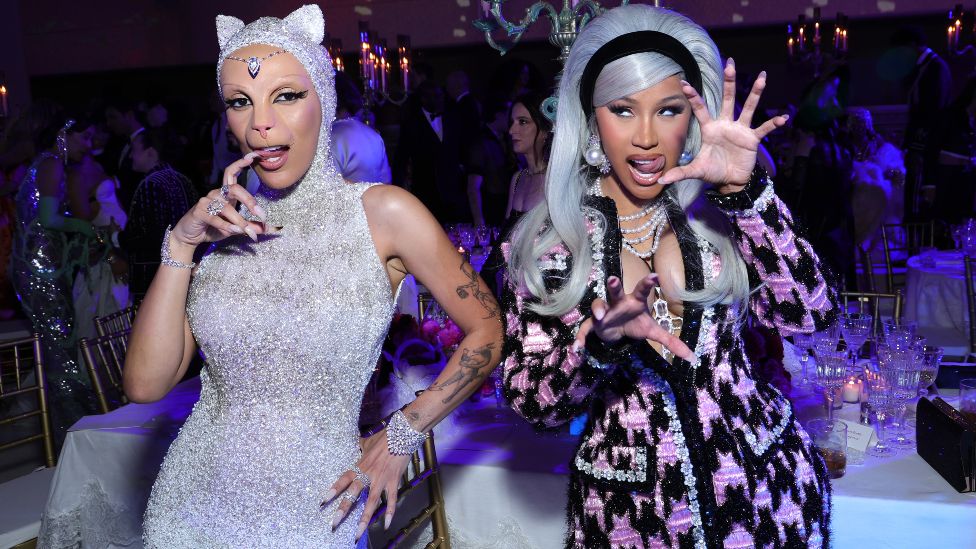 We were expecting a lot of Karl Lagerfeld tributes at Monday's Met Gala. What we weren't expecting was quite so many tributes to his cat.
For this year's theme, the A-list guests were asked to wear outfits which paid homage to Lagerfeld, who died aged 85 in 2019.
The German fashion designer served as the creative director of Chanel from 1983 until his death – and many Met Gala attendees chose to wear classic outfits from the French fashion house in his honour.
But others preferred to reference the German designer's beloved cat Choupette, who was as synonymous with Lagerfeld's look as his sunglasses and white-haired ponytail.
Choupette herself sadly did not attend the event, which is the biggest night in the fashion calendar, but sent her apologies in a post on Instagram.
"Many people invited me to walk the red carpet of the Met Gala in tribute to Daddy [Lagerfeld], but we preferred to stay peacefully and cosy at home," said the cat.
"We pay tribute to my Daddy every day since his parting and we are very moved to see one more day dedicated to him."
Here are some of the most eye-catching outfits from this year's Met Gala.
1. Doja Cat understood the assignment
When your stage name is Doja Cat, and you're asked to pay tribute to a man who loved his cat, the red carpet look designs itself.
The US rapper did not disappoint, wearing a gown which featured cat ears, while sporting facial prosthetics to give herself more cat-like features.
Her glittering silver dress was designed by Oscar de la Renta and featured a dramatic ruffled train, which she accessorised with some equally dazzling jewellery.
2. Barry Keoghan and Burna Boy matched
We've all had one of those awkward moments where you turn up at work and find you're wearing an identical outfit to a colleague.
So we sympathise with Irish actor Barry Keoghan and Nigerian singer Burna Boy, who wore strikingly similar chequered blue Burberry outfits to the Met Gala.
To be fair, both of them looked brilliant, and we applaud male stars who shun the standard black tuxedo on a red carpet in favour of a splash of colour.
3. Lil Nas X won the night by a whisker
The rapper turned up covered in sparkling silver body paint and jewels and wearing a matching metallic thong, in one of the most eye-catching outfits of the night.
Upon closer inspection, fans spotted that his bejewelled eye mask also featured beaded whiskers – another likely reference to Lagerfeld's cat.
4. Jenna Ortega hit peak Wednesday
While Ortega wore a bright pink Valentino dress to last year's Met Gala, this year she went with a distinctly spookier and more gothic vibe.
Her dark ensemble is one which fitted the Lagerfeld aesthetic, but also referenced Ortega's starring role in Wednesday, Netflix's hugely successful Addams family spin-off.
Ortega recently told InStyle that playing the character had influenced her personal style. "I do think that Wednesday changed my taste a lot," she said. "I have a hard time getting her off of me, at least clothing-wise."
5. Jared Leto gave everyone paws
Actor Jared Leto can be relied upon to deliver some of the craziest looks at the Met Gala – but he really outdid himself this year.
The Oscar winner turned up literally dressed as a cat. That's it. There really isn't much more we can say.
We're lucky he decided to remove his giant cat head while posing for photographs – or we may never have even known it was him.
6. Ice Spice didn't want to forget her first Met
The hottest rising star in music was making her Met Gala debut this year, so she understandably wanted to remember every moment.
Perhaps unaware of the invention of the smartphone, the 23-year-old instead brought her own jewel-encrusted camera to take photos (and complement her custom Balmain outfit).
According to TMZ, the New York rapper was personally invited to the Met Gala by Anna Wintour, who asked her to attend as a guest of Vogue.
7. Janelle Monáe is up for a game of badminton
The singer and actress looked frankly stunning in her mismatched black-and-white Thom Browne coat, which she later took off to reveal a shuttlecock-shaped sheer dress.
"My first Met Gala was in 2011, and I went with Karl [Lagerfeld]. So this is sort of full circle for us to be honouring him," Monáe told People.
Monáe accessorised with a white leather quilted cat bag – yet another reference to Choupette.
8. Jeremy Pope pulled Karl up the stairs
The outfit which perhaps most explicitly referenced Lagerfeld was worn by actor Jeremy Pope.
The Hollywood star lit up the Metropolitan Museum of Art's grand staircase in a huge cape emblazoned with the recognisable face of the designer.
The 30-ft cape featured a hand-drawn illustration of Lagerfeld and was reportedly made by 70 seamstresses with more than 5,000m of silk chiffon.
9. David Byrne forgot his helmet
Despite being famous for hits such as Lazy, singer David Byrne turned up looking ready to do some exercise.
The Scottish-born star brought his bicycle with him to the red carpet – but wisely decided to walk it up the red carpet, which we imagine was a relief to the Met's health and safety team.
Byrne wore an all-white outfit – which surely would have got muddy when he presumably had to cycle home – with some brightly-coloured trainers.
You may recognise the monochromatic suit, as it's the same one Byrne wore when he performed the theme song to Everything Everywhere All At Once at the Oscars in March.
10. Glenn Close had a bit of trouble changing her sheets
We've all been there. You attempt to change your bedsheets by yourself, lose track of which corner is which, and end up in a right old tangle.
Actress Glenn Close arrived at the Met Gala looking as if she was still trying to figure it all out, so decided to bring her entire bedspread with her.
It was in fact a custom Erdem dress. "Like any great fashion designer, he has a passion to create something beautiful and distinctive," the actress said of the designer.
11. Margot and Nicole remembered Karl
The Australian actresses both paid tribute to Lagerfeld with their gowns and shared their memories of the designer with reporters.
Kidman wore a pale pink gown adorned with 3,000 silver crystals created by Lagerfeld for a Chanel No. 5 commercial she starred in.
"I'm very grateful to wear it," Kidman told The Associated Press. "He was so much a part of my life, as were his whole team. He was the one really sort of shepherded me… in terms of my love of fashion."
Robbie, meanwhile, explained she was the last Chanel ambassador to be handpicked by Lagerfeld. She said it was an "honour" to wear a 1993 black Chanel gown which Cindy Crawford first wore on a runway.
12. Jordan Roth doesn't need an air conditioner
The US theatre producer may not be a household name, but he has consistently served up interesting looks at the Met Gala.
This year, Shiaparelli's designer Daniel Roseberry transformed Roth into a human fan for the evening.
In an article for Vogue, Roth explained the outfit was an homage to the signature accessory that Lagerfeld often carried around with him.
"The fan is a form that transforms, has function as well as decoration, and it has inherent movement," Roth explained. "It calls to be to be animated and energised, as an extension of your own body."
13. Billie Eilish brought her brother
Eilish wore a black lace gown, embellished with a floral design by Simone Rocha.
"I was inspired by Billie herself, her talent, her world and her powerful femininity," the Irish designer said of creating the singer's look custom look. "I wanted to celebrate her femininity through fragility and strength."
The singer was accompanied by her brother and collaborator Finneas, who went for a more casual outfit, wearing a textured brown trench coat tied at the waist.
14. Florence Pugh defied gravity
The British actress wore a strapless white Valentino gown, but everyone's attention was firmly on her head.
Firstly, because Pugh wore a headpiece that looked like it would come in handy clearing cobwebs from a ceiling.
But also because Pugh confirmed recent rumours she had shaved her hair off for a role in a forthcoming film.
"I've actually had it for about three weeks now," she told reporters of her shaved head. "I thought, what is a better way than to release it at The Met?"
15. Rita Ora had better not bite her nails
The British singer walked the red carpet with her partner, film director Taika Waititi, wearing a reported $90,000 worth of Buccellati jewellery.
It included a pearl bracelet and long diamond extensions which hung off the end of her nails.
Waititi wore a gun metal blazer by Prabal Gurung which he wore shirtless and paired with smart white trousers.
16. Kendall referenced Karl's collar
Kendall Jenner wore a sparkly leotard with long sleeves which efficiently doubled as a train. The whole outfit, including the sparkly towering black boots, was designed by Marc Jacobs.
But there was a reference to Karl Lagerfeld in her outfit – Jenner's high white collar was a nod to those worn by the late fashion designer.
17. Serena Williams revealed her pregnancy
The tennis star arrived at the Met Gala with her husband, Alexis Ohanian, and confirmed that she is pregnant with her second child.
Williams showcased her baby bump in a black long-sleeved dress with a deep v-neckline, paired with pearl necklaces.
Writing on Instagram, Williams said she was "so excited when Anna Wintour invited the three of us to the Met Gala".