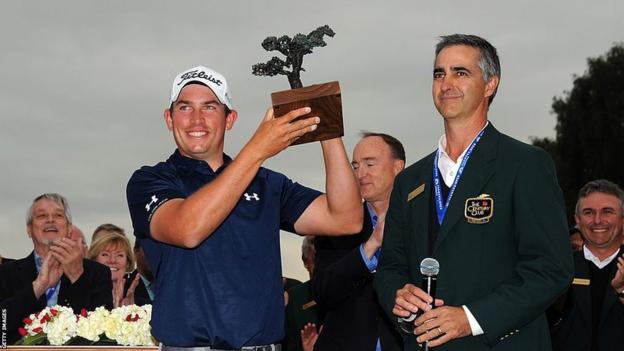 US golfer Scott Stallings was handed a shock after discovering his Masters invitation had been sent to another person of the same name.
The 37-year-old tweeted he had been "checking the mailbox five times a day" for his invitation before receiving a direct message from another Scott Stallings.
The three-time PGA Tour winner posted the message from his namesake, which included: "I'm 100% sure this is NOT for me. I play but wow! Nowhere near your level."
The message began: "Hi Scott. My name is Scott Stallings as well and I'm from GA (Georgia). My wife's name is Jennifer too!!
"I received a FedEx today from the Masters inviting me to play in the Master's Tournament April 6-9, 2023.
"It's a very nice package complete with everything needed to attend. I think we have some confusion because of our names, our wife's names and geographical location."
He then attached a picture of the invitation adding: "I'm really not kidding I promise."
Stallings' tweet was viewed more than 10 million times on the social media site and many of the replies called on the golfer to invite his namesake to the Masters as his guest.
Others also urged the 'other' Scott Stallings to caddie for the professional at the traditional Par-3 contest held on the Wednesday before each Masters.
Stallings is ranked 54th in the world and his last PGA tour victory came in 2014 at the Farmers Insurance Open.
The 87th Masters tournament takes place at Augusta National from April 6-9.