This post was written by Emily Becker, a Costa Rica-based freelance writer for BMTM.
High in the mountains of central Guatemala lies mystical Lake Atitlán, a place that has long attracted spiritualists, artists, writers, and adventurers. It captured my heart with its dramatic blues, ultra-friendly locals, and rich cultural traditions. It's no wonder why this destination is one of the best places to visit in Central America.
Find out why I love Lake Atitlán so much with this list of my favorite things to do, and stay tuned for expert tips on how to get there:
Things to Do at Lake Atitlán
1. Sunbathe in San Marcos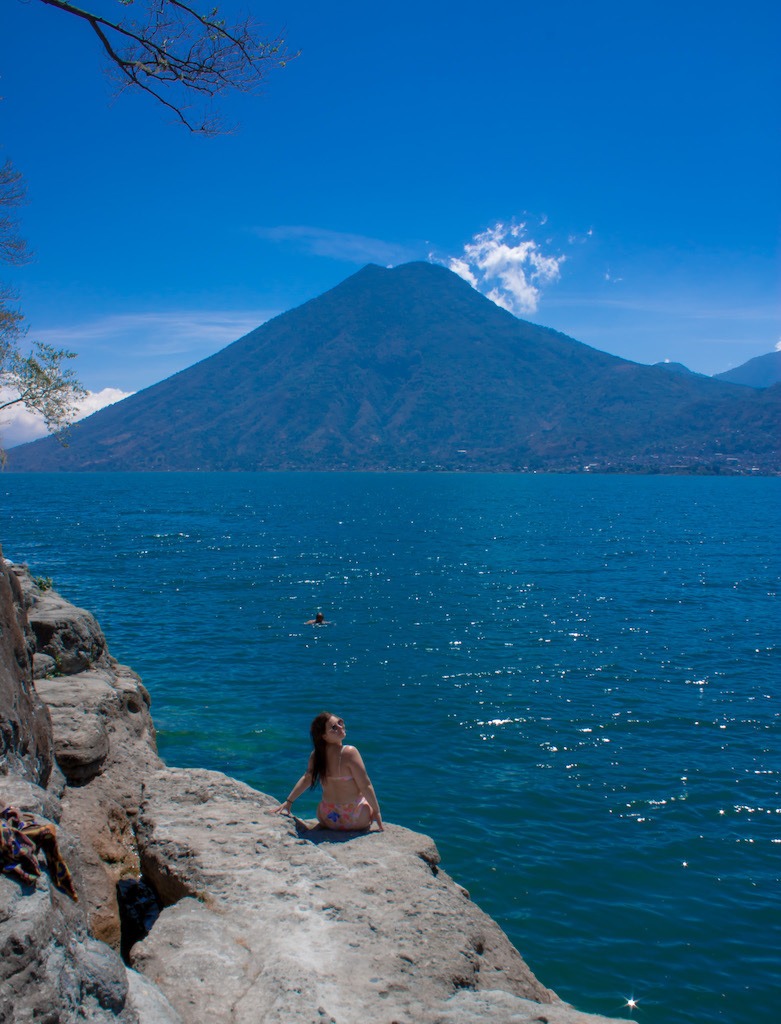 San Marcos is one of the many small villages along Lake Atitlán. It's most famous for being a spiritual hub of sorts, with several yoga studios, vegan restaurants, and hip cafés. My favorite thing about San Marcos, however, is the Cerro Tzankujil Nature Reserve. This small park costs 50 quetzales (about $6.50 USD) to visit and has trails along the lakefront. You'll find several smooth boulders that you can hang out on, catch some rays on, and jump off from into the water.
Out of all the awesome places to swim on Lake Atitlán, this is my top choice. It can get a little crowded in the afternoon, so I recommend heading there in the early morning. There are also kayaks available for rent, though you have to return them before noon.
2. Catch an epic sunrise on the lake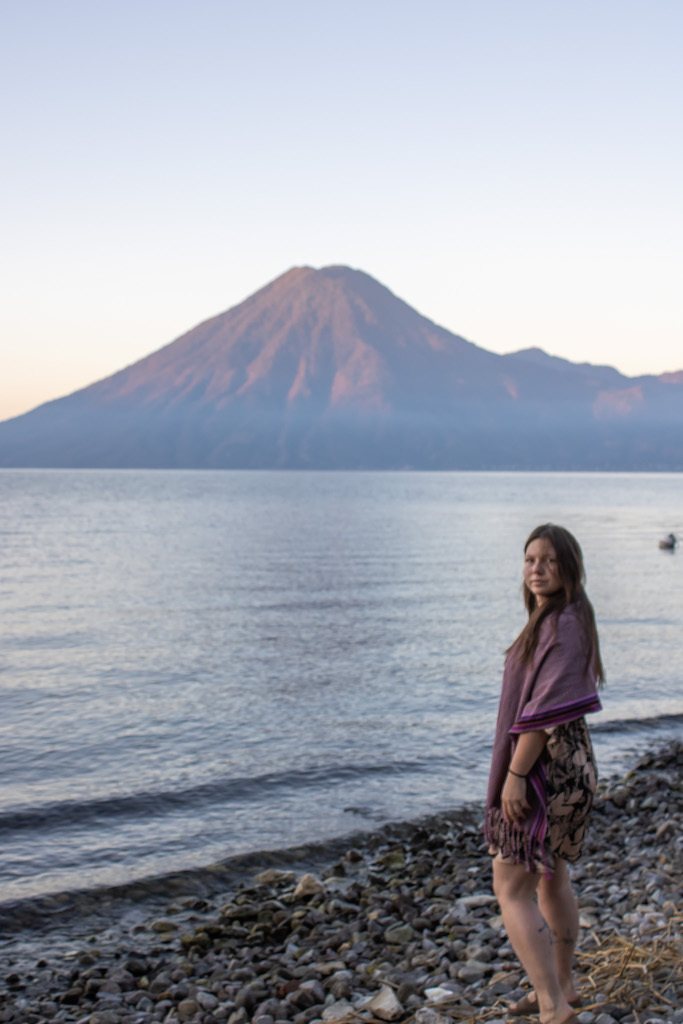 There are few places on Atitlán where you can see the sunset, but plenty where you can catch a gorgeous sunrise. Since the lake is surrounded by tall mountains and volcanoes, you won't see the sun coming up over the horizon. Instead, you'll see its rays decorate the sky before it peeks above the mountains, and the sunrise colors make some of the mountains look almost purplish.
I love watching sunrises here. The delightful colors make it worth the early wake-up call, and it's also peaceful to watch the birds and small fishing boats on the water.
3. Rent a paddleboard…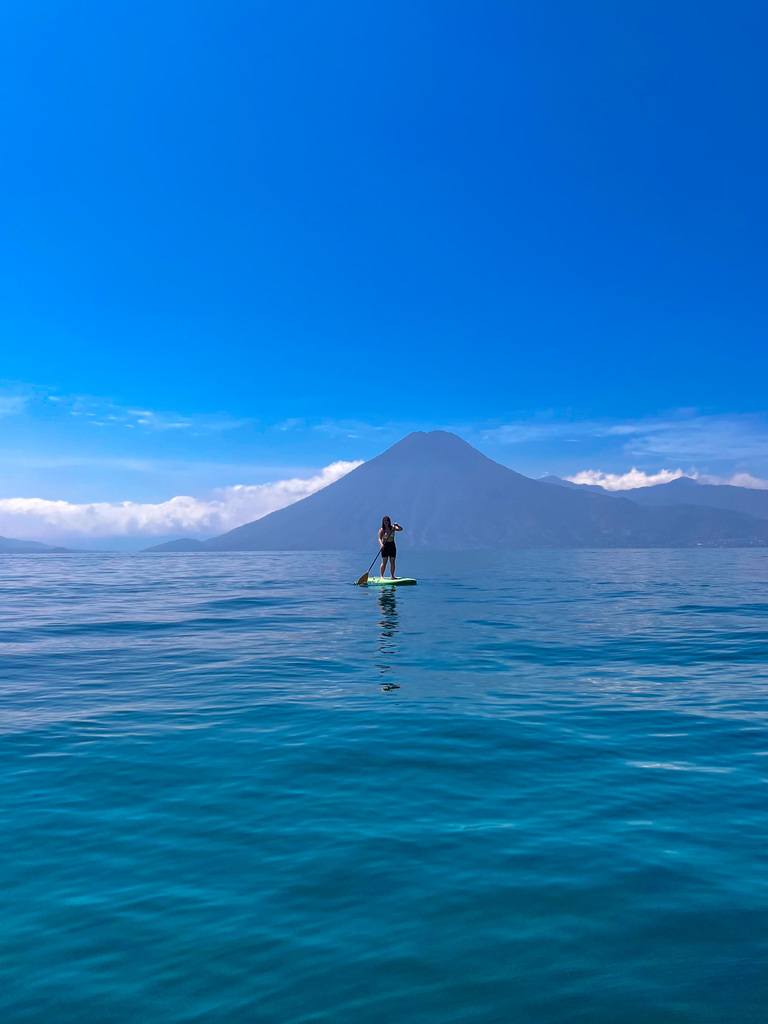 As paddleboarding is one of Lake Atitlán's most popular activities, there is an abundance of places to rent them. Typical prices are around 50 quetzales ($6.50 USD) per hour, and I recommend doing at least two hours if you want to truly take advantage of the rental. Time always flies by too quickly!
When you rent a paddleboard, make sure you have plenty of sun protection and a waterproof bag for your valuables. The sun can be harsh here because of the high altitude, and there will be several boats passing by on the water, creating waves that could knock you off your board. I love bags like these that I can keep my phone in. Or, just leave your phone and wallet behind.
I rented my paddleboard at La Casa del Mundo (more on that below), which I highly recommend. You can also find plenty of options in San Marcos and San Pedro, so ask around to see what your options are.
4. …or a kayak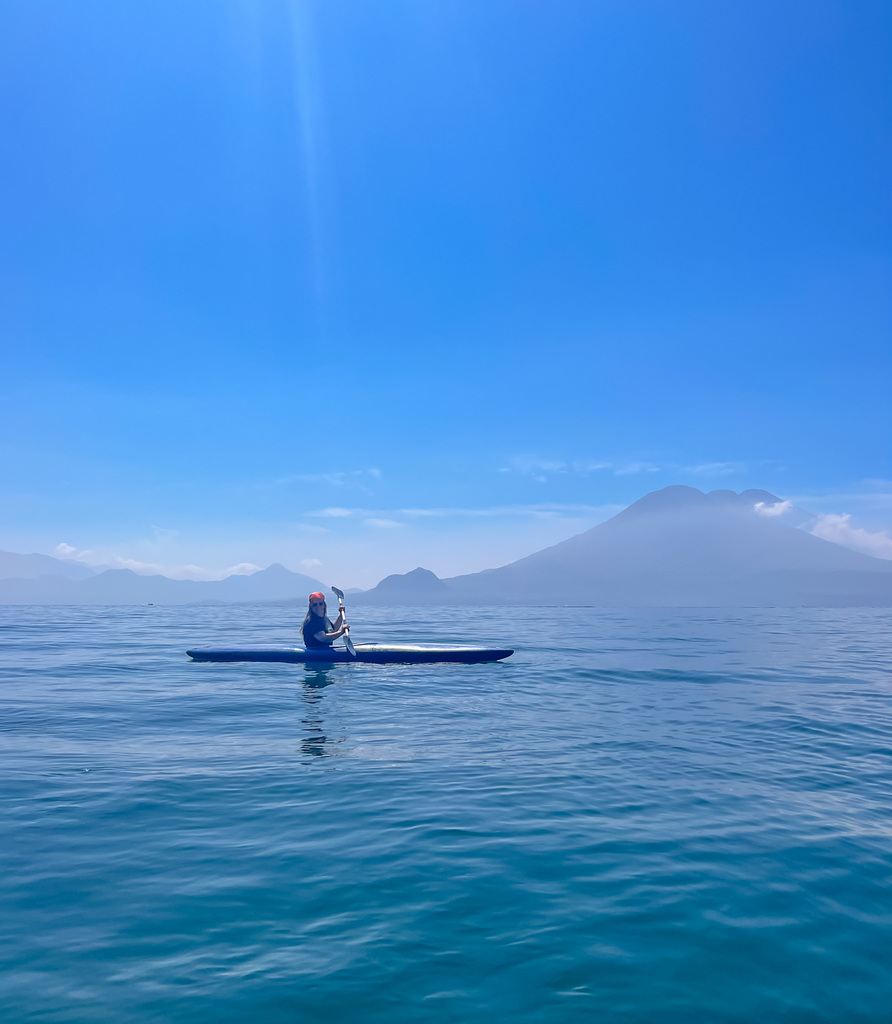 Kayaks are also a lot of fun on Atitlán and allow you to cover more ground than a paddleboard, though the rental prices are the same. Most places will ask you if you want to rent a river kayak or an ocean one. Go for the ocean kayak, because they're more stable and handle the waves from passing boats much better. I made the mistake of renting a river kayak, and it was difficult to paddle because the currents of the lake kept sending me in circles.
5. Do a cultural tour of the villages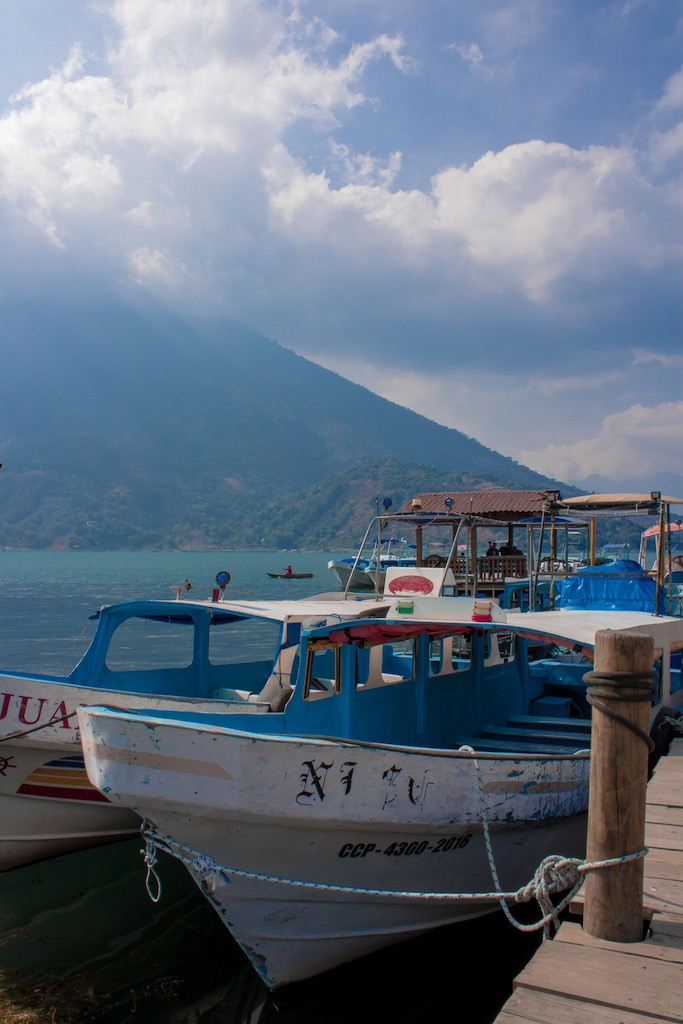 Each village on Lake Atitlán is unique and specializes in the production of a specific good. For example, Santiago is famous for its paintings, San Juan for its textiles, and so on. The best way to learn about the richness of the Mayan culture here is to do a cultural boat tour around the lake. I recommend this one, which has a stop at a coffee farm.
Besides the bonus of having a local guide, a tour is a more practical way to see all the villages and is actually cheaper in some cases. Since you'd have to pay 25 quetzales (about $3 USD) for each boat trip and around 20-50 quetzales ($2.50-6.50 USD) in each village to get around via tuk-tuk, the cost can add up to be more than the tour.
6. Shop for artesenías in Santiago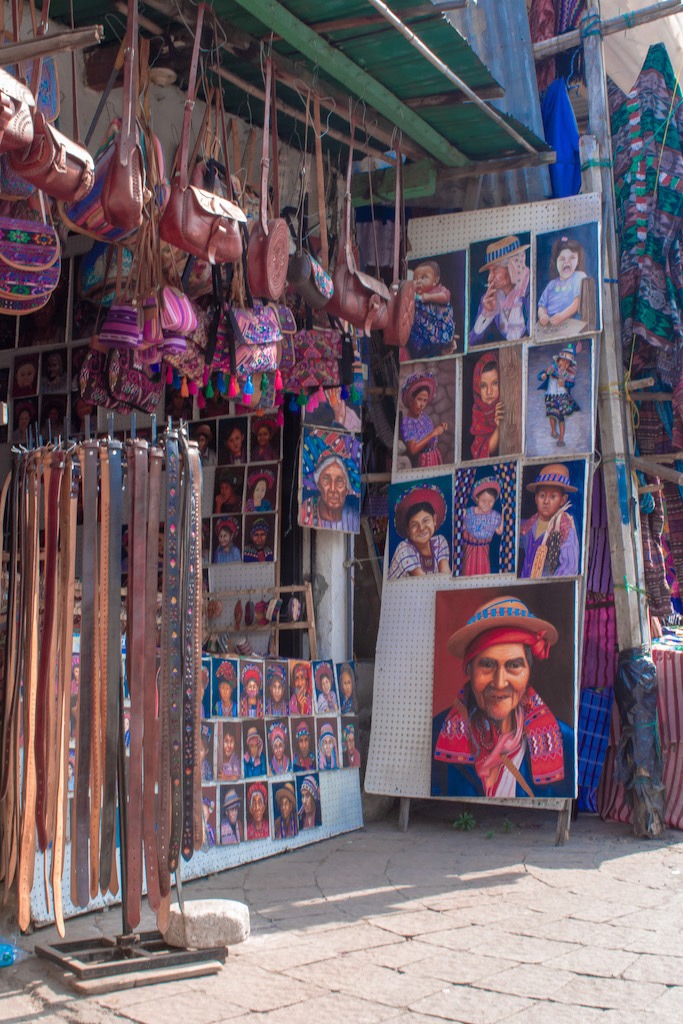 If you opt out of a tour, make sure not to skip out on visiting at least one Mayan village. If you're in a pinch for time, make it Santiago. Though Santiago is technically the largest town on the lake (I previously thought it was Panajachel but was corrected by a local guide), it retains its strong cultural identity. It's known for its unique art style, and you'll see lots of shops selling original paintings. Shopping for handicrafts is the name of the game here, including a variety of textiles, leather goods, and wood-carved statues, among other items. Even after going to some fantastic markets in Antigua, I still think the selection of artesenías in Santiago reigns supreme.
While you're here, consider exploring the town to learn more about the culture. There are many guides on tuk-tuks offering tours, which I initially thought would be a total scam — and decided to do anyway. It ended up being quite interesting, and the guide took me to a traditional Maya temple of sorts, a cool lookout, and an artists' collective. The tour cost 60 quetzales (less than $10 USD).
7. Spend the day at La Casa del Mundo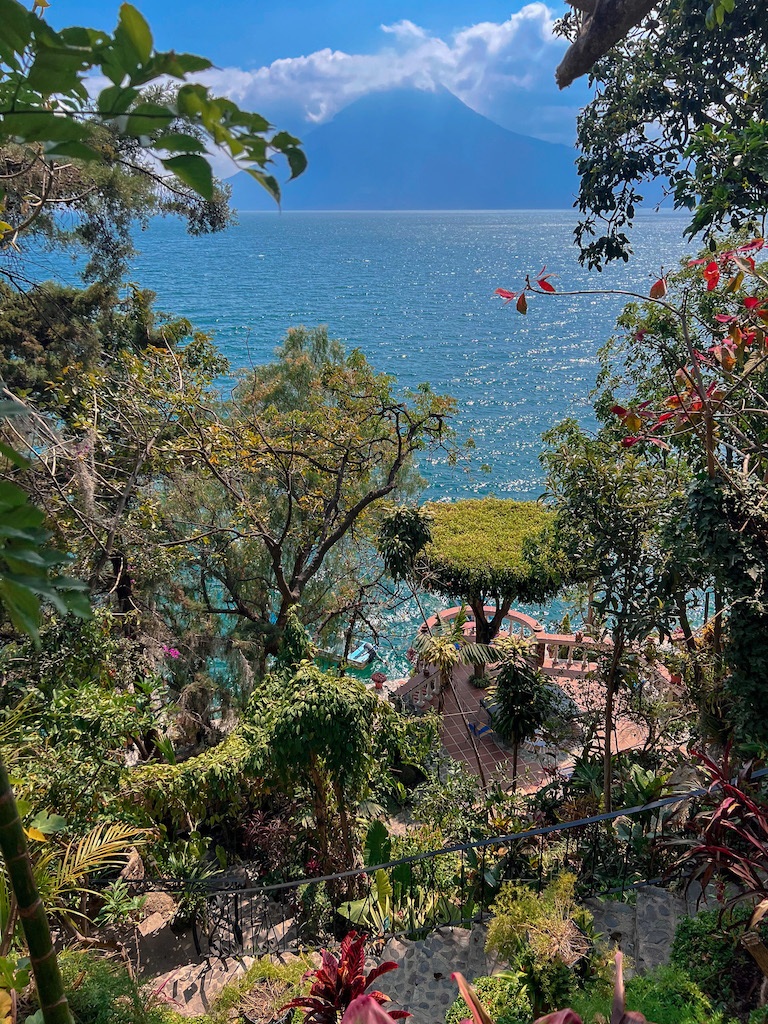 I could write a sonnet about this place. La Casa del Mundo is a boutique hotel on the side of a cliff next to the village of Jaibalito. Before arriving in Guatemala, I'd seen numerous TikToks about this place and couldn't believe it was real. Many compare it to the lakeside chalets on Lake Como, and I have to agree that the comparison is fair.
I didn't stay at La Casa del Mundo, because it was fully booked, but the hotel offers day passes for 50 quetzales ($6.50 USD). The day pass allows you access to the common areas of the hotel, including the lounge chairs right on the lake. There is no better place to relax and enjoy the beauty of Lake Atitlán than La Casa del Mundo, period.
8. Explore Atitlán's smallest village: Jaibalito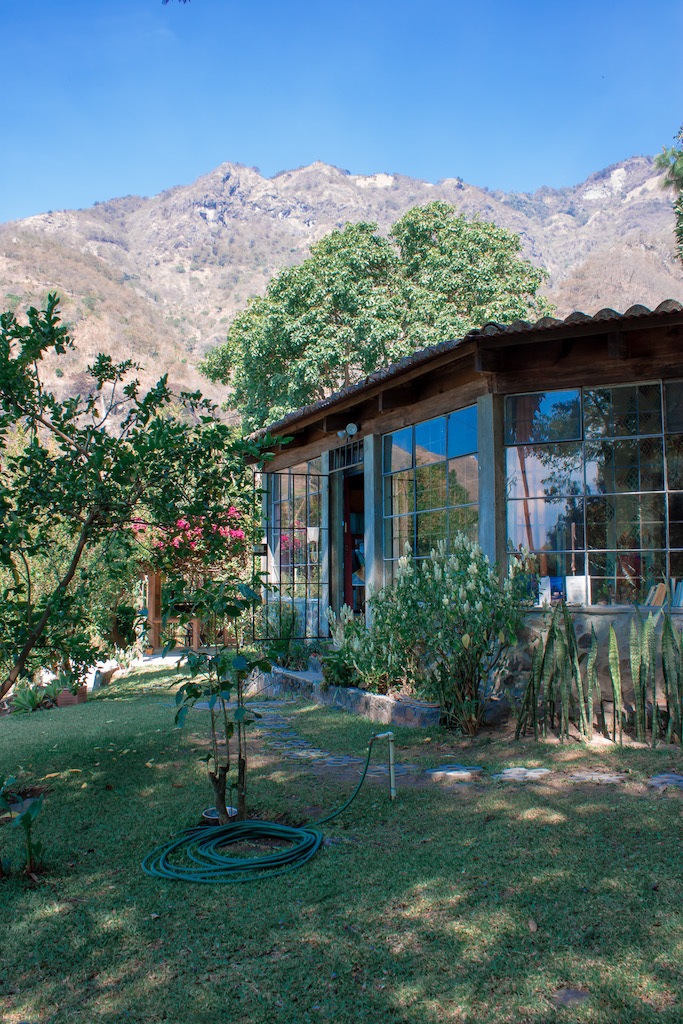 Speaking of Jaibalito, this tiny town is right next to La Casa del Mundo and is worth a quick visit. There's a great restaurant called Indigo right off the dock; it's a sweet spot to grab a bite or a drink and soak in the lake views. I chose to stay in an Airbnb in Jaibalito because of its reputation for being tranquil and far from the tourist traps, and I loved it.
9. Day trip to the Chichicastenango Market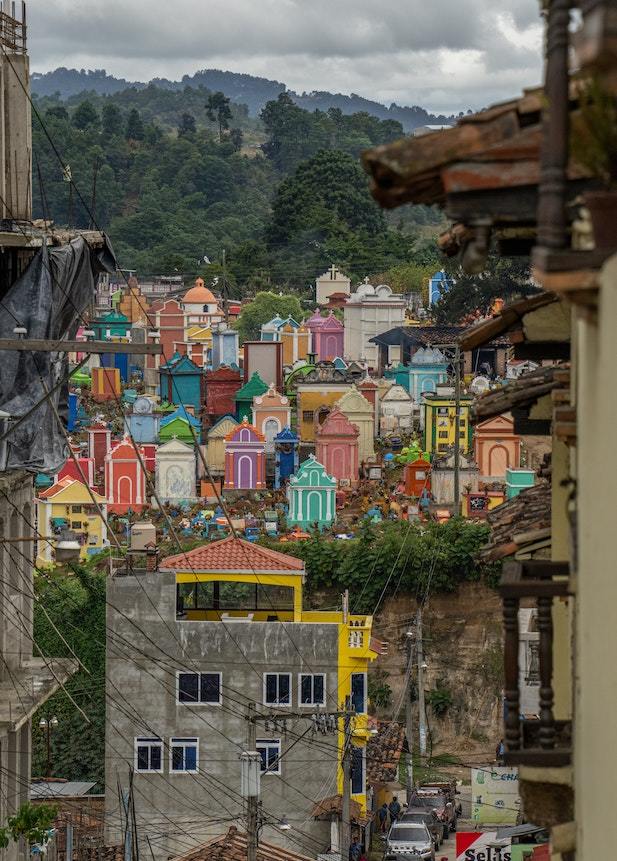 I sadly wasn't able to make it to the Chichicastenango Market, so this is on my bucket list for next time. This market is the largest in all of Central America, and famous for its insanely low prices for textiles and other souvenirs. It's also an important cultural site with a rich history of religious worship and celebrations.
As with any large market, practice plenty of caution at Chichicastenango, as pickpocketing is very common. You can easily visit the market on your own by catching a bus from Panajachel directly to Chichicastenango, but the safest and easiest way to get there is by joining a tour.
10. Check out the San Juan viewpoint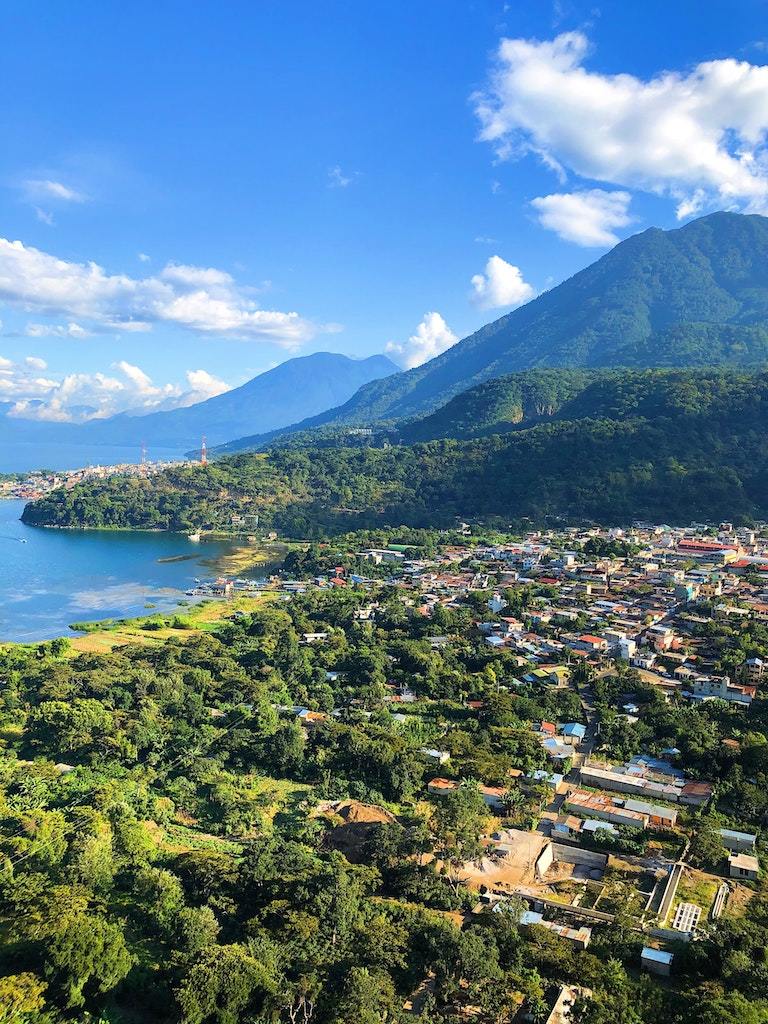 San Juan is a charming small town next to the large backpacker haven of San Pedro. Here you'll enjoy walking the streets and admiring the street art, but the real gem of San Juan is the Mirador Kiaq'Aiswaan. This viewpoint takes about a 30-minute hike to reach, and as you ascend, you'll notice that the stairs begin to change, getting more and more colorful.
Once you reach the top, you'll see that the entire deck is painted as one giant mural, with bright colors depicting the rich agricultural traditions of the region: there are women picking coffee, men harvesting corn, and many other scenes. The paintings themselves are beautiful, but the view of the lake and surrounding mountains is equally as outstanding.
How to Get to Lake Atitlán
How to get to Atitlán depends on where you're starting. All transfers and public transportation will take you to Panajachel, one of the larger villages on the lake. After that, you can take a boat to the village where you're staying.
From Guatemala City, Guatemala
From Guatemala City, the easiest and quickest way to get to Lake Atitlán is by shuttle service. Most shuttles pick you up at the airport, but you can also arrange for them to pick you up at your hotel if you're staying overnight in Guatemala City. I don't recommend this, though, and think staying in Antigua is a better option, because it's a safer city with more things to do. However, if you are already planning to go from Guatemala City to Lake Atitlán, this shuttle is easy and affordable.
From Antigua, Guatemala
Since Antigua is a much smaller city and has more tourism infrastructure, it's the best place to travel to Lake Atitlán from. I did this shuttle, and it could not have gone more smoothly. It picked me up from my hotel and dropped me off at the dock in Panajachel, where I caught a boat to Jaibalito, where I planned to stay. The ride takes about three hours and winds through the mountains. I get car sick but took Dramamine for the ride and had no issues.
From San Cristóbal de las Casas, Mexico
Many backpackers make the trip from San Cristóbal de las Casas in Mexico all the way to Lake Atitlán as a part of their international route. I've done this trip two ways: via public transportation (aka "chicken buses") and via shuttle. After the confusing chicken bus experience, I can't recommend it for solo travelers, especially if you don't speak Spanish. It could also be dangerous due to frequent road closures along the way. Instead, you can easily book a shuttle with Gekko, which is $50 USD each way.
How to Get Around Once You're There
Once you get to Panajachel, getting to any of the villages you might be staying in is easy. Just go to the dock and tell one of the people working there where you're headed, and they'll point you to the right boat. Rides cost 25 quetzales (about $3.25 USD), which is always paid after your ride. If someone tries to make you pay before, just say no and get on the boat. In the rare case that people are paying before the ride, just look and see if any locals are doing it. If not, it's a scam.
Once you get to your village, the best way to get around is via tuk-tuk. They're usually reliable and cheap, though most of the villages are small enough to get around on foot.
***
Now you can see why Lake Atitlán makes so many travelers' bucket lists and how it is even rumored to be the inspiration behind the famous book The Little Prince. So, when will you be booking your trip?