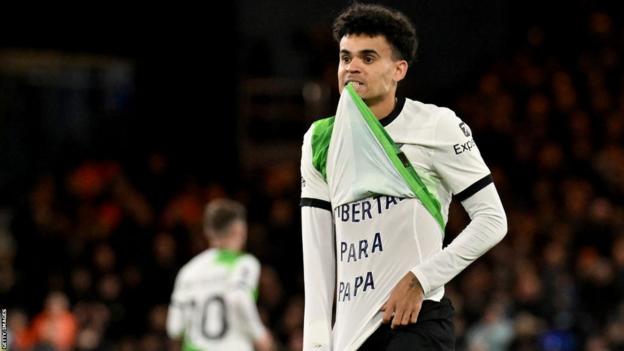 The rebel group holding Luis Diaz's father hostage has demanded "security guarantees" before his release.
The National Liberation Army (ELN) said the ongoing military and police search "will delay the release and increase the risks", Colombian media reported.
Luis Manuel Diaz was kidnapped at gunpoint along with his wife in Barrancas, Colombia on 28 October.
Liverpool player Diaz has called on the kidnappers to free his father immediately and end a "painful wait".
His mother was abandoned in a car after the kidnapping as police closed in, but his father was taken hostage.
Colombia international Diaz came off the bench to salvage a point for Liverpool with a stoppage-time goal at Luton Town on Sunday in his first match since his parents were kidnapped.
The ELN reiterated its intention to release Diaz's father "as soon as possible".
But, in a statement signed by commander Jose Manuel Martinez Quiroz, it added the current scale of the search operation undertaken by the Colombian authorities was delaying that process.
"We are making efforts to avoid incidents with government forces," the ELN said. "The area is still militarised, they are carrying out flyovers, disembarking troops, broadcasting and offering rewards as part of an intense search operation.
"This situation is not allowing for the execution of the release plan quickly and safely, where Mr Luis Manuel Diaz is not at risk.
"If operations continue in the area, they will delay the release and increase the risks.
"We understand the anguish of the Diaz Marulanda family, to whom we say that we will keep our word to release him unilaterally, as soon as we have security guarantees for the development of the liberation operation."
Both of Diaz's parents were seized at gunpoint in his hometown of Barrancas, in the northern province of La Guajira, by left-wing guerrillas of the ELN.
But, while his mother was found later that day, his father remains missing and the Colombian government has deployed hundreds of police and soldiers in the search.
Diaz, 26, had not featured for Liverpool since their Europa League win over Toulouse on 26 October but returned to the squad for Sunday's Premier League match at Luton.
After scoring his side's equaliser, Diaz lifted his shirt to show a message of "freedom for papa" and later released a statement calling for his father's release.
"I beg that they free him immediately, respecting his integrity and ending this painful wait. In the name of love and compassion we ask they reconsider their actions and allow us to have him back," Diaz said.