Just Stop Oil protesters disrupt Ashes Test at Lord's
Just Stop Oil protesters briefly disrupted the first morning of the second Ashes Test, with one carried off the Lord's ground by England wicketkeeper Jonny Bairstow.
Two people entered the field attempting to spread orange powder.
As the players guarded the pitch, one was picked up by Bairstow and another stopped by England captain Ben Stokes.
The powder did land on the square, but was cleared by groundstaff and the game resumed after a short delay.
The Metropolitan Police said three arrests were made after the protest.
Guy Lavender, chief executive of Marylebone Cricket Club (MCC) – which owns Lord's, said he condemned the protest "in the strongest possible terms".
"Their actions not only endanger themselves and those who work at the ground, but they have consistently shown complete disregard for the people who pay to attend events, not just here at Lord's but around the country at other sporting venues," he said.
Just Stop Oil said: "Just Stop Oil supporters stormed the pitch at Lord's Cricket Ground in a cloud of orange powder paint and disrupted the Ashes 2023 second Test between England and Australia.
"It's just not cricket to license new oil, gas and coal whilst the climate crisis knocks us for six."
The campaign group said on its Twitter account it did not know who the protesters were, but added it "loved" them.
Just Stop Oil protesters have disrupted other sporting events this year, including the rugby union Premiership final and the World Snooker Championship.
The environmental protest group is calling for the government to halt all new oil, gas and coal projects.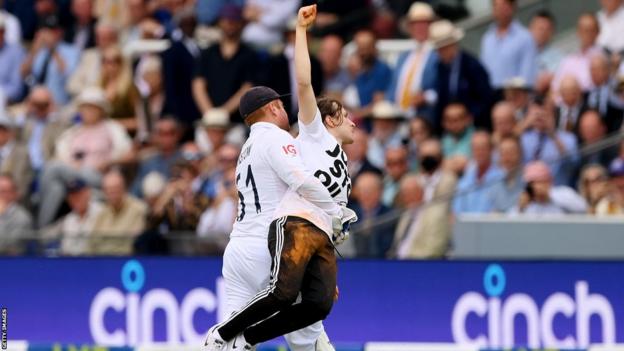 Security has been heightened around major cricket matches. With the pitch and conditions more important to the outcome in cricket than most sports, the potential for damage and disruption is greater if protesters are able to reach the middle.
England's team bus was briefly held up by protesters before the Test against Ireland at Lord's earlier this month.
At the World Test Championship final at The Oval, the International Cricket Council took the unusual step of preparing a reserve pitch in case the original one was damaged.
Wednesday's match was only one over old when the protesters entered the field from the Lord's Grandstand.
Initially confronted by the players, they were also tackled by security staff from the venue and the England and Wales Cricket Board.
Bairstow was cheered by the crowd as he carried one protester from the middle to the boundary edge. The other, who got closer to the pitch, was blocked by Stokes and Australia batter David Warner.
Bairstow then left the field to apparently change his shirt and wicketkeeping gloves as the orange powder on the square and outfield had found its way onto his kit.