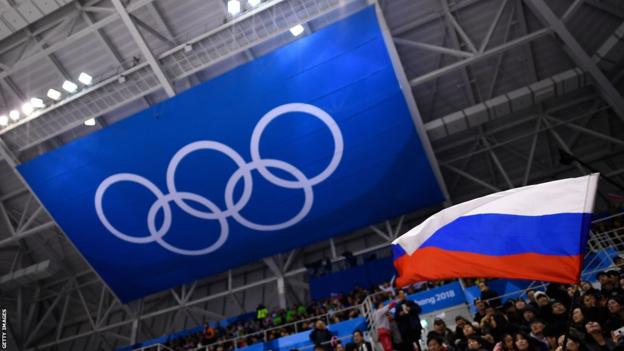 Russian and Belarussian athletes could be free to compete as neutrals at the 2024 Olympics after the International Olympic Committee said it will "explore a pathway" for their participation.
The IOC called on federations to exclude athletes from the countries following Russia's invasion of Ukraine.
This week Ukraine's president Volodymyr Zelensky said Russian athletes should have "no place" at the Paris Games.
But the IOC's statement on Wednesday could clear the way for their return.
It said "no athlete should be prevented from competing just because of their passport".
The move has been criticised in a joint-statement from Athletes for Ukraine and athlete association Global Athlete.
It said the decision shows the IOC "endorses Russia's brutal war and invasion of Ukraine".
"The return of Russian and Belarusian athletes to international competition, especially the 2024 Paris Olympic Games, will see the Russian state use athletes once more to bolster the war effort and distract from the atrocities in Ukraine on one of the biggest multi-sport stages in the world," the statement added.
The IOC said participation in competition, which would also include qualification events, would need athletes to take part as neutrals "and in no way represent their state or any other organisation in their country".
The athletes must not have "acted against the peace mission of the IOC by actively supporting the war in Ukraine".
President Thomas Bach said in December the IOC faced a "big dilemma" in ensuring athletes do not suffer as a result of sporting sanctions.
Some sporting federations have ignored the IOC recommendation and allowed individual athletes to compete as neutrals but others have complied.
Two Belarusian tennis players, Victoria Azarenka and Aryna Sabalenka, could meet in the Australian Open women's singles final this weekend. Both are competing as neutrals.
The Lawn Tennis Association was fined £820,000 for banning Russian and Belarusian players from last summer's grass-court events, including Wimbledon.
The UK government says Belarus aided and abetted Russia's invasion.