IOC has 'picked a side' in Russia-Ukraine conflict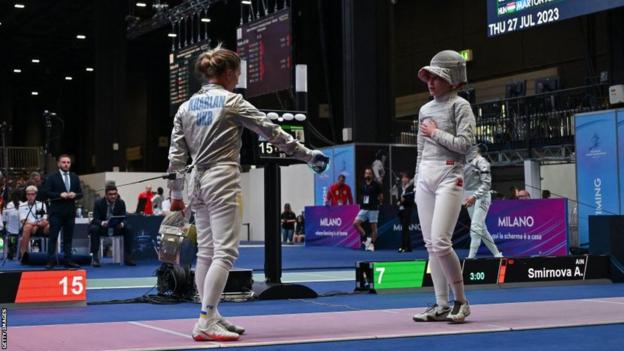 The International Olympic Committee has "picked a side" in the Russia-Ukraine conflict, says the president of Russia's Olympic Committee.
The IOC responded by encouraging sports federations to handle Ukrainian athletes with sensitivity.
But Stanislav Pozdnyakov feels the IOC advice "clearly showed duplicity".
"The statement in question indicates that the IOC determined for itself and picked a side in the political conflict, [and] began to act in the interests of this side," he said on Telegram.
The former Olympic fencing champion added that the remarks "clearly showed the duplicity of the so-called recommendations, criteria and parameters".
"Now we have been involuntarily but clearly shown the attitude which absolutely any Russian will face at international competitions.
"Olympism is officially being made a tool controlled from the outside in the interests of a geopolitical order to neutralise our citizens and organisation in sports."
After Russia launched a full-scale invasion of Ukraine, the IOC imposed sporting sanctions on Russia and its ally Belarus but earlier this year recommended that Russian and Belarusian athletes could compete as individuals under a neutral flag and with no anthem.
Kharlan became the first fencer to face a Russian or Belarusian since the invasion and, after beating Smirnova 15-7 in Milan, offered her sabre to tap blades instead of shaking hands.
Smirnova then staged a 45-minute sit-down protest, resulting in Kharlan, a four-time individual world champion and four-time Olympic medallist, being shown a black card.
That ruled her out of the team competition as well as the women's sabre individual event.
The Ukraine sports ministry has reversed its decision not to allow Ukrainian athletes to compete in qualifying events for the 2024 Olympics if Russians are taking part.
"We are glad that they will be given this opportunity, and at the same time we are aware of the difficult inner conflicts they may have, given the aggression against their country," the IOC said in a statement it reiterated after Pozdnyakov's comments.
"Therefore, we encourage international federations to handle situations involving Ukrainian and individual neutral athletes with the necessary degree of sensitivity.
"We continue to stand in full solidarity with the Ukrainian athletes and the Olympic community of Ukraine."
Kharlan, 32, followed the example of Ukrainian tennis players such as Elina Svitolina by not shaking hands with Russian or Belarusian opponents, but International Fencing Federation (FIE) rules state that fencers must shake hands.
She claimed that FIE president Emmanuel Katsiadakis had assured her that it was "possible" not to shake hands and offer a touch of her blade instead.
"I thought I had his word, to be safe, but apparently, no," Kharlan added.