How to Fix Credit Card Deleted by Google Due to RBI New Rule
Reserve Bank of India's (RBI's) policies for credit and debit cards in India for automatic payments has been revised. This has impacted businesses including the likes of Apple and Google. If you are having similar issues, today this article will guide you to fix your credit card deleted by Google and similar brands after the RBI mandate in India. Meanwhile, you can also learn to buy an App or Subscription without a card or UPI.
Why Has This Change Come?
Before we jump into the fixes, let's quickly understand what's happening. Basically, to ensure the safety of transactions, RBI has stopped auto-debits for bill payments and additional authentication will be required to complete the transaction. This would prevent fraudulent transactions and ensure customer convenience.
What Has Been Affected?
This change has affected auto-debits across various businesses, including Apple and Google. Apple is no longer auto-debiting from your card for its monthly subscriptions and you are now required to add Apple funds to continue your transactions seamlessly.
Similarly, you need to re-enter your card details across platforms like Amazon or Google in order to continue the payments. According to the new rules, any recurring transaction above Rs 5,000 will requires a One Time Password (OTP) from customers.
Ways to Fix Deleted Credit Card Issue After RBI's New Rule
Now, that we have understood the changes made by RBI, and how it has affected the payment system. Let's look at all possible ways and fixes for the card deleted by Google, Apple, Amazon, etc. after this rule, to make payments again.
Re-enter Your Payment Method
If you just have a single credit or debit card added to your Google Account, you can update and resave your card by adding it again and making a single manual payment. This will automatically update your older card and treat it as a new one. Here's how to do it:
1. Log in to your Google Ads account, and click on Tools and Settings.
2. Choose Summary under the Billing sub-menu.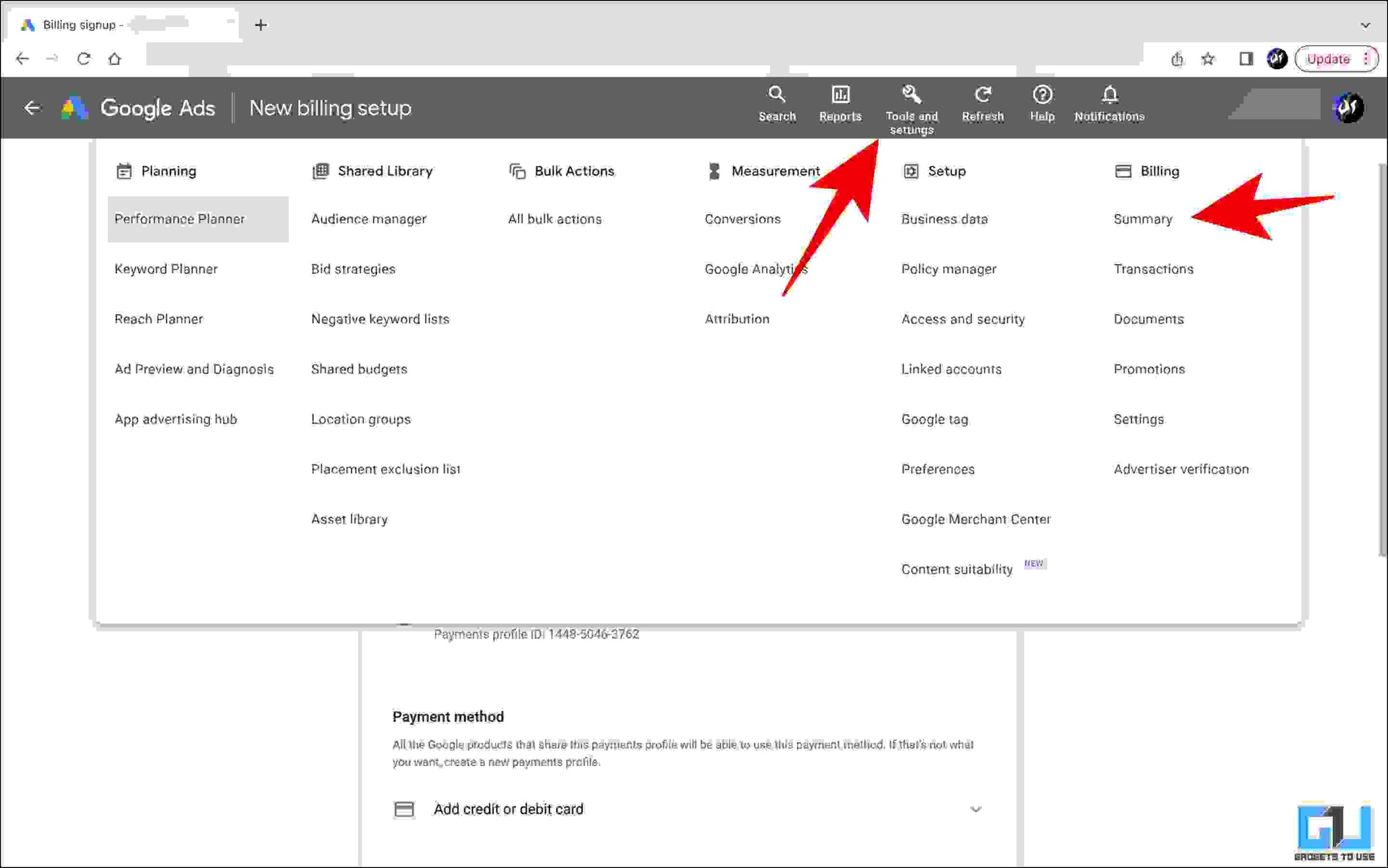 3. On the payment screen, click on Remove Payment method.
4. Do note that Google will not allow you to remove your existing card until you add a new one.
5. In case you have just a single credit or debit card, you can re-enter the same card details.
Google will either add the new card and allow you to remove the existing one, or update it if it is the same.
Re-enter Your Card Details Every Time
If you do not wish to save your card, you might need to re-enter the card details every time you make a payment now. Here's how it works:
1. On the payment screen, choose credit card/debit card.
2. Enter your card details manually and make the payment.
Do note that this applies in case you are using a Rupay card since Rupay requires you to make manual payments every time.
Add A New Primary Payment Method
If you see an error with your automatic payment stating that Payment may fail after 30th Sept, you might need to add a new primary payment method to set up your RBI e-mandate.
1. Check if you're able to see a Fix Now button when you log in to your Google Ads Account. Click on it. If you don't see any pop-ups, follow the steps below.
2. On the payment screen, choose credit card/debit card.
3. Enter your new payment details. Make sure that it is a different card or payment method, from the one you were already using.
4. Make the payment.
If your card is compliant, its details will be saved automatically for recurring payments.
FAQs
Here are some frequently asked questions and their answers.
Q: Why is Google not accepting my credit card?
A: As per RBI's latest policy updates, now only a limited number of cards can work for automatic payments in India. To know more about this with possible fixes you can read our full article.
Q: How do I remove a Card from my Google Ads account?
A:  Google Ads console mandatorily requires one card as a payment method. To remove a pre-saved card, you can use any of the three solutions mentioned above.
Q: Which Cards are supported by Google Ads in India?
A: Google Ads now supports only Visa, MasterCard, and Rupay in India. If you are using Rupay, you will need to enter the card details every time you make a payment.
Q: Why my card is not working on Google Ads in India?
A: Google Ads does not support American Express, Diners, and Discover cards, starting 1st Oct 2022.
Wrapping Up
In this read, we discussed how you can fix your credit card deleted cards by Google. If you found this guide helpful, like and share it with your friends. Check out other useful tech tips and tricks linked below, and stay tuned to GadgetsToUse for more such tips and tricks.
Also, read:
You can also follow us for instant tech news at Google News or for tips and tricks, smartphones & gadgets reviews, join GadgetsToUse Telegram Group or for the latest review videos subscribe GadgetsToUse YouTube Channel.