How to Download and Setup E Rupee App
The Reserve Bank of India (RBI) has finally announced the launch of India's own digital currency known as the e-RUPI or e-Rupee on December 1, 2022. It is under a pilot testing phase right now and is available via only selected banks in selected cities now. In this read, we will discuss how you can download the e-Rupee app, set it up, and use it to send, receive, add and transfer money. Meanwhile, you can also learn about, UPI Lite, and how to Use It on your Phone.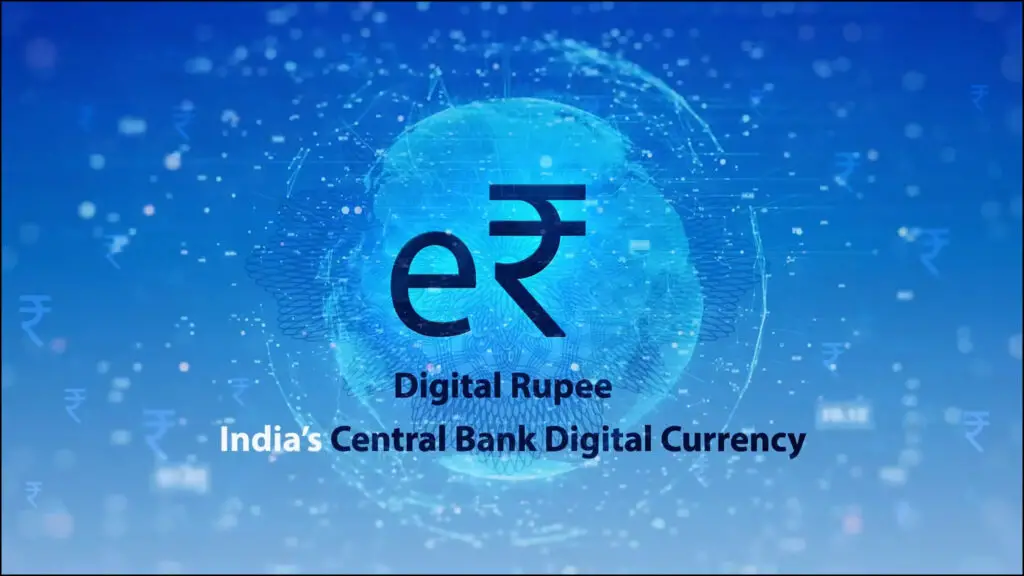 What is the e-Rupee or e-RUPI?
In simple terms, e Rupee is nothing but a Paytm Wallet-like Digital Wallet app from the Reserve Bank of India (RBI). Where you can add the balance from your Bank or UPI and use it to pay, for your day-to-day transactions, by scanning the e Rupee QR code. For a more detailed explanation from RBI, read the next paragraph.
The e₹-R would be in the form of a digital token that represents legal tender. It would be issued in the same denominations that paper currency and coins are currently issued. It would be distributed through intermediaries, i.e., banks. Users will be able to transact with e₹-R through a digital wallet offered by the participating banks and stored on mobile phones/devices. Transactions can be both Person to Person (P2P) and Person to Merchant (P2M). Payments to merchants can be made using QR codes displayed at merchant locations.
List of Participating Banks and Cities in the e-Rupee Pilot Programme
Currently, the below-mentioned eight banks are participating in the e-Rupee Pilot run program, it will be executed in a phased manner, and will include more banks in the future.
State Bank of India
ICICI Bank
Yes Bank
IDFC First Bank
Bank of Baroda
Union Bank of India
HDFC Bank, and
Kotak Mahindra Bank
Under the pilot run, e Rupee can be used in the following cities of India.
Mumbai (Initial Phase)
New Delhi (Initial Phase)
Bengaluru (Initial Phase)
Bhubaneswar (Initial Phase)
Ahmedabad
Gangtok
Guwahati
Hyderabad
Indore
Kochi
Lucknow
Patna
and Shimla
Steps to Download and Setup E Rupee App
1. Make sure to download the e-Rupee app from the official websites of the above-mentioned banks only, as the app is not yet available on Google Play Store and Apple App Store. For example, you can download the e-Rupee app from ICICI bank's website.
2. Either scan the QR code or click the download the app link.
3. Tap the Download anyways prompt, once the app is downloaded you need to enable Install from Unkown sources, else the app won't be installed on your phone.
4. Now, open the app, on your Android phone, and tap the Enter Button.
5. Allow the Phone and SMS permission to the e-Rupee app.


6. Tap the Accept button, to agree with the Terms and Conditions of the e-Rupee app.
7. Now, scroll through the welcome screens, and tap the Start Registration button.
8. On the next screen, choose either SIM 1 or SIM 2 based on your preference. tap the Verify SIM button.
9. You need to complete the registration process and create your Wallet PIN.
10. Link your debit card and select the respective account linked to that card.
How to Pay and Collect Money using the e-Rupee App?
1. Launch the e-Rupee app on your phone.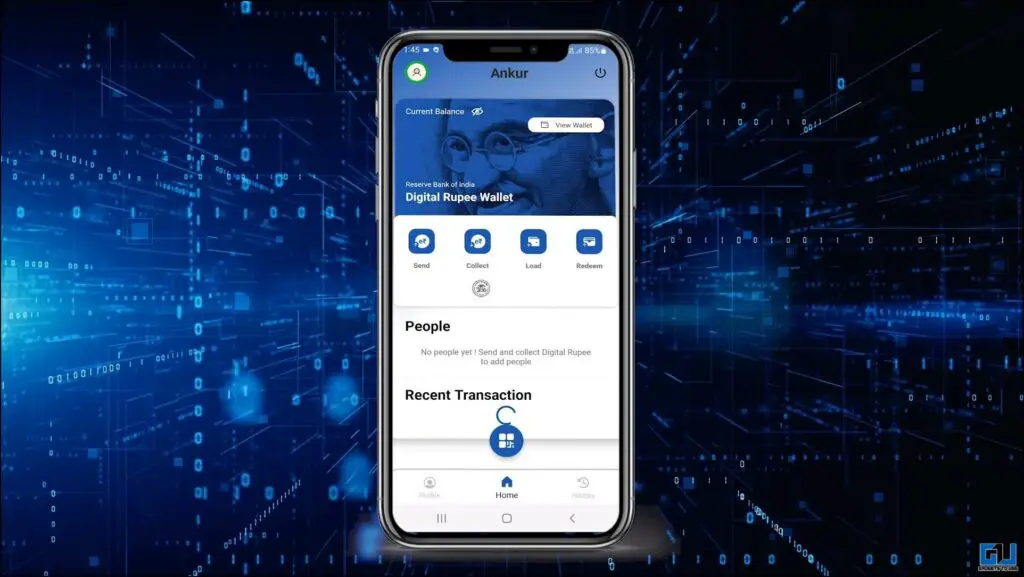 2. From the app dashboard, you will be able to send and collect money to and from someone by scanning the QR code.
How to Add Money to e-Rupee Wallet?
1. Launch the e-Rupee app on your phone.
2. From the app dashboard, tap on the Load button to add money to your e-Rupee wallet.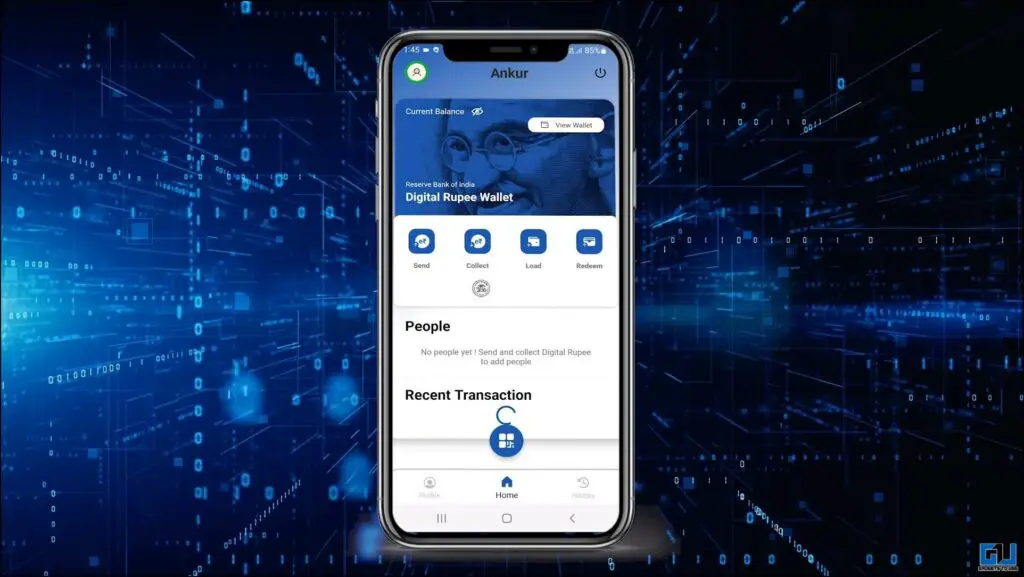 3. Now, you can switch between the Notes and Coins tab.
4. Scroll through the notes and coins you want to add, and: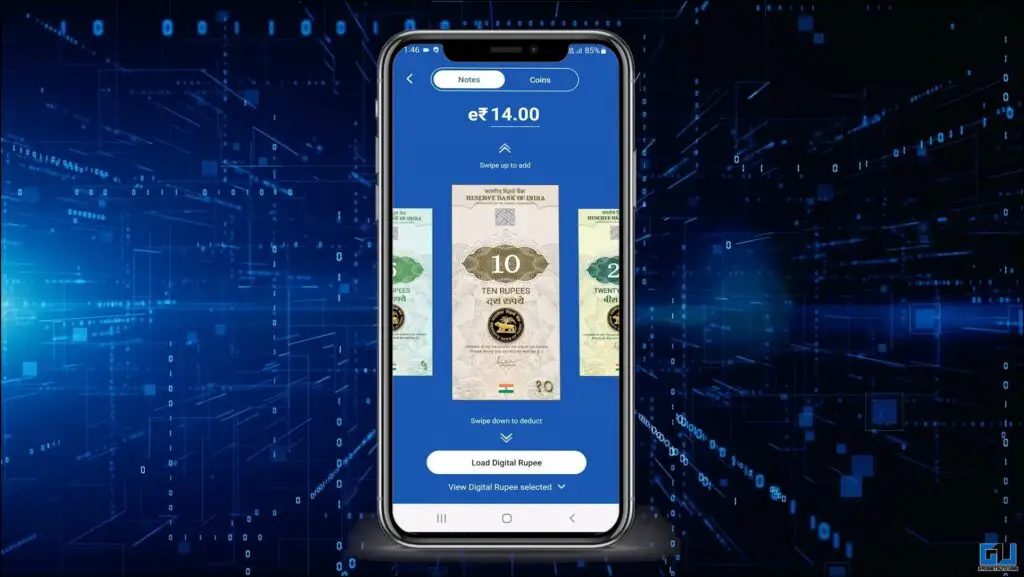 Swipe up on the note or coin to add it to your wallet, or
Swipe down to remove the note or coin from your wallet.
5. Select the bank or UPI account you want complete the payment from, and tap Confirm.
6. Now, tap the Load Digital Rupee button.
7. Enter your PIN or OTP to complete the transfer.
8. Similarly, you can transfer the e-Rupee wallet balance to your Bank Account using the Redeem button.
Wrapping Up
In this read, we discussed how you can download the e-Rupee app on your phone, set it up, and use it to pay, receive, add money, and transfer it back into your bank account. Currently, the app is under pilot testing and is only available via the partner bank websites only, we'll update this article once it is officially rolled out on the Google Play store and App Store. I hope you found this useful, if you did make sure to share it. Stay tuned to GadgetsToUse for more such tech tips, tricks, how-to, and news.
You might be interested in:
You can also follow us for instant tech news at Google News or for tips and tricks, smartphones & gadgets reviews, join GadgetsToUse Telegram Group or for the latest review videos subscribe GadgetsToUse YouTube Channel.