How to Complaint to RBI Ombudsman for Bank Not Refunding Money
Have you recently had a bad experience with your bank? Is your problem still not resolved? In such cases, there is a facility provided by the Reserve Bank of India (RBI), where you can lodge a complaint against all financial service providers such as banks and NBFCs, regulated by the central bank. Today we will discuss, how you can file a complaint with RBI Ombudsman.
Who is an Ombudsman?
Ombudsman is an official usually appointed by the government or by parliament but with a significant degree of independence. To study a dispute from a neutral viewpoint, and pass a judgment, to provide justice. Ombudsman has the power to investigate and file complaints against otherwise influential organizations or high-ranking officials. They can request key documents, interview individuals, and order a legal investigation if necessary. If agreed to, ombudsmen rulings are legally binding.
The Ombudsman for Digital Transactions is a senior official appointed by the Reserve Bank of India (RBI) to redress customer complaints against System Participants as defined in the Scheme for deficiency in certain services covered under the grounds of complaint specified under Clause 8 of 'The Ombudsman Scheme for Digital Transactions, 2019'.
When Can we File a Complaint with RBI Ombudsman?
You can not directly file a complaint with the RBI Ombudsman, as you need to meet the following criteria in order to file a complaint:
You have already raised the issue with your bank.
The bank hasn't given a reply within 30 days or has rejected the complaint.
You are not satisfied with the reply given.
If the above criteria are met in your case, then you can file the complaint Ombudsman for Digital Transactions within whose jurisdiction the branch or office of the bank, is located.
Steps to File a Complaint Against Bank With RBI Ombudsman
Now, that we know who is the RBI ombudsman, and when to file a complaint. Let's discuss how you can lodge a complaint with the RBI ombudsman, from the RBI website.
1. Visit the RBI complaints website on a browser to register a complaint.
2. Choose the 'Click here to file a complaint against any Regulated Entity' option.
3. Click on the File a Complaint button.
4. On the next screen you need to fill in the Captcha (case sensitive), and click Next.
5. After filling in the Captcha, you need to Enter Your Name, and Mobile number. Now click Get OTP.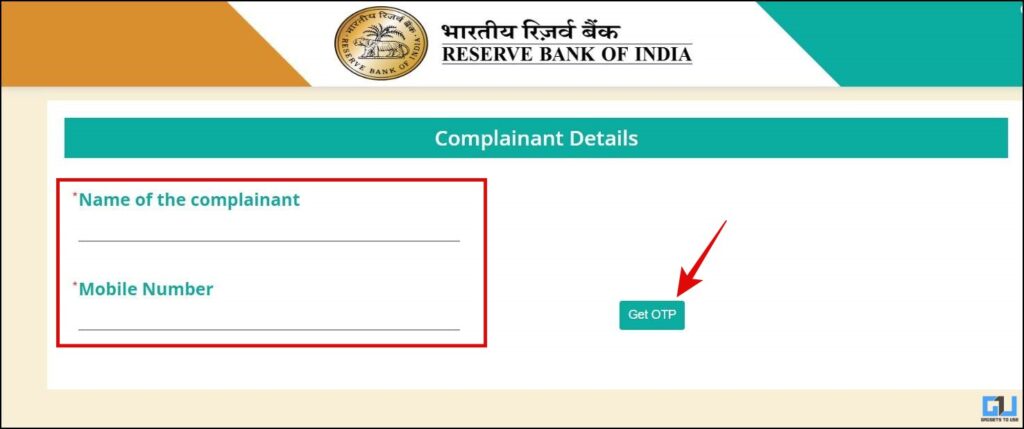 6. Now enter the OTP received on your phone, and click Validate to log in.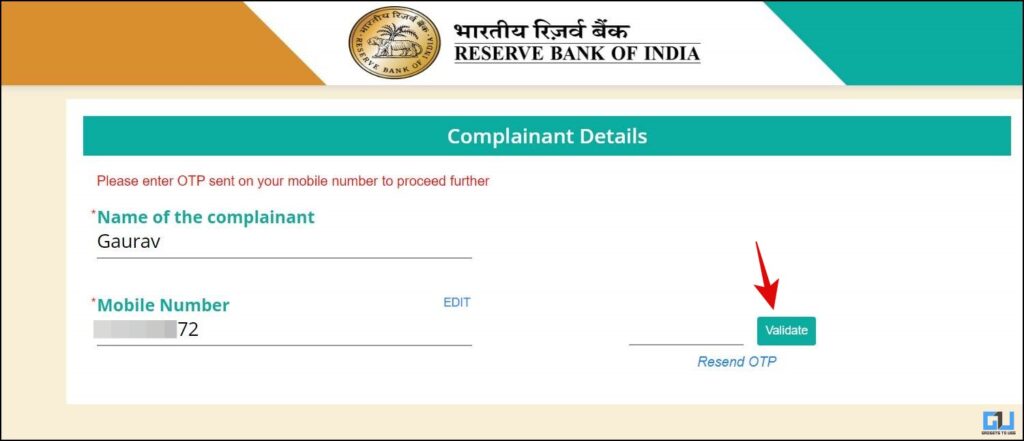 7. On the next screen, fill in the form details, like your email address, category, state of residence, district, etc. Along with the entity name from the drop-down menu, you are filing the complaint against. (bank in our case)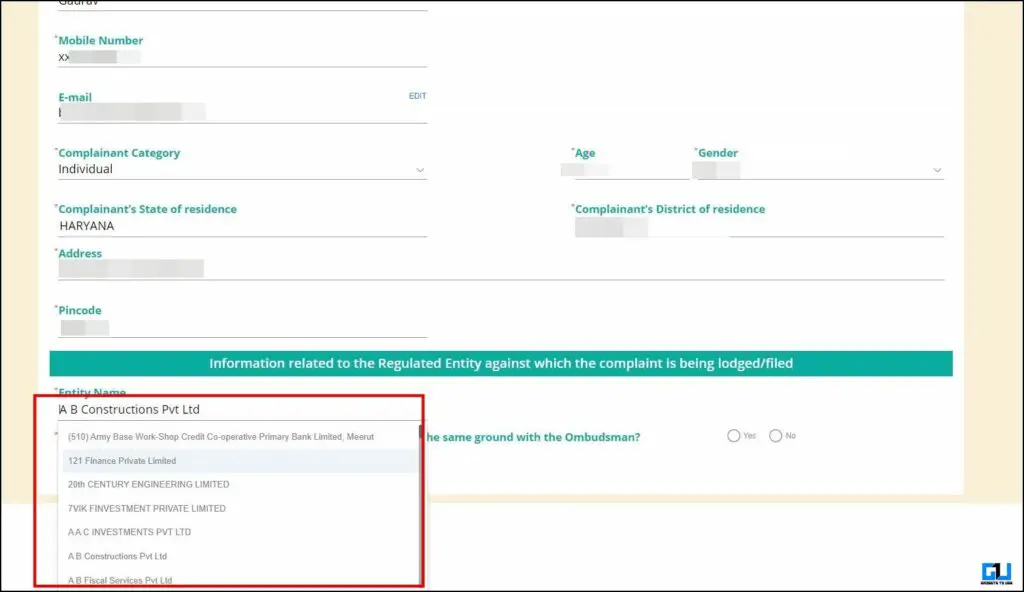 8. Now, you need to mention if your complaint is regarding a credit card or not, and fill in the required details.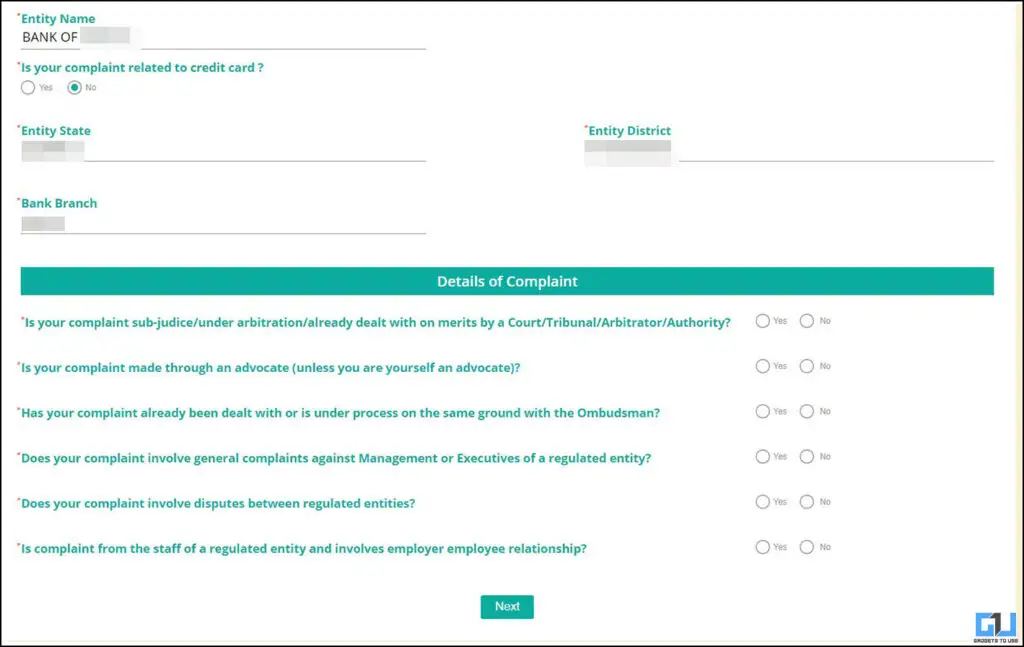 9. On the next page, you need to mention, whether you have submitted a complaint before. If you have not filed a such complaint with a Regulated entity before RBI will not accept it, and rather forward it to such an entity. If you have submitted it before then proceed.

10. Here, you need to mention the date of the complaint, upload supporting documents, transaction date, card number, account number, and more.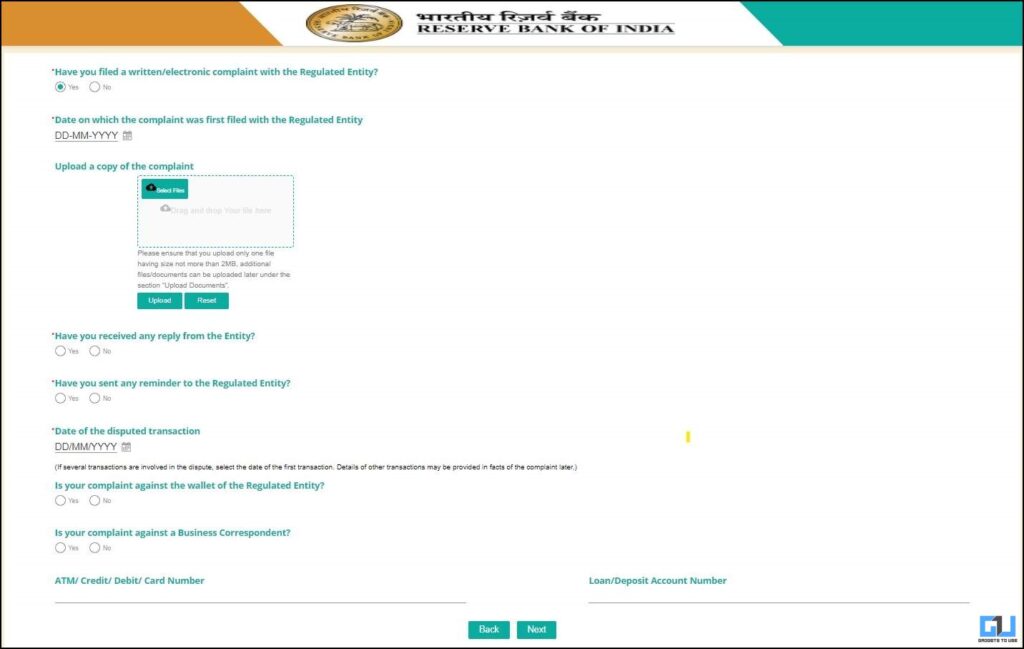 11. Scroll down and fill in more details about your complaint, like the category, sub-categories, facts, the amount involved, the compensation you sought for, etc. and click Next.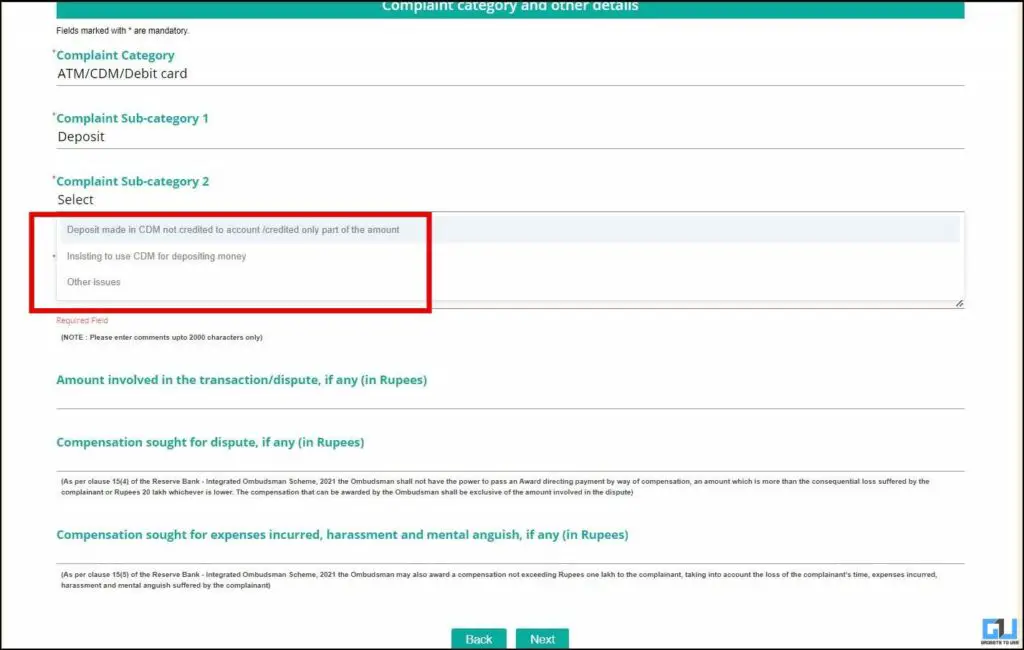 12. Finally, upload any additional documents, fill in details if you are authorizing a representative, and complete the declaration.
13. Now, click the Review and Submit button.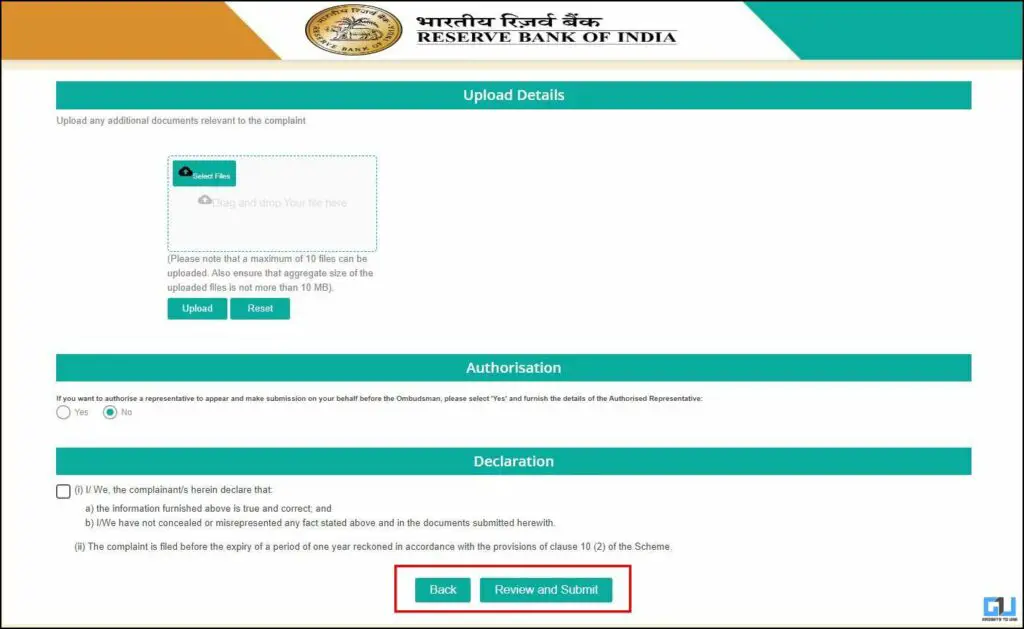 How to Track RBI Ombudsman Complaint
Now, once you have lodged a complaint, now let's look at how you can track your complaint, to know the current status.
1. Visit the RBI CMS website on a browser, and click on Track Your Complaint.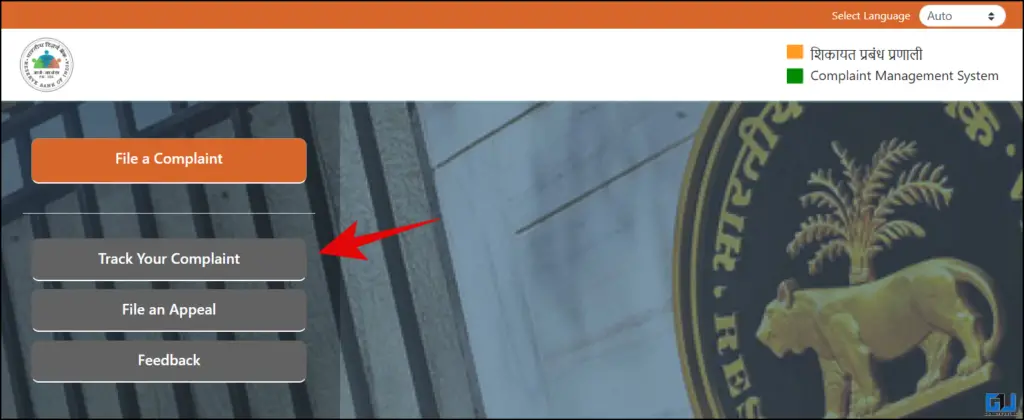 2. Enter your mobile number and the OTP. Now, click Submit.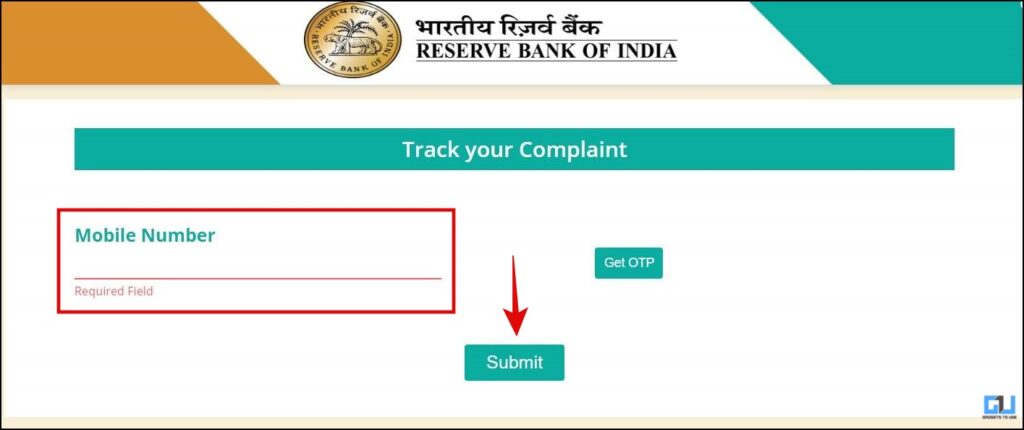 3. Now, you will be able to track the status of your complaint.
Wrapping Up
In this read, we have discussed how you can file a complaint against a bank with RBI in India. Do note that you can't file a complaint directly with the RBI ombudsman, as you need to meet certain criteria, or else your complaint won't be registered with the ombudsman. I hope you found this useful, check out other tips linked below, and stay tuned to GadgetsToUse for more such tips.
Also, Read:
You can also follow us for instant tech news at Google News or for tips and tricks, smartphones & gadgets reviews, join GadgetsToUse Telegram Group or for the latest review videos subscribe GadgetsToUse YouTube Channel.