Hive Social vs Mastodon: Which Is the Better Twitter Substitute?
Ever since Elon Musk bought Twitter at a whopping $44 billion price tag, the platform has truly become more chaotic and unstable than ever. Amongst new changes, the Twitter Verified feature has now been monetized, leaving influencers and renowned handles baffled, eventually leaving Twitter. This guide will compare two such popular alternatives, Hive Social and Mastodon, with their respective features. Additionally, you can check out our guide to identifying Real vs Fake Twitter Accounts.
Hive Social VS Mastodon: Which Should you Pick?
To pick your next best Twitter substitute, it is important to identify and analyze the differences between the two platforms. We tested them for quite some time and compiled the best details, so you don't have to do the research. So without any further delay, let's get started.
Network Structure of Platform
Before we get to minute details, it is important to discuss the network structure of the platform to know details about its functioning. Hive works on a centralized network similar to other social media platforms like Twitter. This means that a central authority will always be responsible for all ongoing activities on the network. While this structure might look fruitful initially, it is not so beneficial in the long run to allow a single entity to control the entire system.
On the other hand, Mastodon has been designed with the de-centralized approach, meaning no single entity can entirely control it. As a result, it can't be sold and won't go bankrupt. Further, Mastodon is open-source, allowing other developers to use and modify its code, abiding by the platform rules and regulations.
Twitter – Centralized Network
Hive – Centralized Network
Mastodon – De-centralized Network, and open source
Interface
At first glance, both platforms will resemble the typical Twitter look however they have their own set of differences, mentioned as follows:
Hive
Hive offers a simple and intuitive interface. Everything you need to browse and interact with the platform is just a tap away. If you like things straightforwardly, you're going to love it.


Mastodon
Mastodon works on the concept of servers. These servers are communities of people sharing a similar interest. When you create a new account, you will be asked to pick your desired server, confusing its importance for first-timers. It is only after a few minutes of browsing and exploration, that the user understands how to configure the account for communication. However, there's no restriction on the number of accounts you create on different servers, and interaction between them is fluent as on other platforms. As per Mastodon, it is a network of interconnected social networks based on a common platform.


Browsing Experience
The browsing experience can make or break the popularity of a platform. When it comes to Hive and Mastodon, the browsing feels similar to Twitter, with certain shortcomings. Here's how it fairs out.
Hive
With over a million users joining Hive Social after Musk's Twitter takeover. You can perform similar actions to retweet, quote a tweet, like, or post a new tweet, on your Hive account, just like Twitter. However, we found the app largely image-driven, with fewer relevant posts to discover in the Discover tab. Luckily, the platform is still ad-free, but the developer plans on adding minimal intrusive advertisements shortly to increase revenue.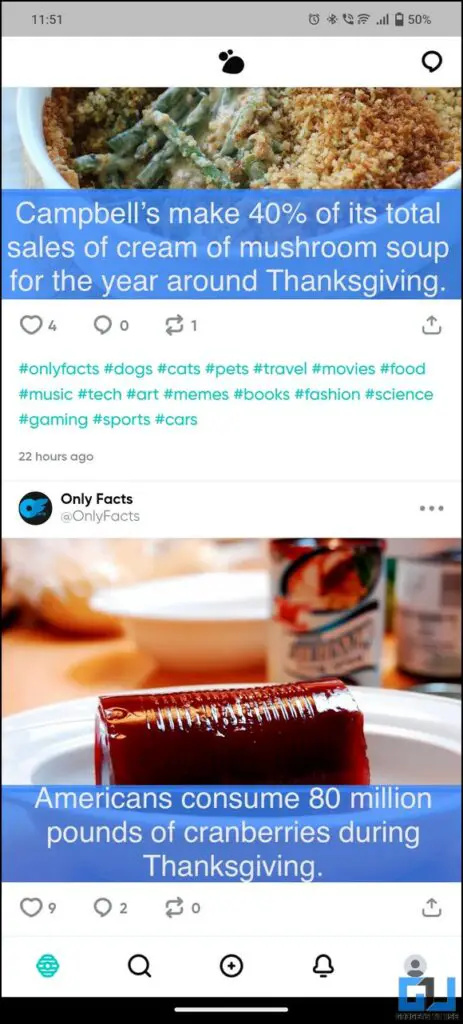 Mastodon
Released in late 2016, Mastodon offers a more refined browsing experience with over 2.5 million new users on the platform. It has been ad-free for a long time, and offers browsing features similar to Twitter but lacks certain functionalities, such as quoting a tweet and a dedicated direct messaging tab.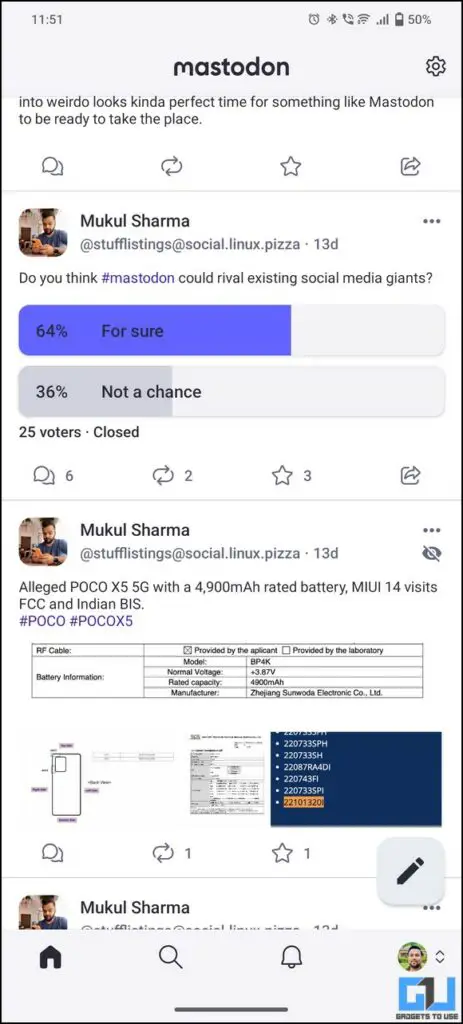 Additional Features
While Hive and Mastodon may have succeeded in resembling the Twitter UI, they boast useful additional features to create a unique identity of themselves as a social media platform.
Hive
Unlike Twitter, Hive Social allows you to personalize your account by setting different color themes to your liking. In addition, you can set a 'profile visit song' using Spotify and Apple Music, that greets your profile visitors. (Remember, MySpace had a similar feature, good old times!). What's more interesting to note is that Hive Social doesn't have a character limit which means you can write a long post instead of splitting it into several threads on Twitter.


Mastodon
Unlike Hive, Mastodon allows you to form communities using the company's servers to bring people together with like interests. Also, each community has rules and moderators to manage and monitor all ongoing activities inside a server. For example, a British server (community) might allow you to post something British, which may be flagged as inappropriate if posted on a different country server. So, if you're trying to connect with people of similar interests, Mastodon is your one-stop platform.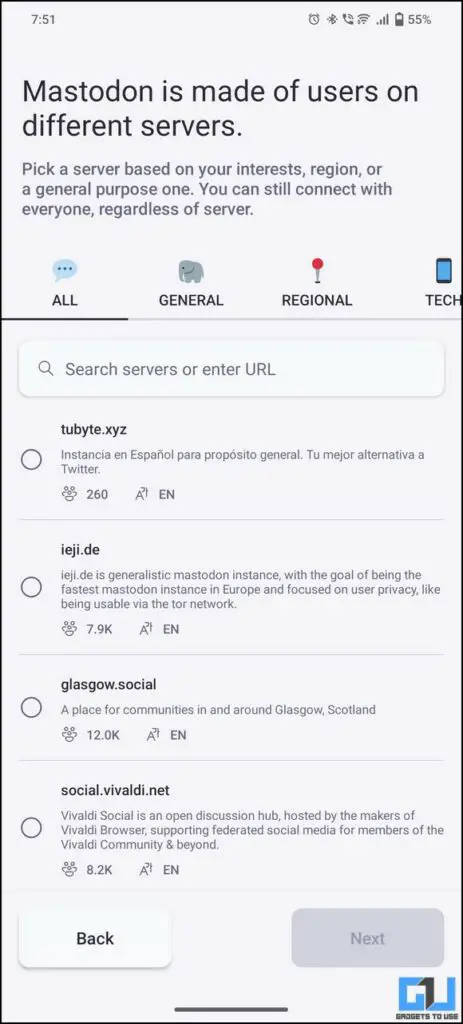 Cross-Platform Availability
Besides features, the availability of a social platform across different devices makes a big difference. For example, Twitter is available across different devices, including smartphones and desktops, making it easier to access without relying on a specific device to use it.
Similarly, you can access Hive Social on your phone, through Hive Android App and Hive iOS App, respectively. However, there's no web version of it as of now. Conversely, Mastodon is available across all platforms, including Android, iOS, and the Web, to access and use it seamlessly.
Security
While testing both platforms, we found user security to be a little dicey, which might pose a privacy and security threat to its users. Unlike Mastodon, Hive doesn't offer 2-Factor Authentication, which is essential to keep your account safe in case it gets compromised. On the other hand, community moderators in Mastodon can view messages exchanged in a one-to-one conversation with its participants posing a big threat to privacy. However, what's common in Twitter, Hive Social, and Mastodon is that they do not offer end-to-end encryption yet.
2FA on Twitter – Yes
2FA on Hive – No
2FA on Mastodon – Yes
End-to-End Encryption – None of them have E2E Encryption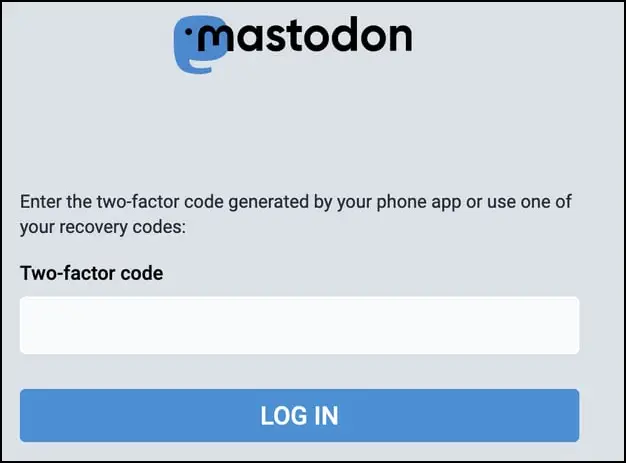 Content Moderation
Both platforms offer no restriction on nudity or following certain profiles. Hive offers the NSFW option for posting adult content while manually adding a warning to your content does the job on Mastodon.
No Content Restriction on Hive and Mastodon
NSFW tag on Hive
Hive Social
Mastodon
Popularity
Coming to popularity, neither of the platforms is lacking to attract new followers, and transform into a stronger Twitter substitute. As per reports, Hive Social announced that it had gained 2,50,000 followers overnight after Elon musk's interaction with a tweet questioning the existence of Hive. At the same time, Mastodon claims to gain over 1 million active monthly users after Elon took control at Twitter.
Our Take: Hive Social VS Mastodon
We found Hive Social to be a lot cleaner and easier to use than Mastodon. However, both platforms have their own set of pros and cons. Besides being feature-rich, Mastodon's server approach is a lot confusing to start with, but you might find it more useful and appropriate in the long run over Hive. Let us know your pick in the comments below and subscribe to GadgetsToUse for more interesting reads.
You might be interested in the following:
You can also follow us for instant tech news at Google News or for tips and tricks, smartphones & gadgets reviews, join GadgetsToUse Telegram Group, or for the latest review videos subscribe GadgetsToUse Youtube Channel.