'From shock to anger' – how golf reacted to merger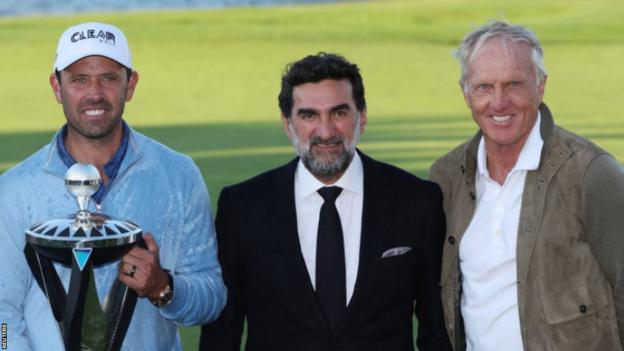 Professional golfers have expressed their anger at the PGA and DP World Tour announcing a merger with LIV Golf.
Barstool Sport's Dan Rapaport told BBC Radio 5 Live he spoke to several players immediately after the deal with the rival circuit was announced.
"The initial reaction was shock and then it turned to anger," he said.
"There are a lot of players who turned down a lot of money who are wondering 'what's the deal?'"
The Telegraph's golf correspondent Jamie Corrigan added that the deal "has been conducted in incredible secrecy".
"It's been a total mess and they will present it as they've made the warring fairways peaceful again, but they've still got a long way to run," he said.
"Forget about growing the game and sportswashing, all this comes down to money and power."
'Just more evidence of the onward march of Saudi sportswashing'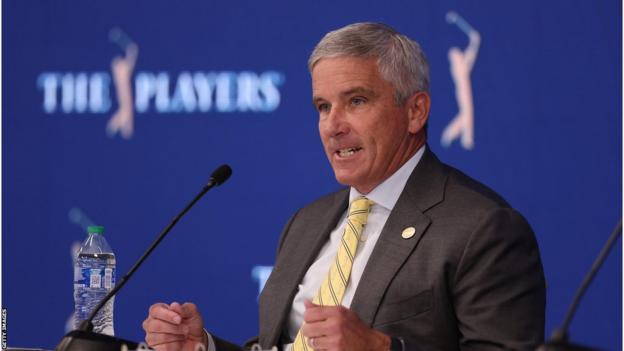 The PGA Tour has been defending its position since talk of a rival circuit began, and there was litigation pending with breakaway tour LIV.
But they have agreed to combine their commercial operations and rights into a new yet to be named for-profit company, of which PGA Tour commissioner Jay Monahan will be chief executive.
Yasir Al-Rumayyan, governor of the Saudi Arabia Public Investment Fund (PIF) which backs LIV, will be chairman of the new entity and was interviewed with Monahan on Tuesday.
BBC golf correspondent Iain Carter said: "For the last year, Jay Monahan has not been prepared to say the words 'LIV' or 'Saudi Arabia', he's been as disparaging as he possibly could be.
"Now they're sitting together on a couch having thrashed out this deal. Have LIV bought world golf today?"
Amnesty says the merger is further evidence of Saudi efforts to draw attention away from the country's human rights record.
"While this may have taken some golf fans and commentators by surprise, it's really just more evidence of the onward march of Saudi sportswashing," said Felix Jakens, Amnesty International UK's head of priority campaigns and individuals at risk.
"It's been clear for some time that Saudi Arabia was prepared to use vast amounts of money to muscle its way into top-tier golf – just part of a wider effort to become a major sporting power and to try to distract attention from the country's atrocious human rights record.
"Away from the glamour of the golf courses and the TV cameras there's been mounting repression in Saudi Arabia, with government critics and human rights activists arrested, a spate of unfair trials, and with the death penalty widely used, including as a tool of political repression.
"The world of golf may be about to put one of its most high-profile commercial battles behind it, but it's vital that this latest surge in Saudi sportswashing isn't allowed to obscure the increasingly dire human rights situation in Saudi Arabia."
Speaking to the BBC, DP World Tour chief executive Keith Pelley said: "This has never been about sportswashing."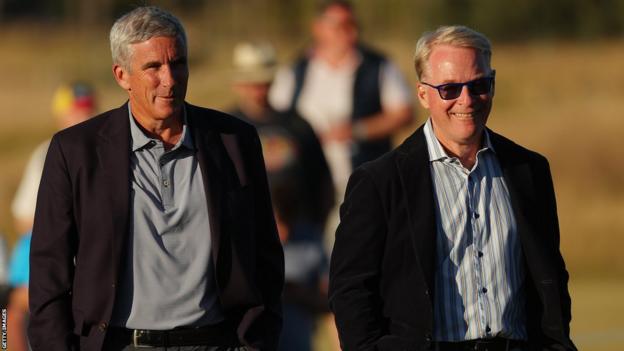 'One of the saddest days in golf history' – how golf reacted
Those players who accepted lucrative deals to join LIV have taken Tuesday's news better, such as five-time major winner Brooks Koepka.
Referring to ex-PGA Tour player and golf analyst Brandel Chamblee, who has been one of LIV's most outspoken critics, Koepka said on social media: "Welfare Check on Chamblee."
Speaking on the Golf Channel, Chamblee responded by saying: "I was completely shocked. After the shock sort of ebbed away, I was hugely disappointed.
"I think it is one of the saddest days in the history of professional golf. I do believe that the governing bodies, the professional entities, have sacrificed their principles for profits.
"Will the game of golf still have its integrity? This is about the future, the legacy of golf. This is so much bigger than any of us."
Six-time major winner Phil Mickelson, one of the first big names to switch from the PGA Tour to LIV, added: "Awesome day today."
However, with more than a hint of sarcasm, two-time major winner Collin Morikawa and fellow American Wesley Bryan said they "love finding out on Twitter".
Bryan added: "This is amazing. Y'all should be ashamed and have a lot of questions to answer. I feel betrayed, and will not not be able to trust anyone within the corporate structure of the PGA Tour for a very long time."
Canada's Mackenzie Hughes said: "Nothing like finding out through Twitter that we're merging with a tour that we said we'd never do that with."
American Michael Kim added: "The hell is going on? Very curious how many people knew this deal was happening. About 5-7 people? Player run organisation right?"
Compatriot Dylan Wu said: "Tell me why Jay Monahan basically got a promotion to CEO of all golf in the world by going back on everything he said the past 2 years. The hypocrisy. Wish golf worked like that. I guess money always wins."
Former BMW PGA Championship winner Ben An said: "I'm guessing the LIV teams were struggling to get sponsors and PGA Tour couldn't turn down the money. Win-win for both tours but it's a big lose for who defended the tour for last two years."