France riots: Why are police using guns during traffic stops?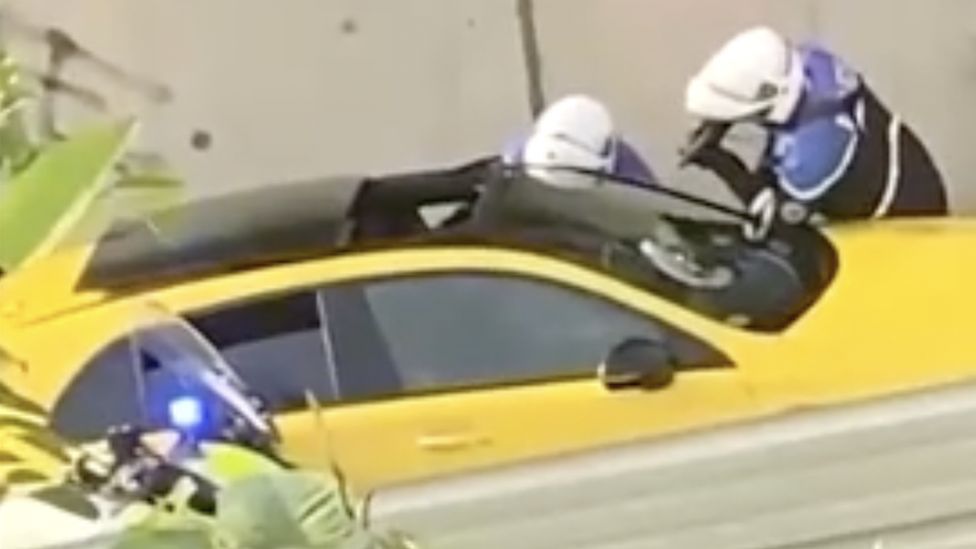 The fatal shooting by police of a 17-year-old boy driving a car in a Paris suburb is the latest in a spate of such deadly incidents in France.
It was the third killing this year during a police traffic stop and followed a record 13 deaths last year.
Most of the victims have been of black or Arab origin, Reuters news agency reports.
What is the legal basis for firing during a traffic stop?
By law French police are allowed to shoot in five instances following a 2017 change in the law.
That includes when the driver or occupants of a vehicle ignore an order to stop and are deemed to pose a risk to the officer's life or physical safety, or other people's.
France's human rights ombudsman has opened an inquiry into Tuesday's killing of Nahel M, the sixth such inquiry since the start of last year.
The officer involved has been charged with homicide.
Why did France expand the police use of guns?
France is no stranger to unrest in its banlieues – poorer outer suburbs with high levels of unemployment and crime – and police say they are facing increasing levels of violence.
In 2016, in a housing estate outside of Paris, an officer suffered serious burns and was put in an induced coma after a group of youths pelted his patrol car with petrol bombs.
Police unions protested and demanded a strong response from the government.
In response, the then-interior minister Bernard Cazeneuve vowed to change the law on the use of firearms by police, and the passing of Article 435-1 of the penal code followed in March 2017.
What happened to Nahel M?
On Tuesday police shot dead a 17-year-old boy of Algerian descent, named as Nahel M, as he drove away from a traffic stop.
According to the Nanterre prosecutor, Nahel was shot after he refused to stop the car he was driving following orders by two policemen, who later said the vehicle committed various traffic violations and endangered pedestrians.
On Thursday, Laurent-Franck Lienard said his client discharged his firearm "in full compliance of the law".
"He did not act outside the legal framework," Mr Lienard said.
What do critics of the firearms law say?
Last year a study showed that fatal police shootings on drivers of moving vehicles had multiplied fivefold since the law was implemented.
Of the 39 people killed by police in 2022, 13 were drivers who were shot on the basis that they failed to comply with orders.
Critics argue the increase in such incidents is a direct result of Article 435-1, which they say is much too vague because it leaves officers to determine whether the driver's refusal to comply poses a risk.
Henri Leclerc, president of French NGO Human Rights League, said the law allowed officers to be "uninhibited" with their firearms as it provides them with "legal protection" for shooting.
Some politicians have also called for the law to be reviewed.
Far-left politician Jean-Luc Mélenchon has denounced it as a "right-to-kill" law.
How are the government and police defending the policy?
Interior Minister Gerald Darmanin has rejected the criticism of the firearms law and insisted fewer people had been killed by police since 2017.
However, a study by investigative media outlet Basta disputed this, saying that while 27 people were killed by police in 2017, that number grew to 40 in 2020 and increased further to 52 in 2021.
Earlier this week Mr Cazeneuve defended the legislation, saying "it does not at all give officers permission to shoot whenever".
The former interior minister told Le Monde that the legislation should not be blamed for police lack of professionalism or training.
Speaking to the BBC, the Unsad-Police trade union's Deputy Secretary General Thierry Clair said an investigation would determine whether the weapon had been used legally.
"The key thing is the principle of proportionality with the nature of the threat," Mr Clair said.
"For instance, one of the cases refers to stopping a vehicle whose occupants refuse to comply and present a risk for someone else if they attempt to escape.
"And the incident we're talking about – in which a weapon was used – might fall into that category."
How do police killings in France compare to other countries?
In 2021 there were 37 deaths during police operations in France, 10 of whom were shot dead, according to the latest report from the police regulator IGPN – a figure that is lower than the number cited by media outlet Basta.
That figure puts France at about 0.5 deaths per million people.
Countries tend to report these figures differently, so it's difficult to compare. For example, there is a question of whether the death occurred during the operation or after it.
But it's definitely considerably lower than the USA, where the figure was about 3.5 per million and Canada where it was about 1.5.
And it's higher than England and Wales, where there were two fatal police shootings and 11 deaths in or following police custody in 2021-22. That is about 0.2 deaths per million.
Additional reporting by Anthony Reuben