Fifa 'misled' public over carbon-neutral World Cup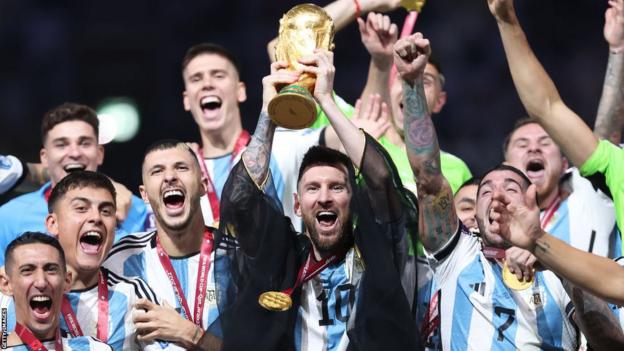 Fifa made false statements about the reduced environmental impact of the 2022 World Cup in Qatar, a Swiss regulator has said.
Football's world governing body claimed the tournament would be the first "fully carbon-neutral World Cup".
Advertising regulator the Swiss Fairness Commission (SLK) has upheld complaints from five European nations.
"Fifa was not able to provide proof that the claims were accurate during the proceedings," the SLK said.
In its decision, which is not legally binding, the SLK added: "The SLK has advised Fifa to refrain from making unsubstantiated claims in the future. Particularly the claim that the 2022 Fifa World Cup in Qatar was climate- or carbon-neutral."
Fifa, based in Zurich, said the World Cup had a footprint of 3.6 million tonnes of equivalent carbon waste, which was offset by a number of initiatives, such as offsetting every ticketholder's flight emissions, along with several other schemes such as electric mobility for public transport around the tournament.
The United Kingdom, Switzerland, France, Belgium and the Netherlands all challenged the statement with the SLK upholding each complaint "following an arduous and complex process".
In November, BBC Sport reported how environmentalists called Fifa's carbon-neutral claim "dangerous and misleading" and warned the tournament could have a carbon footprint three times greater than stated.
The complaints centred on the argument that Fifa's claim of a carbon-neutral World Cup is false because of an underestimation of emissions and a lack of credibility in its offsets, which, say campaigners, means consumers and fans are being misled.
"The SLK concluded that it should not be claimed that sustainability goals have been achieved if there are no definitive and generally accepted methods for measuring sustainability or ensuring sustainability measures have been implemented," the regulator added.
It said it could not judge whether Fifa's estimation of carbon waste was "realistic or accurate".
"In addition, the football body has repeatedly promised to fully offset emissions that will be definitively calculated at a later date," it added.
"However, it did not prove that the emissions stated in the ex-ante report had been offset and did not set out a plan to define how it will further offset emissions."
In response to the ruling, Fifa said it is "fully aware that climate change is one of the most pressing challenges of our time and believes it requires each of us to take immediate and sustainable climate action".
It continued: "Fifa is also fully aware of the impacts that mega-events have on the economy, the natural environment and on people and communities, and has been making substantial efforts to tackle those impacts and, at the same time, to use opportunities to maximise the positive effects of its most iconic tournament, including Qatar 2022. It remains committed to continuously improve its approaches in collaboration with key stakeholders.
"In reference to the recommendation by the Swiss Commission for Fairness in Advertising, Fifa is analysing the reasons for its recommendation, which may still be appealed."
Andrew Simms, director of the UK-based environmental group New Weather Institute – the organisation that submitted the UK's complaint – says more needs to be done to eliminate greenwashing.
Greenwashing is where the public is deceived into thinking an organisation's products, aims and policies are environmentally friendly.
"Fifa has been found out for using false green claims as a substitute for real climate action," said Simms.
"Regulators are slowly waking up to the scale of the issue and the threat it poses by sowing confusion to genuine efforts to tackle climate change. Big polluters are realising they are on borrowed time.
"But to protect people and nature, there's an urgent need for more robust and proactive regulation to stamp out greenwashing and cut the harm done by high-carbon advertising.
"Sport continues to be used as a giant billboard by some of the biggest climate culprits to promote polluting products and lifestyles, threatening the future of athletes, fans and the sport itself.
"It's time that sport, and its governing bodies like Fifa, used their power and position to accelerate the low-carbon transition, instead of delaying it and misleading the public in the process."