Ex-NFL player Mallett, 35, dies in apparent drowning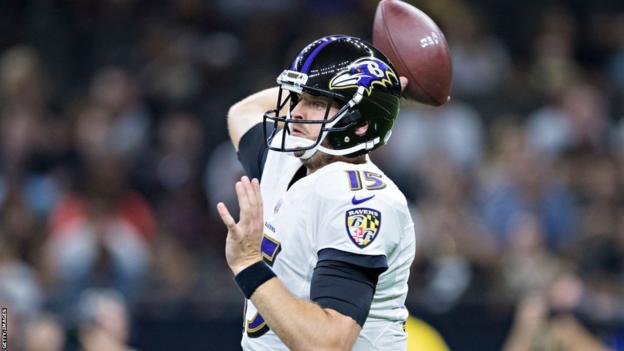 Former NFL quarterback Ryan Mallett has died in an apparent drowning at the age of 35.
Mallett, who played for the New England Patriots, Houston Texans and Baltimore Ravens, was on holiday with his girlfriend in Florida.
A third-round pick in the 2011 NFL draft, he was Tom Brady's back-up at the Patriots from 2011-2013.
After finishing playing in 2017, Mallett worked as a high school coach in his home state of Arkansas.
Okaloosa County Sheriff's Office said Mallett was one of a group of people reportedly struggling offshore in the coastal town of Destin when he went under the water.
He was not breathing when lifeguards pulled him out and "lifesaving measures were not successful".
"Ryan was a tremendous person and a loyal team-mate," said Baltimore in a statement. "He had an infectious personality, and throughout his time as a Raven, Ryan's charisma and joy for being around the team were consistently on display."
Ravens head coach John Harbaugh added: "Ryan was a part of us. I will always remember the love he had for his team-mates and for making the most of and enjoying every football day while here."
New England Patriots head coach Bill Belichick said he was "extremely saddened", while Burnley investor and former Texans team-mate JJ Watt, who received Mallett's first touchdown pass, said: "Horrible news to read… Gone way too soon."
In 21 career games in the NFL, Mallett threw for 1,835 yards and nine touchdowns.