This is a guest post by Sarah Pasiuk.
If you're island-hopping through Greece, you'll hear about Elafonisi Beach before long. It's one of the best in Crete and one of the most beautiful destinations, with a glistening lagoon, dramatic cliffs in the distance, and soft, rosy-pink sand where the land meets the ocean. 
Elafonisi is arguably the most beloved place for locals and travelers in Crete, Greece's largest island. It's an easy day trip from Chania City, too. 
Once you arrive, you'll find a developed shoreline with a lively atmosphere, calm waters, and an islet that seemingly stretches into the horizon.
In this post, I'll show you why Elafonisi Beach is worth visiting, how to get there, and the best things to do to make the most of your day!
Overview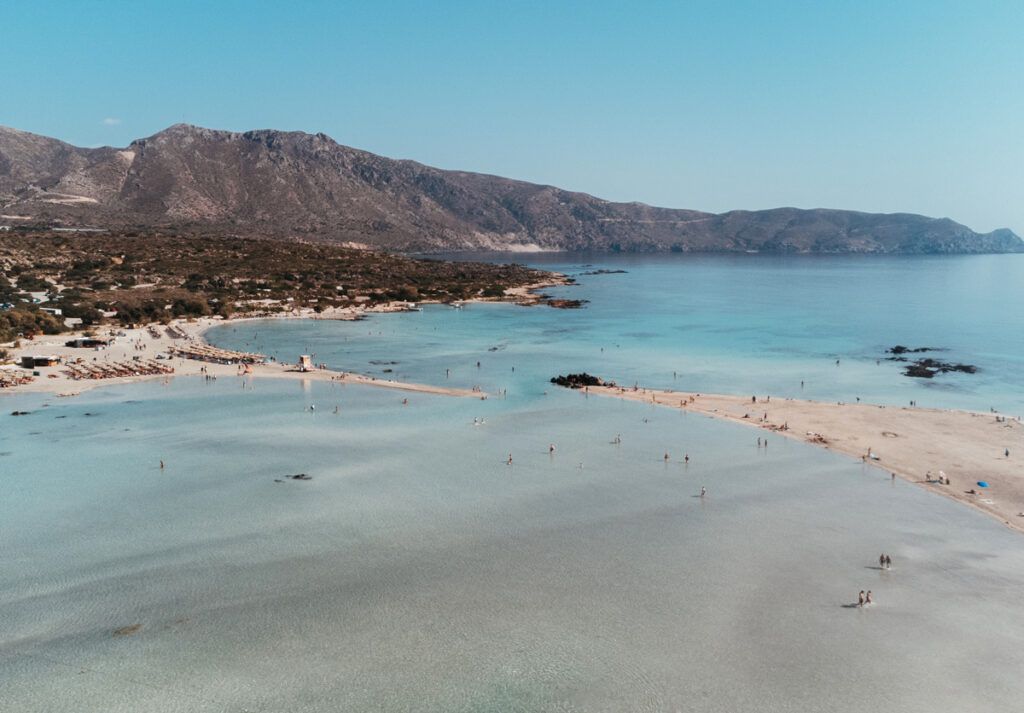 Elafonisi Beach is technically a long islet leading to Elafonisi Island. Usually, it's separated by a small, shallow lagoon (about 3-4 feet deep).  
There are sunbeds with thatched umbrellas for people just looking to chill, and a huge lagoon and island with historical sights for people who like to explore. The water stays shallow for a few hundred meters, so families with small children won't have to worry while their kids are playing or snorkeling in the lagoon. 
There are also plenty of facilities, including a snack bar, showers, and changing areas to clean the salt and sand off at the end of the day.
Is Elafonisi Beach worth visiting?
Yes. While it can be busy in the summer, it is still worth visiting for all types of travelers, from luxury solo travelers to adventure enthusiasts and families. The views are breathtaking, and there is so much more to the beach than meets the eye. 
How to Get to Elafonisi Beach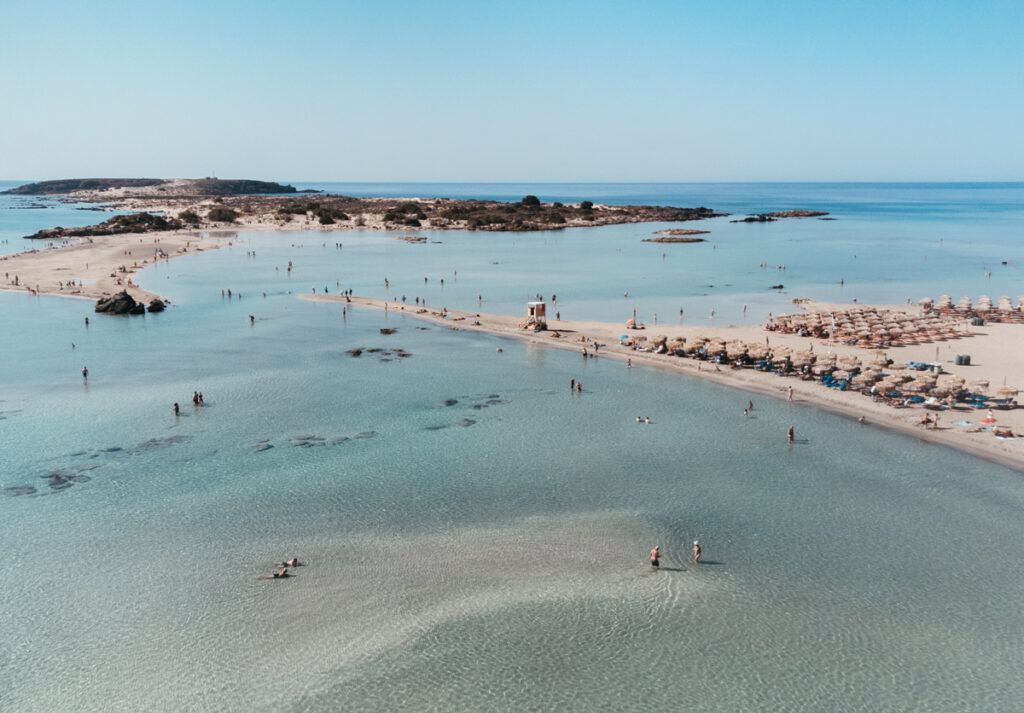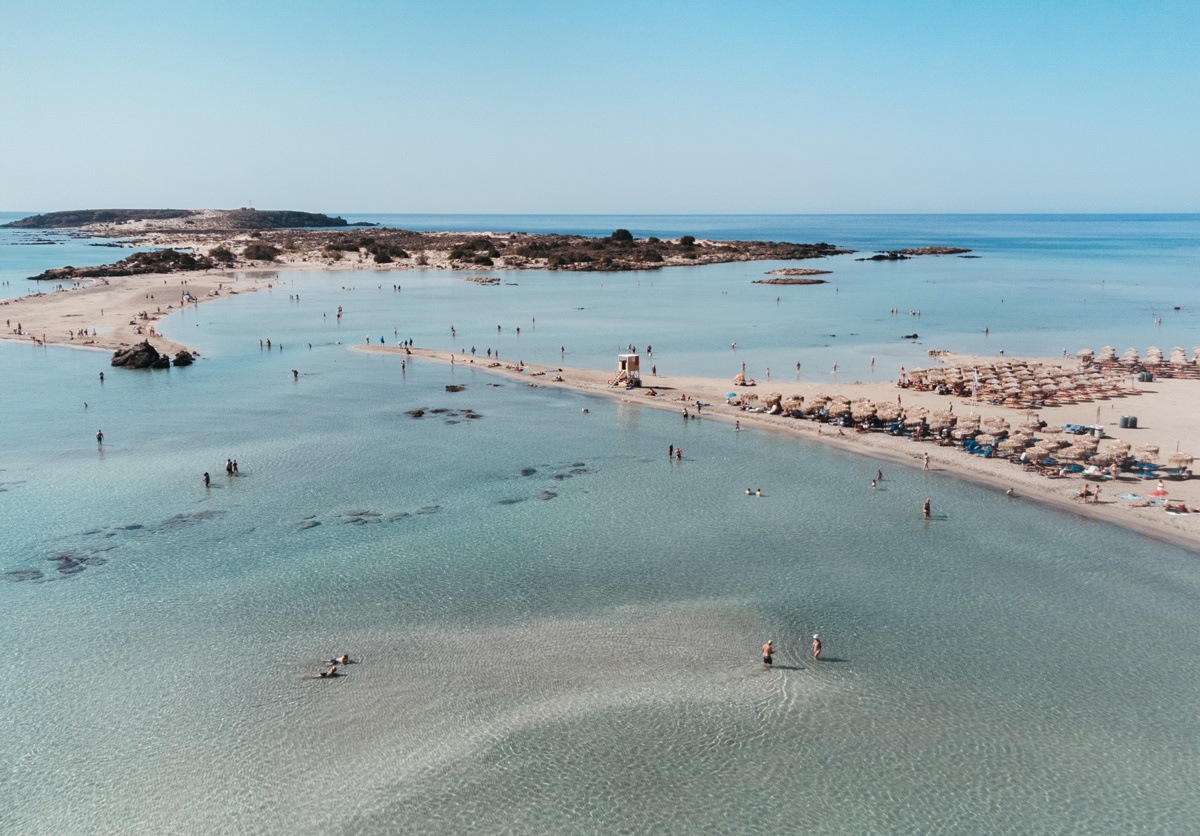 The beach is on the southeast corner of Crete. Although it's in the Chania region, it's 73 kilometers (45 miles) from Chania City, which takes about two hours by car. So you will need to think about how you will get to the beach ahead of time and set aside a day of your itinerary to make the trip there and back. 
There are three options: You can rent a car, take a public bus, or join a tour group. 
Renting a car
Renting a car is the most convenient way to get around Crete. It gives you total freedom and flexibility and is affordable, too. You can usually find a rental car for $20-30/day, even in peak season.  
Complete flexibility means you can get to Elafonisi Beach before all the tour groups and the public bus and enjoy a more relaxed atmosphere for the first few hours of the day, or stay into the evening, when people start filtering out. 
It's easy to find a car rental in Chania, Heraklion, and other large towns in Crete. However, the easiest way is to book one online ahead of time and pick it up from either of the island's international airports. 
Take a bus
There is only one bus from Chania to Elafonisi each day (from April to October). In the winter, the buses are even less common. 
The Chania–Elafonisi bus departs from Chania Bus Station at 9:00am, takes about two hours to get to the beach, and then returns to Chania at 4:00pm. 
The ticket costs €10 each way, and you can buy one in person or using this website. 
Take a day tour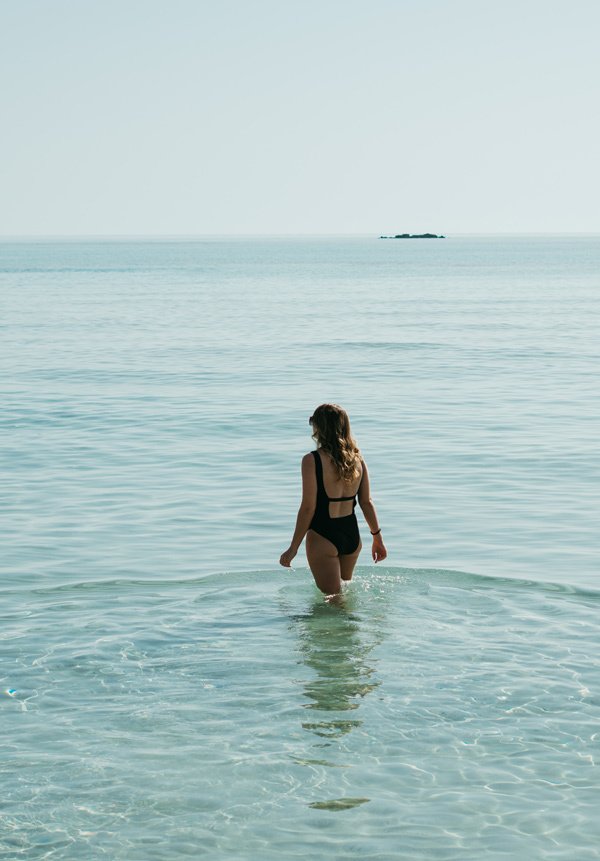 If you'd like to take the guesswork out of the equation, I'd recommend booking a day tour to Elafonisi. These usually leave in the morning from one of the major cities in Crete, providing all transportation, a local guide, and free time at Elafonisi. 
A day tour from Chania to Elafonisi Beach/Island is arguably the most popular such trip in Crete. This tour is super affordable, with hotel pickup and transportation in an air-conditioned coach bus and a local guide for about $30 (which is just $10 more than a round-trip public bus ticket). 
You'll get four hours to enjoy Elafonisi Beach, and then on the way back, the bus will stop at a tavern for those who are hungry to try some Cretan food for lunch!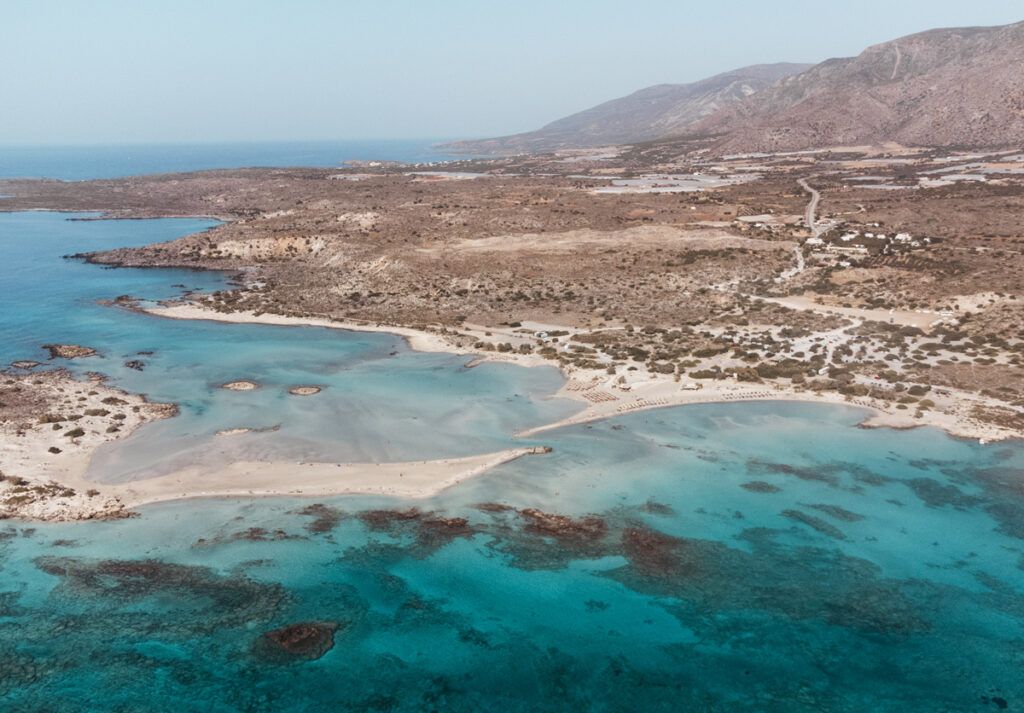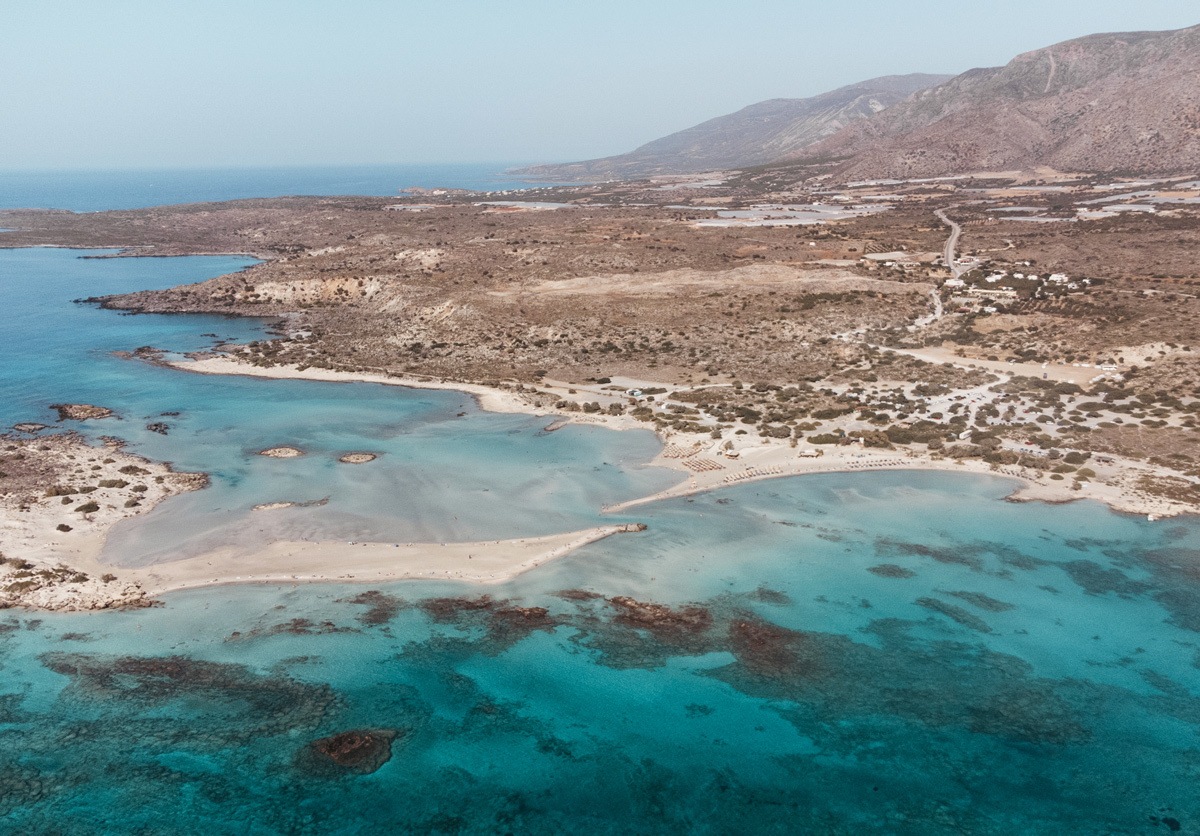 If you're staying in Heraklion, you can still find day tours to Elafonisi, but the drive is a little over three hours each way, so a tour from Heraklion is slightly more expensive.
This tour by Cretan Odyssey is the top-rated one to Elafonisi from Heraklion. It provides a hassle-free experience, with transportation in an air-conditioned bus (Crete gets hot in the summer) and then 4.5 hours at the beach, enough time to explore a little and relax on a sunbed. 
Note: There is no hotel pickup but rather a central meeting point in Heraklion. 
5 Things to Do at Elafonisi Beach
Elafonisi Beach is beautiful, so you shouldn't skip it. Many people come just for the view, but here are the five best ways to spend your time here. 
1. Grab a sunbed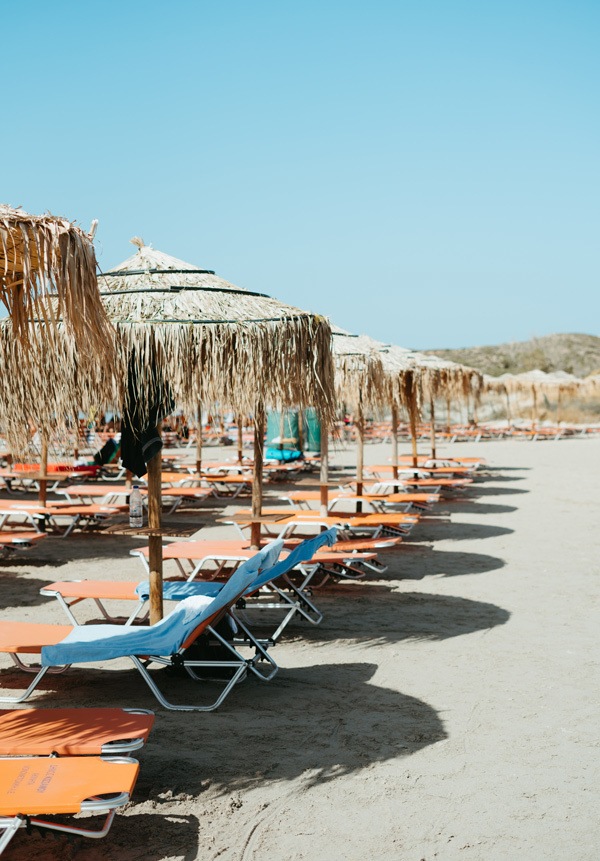 I don't know about you, but I get excited when I get to a beach and there are sunbeds with umbrellas to rent. It's much more comfortable than the sand!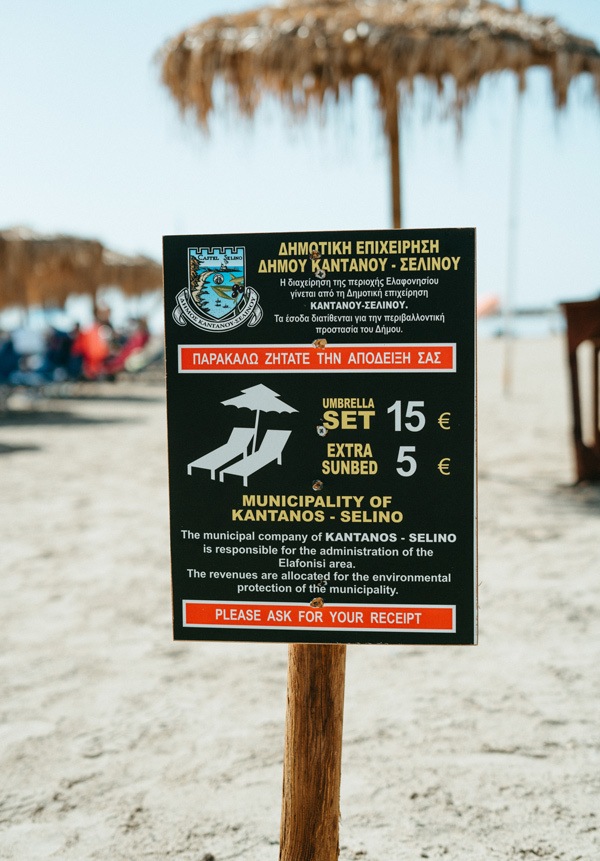 Like most beaches in Greece, Elafonisi has plenty of those lined along the shore. You can reserve a sunbed for the day for just €8 (two for €15) and alternate between shade and rays all afternoon. 
Many sunbeds are next to the beach bar, but if you'd like to rent a more secluded one away from the crowds, walk further to the northwest (right-hand) side of the beach. 
2. See the pink sand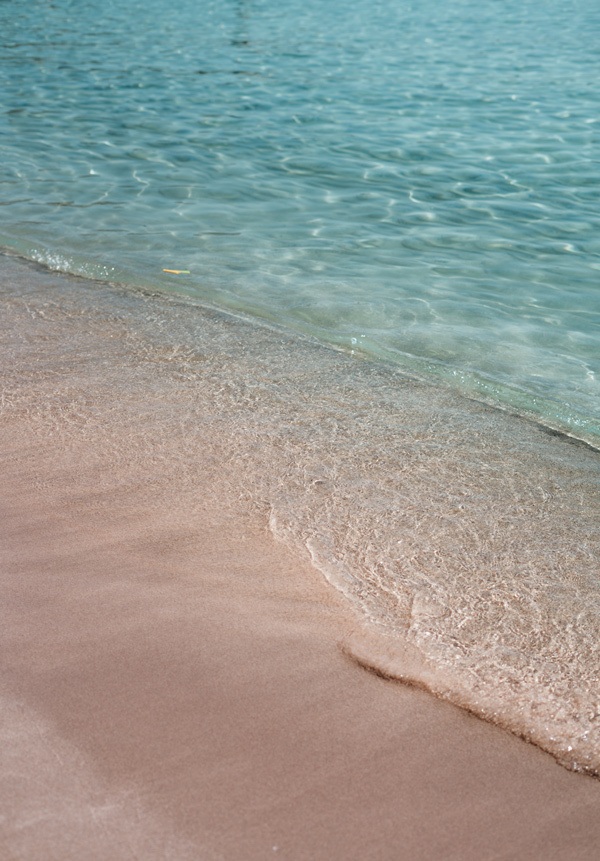 Elafonisi's claim to fame is that it has pink sand, but it's not as intense as most people expect. It has more of a pinkish hue rather than the vibrant color you see in pictures across the internet that are heavily edited. The color's intensity also depends on the time of year, the tide, and how the sun hits the sand.
Believe it or not, the most significant factor is what the microscopic pink shellfish eat before washing up on shore (which is why it's pink)!
Still, the sand near the lagoon undoubtedly has a pink hue, and seeing it in person is very cool!
And even though the lack of vibrant color leaves something to be desired, the beach is still stunning and would be worth visiting even without the pink sand.
3. Go snorkeling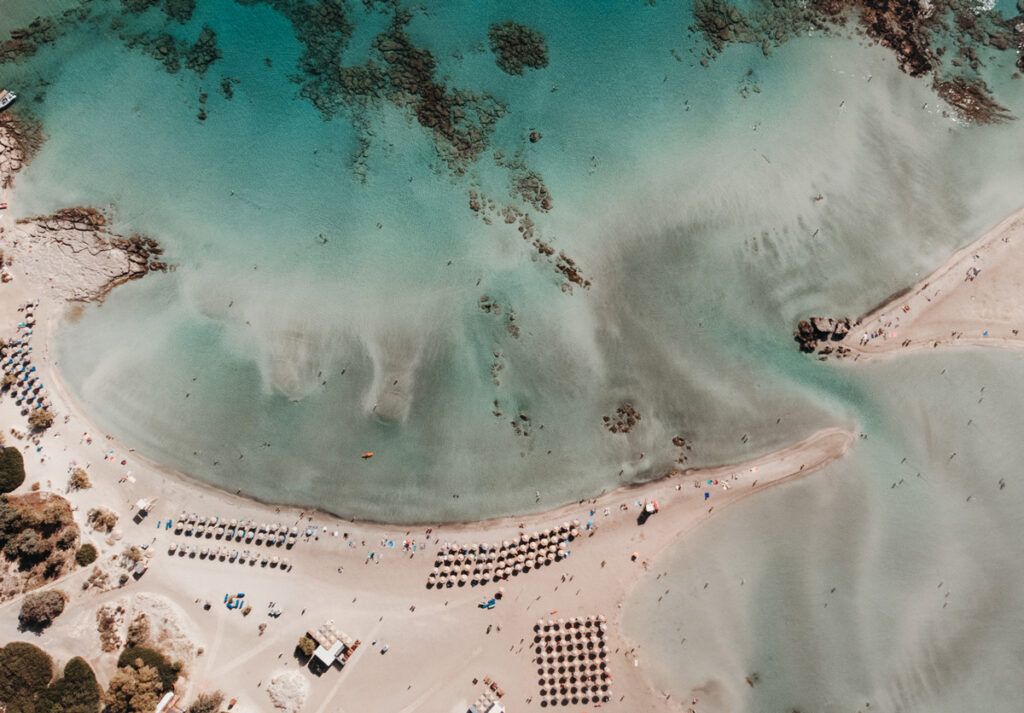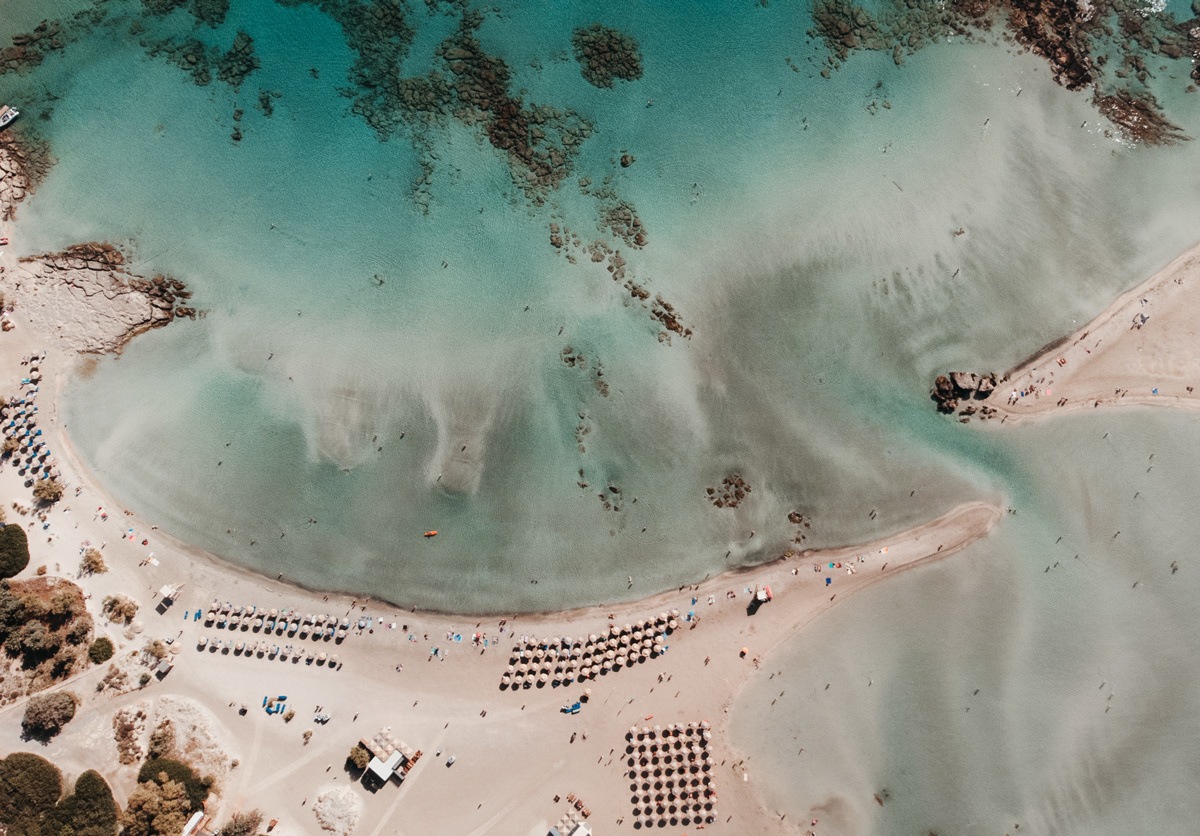 Elafonisi Beach consistently ranks as one of Crete's best places to go snorkeling. The water is warm, ever calm, and shallow, and almost always has up to 30 meters of visibility!
If you go snorkeling at Elafonisi, swim about 100 meters from the tourists to where the ocean gets deeper. It takes extra time and effort, but it's worth it! Here, you'll see more diverse marine life and even more cool rock formations. 
4. Hike to Kedrodasos Beach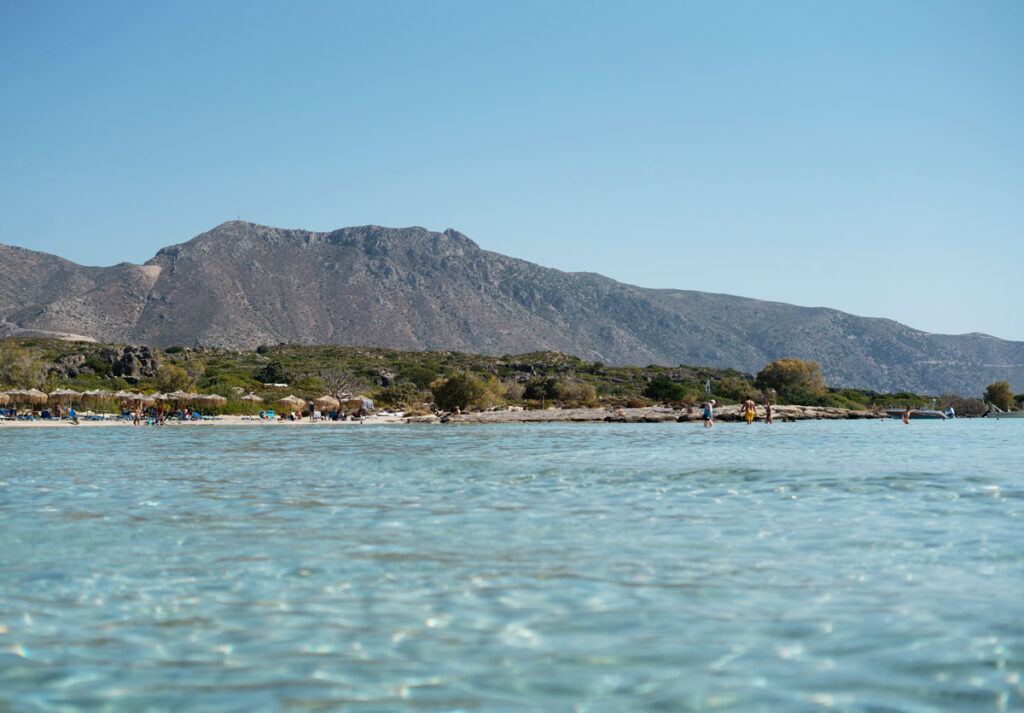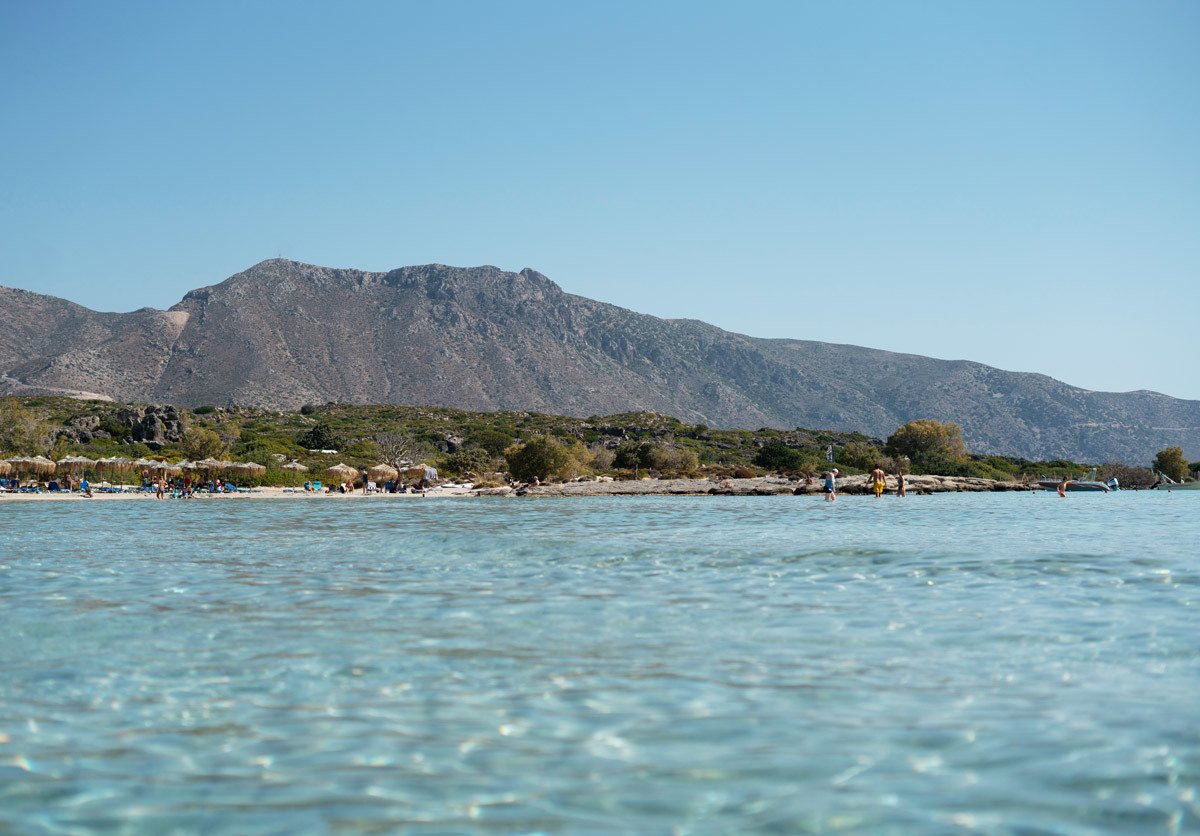 If Elafonisi Beach is too crowded, you should hike (or drive if you have rented a car) to Kedrodasos Beach. It's less than three kilometers (1.8 miles) and takes about one hour to hike each way, due to a little elevation. 
Kedrodasos Beach is like a separate world from Elafonisi Beach. There are no cafés, shops, cars, or sunbeds, and hardly any tourists. It's a scenic part of the E4 long-distance trail that cuts across the entire island. 
But the beach offers the same beautiful lagoons, views, and soft sand, plus a juniper forest along the coast. It's a great place to go during the middle of the day when Elafonisi Beach gets crowded. 
5. Water sports
For those wanting to get out onto the water, you can easily rent a paddleboard or a kayak for the afternoon at Elafonisi Beach. 
The typical prices for watersports are as follows: 
SUP = €15
Single kayak = €10
Double kayak = €20
Many paddle over to Kedrodasos Beach, but in my opinion, there is more to explore around Elafonisi Island. If you kayak toward the end of the landmass, there are some secluded coves, small historical landmarks, and the best view of Elafonisi Beach. 
There are also some small shops where you can rent Jet Skis or learn how to kite-surf. 
Where to Stay Near Elafonisi Beach 
Most people take a day trip to Elafonisi, so if you can instead stay near the beach and get there shortly after dawn, you'll experience the beautiful scenery without all the crowds.
It's even empty during peak travel season, as long as you arrive before 9 a.m.
There aren't many options for guesthouses near Elafonisi, but here are some highly rated lodgings near the beach: 
This is less than a two-minute stroll from the famous islet and just over one mile (1.6 kilometers) from Kedrodasos Beach. While it's not exactly a "resort," it does have over one thousand 10/10 ratings, and people can't say enough about this guesthouse! 
Another great thing you'll notice if you spend the night at Elafonisi Beach is how beautiful the sky is without light pollution from the cities. You'll have unparalleled stargazing experiences each evening right from your balcony.
For something near Elafonisi but a little closer to basic amenities like convenience stores and local tavernas, you should stay about 10 minutes north, in Moni Chrisoskalitissis.
Glykeria Hotel is the best value for your dollar in town, with speedy internet, a private balcony, and complimentary breakfast each morning at the house restaurant. If you stay at Glykeria Hotel, you'll have full access to the private pool and sun loungers with a panoramic view of the Mediterranean (or Libyan) Sea. 
Into off-the-beaten-path adventures? Walk down to the shore from the hotel, and you'll have Voulolimni Lagoon all to yourself!
Best Place to Stay in Chania City: Porto Antico
If you'd like to stay somewhere with more of a city atmosphere, you should book a room in Chania. This is where I recommend staying, because there is so much more to see and do in the evening. Chania is a charming coastal town with many restaurants and shops, nightlife, and beautiful Venetian ruins throughout.
If you'd like to base yourself here, Porto Antico is one of the best accommodations right on the harbor without spending a fortune. The boutique hotel has rooms with a view of Chania Lighthouse and the port, and it's easy to walk to the heart of Old Town. The staff is accommodating and takes pride in making guests feel at home. 
Final Thoughts
Elafonissi Beach is a place that you really shouldn't skip when taking a trip to Crete. It's probably already on your Greek bucket list, but if not, I hope this article showed you why it's worth putting near the top! 
The nice part is that there are several ways to get there, and it's easy to find once you arrive. Most travelers simply book a day tour from Chania, like this one. 
But if you're comfortable driving a car in Greece, I highly recommend renting one. Not only does this let you take your time at Elafonisi Beach, but you can also explore other lesser-known parts of Crete for the rest of your trip. 
I hope you have a blast and read more about how to make the most of your island-hopping in Greece! 
About the author: Sarah Pasiuk is the creator and co-founder of The Pazook Travel Journal, an adventure-travel blog for couples who want to make this a more significant part of their lifestyle. She and her husband, Caleb, live in Columbus, Ohio, but recently spent a couple of months on the Greek Islands, including Crete. You can read about more of their adventures on their website, The Pazook Travel Journal.