Digital Nomad Guide to Living in Tbilisi, Georgia – Goats On The Road
In the past couple of years, Tbilisi has become one of the hottest digital nomad destinations in Europe. But what is it really like living in Tbilisi? I've been based in the city since 2020 and in this comprehensive guide, I'll share my first-hand information with you.
The Republic of Georgia is a small country in the Transcaucasus region at the junction of Europe and Asia. Sandwiched between Russia to the north, Turkey to the west, and Armenia and Azerbaijan to the south, it has both high mountain ranges and a long stretch of Black Sea coastline.
Georgia is lauded for its pristine hiking and ancient wine-making traditions. The country's capital, Tbilisi, is a diverse and vibrant city that wins hearts with its eclectic architecture and its incredible Georgian food and restaurant scene.
Since gaining independence from the Soviet Union in 1991 and undergoing a number of reforms brought about by the Rose Revolution of 2003, Georgia's tourism star has been rising at a seemingly unstoppable pace.
Though less established as a digital nomad destination compared to other cities in Europe, Tbilisi's popularity is building. In 2020, the introduction of the 'Remotely From Georgia' permit only added to its appeal.
The mild climate, generous visa policy and affordable cost of living are all good reasons to move to Tbilisi. But it's the incredibly rich culture, fascinating history, and legendary hospitality that convinced me to relocate to Georgia at the beginning of 2020.
Learn more about living in Tbilisi, Georgia as a digital nomad in this detailed guide. And, if you're planning on visiting other cities in the region, have a look at our guide to living in Yerevan as a digital nomad.
Living in Tbilisi
Tbilisi is a relatively small city of just over one million people. It runs along a valley, with high hills on two sides and the emerald-tinted Kura river coursing through the center.
The heart of Tbilisi is the charming Old Town, which encompasses the hilltop Narikala Fortress (a 4th-century stone castle); Betlemi Quarter; the Old Meidan (a former hub for Silk Road traders); Abanotubani (the sulfur bath district); Avlabari; Chugureti (formerly a German settlement); and more.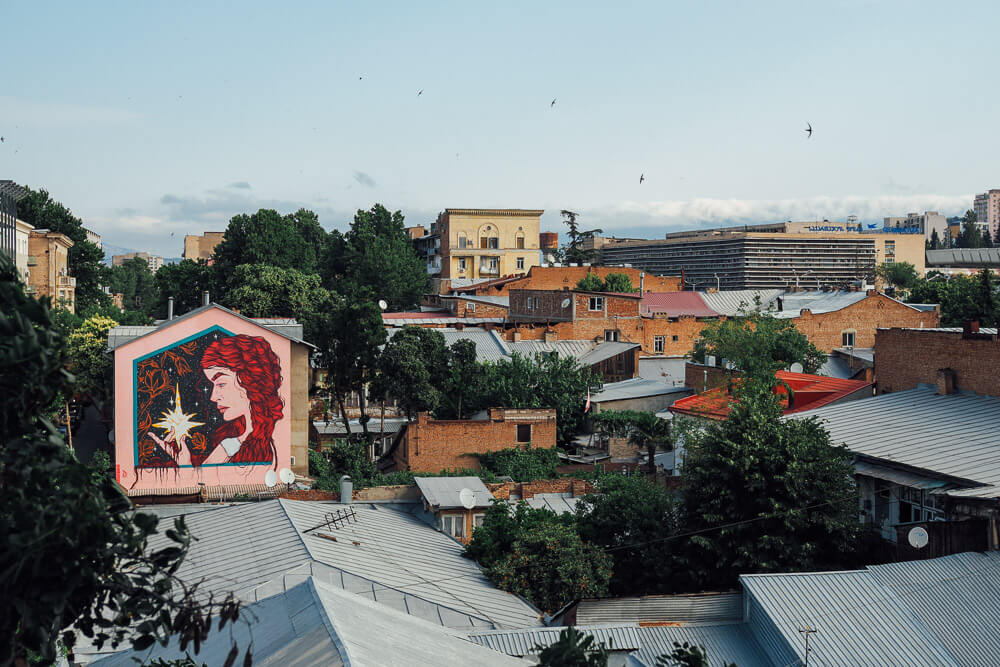 Satellite suburbs made up of large Soviet-style apartment blocks stretch out to the north.
One of the best things about Tbilisi is the way the traditional and the contemporary coexist side by side. One moment you can be in the yard of an Orthodox church listening to polyphonic-style chanting, the next sipping a latte in a specialty coffee shop.
Tbilisi's location at the crossroads of east and west means it's always been very multicultural.
There are features of the urban landscape and certain customs that might feel familiar – but at the same time, the particularities of Georgian culture, language and religion mean that Tbilisi really has no parallel.
If you've been living abroad for a long time, you'll probably find that Tbilisi is a breath of fresh air.
Tbilisi for Digital Nomads
Tbilisi is an emerging digital nomad destination. Right now, it strikes an almost perfect balance between convenience and adventure.
It still has an off-the-beaten-track feel, especially to Western travelers, yet the infrastructure has come along in leaps and bounds, making it a very easy place to live.
The expat community is primarily made up of remote workers (rather than NGO staff or English teachers). It's not as tight-knit as in some other places, but that is slowly changing as more coworking spaces and services dedicated to expats open up.
English is widely spoken, especially among younger generations, which makes it easy to meet locals. You'll find your social network will instantly expand if you learn a bit of Georgian.
What is the Visa Situation?
Georgia has an extremely generous visa-free policy that allows more than 95 nationalities to enter the country without a visa and stay for up to one year. Under this scheme, you can work or study without having to obtain any special permit.
Tourists can open a local bank account, register a business, buy a car or even invest in property with relative ease. And because it's a visa exemption, there is nothing to prevent you from reactivating your visa-free period by doing an old-fashioned border run.
One thing to keep in mind is that you automatically become a tax resident after 183 days in Georgia.
Many digital nomads who run their own business or freelance choose to register as an Individual Entrepreneur and take advantage of the 1% tax rate.
Georgia is striving to become a member of the EU so these regulations may change in the future. But for now, Tbilisi remains one of the most accessible cities for remote workers in the region.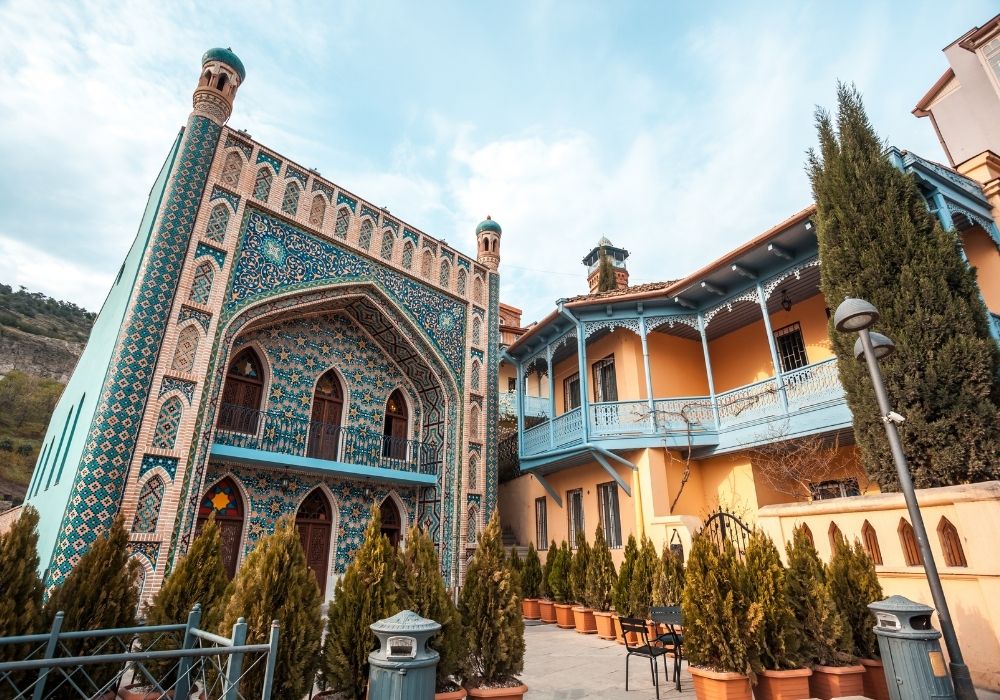 Remotely From Georgia
In 2020, the Remotely From Georgia program was introduced as a way for digital nomads to bypass travel restrictions and enter the country.
To apply, you need to meet a monthly income threshold, hold a health insurance policy, and agree to undergo a short hotel quarantine.
Georgia has since re-opened its borders to most nationalities, but the permit is still a workaround for anyone who doesn't meet Georgia's tourist entry requirements (including Australians like me).
I applied for Remotely From Georgia to re-enter the country in June – it was a very straightforward process.
Weather in Tbilisi
Along with the visa policy, another thing that makes Tbilisi so appealing is the climate.
Winters are mild, with daytime temperatures hovering around 50ºF between December and February. Snow is rare but there might be a day or two of snowfall in March or April.
Summer can be oppressively hot, up to 104°F in July and August. The air quality is quite poor in Tbilisi during summer as well. Most locals leave the city and head to the countryside or the mountains to escape the heat.
Spring and fall are by far the most pleasant times of year in Tbilisi.
September and October are particularly nice, with temperatures of 68-80°F and scarce rainfall. Lots of festivals and outdoor events take place during this period, including Tbilisoba.
Activities & Things to Do
There is no shortage of activities to keep you occupied during your downtime, from soaking in the sulfur baths to brushing up on your Georgian history at one of the many museums and galleries, to cafe hopping in the trendy Vera district.
If you enjoy photography and people-watching, one of the best things to do in Tbilisi is simply to wander around the Old Town.
Beyond the city, Kakheti wine country, the Greater Caucasus mountains and several medieval cave monasteries are only a day trip away.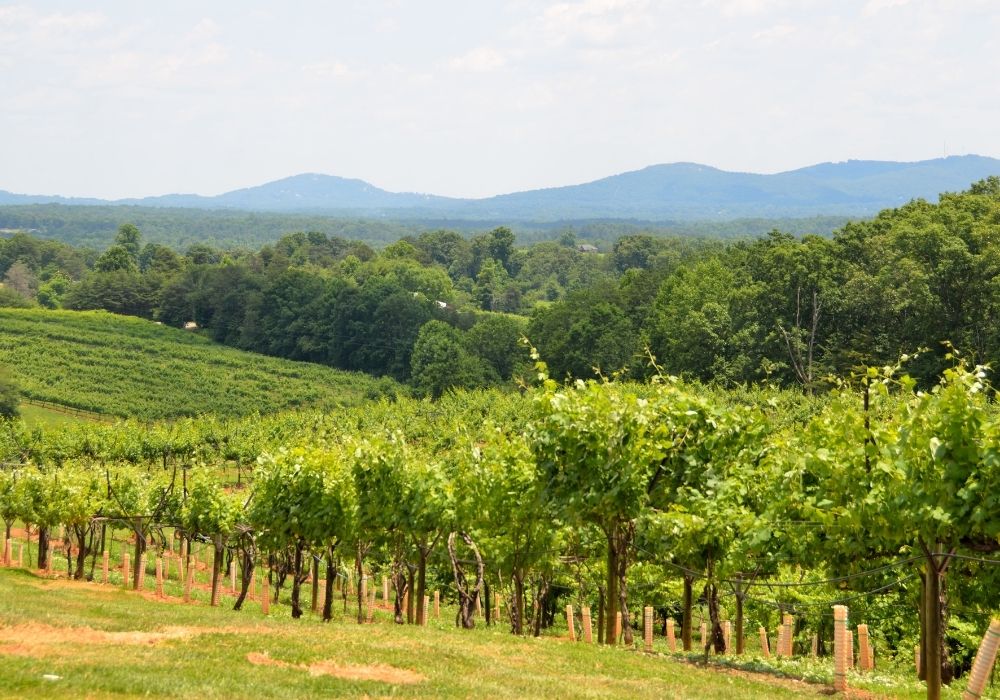 If you enjoy hiking and you want to meet other expats, Weekend Travelers Georgia is a Facebook community that organises regular excursions from the city.
Tbilisi's location makes it the perfect base for international travel as well.
All of Georgia's land borders are open, meaning you can easily travel to Armenia or Azerbaijan by train or to Turkey or Russia by road.
A number of budget carriers service Tbilisi Airport, making it easy to reach the UAE, Germany, Greece, Eastern Europe or Central Asia.
Is Tbilisi Safe?
Overall, Tbilisi is an extremely safe city with a very low crime rate. Burglaries and pickpocketing are rare, and foreigners are hardly ever a target for violent crime.
Having said that, you should exercise the same caution and common sense you would in any other big city. Be mindful of your belongings, especially when using the metro or bus. Avoid hiking alone or walking in unlit areas late at night.
Here are a few common concerns and tips for staying safe in Tbilisi.
Using Taxis
Because city taxis are unmetered, there is always the potential for a driver to overcharge you (especially when you don't speak the language). You can avoid this by using an app. Bolt is the most popular.
Road Safety
I've lived in Vietnam and Cambodia and I still find the roads in Georgia much worse!
Aggressive drivers and a total lack of road rules combine to create chaos. Road safety should be your biggest concern and is something to keep in mind both in the city and when traveling around.
Take extra care as a pedestrian, and if you plan to rent a car, steer clear of the cities. When moving around Georgia, avoid doing very long journeys by marshrutka and never travel at night.
GoTrip.ge is a terrific service for booking private transfers with professional drivers.
Protests & Demonstrations
Georgians are extremely passionate about social justice and political reform – thus protests are not uncommon. In Tbilisi, organized demonstrations usually take place outside Parliament on Rustaveli Avenue.
Protests are peaceful for the most part, but things can turn violent. It's best to avoid these areas when demonstrations are planned – times are always announced a day or two in advance.
Best Areas to Live in Tbilisi
Since moving to Tbilisi in 2020, I've been jumping between apartments and have lived in just about every district.
Most digital nomads choose to live outside the Old Town center, which although atmospheric is quite touristic.
The buildings in this area (charming as they are) are often not in the best condition either and lack natural light and ventilation. If you want to live in the hubbub, Sololaki – the area west of Freedom Square – is a great choice.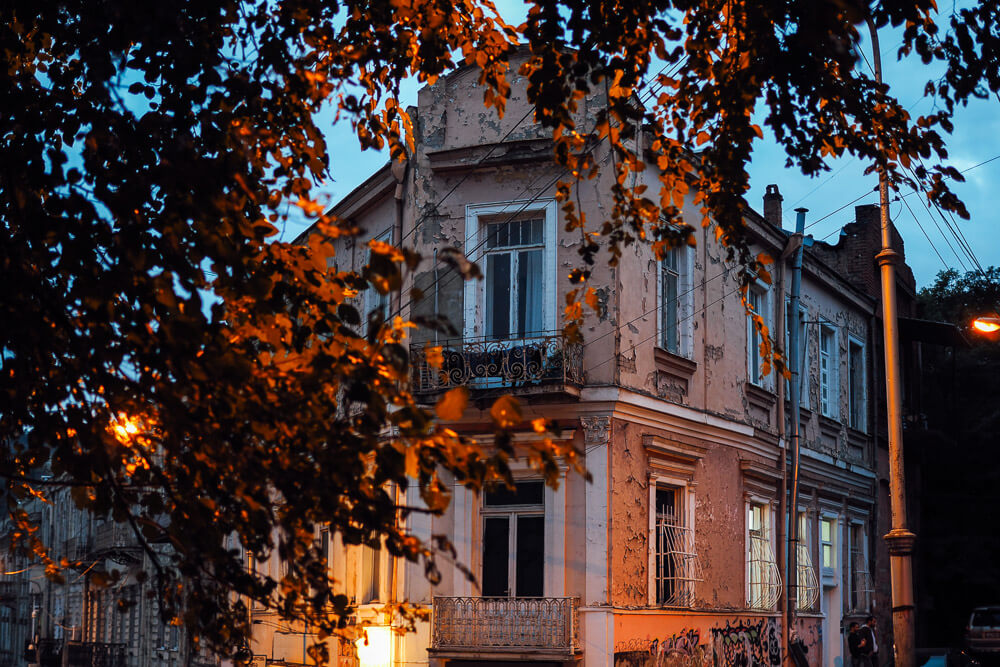 Vera is a popular neighborhood that's still quite central but with a more residential vibe. There are tons of cafes, boutiques, bakeries and wine bars in this area.
The streets run up the hillside so you can often find an apartment with a view. Vake, the area just beyond Vera, has lots of green space and is a popular choice among families.
Chugureti on the eastern bank of the river is my favourite neighborhood in Tbilisi. As well as being home to the famous Fabrika creative space, it's known for its 'Italian courtyards' (common areas shared between neighbors) and restaurants.
Saburtalo is an alternative option north of the center. Popular among students (a lot of university campuses are located here), it's a bit further out but easy to get to using the metro.
One downside is that peak-hour traffic is an issue. There are lots of Soviet-era apartment blocks in Saburtalo and no shortage of large, breezy apartments to rent.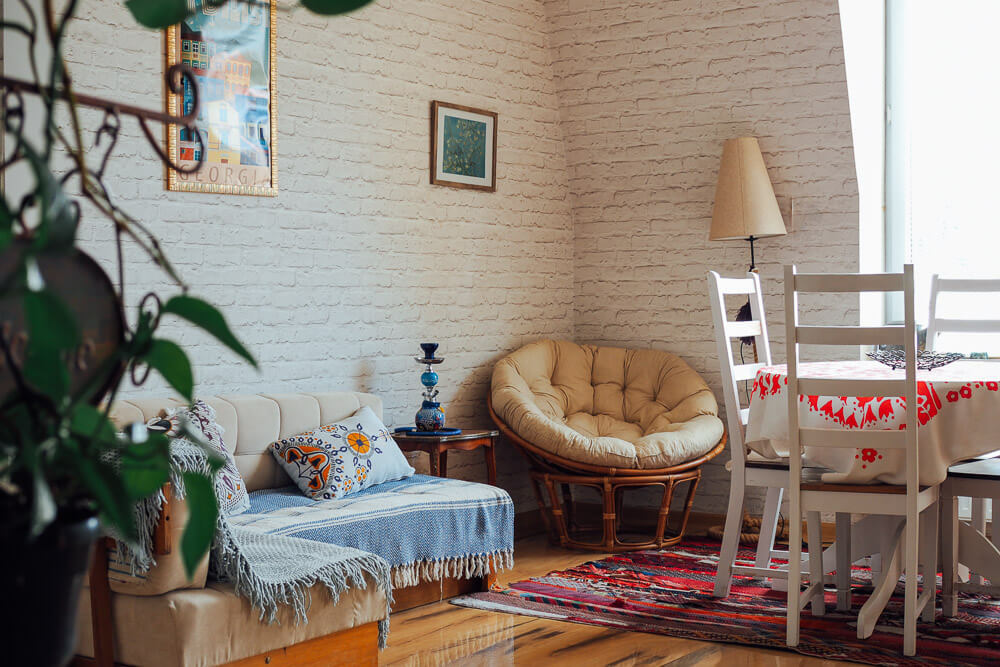 Prices vary from neighborhood to neighborhood, but you can expect to pay around $350-500 USD/month for an apartment in the center of Tbilisi. If you're willing to live a bit further out, you can find a place for significantly less.
How to Find Apartments in Tbilisi
Flat sharing is quite rare in Tbilisi so most people choose to rent their own place. Apartments typically have one or two bedrooms and always come fully furnished.
Gas heating and AC are ubiquitous, but it can be more challenging to find a place with an oven. Older buildings often don't have a working elevator – so that's another thing to look out for.
There are a number of websites for apartment hunting. But for ease and to avoid any potential communication barriers, it's much better to hire an agent or search in an English-language Facebook Group such as this one.
Most owners ask for a minimum of six months. If you don't want to commit to a contract, Airbnb is a good alternative. Most hosts offer monthly discounts and are often willing to negotiate on longer stays. You can also check out Booking.com for apartment rentals.
WiFi Speed in Tbilisi
Access to fast, reliable WiFi is not an issue in Tbilisi.
At home, you'll likely have a fiber internet connection. Speeds average 20-100 Mbps up/down depending on the provider. Speeds of 20 Mbps up/down are about the average for most cafes and coworking spaces as well.
Expect to pay around 50 GEL ($16.20 USD) per month for a 50mbit internet connection at home with Silknet or similar.
Power outages do happen on occasion (especially in older buildings) so if you work online, you'll need a backup plan. Mobile data is very affordable so most people just tether from their mobile phone.
Magti is the most reliable mobile provider and offers an unlimited 4G plan for just 5 GEL ($1.60 USD) a week.
Co-working Spaces in Tbilisi
Nearly every cafe (and some bars!) in Tbilisi are laptop-friendly with free WiFi. Many digital nomads prefer to hotdesk at cafes such as Coffee LAB, Fabrika, Prospero's and Mziuri.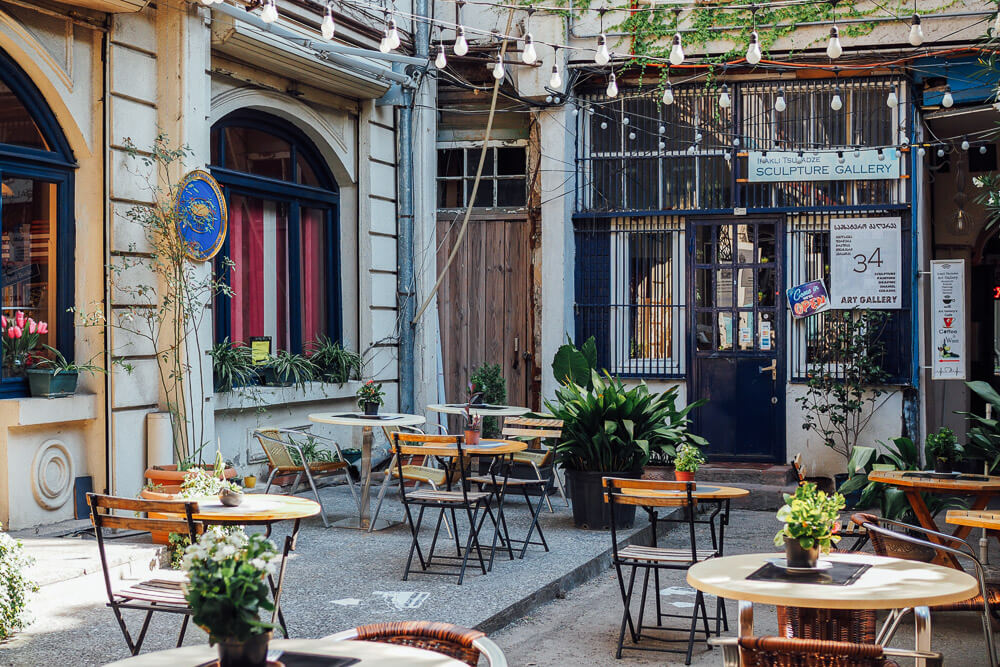 If you prefer an organised coworking space, here are three of the most popular.
Terminal
Terminal has five branches in Tbilisi, with Terminal on Khorava in Vera being the most popular. The main area is spacious and well-ventilated, with plenty of desks and a small kitchen.
Terminal is open 24/7 and offers several levels of membership, including a weekend pass for 40 GEL and a monthly pass for 400 GEL.
LOKAL Tbilisi
Both a co-working and a co-living space, LOKAL is a great option for anyone who likes to mix socializing and networking with work.
Indoor and outdoor spaces are available, and there is a weekly event program of meet-ups, board game nights, trivia and the like that runs throughout the year.
A hotdesk costs $7/day.
Space Z
Located in Saburtalo, Space Z has a large sunlit common area where you can either rent a fixed desk or find a spot you like. Swinging chairs, hammocks and a small library give it a more laid-back feel.
Monthly membership starts from 120 GEL.
What is the Cost of Living in Tbilisi?
Tbilisi is an extremely affordable city by digital nomad standards. A single person can realistically get by on $500-600 USD/month, while the average cost of living for a couple is around $900-1200 USD/month.
Rent ranges from $350-500 USD/month on average for an apartment. Utilities are extremely cheap, usually costing under $50 USD/month for two people (a tad more in winter if you're running gas heaters).
Eating out is also very affordable, especially if you stick to local restaurants.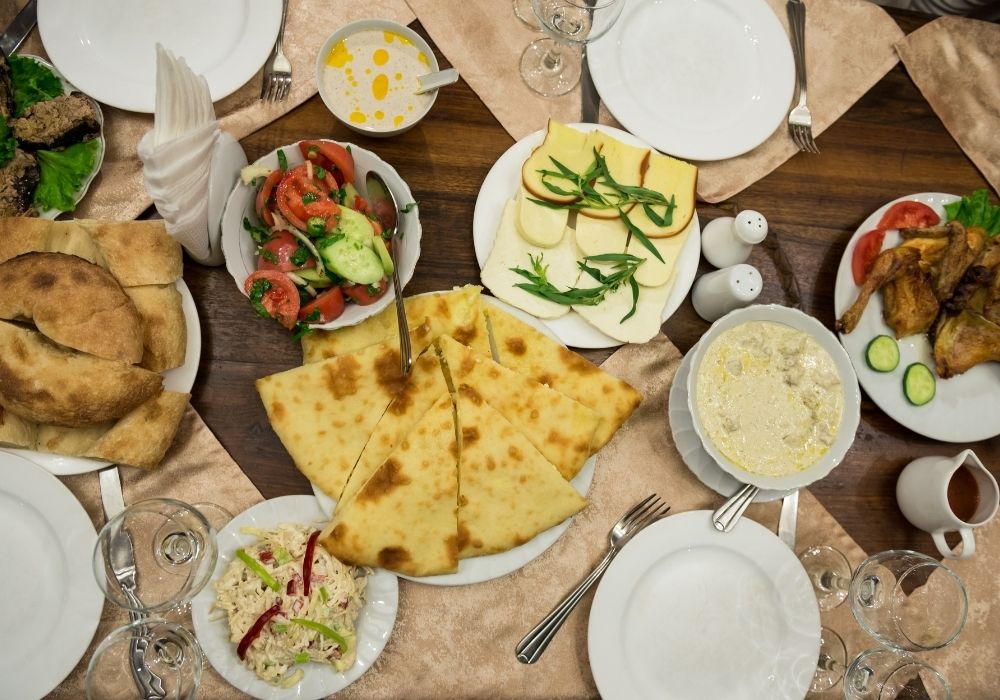 A generous meal for two with wine might cost 50-60 GEL ($16-20 USD), while prices at international restaurants are around 10-20% more. Note that VAT (18%) and a 10% service charge might be added to the bill.
Fresh produce is easy to come by and grocery stores such as Carrefour and Europroduct carry everything a home cook could possibly need. Budget $40-70 USD/week for groceries for two people.
A gym membership costs between 100-150 GEL ($32-50 USD), movie tickets 10 GEL ($3.20 USD), and a night at the opera will set you back 25-35 GEL ($8-12 USD).
It's easy to get around Tbilisi using the bus network and metro system. Fares cost a flat 50 tetri (around $0.15 US cents), while you can go anywhere in the city with a taxi booked through Bolt for between 4-12 GEL ($1.30-4 USD).
Keep in mind the reason the cost of living is so inexpensive is because local wages are so low (almost 20% of people in Georgia live below the absolute poverty line).
Support local businesses, tip staff when you receive good service, and if you can, consider donating time or money to an organisation such as Total Courage.
Pros and Cons of Living in Tbilisi as an Expat
Tbilisi has its pluses and minuses just like any other city. But for me, the pros far outweigh the cons.
Best Things About Living in Tbilisi as a Digital Nomad
The ease of entering Georgia and working legally without the need for a visa or permit is a huge plus.
Healthcare and dental care are affordable and of a high standard (if you know where to go).
Georgian food and wine are incredible. And with so many seasonal dishes and regional variety, it's not a cuisine that you tire of easily.
Tbilisi is Georgia's cultural capital, with easy access to performing arts, museums and nightlife (bars, clubs and live music).
Georgia's diversity of landscapes means endless travel opportunities right on your doorstep. Hiking, skiing, urbexing, vineyards, camping, offroading and paragliding are all available.
Downsides of Living in Tbilisi as a Digital Nomad
You have to forgo some conveniences. It's difficult to find some specialty products, and simple things like shopping online through Amazon are more complicated (and with import taxes, more expensive).
Air quality and noise pollution from traffic are becoming a real issue. You can manage this to some extent by being selective about which area of the city you choose to live in.
The standard of customer service in Tbilisi is quite poor. Though not a deal-breaker, this can get you down when it's something you experience every day. Try to be patient and don't take it personally.
Conclusion
I hope this guide has provided some insights into life in Tbilisi as a digital nomad. 
One final piece of advice: Don't move to Tbilisi for the low cost of living or the tax breaks – move here because you love it. Tbilisi is a very easy city to live in, but it does present some particular challenges, so you need to be flexible and open-minded.
Like This Article? Pin it!