Danger, beauty & hydrocarbon – why Le Mans is more important than you realise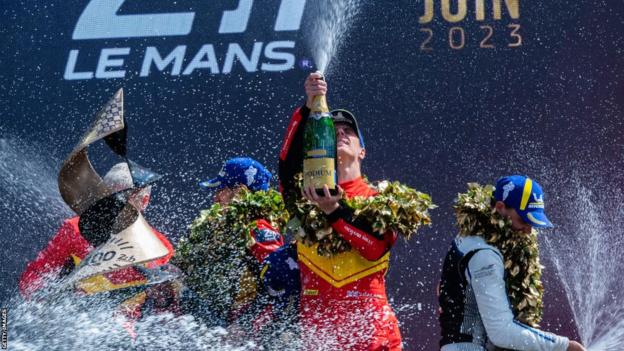 Engine overrun – a sound created when droplets of fuel escape on to red-hot exhaust pipes.
Sometimes it sounds like thunder. Sometimes a robot exploding. Sometimes like a huge tree snapping in half. Occasionally, if you're close enough, it rattles your rib cage.
Curiously, it doesn't register on television coverage, but it is loud. Very loud.
It is part of motorsport's majesty. Whether it is part of its future, though, is another thing.
The sound of fuel frying on metal seems to many to be increasingly out of step with a warming world, in which climate consciousness is rising with the mercury.

At Le Mans, engine overrun drowns out a backing track of thumping house music, fireworks and drunken roars.
About 300,000 people flock to north-west France for this annual Glastonbury for petrolheads, with the hardest core collecting around the Dunlop Curve to watch the action.
The headline act, as ever, is the 24 Hours of Le Mans race. Over the course of a day and night, three-strong driver teams battle fatigue and the field to steer their aggressive prototype racing machine towards one of the biggest prizes in motorsport.
This year marks 100 years since the race's first staging. For a while, though, it seemed likely to limp past the landmark.
With the prohibitive costs of competition and the race's old-school image apparently out of time, Toyota had been the only top-level manufacturer competing in recent years, effectively racing themselves.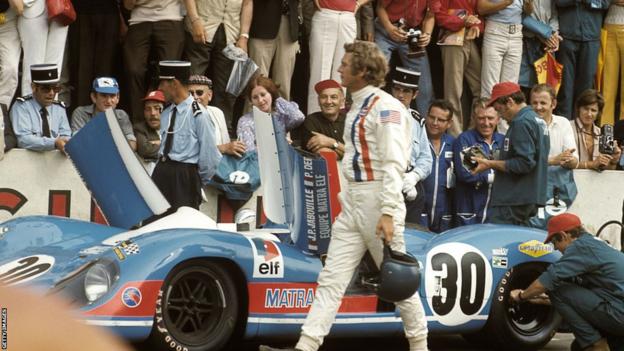 The glory days, epitomised by the 1971 film Le Mans – in which actor Steve McQueen broods and Porsches and Ferraris battle under banners advertising oil and cigarettes – seemed gone for good.
The organisers faced a dilemma: how to tap a rich past while making the race relevant once again.
The answer lay in the rule book.
"These new regulations permit car manufacturers to have freedom of design and now we have fantastic cars," says World Endurance Championship CEO Frederic Lequien.
"It's a return to the history of Ferrari competing against Peugeot, Porsche and Cadillac. We have the best car manufacturers in the world. Never in history has endurance racing been so bright."
Looser restrictions have given rise to hypercars – beautiful evolutions of sportscars of the past, with each company free to follow a philosophy and field statement-making models, something that is far harder to do in Formula 1 and Formula E, where largely identikit cars fill the grid.
Lining up for this year's season are a sleek Porsche, General Motors' Cadillac, which sounds like a muscle car on steroids, and Peugeot's masterpiece, the 9X8 – a rear wing-less, childhood dream of a design.
But this revival – which saw the race sold out two weeks after going on sale – is led by Ferrari, who have returned to Le Mans after 50 years away, adding to their already exhaustive F1 schedule.
"We are very, very busy, but very happy," says Antonello Coletta, Ferrari's head of GT sport. "We come back to the pinnacle of endurance in the most important category – hypercar – with less time in respect to the other competitors, but we are super happy.
"Le Mans is the most important race in the world."
Coletta is part of a new mould of Ferrari leaders. Gone are the Gucci socks and blazers. He reflects a more business-like approach, and you can hear it in his words.
He says that many parts of the 499P – which, like all good Ferraris, is beautiful, but hard to manage – are being tested for use on road cars.
The most important component isn't part of the 499P's sweeping bodywork, however. It is hidden away, deep in the engine. And it is the innovation, maybe more than any other, that is critical for Le Mans' future.
At this year's race all 62 cars, including the many privateer entries, run on a sustainable fuel made from vineyard grape skin waste.
The wine industry's residue is transformed into ethanol, then converted into useable fuel. Its makers say it reduces carbon dioxide emissions by 65%.
It is a very French solution to a global problem.
F1's innovations tend to take longer to arrive on the road, but their direction of travel is the same.
Like Le Mans, F1 is keen to show there is an alternative to electric cars, and has promised to run on its own 100% sustainable fuel for 2026.
For the moment, though, Le Mans is the most powerful example yet for manufacturers as they advocate for a diversity of ways to fuel the future.
Combined with Ferrari's super-efficient engine, which uses far less fuel for just as much power, there is a modern, more frugal face for a storied race.
Could the present for Le Mans also be the future for the man in the street?
Certainly some of the arguments put forward by the race's supporters appear to be having an effect.
The European Union (EU) is reportedly close to amending a proposed plan to outlaw the sale of all new combustion-powered cars by 2035. Instead of electric-only cars, it apparently intends to allow the manufacture of new models that run off carbon-neutral fuel.
The possible move has been criticised by environmental groups, who argue that carbon-neutral fuels are unproven, expensive to produce and a costly distraction from the most effective route to decarbonising road transport.
"I don't want anyone to think we're anti-electric. Far from it," says F1 technical head Pat Symonds, who is spending his 70th birthday visiting Le Mans for the first time.
"In an urban environment an electric vehicle is a very good solution to many problems.
"But, equally, in other arenas and other territories an electric vehicle isn't the perfect answer.
"In the race to reduce carbon emissions and tackle global warming – something dear to my heart, believe me – too many governments around the world say, 'here is solution we want you to adopt' and engineers say 'OK, it's a good solution but not the only solution'.
"We've seen this change recently since February in the EU, which is leading to them recognising the value of sustainable fuels, and I think we'll see that worldwide."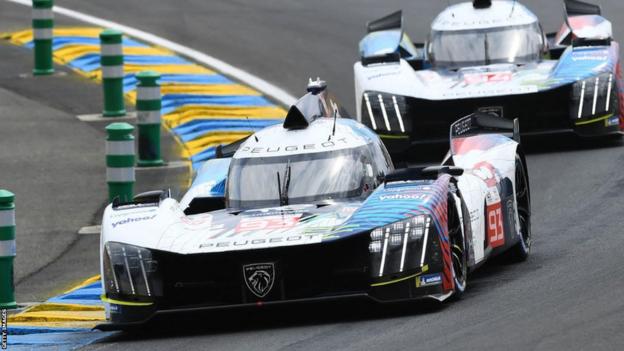 In the thick forest next to the famous Mulsanne straight at Le Mans, you can hear the distant drone of the engines held in the tall trees. It's a dream-like experience at night, a constant churn of bright headlights and raw sound.
In the oppressive heat of a Le Mans summer day, the soft moss saps energy from the air.
Mulsanne has been sanitised since Ferrari last raced here as a works team – two chicanes slow the pace to help reduce the chance of a car losing its downforce load and, as they have in the past, taking off like an aeroplane and landing in the trees.
It is 10 years since the race saw its most recent fatality when Dane Allan Simonsen crashed his Aston Martin at the corner preceding Mulsanne, Tertre Rouge. His car hit a tree behind the barrier, just minutes into the race.
"On every driver's licence it says motorsport is dangerous," Ferrari's James Calado muses in the team's huge hospitality suite.
"We realise the danger, but in all honesty the risk isn't high if you compare it to bikes on the Isle of Man. It's not even 0.1% of the danger of what those boys are doing.
"Occasionally bad accidents can happen – normally fluke. I don't want to jinx it, but cars are super safe – you can have a big impact and the car will be fully intact."
Motorsport has cleaned up its safety record since Le Mans' grimy glory days. Given sustainable fuels still release particulates such as toxic nitrogen dioxide and electric cars soak up power from the grid, there is a way to go before the same can be said for its sustainability credentials.
"As a driver my job is to drive the car and do the best I can," says Calado.
"I'm all for sustainability. It's difficult to know what's going to happen in the future. The whole world needs to make a difference and we will do everything we can to help."
Calado, Britain's most high-profile factory Ferrari driver since Nigel Mansell in the late 1980s, acknowledges the power that Le Mans has as a stage, both for a race and, potentially, for bigger questions that affect us all.
"It is magical," he adds with a smile when talking about driving in the middle of the night. "The fans never go away… it's three or four in morning and you can still see and smell the barbecues when you are in the car.
"You smell everything – the sparks when a car scrapes the ground, and we get dust in our eyes where the visor's open."
It's an elemental experience. Tired drivers feel the aches, taste the dirt and smell the fumes.
For Calado and Ferrari, the weekend also finished with the sight of the chequered flag and a landmark victory to cap off the marque's comeback to Le Mans.
And the signature sound, for better or worse, remained the same as ever – the crackle of engine overrun.