Could Trump go to prison and other key questions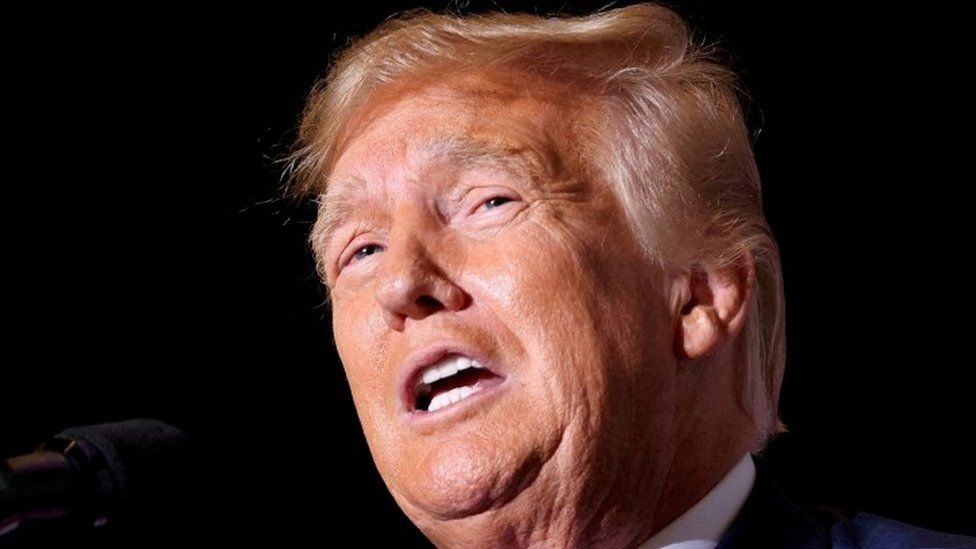 Former US President Donald Trump has been indicted in connection with the events surrounding the 6 January 2021 riots at the US Capitol.
The Republican politician denies wrongdoing and has described the case as "ridiculous".
He has already been charged in two other cases – with mishandling classified files and falsifying business records to cover up a hush-money payment to a porn star.
Here are some of the key questions surrounding the case.
What is happening today at Trump's court appearance?
Mr Trump is due to appear at a federal courthouse in Washington DC at 1600 local time (20:00 GMT) before magistrate judge Moxila Upadhyaya.
He is expected to plead not guilty.
Although he has the option of appearing remotely via video feed, it is understood he will attend in person. He spent Wednesday at his golf club at Bedminster, New Jersey.
And what about the trial?
The man leading the inquiry, special counsel Jack Smith, is pledging to seek a "speedy trial", but it is far from certain that this will happen.
Mr Trump's lawyers are resistant, saying they will need time to organise their client's defence.
Also, the trial will be competing for time with the other cases against him and is unlikely to be held at key moments during the election.
So the possibility remains that Mr Trump could have already been elected president by the time the trial starts.
What are the charges against Trump?
Mr Trump, who lost the 2020 presidential election to Democrat Joe Biden, has been charged with plotting to overturn his defeat.
He is accused of four counts:
conspiracy to defraud the US
conspiracy to obstruct an official proceeding
obstruction of an official proceeding
conspiracy against the rights of citizens
These charges relate to Mr Trump's actions over a period of more than two months from soon after election day (3 November) until the day he left the White House on 20 January.
The first count refers to alleged attempts to obstruct the collection, counting and certification of votes.
The second and third deal with alleged attempts to obstruct the certification of electoral college votes in the US Congress on 6 January, which culminated in the Capitol riots.
The fourth charge is about alleged attempts to interfere with citizens' right to vote and to have their votes counted.
This is Mr Trump's third indictment and some legal experts have said it may not be the strongest case brought against him. He may face deeper legal peril elsewhere.
But in terms of the gravity of the charges, these are the most serious and consequential, says our North America editor, Sarah Smith.
This is the first time he is being indicted for something which took place while he was still in office, she says. And there is also a real-world impact laid out in this indictment which we have not seen in the other cases.
What did Trump do and say which led to these charges?
As votes were counted after the election, it soon became clear that Mr Trump was not prepared to accept that he had lost.
According to the indictment, he lied and echoed false claims of electoral fraud for months despite being told by Vice President Mike Pence and other senior officials that they were not true.
It is likely the former president's lawyers will argue that he has a right under the First Amendment of the US Constitution to express his views, even if they involve false claims.
These views were expressed on the morning of 6 January 2021 by Mr Trump in a tweet ahead of a rally of his supporters in Washington DC.
Later at the rally he urged supporters to converge on the US Capitol to "make your voices heard" and "fight like hell" as Congress was meeting.
What ensued became known as the Capitol riots, as a mob of Trump supporters violently attacked the Congress building, forcing lawmakers to be evacuated and delaying the proceedings.
Mr Trump tweeted that afternoon calling for rioters to remain peaceful and respect the law.
But he later praised the demonstrators as "great patriots". And he continued to falsely claim electoral fraud in his remaining two weeks in the White House.
What is Mike Pence's role in the affair?
The US vice-president is also president of the Senate, and has a mostly ceremonial role which includes the final certification of election results.
Mr Trump publicly pressured Mr Pence to obstruct this certification.
Mr Pence refused, and maintains he had no right to overturn the election.
He has since accused Mr Trump of endangering him and his family, as well as others at the Capitol who were threatened by the rioters.
Who are Trump's co-conspirators?
The indictment mentions six co-conspirators including a Department of Justice official, four attorneys and a political consultant. None of them are named as they have not been charged with a crime.
However, quotes, anecdotes and other context in charging documents and previous investigations have allowed five of them to be identified.
They are former Trump attorneys Rudy Giuliani, John Eastman and Sidney Powell, Justice Department official Jeffrey Clark and pro-Trump lawyer Kenneth Chesebro.
The identity of the sixth co-conspirator, a political consultant, remains unclear.
Could Trump go to prison and still run for president?
The former president, at 77 years of age, is facing the possibility of a stiff prison sentence if convicted.
Mr Trump is also facing jail terms of up to 20 years in the classified documents case.
Under US law, nothing prevents an individual from running for office if they are facing criminal charges, or even if they are in jail.
Of course that doesn't mean that voters would want to support such a candidate.
At least two people have previously run for president with criminal convictions – socialist candidate Eugene Debs in 1920, convicted over a 1918 anti-war speech; and conspiracist Lyndon LaRouche, convicted of fraud, one of whose eight runs for president in 1992 was from a federal prison in Minnesota.
Both lost their elections.
Who is Tanya Chutkan?
The judge assigned to oversee the case, Tanya Chutkan, is an Obama appointee, known to be a tough sentencer in other 6 January cases.
She has come up against Mr Trump on one previous occasion in 2021, blocking his efforts to stop a Congressional committee accessing White House documents.
At the time she dismissed him with the memorable phrase: "Presidents are not kings, and plaintiff is not president."
As a district court judge for the District of Columbia, she has seen numerous people accused of participation in the Capitol riots, often going beyond sentencing recommendations by prosecutors.
What are Trump's chances against Joe Biden?
Mr Trump is currently way out ahead of the field of candidates for the Republican nomination for president.
Opinion polls since his indictment suggest his lead over his nearest rival, Florida Governor Ron DeSantis, has grown to some 37 percentage points.
But while his support among his base and the Republican Party in general has solidified, what about his popularity among voters in general?
Current President Joe Biden defeated Mr Trump in 2021 and has always presented himself as the candidate who can beat him again.
Indeed early head-to-head polls suggest he has a lead of between two and four percentage points over his rival.
But this lead is slender and within the margin of error, suggesting Mr Trump is again within striking distance of the White House.
And what if he is convicted but still wins the election?
Some analysts have suggested that Mr Trump could try to pardon himself.
This possible scenario is untested by US law, which means that the Supreme Court might need to intervene.
He might also try to have the case dismissed if he was elected president while it was still ongoing.