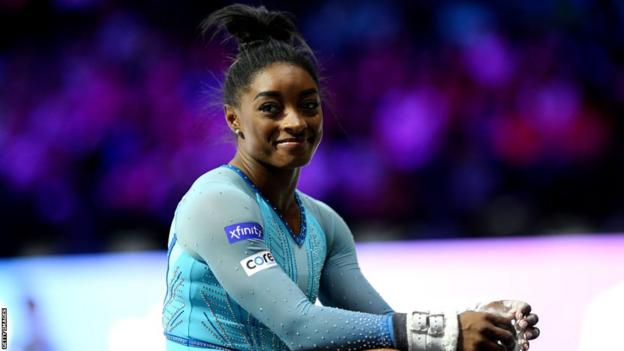 Simone Biles made history on her return to the World Gymnastics Championships in Antwerp, becoming the first woman to land a Yurchenko double pike vault.
The move – now renamed the Biles II – helped the 26-year-old American into first place in all-around qualifying.
Biles was competing internationally for the first time since taking a two-year break from the sport to work on her mental health.
She made a triumphant return in August, winning the US Classic.
Biles scored 15.266 for landing the Yurchenko double pike, which is rated as the most difficult jump in the women's scoring code.
She scored a total of 58.865 in the all-around, leading to the vault being named Biles II after a different, original vault was named after her in 2018.
With 25 world medals, the most of any gymnast in history, and seven Olympic medals, Biles is the oldest American woman to compete at the worlds. She now has five skills named after her – two on the floor exercise, two on vault, and one on the balance beam.
Biles' efforts, which come 10 years after her global debut in the same city, helped the United States top the women's qualifying table.
She had not competed internationally since pulling out of five of her six finals at the delayed Tokyo Olympic Games in 2021.
Biles later explained she had been suffering from the 'twisties' – a mental block where gymnasts can lose their sense of space in the air.
Earlier in the day, Great Britain's men finished third in qualifying with Max Whitlock, Harry Hepworth, Jake Jarman, James Hall and Courtney Tulloch combining to score 254.193 points and secure their spot in Tuesday's final.
The women's team, consisting of Jessica Gadirova, Ondine Achampong, Alice Kinsella, Georgia-Mae Fenton and Ruby Evans are currently second on 166.130 points with qualifying set to conclude on Monday.
The women's team final takes place on Wednesday.