Best Digital Nomad Luggage in 2023 (Backpacks, Suitcases & Bags)
In this guide, I've put together a detailed review of the best digital nomad luggage options available today.
Whether you're a seasoned digital nomad or are just starting your remote work journey, it's important to pick the right luggage to accompany you on your adventures.
I've been a full-time digital nomad for a year and a half, and have handpicked 15 of the best digital nomad bags on the market. Everyone has their own preferences when it comes to style and function, so I've made sure to include a diverse range of different luggage options within this guide.
From stylish totes and slings to durable hard-shell suitcases and comfortable backpacks built to withstand the demands of life on the road, this post will help you find the perfect luggage for all your travel and remote work needs.
☞ SEE ALSO: 17 Pros and Cons of Being a Digital Nomad
Best Digital Nomad Luggage
When it comes to picking the best luggage for digital nomads, it's important to bear in mind the kinds of activities you'll be doing when you're not working.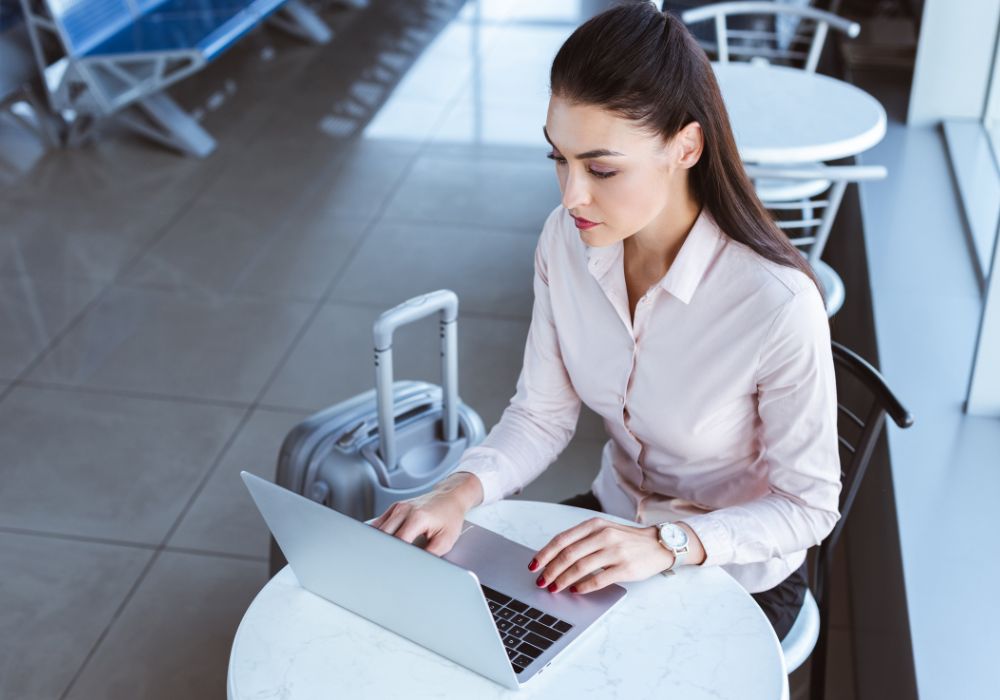 In general, you can usually fit more into a suitcase than a backpack, but the latter is more useful if you plan on doing any hiking in your spare time. And some remote workers need to travel with more equipment than others. Within this list, you'll find a range of different styles of luggage to suit all kinds of requirements and preferences.
1. Osprey Escapist 25 Daypack
First off, the Osprey Escapist 25 Daypack is my number-one digital nomad bag on this list. I've owned one for almost 10 years and have taken it with me to more places than I can remember.
It's a medium-sized daypack and can easily carry everything that I need for work, with lots of space left over. I love how comfortable it is to carry even relatively heavy loads. And the various different zippered pockets and compartments make it really simple to keep belongings organized.
In terms of versatility, this backpack is also a winner. It's great for hiking (and comes with a stashable waterproof rain cover), exploring a new city, or even for a weekend away. It comfortably fits as carry-on luggage on a plane too – although not under the seat when full.
I'm a big fan of Osprey bags in general and have several of their bags. The build quality is second to none and they're particularly durable, so this bag will last you a long time. Click here to buy one now.
If you're a fan of 1-strap sling-style bags, and you don't need to carry too much stuff around with you, the NOMATIC Navigator is an excellent nomad travel bag.
It packs down much smaller than most of the other bags on this list, making it a good option if you need to be able to store it away somewhere small in space when you're not using it. However, this does come at the expense of storage capacity so you won't be able to fit as much inside.
One of the best features of this bag is its accessibility, as well as its elegant yet functional design. It's been cleverly engineered to provide easy access to all your gear with multiple pockets, both solid and mesh, and tablet storage.
This bag also has a number of other handy features such as external handles, waterproof zippers, a breathable back panel, an RFID safe pocket, a cardholder in the shoulder strap, an external water bottle holder, and various little internal pockets and pouches to keep everything organized.
For more information, click here.
3. Coolife Expandable Suitcase
The Coolife Expandable Suitcase is a fantastic low-cost digital nomad suitcase. It's great if you're looking for a hard-shell suitcase but don't want to spend too much money.
This is a pretty durable case, with its tough thermoplastic shell able to withstand rough handling. So, you can check in this case when flying without any concerns (although I'd definitely recommend carrying your laptop and other valuable electronics in the cabin with you).
The case comes in three different sizes, including 20-inch (which qualifies as a carry-on for most airlines), 24-inch, and 28-inch. The 28-inch size has the added advantage of being expandable by 15% so can provide additional flexible space if needed.
This suitcase has spinner wheels and an adjustable aluminum telescoping handle, which allows for easy maneuverability. It also has a TSA-approved lock for added security and peace of mind. Click here to learn more.
4. Samsonite Underseat Carry-On Spinner
If you're looking for a smaller wheeled/spinner-style case that fits under the seat on an airplane, the Samsonite Underseat Carry-On Spinner is a great digital nomad suitcase.
The main compartment includes a padded laptop compartment that can accommodate laptops up to 13.3 inches. It also features exterior pockets for stashing smaller items that you want to keep accessible during journeys.
I've often seen pilots and cabin crew carrying this case with them. If you're a frequent flier, this might be a good option for you. However, if you need to travel with a lot of equipment, the reduced size of this luggage could be an issue.
Personally, I'd prefer to have a larger rolling carry-on instead, even if that means it doesn't fit under the seat. But it's mostly a question of personal preference.
Note: While this case is designed to fit underneath most airline seats, you should check the airline's specific requirements and dimensions first if this is something that's important for you. Click here for more info.
5. NOMATIC Travel Pack
Another great product from NOMATIC, the Travel Pack 20L, is a very well-designed backpack built especially for digital nomads.
Inside, it has various pockets, wallets, and pouches, including a padded laptop sleeve. This is great for organizing all of your tech and other items. The expandable design allows the bag to go from 20 to 30 liters, which is a nice extra feature.
The bag is made from durable and water-resistant materials and has waterproof zippers to help keep everything safe and dry. Adjustable straps make it easy to carry around, and it can take a lot of wear and tear. It's a great option for nomads who also like exploring the great outdoors.
The main drawback of this bag is that it's quite expensive. However, it's a premium product and is built to last. Click here to buy one now.
6. Travelpro Crew Versapack Deluxe Tote
The Travelpro Crew Versapack Deluxe Tote is a stylish piece of luggage that's halfway between a tote bag and a holdall.
It's a well-made and versatile bag that offers plenty of storage space and organizational compartments; making it suitable for short trips or as a companion to other luggage.
This bag has a strap that allows you to stack it on top of a larger rolling suitcase, which is super handy for longer trips. I also like the quick access front pocket for securing items that you might need on the go.
There's a removable and adjustable shoulder strap for hands-free carrying. And the high-density ballistic nylon fabric and SUPRA zipper heads make this bag very durable and long-lasting. For more information, click here.
7. MATEIN Travel Laptop Backpack
The MATEIN Travel Laptop Backpack is an excellent low-cost backpack for digital nomads on a budget.
For me, the best thing about this bag is the number of pockets it has. There's a lot of storage space, including a separate laptop compartment that can hold a 15.6-inch laptop, and a front compartment with multiple inner pockets for organizing all of your work and personal stuff.
It's comfortable and sturdy, with padded back support and adjustable shoulder straps. It also has a hidden anti-theft pocket and a USB port for charging your devices on the go.
The main drawback of this backpack is that it may not be as durable as some of the other bags mentioned in this post. However, given the low price, I'd say it's still very good value. Click here to learn more.
8. CYUREAY Convertible Tote Daypack
The CYUREAY Convertible Tote Daypack is a versatile bag that can be used as both a tote bag and a backpack.
The bag is both functional and stylish; suitable for use as a daily backpack, business travel backpack, laptop carrier, carry-on bag, and more. It offers dual padded, reinforced, and adjustable shoulder straps for optimum comfort and a snug fit around your shoulders.
With its large capacity, the bag can carry a 15.6-inch laptop in the inner main pocket, along with additional storage space provided by two front zipper pockets, two side pockets, and one front pocket. A built-in USB charging port allows you to charge your devices on the go.
This bag manages to be roomy without being too bulky. And the wide, open design with a rectangular opening provides easy access to items at the bottom. Click here for more info.
9. Tomtoc Travel Backpack 40L
This Tomtoc Travel Backpack is a great mid-priced option that's made from recycled plastic bottles! With a capacity of 40 liters, it offers loads of space for all of your digital nomad travel essentials, while at the same time being (just about) compact enough to qualify as carry-on luggage.
It's durable and well-designed, with a sturdy outer shell, quality buckles and straps, and YKK zippers. It has multiple compartments, including a quick-access main compartment, a tech storage area, and a front pocket to help keep your belongings organized and easily accessible.
I particularly like the tech pocket's 180-degree clamshell opening design. As well as providing easy access to your laptop (particularly helpful at airport security), it also helps keep your valuables safe when out and about as you need to take the bag off to access this compartment.
This backpack has a padded back panel, contoured thick shoulder straps, and an adjustable chest strap; meaning you can carry your work gear around comfortably and easily. It can even hold a 17-inch laptop! Click here to buy one now.
10. Cuero DHK Vintage Leather Messenger Bag
If you're looking for an old-school satchel bag to accompany you on your digital nomad adventure, this one is really great.
I love the classic styling – the body is made from high-quality leather and lined with durable canvas. Despite its vintage vibes, this bag is well-equipped for remote workers today.
It features a laptop compartment that can hold up to a 17.5-inch laptop, separate inner sections, four pockets for all of your tech gear, and a handy outer pocket that can snugly fit an iPad or other essential items. It also has two zipper pockets for any extra things you may want to keep secure.
This bag comes with an adjustable strap with a shoulder pad, as well as a duffel-style carrying handle. It's a beautiful piece of luggage that's durable, stylish, yet at the same time very practical. For more information, click here.
11. Bellroy Tech Kit Pouch
The Bellroy Tech Kit Pouch is a compact and well-designed pouch that's perfect for organizing your tech accessories. It contains a number of elastic loops and internal pockets to help keep your charger, mouse, power bank, cables, and other accessories organized and easy to access.
The pouch opens wide, allowing easy access to all of your gear, and it has a zippered closure for security. As well as being very functional, the design is sleek and attractive. It's also made from recycled, water-resistant woven fabric, which adds to its durability.
This great little pouch is ideal both for travel and the everyday organization of your tech accessories. Bellroy is also a certified B Corp brand that's known for its commitment to sustainability and for using premium materials. Click here to learn more.
12. Bag Wizard Laptop Tote Bag
The Bag Wizard Laptop Tote Bag is a versatile and spacious tote bag. It has a padded 15.6-inch laptop compartment, three main compartments, three interior slip pockets, three exterior front pockets, and one exterior back zipper pocket, which helps keep everything organized inside.
The bag is made of sturdy canvas, with an attractive stripe lining and durable faux leather straps. It has a top-zippered closure to keep your belongings safe and secure inside. This bag's canvas material is thick and durable (but not too heavy), making it comfortable to carry.
It's also surprisingly spacious and can comfortably carry a laptop, charger, notebook, accessories, and various other gadgets while still maintaining a sleek appearance. Click here for more info.
13. BANGE 35L Travel Backpack
The BANGE 35L Travel Backpack is a very reasonably priced, versatile, and spacious backpack. It has several internal compartments, pockets, and pouches, including a dedicated laptop compartment that can hold up to a 17.3-inch laptop.
One especially handy feature of this pack is the zippered expansion system that allows it to expand from 22 to 35 liters; meaning you can fit a lot into this bag when you need to, but it can also be compressed down to a more manageable size when you have less to carry (and/or when you need to store it).
I also like how there's a separate waterproof pocket, which you can use to carry damp clothes or any toiletries if you're concerned there's a risk they might leak inside the bag. I think this is such a good idea – why don't more bags have this?!
A USB charging port on the backpack allows you to charge your electronic devices using a power bank stored inside the bag. The backpack is made from durable materials and has reinforced shoulder and handle joints so it's likely to last a long time. Click here to buy one now.
14. Samsonite Freeform Hardside
If I had to pick the bes suitcase for a digital nomad, the Samsonite Freeform would probably be it. It's another hard-shell suitcase with wheels and manages to be both extremely tough but also very light.
You should be able to fit all of your work gear inside with enough space left for a few changes of clothes plus a few other essentials. The zippers, wheels, and carry handle are all of high quality, and the whole thing just feels very sturdy despite it being lightweight.
It's the perfect size to take as a carry-on when flying, but its durability also makes it fine to check in, and it has a built-in TSA-approved combination lock for added security and peace of mind.
I bought one of these a few years ago and would highly recommend one to anybody. The main downside is the cost – they are more expensive than most other suitcases of their size. But when it comes to quality, I think they're worth it. For more information, click here.
15. TARION XH Hard Shell Waterproof Camera Backpack
If you're a digital nomad who travels with a large camera, lenses, and assorted equipment, as well as a laptop, this is the bag for you.
It's extremely durable and is made from water-resistant fabric. The PVA hard shell cover, additional rain cover, 3-layer lining, and thick protective padding all help to ensure that your valuable camera gear (and all your other kit) stays safe and protected.
The bag has loads of space inside. Its 18.5L dedicated camera compartment – complete with removable padded dividers – can hold up to 5 lenses or 2 DSLR cameras with 3 lenses.
The roll-down top of the backpack provides an extra 10% of space, and the bag can even carry small-sized drones. There's also an anti-theft back access laptop compartment that can hold laptops up to a maximum of 15.6 inches in size.
It's additionally very comfortable to carry, even when fully loaded with heavy equipment. The S-shaped padded shoulder straps, adjustable chest buckle, and waist belt help to ensure an ergonomic fit and weight distribution. Click here to learn more.
Best Luggage Accessories for Digital Nomads
Here are some additional luggage accessories to help make your life easier and keep your belongings safe and secure: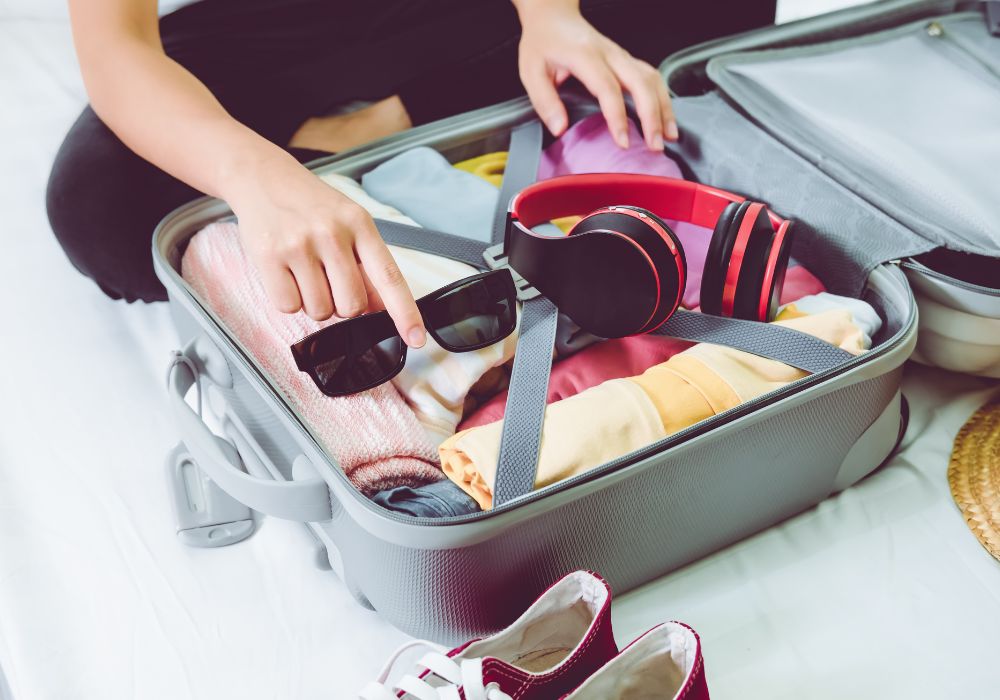 1. Packing Cubes
Packing cubes are a digital nomad's best friend. They come in a variety of sizes and colors and allow you to organize your clothes and other items into easily identifiable sections.
They're honestly so useful; they help streamline the process of packing and make it easy to find what you need in seconds. No more rummaging around in the bottom of your backpack to find that stray t-shirt or pair of socks!
2. TSA-Approved Travel Padlock
Whether you're storing your valuables in a hostel locker or securing your luggage during transit, a reliable padlock helps keep your possessions safe and discourages potential thieves.
This one is lightweight and TSA-approved, meaning that security officers at airports shouldn't need to smash it open if they need to inspect your luggage.
3. Portable Luggage Scale
Avoid unexpected baggage fees and unnecessary airport stress by investing in a portable luggage scale.
These enable you to weigh your luggage accurately before heading to the airport, so you can rest easy knowing your luggage meets the weight requirements. They're small, lightweight, cheap, and easy to tuck away in your bag.
4. Luggage Name Tag
Never worry about identifying your suitcase again with these luggage name tags. It sounds like a small thing, but these can be really handy. They're also super cheap, so there's really no reason not to have them.
As well as making your luggage instantly recognizable on the carousel and minimizing the risk of someone mistakenly grabbing your bag, they also make it much easier for your bag to be located and returned to you should it go missing in transit.
5. Apple AirTag
This is one for Apple users. If you have an iPhone, you're probably familiar with the "Find My iPhone" feature. Well, AirTags work in the same way, but for your luggage! Genius!
They're small, easy to attach to your luggage, and allow you to locate your bag with ease using the "Find My" app. With precise location tracking, you can quickly pinpoint the whereabouts of your belongings in the event that they go missing. Cool, right?
Choosing Your Nomad Luggage: Things to Consider
When choosing the best digital nomad luggage for you, there are several important factors to consider. Here are some of the main ones:
Length of Trip: The length of time you'll be traveling is a key factor when deciding on the right luggage. For shorter trips, a smaller and more compact option might be ideal, while longer trips may require larger and more durable bags to carry everything you need.
Travel Style: If you mostly travel around in cars and taxis, a wheeled suitcase may be fine. On the other hand, if you're going to be carrying your stuff around on foot, especially over rough ground (and/or if you plan on doing any hitchhiking), a rucksack is likely to be more appropriate.
Travel Pace: Will you be moving around frequently or will you be based in each place for a while? Backpacks and smaller wheeled suitcases are usually easier to haul around than large suitcases and duffel bags.
Packing Needs: Figuring out how much you actually need to bring is crucial in deciding on the right size and capacity of your luggage. If you tend to travel light with minimal belongings, opting for a smaller bag or a carry-on suitcase may be best.
Type of Work: On a related note, the more things you need for work, the greater capacity your luggage needs to have. Bloggers like myself need a mercifully small tech setup. If you're a photographer, or perhaps record podcasts, you'll probably need to carry more stuff around with you (cameras, microphones, etc.).
Activities and Specialized Gear: It's important to keep in mind the kind of activities you'll be doing when you're not working. You'll need to choose luggage that caters to these needs; look for features like attachment points for external gear, waterproof compartments, or padded compartments for delicate equipment.
Health and Fitness Considerations: This will be more relevant for some people than others. For example, if you have back or neck issues, backpacks may not be the most appropriate form of luggage for you.
Digital Nomad Luggage: FAQs
Here are some answers to commonly asked questions about the best digital nomad luggage:
Should I choose a hardshell or a softshell suitcase?
Personally, I prefer hardshell suitcases as they usually offer much more protection than softshell ones. However, the main advantage of softshell suitcases is that they often pack down smaller so are easier to store when you're not using them.
Is a backpack or a suitcase better for digital nomads?
This depends on a range of factors, including how much stuff you need to carry around and the style of travel you'll be doing. Backpacks tend to be more versatile than suitcases in general. For example, as well as being good for holding all of your work gear, you can also take a backpack hiking or skiing.
What is the best digital nomad luggage?
The best piece of digital nomad luggage will vary from person to person. For me, the Osprey Escapist 25 Daypack (number 1, above) is my favorite multi-purpose bag and comfortably holds everything I need for work with plenty of space left over. It's also ace for hiking, which makes it a winner in my books.
What's the best carry-on luggage for digital nomads?
The Samsonite Freeform is my number one choice as carry-on luggage. It's extremely well-built, and tough, but is also lightweight.
In Closing
As you've seen from this post, when it comes to digital nomad luggage, there's a huge amount of choice!
When picking the best item(s) of luggage for you, it's important to bear in mind a number of factors, including your preferred style of travel, what (and how much) you need to take with you, and any activities you plan to do in your downtime.
In general, I recommend opting for bags that are as versatile as possible, so you can use them in a wide range of situations. Each of the bags mentioned in this post would be a great investment, and I'm sure that at least one would be perfect for you.
Like This Article? Pin it!