"Alexa, wake me up at 10 am." Sounds simple and easy, right? But the trouble kicks in when you want to set an alarm but it's already midnight and everyone's sleeping. Thankfully, you can ask Alexa to set alarm without speaking out loud or disturbing others. Here are all the ways you can set an Alarm on Alexa with or without using voice. Meanwhile, you can also learn to stop others from using your Alexa Echo.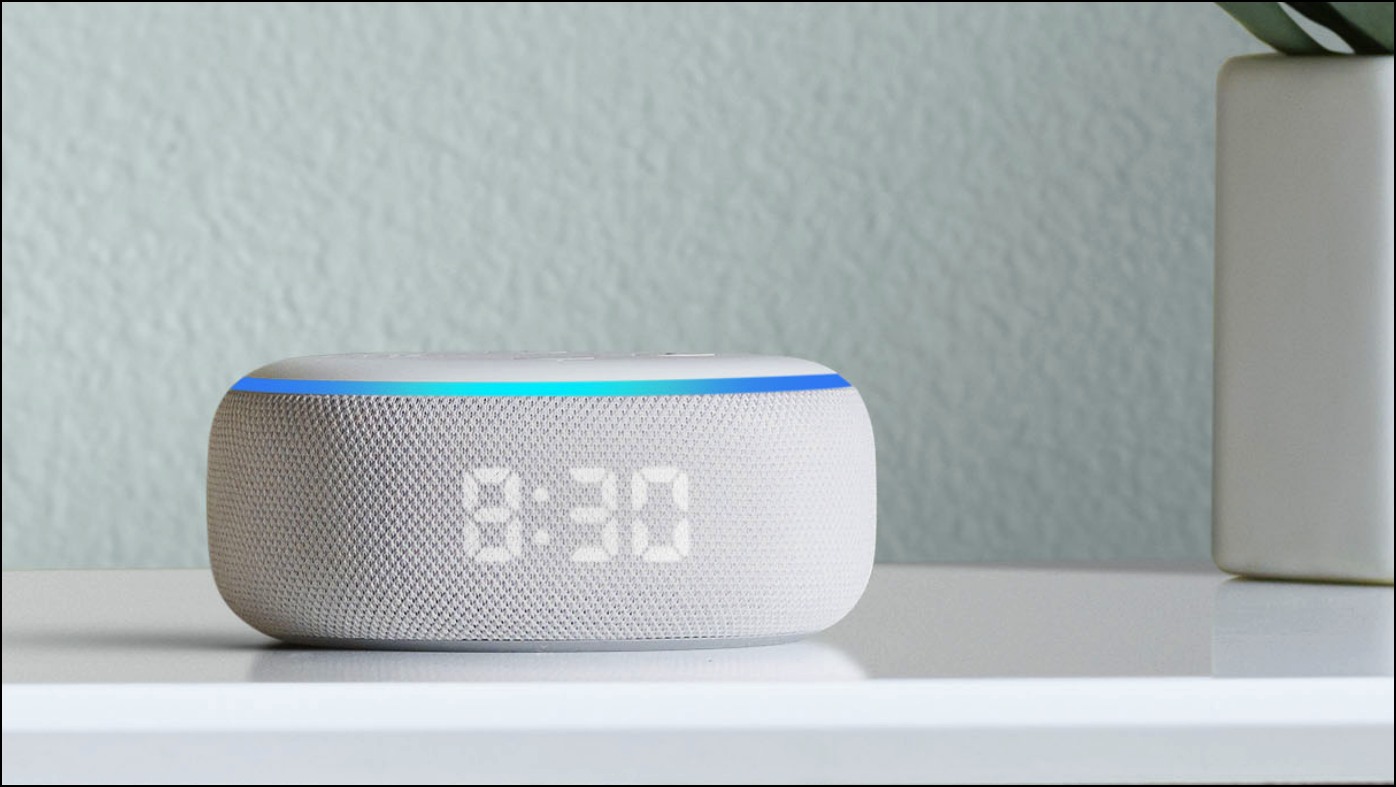 Set an Alarm on Alexa With or Without Using Voice
Asking Alexa is the easiest way to set an alarm on your Amazon Echo speakers. However, that's not the only way out there. Below are all possible methods to set an alarm on Alexa, be it using the Alexa app on your phone, whispering to the smart assistant, or even setting music or a song of your choice as an alarm. Read on to know how.
Set an Alarm Without Voice in Alexa App
Apart from using voice commands, you can set alarms on any of your Echo speakers through the Alexa app. Here's how to do it:
1. Open the Amazon Alexa app (Android, iOS) on your phone.
2. Click the More button at the bottom right corner.
3. Here, select Alarms & Timers.
4. On the next screen, click Add Alarm.
5. Use the sliders to set the alarm time in hours and minutes.
6. Next, tap Device and select the Amazon Echo device you want to play it on.
7. Select if you want the alarm to repeat every day, on weekdays, weekends, or specific days.
8. If it's a one-time alarm, select the date you want it to ring.
9. Finally, hit Save at the top right corner.
In the Alarms section, you can also edit an existing alarm by tapping it. Furthermore, you can click Settings to customize alarm settings for each device like the ring volume, change the default alarm sound, and choose if you want it to gradually increase the volume.
Ask Alexa App to Set Alarms on Echo Devices
Apart from manually setting an alarm in the Alexa app, you can ask Alexa on your phone to set an alarm on either of the Echo devices in your account. Here's how it works:
1. Open the Alexa app on your smartphone.
2. In the Home tab, click the Alexa icon to speak to it.
3. Once Alexa starts listening, ask it to set an alarm. For example: "Set an alarm for 11 am on Echo Dot" or "Wake me up at 10 am on Echo Dot."
Alexa will automatically set the required alarm on the Echo speaker you mention. You can also set alarms to ring on the Alexa mobile app.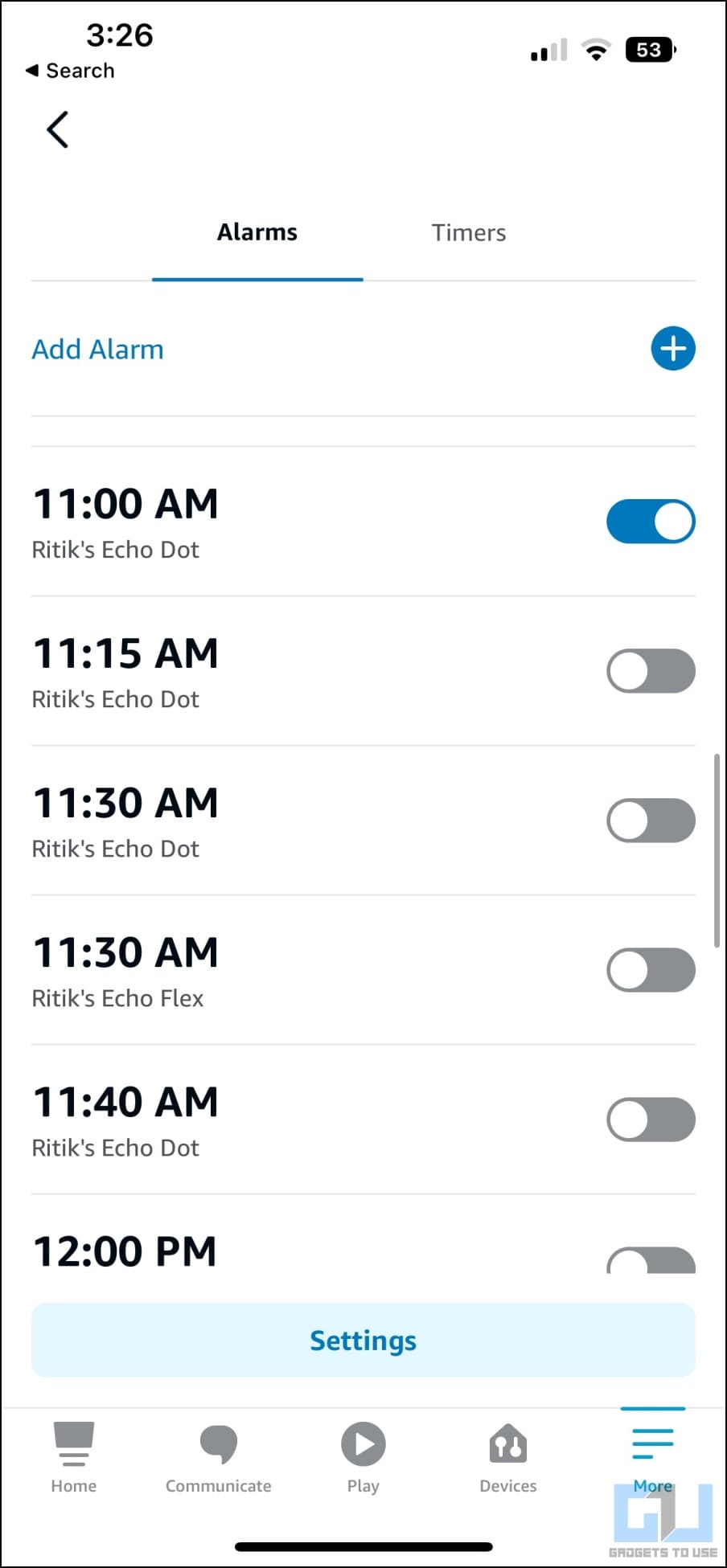 Whisper Alexa to Set the Alarm Without Disturbing Others
Want to set an alarm on Alexa but everyone's sleeping and you don't want to speak up loudly? This is where the Whisper mode comes to the rescue. All you need to do is come close to the Echo device and whisper in a low voice "Alexa, set an alarm for XYZ time" or "Alexa, wake me up at XYM time."
Alexa will set the alarm and whisper back in a soft low volume. If Whisper mode doesn't work, you'll have to enable either of the two ways:
Say "Alexa, turn on Whisper mode." Alexa will respond confirming that Whisper mode has been enabled, or
Open the Alexa app. Click on More > Settings. Scroll down, click on Voice Responses and enable Whisper Mode.
Set Alarm on Amazon Echo Show Via Touchscreen
Amazon Echo Show speakers come with a touch screen to interact and use the device. You can use the same touch screen to manually set an alarm on Alexa without using your voice. Here's how to do it, explained on the Echo Show 5:
1. Swipe down from the top of your Echo Show screen.
2. Select Alarms from the menu that appears.
3. On the next screen, tap Add Alarm in the top right corner.
4. Select the alarm time, date, and repeat frequency.
5. Finally, tap on Save.
You can then go to Settings on your Alexa, select Sounds, and customize the volume for alarm sound or the audio you want it to play. You can also turn on Ascending Alarms which will gradually increase the alarm sound.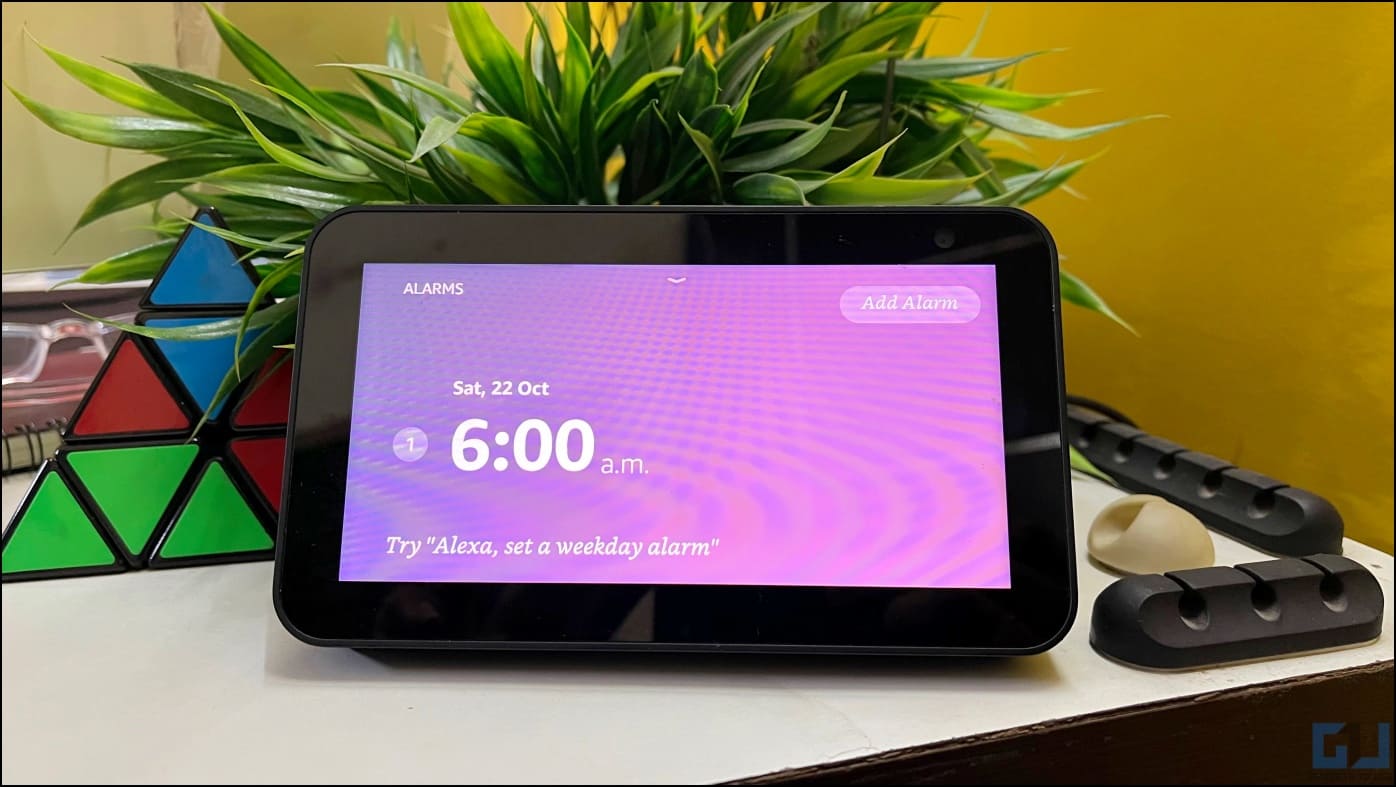 Set Music Alarms on Amazon Echo Speakers
Apart from the preset sounds, you can also set Alexa to wake you up with music from Amazon Music, Spotify, Apple Music, and more. Here's how it works:
1. Open Alexa app on your phone.
2. Click More at the bottom right and select Settings.


3. Click on Music & Podcasts.


4. Next, tap Link New Service and select the music platform you want to link. You can also see the services already linked to your account under this section.
5. Once you've linked the desired music streaming service, you can set music as an alarm on your Alexa.


6. For example, say "Alexa,  wake me up at 9 am with Perfect by Ed Sheeren" or whichever song you like.
How to Turn Off Alexa Alarm Without Using Voice?
The common way to turn off an alarm is to simply say "Alexa, stop." Alternatively, you can also turn off the Alexa alarm without speech or using your voice. To do so, press the Action button on the Echo speaker and it will stop the alarm. It is the button on the top of your device with a small dot on it.
Wrapping Up
In this read, we discussed all possible ways you can set an alarm on your Alexa speaker with or without using voice. I hope the above guide helped you with setting alarms on your Amazon Echo devices. Check out other tips linked below, and stay tuned to GadgetsToUse for more such tips, tricks, and how-tos around gadgets you use.
You might be interested in:
You can also follow us for instant tech news at Google News or for tips and tricks, smartphones & gadgets reviews, join GadgetsToUse Telegram Group or for the latest review videos subscribe GadgetsToUse Youtube Channel.